Home > Arts and Crafts Projects for Kids > Drinking Straw Crafts for Kids
DRINKING STRAW CRAFTS FOR KIDS : Ideas for Arts & Crafts Activities with recycled drinking straws for children, teens, and preschoolers
Drinking out of a straw is so much fun...it makes drinking anything fun. My favorite type of straw is the bendy straw. They are also great for younger kids who can't reach the top of the straw yet. Straws aren't just for drinking things out of. They are one of the most versatile craft materials that you can find in your home. They can be cut apart and made into really cool flowers. Or you could use one to blow at dripped paint to give an airbrushed effect on your artwork. You could even cut a straw up and make necklace beads out of them. There are so many more ideas, and if you look below I think you will find one that is just perfect for you. Have fun crafting!
Make Flowers with Drinking Straw and Cups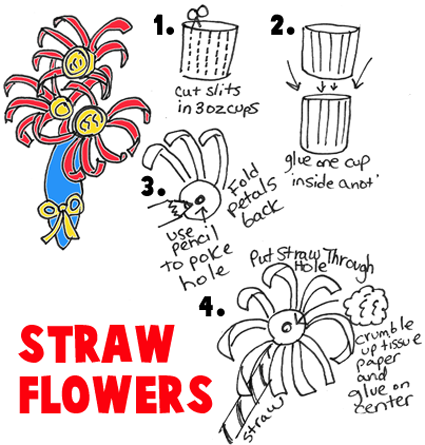 Who says that you can't make flowers with cups and drinking straws?! Well they are wrong. Get some colorful 3 ounce cups and some drinking straws from the store. Then just cut downwards all along the cup, as you see in the illustration above. Do this with a bunch of cups. Then you are going to place some glue at the bottom of one of the cut-up cups and then insert another cut-up cup inside that other cup. Now get something, such as a pencil, to poke a hole in the middle of the 2 cup-creations that you just made. Then fold the petals back on the cup (the petals are the sliced up pieces on the cups). Then stick your drinking straw in the center of the flowers that you created. Get some tissue paper (or cotton or something else if you don't have these items) and crumple it up into a ball and then glue it in the center of the flowers. To make this creation look even prettier, wrap it up with wrapping paper and a bow. Or you can stick it in a vase or a decorated water bottle.
Cup Tossing Game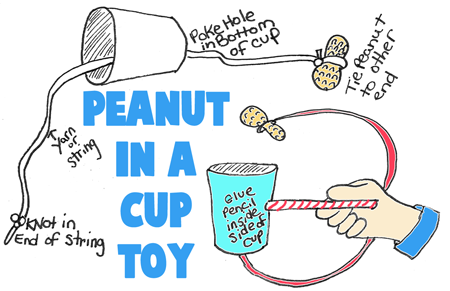 If you don't have peanut allergies and noboby around you has them either, you can do this craft. Make a cup tossing game with the illustrated instructions above. Poke a small hole in the botom and the side of the cup. Then just loop a knot around a peanut or like item. Push the string through the bottom of the cup and tie a knot in the other end. Glue a drinking straw in the side of the cup as the handle. Let it dry and then toss that peanut in the cup.
Make Paintings with Drinking Straws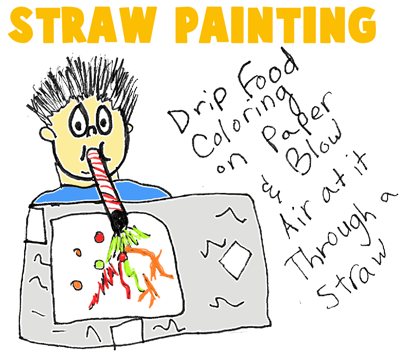 You can make these really cool straw paintings with either food coloring or with paint. If you use paint, just mix the paint with a few drops of water first to make it thin enough to work. First of all, protect your table with newspapers or with something else such as garbage bags. Next, put your sheet of paper down and drip the paint or food coloring down on the paper. Then get a non-bendy straw out and blow at the drops and watch them make funky designs. Let completely dry. An optional step is to turn the funky designs into drawings by trying to see people, animals, and other things in the shapes of the paint.
Make Bike Streamers with Bags and Straws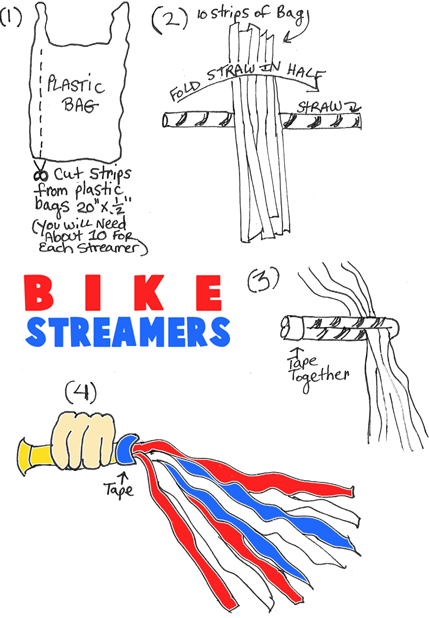 This is a great craft to decorate your bike's handle bars for free. Why pay a lot of money to get streamers when these turn out great. You will need a few different colored bags from a grocery store or department store. Cut strips that are about of 20" x 1/2 " from the bag. You will need 10 strips that size for each streamer....so you will need twenty in all. If you want the same amount of strips for each color, you will want to cut 6-8 strips from each plastic color bag. Then take 10 strips (some of each color) and then place them in between a straw, as seen in picture number 2 above. Go about folding the straw in 1/2 and tape together at the end, as seen in picture #3. You might want to get colorful duct tape...in white, red, or blue and then tape the straw nicely to the handle ... it will look so beautiful if you do. Have fun!
Drinking Straws Necklace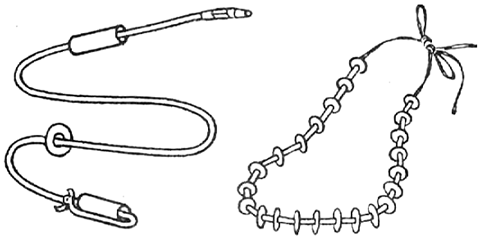 You should have colorful drinking straws, sticker paper reinforcements, string, clear tape, and scissors. Cut the straws into short stubs about 1 inch in length. You can put tape at the end of the string to make it easier to place straws and sticker reinforcements on them. Think of a pattern and then alternate sticker reinforcments and straws when placing them on the string. When finished, tie the string so that the necklace fits loosely around your neck.
Even More Crafts with Drinking Straws

Make Mom a Plastic Straw Necklace - It is time to start thinking about making your Mom a gift. How about trying to make this pretty necklace for mother that can be made out of simple plastic straws. All you need is some yarn and some straws and some love for your Mom. The simple instructions follow.

Whistling Birdie Toy - Make a real Whistle that we call a whistling birdie with the following step by step tutorial. You make the bird whistle with a drinking straw, polymer clay, and a toothpick.

Making a Valentines Day Pinwheel Sweet Candy Gift Box Craft for Kids - We will show you today how to make a complex looking, but very easy to do, Valentine's Day Candy Gift box with sweets or candies.

Make Straw Flowers Garden Boxes - Learn how to make this gift flower box...the flowers are made with straws.

Trees Painted with Drinking Straws - This sounds funny...but you can use a normal drinking straw to blow air at paint to create a really cool looking tree. Find out here.

Bunny Straws - Make these adorable bunny straws to decorate everybody's straws on Easter.

Make a Moving Mayflower Ship - This is an adorable craft ... pull the string and the Mayflower moves both directions towards or away from Plymouth Rock using paper towel roll, paper, and drinking straws.

Make Flowers from Drinking Straws - Find out how ot make these adorable flowers with these simple instructions.


Making Heart Critters for a Valentine's Day Gift -Use straws and cardboard and a lollipop to make this cute craft. Learn how to make a cute Valentine's Day Heart Person that is Holding a piece of Candy.

Patriotic US Flag Fans with Drinking Straws - Aren't these awesome - learn how to print and mae these patriotic fans...especially for US flags.

Paper Circle Ornaments to Make - Here are a few Xmas ornaments to make that start with a simple paper circle...use cut up drinking straws as a decorative feature.

Making Chestnut Bubble Pipes- With parental assistance, you can make one of these pipes to blow the best bubbles with. Find out how.

Drinking Straw Chains for Christmas Trees - Wrap these around your Christmas tree to decorate it for that special time of year.

Clothespin Straw Cars - In order to make the axle of this car spin, you need a drinking straw cylinder for the axle to spin in. Find out how to make these simple cars.

Balloon and Milk Carton Cars - The axels of this car are made with chopsticks that are pushed thru drinking straws that are taped onto a milk carton. The car then zooms away after blowing into a balloon and releasing the air.