Home > Arts and Crafts Projects for Kids > Animals Crafts >Birds Crafts > Duck & Geese Crafts
DUCK & GOOSE CRAFTS FOR KIDS: Ideas to make ducks & geese with easy arts and crafts activities for children, preschoolers, and teens
Ducks are a type of bird called waterfowls because they are usually found in the water...such as in rivers, lakes, ponds, streams, and water basins. Ducks are similar to geese and swans, but I always find that they are much more gentle with people. Ducks have cute webbed feet to help them paddle around the water. Ducks are covered in water-proofed feathers and many times if you walk around a lake you will see feathers everywhere. These are usually duck or goose feathers. There are many different types of ducks and this is why many look so different from eachother. But one thing all ducks do is "Quack, Quack, Quack".
Make a Duck Floating Bath Toy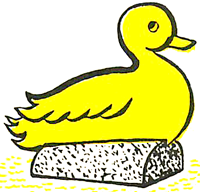 Print This Duck Out and Glue it on lightweight cardboard (such as cereal box cardboard). Cut out your drawing. Color duck a light orange or yellow. Youc an laminate your duck or use contact paper on it if you want to keep the duck toy ... or just leave it as it is for a temporary duck toy. Ask your Mom or Dad for help. From I 1/2 inch cork, have your parent cut away a section to flatten it as in the picture above. On the opposite side, have your Mom or Dad cut a slit. Glue the duck into the slit. Then set it afloat in the bath tub when you are taking your bath.
How to Draw a Pop-Up Duck on Your Cards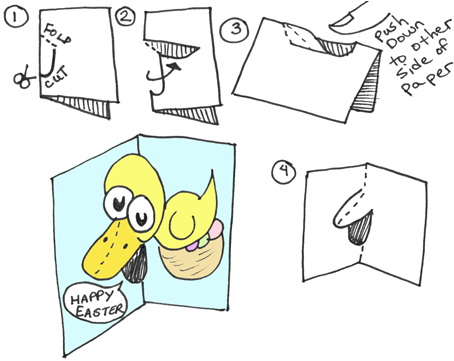 This duck is adorable...he has a silly cartoon face and he is Quaking ' Happy Easter' out of the side of his mouth. All you have to do is follow the instructions in the illustrations above and you will have this duck on your paper as well. Just fold a piece of paper in half lengthwise. Then Draw a letter 'J' on the lower half of the page, on the fold. Then draw a dotted lin that goes up towareds the left of the page. Now cut on the letter 'J' but bend on the dotted line. Now push it back down in place. On picture #3, you can see that you place the page like it is a tent and then push it down towards the other side of the page. Now open up the greeting card so that the duck's bill comes out of the page in a 3 dimensional fashion. Now for drawing the duck. Draw 2 circles above the duck's bill for eyes....then draw 2 bubble letter 'U's in side the eyes for pupils. Draw an oval around the eyes for the head. Draw a smaller circle for teh body, with a triangular tail. Draw a half circle for the next and ovals for eggs. You now have a cute cartoon duck popping out of your card.
How to Create Magnetic Duck Ponds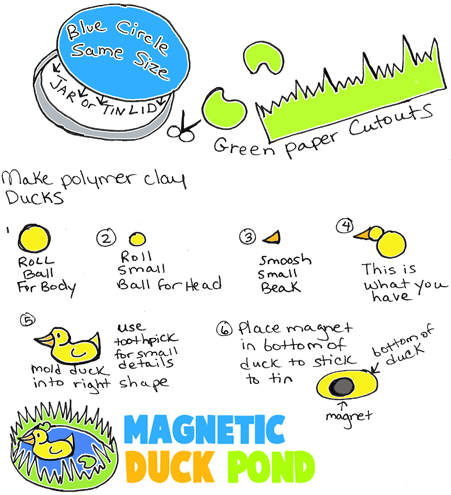 These duck ponds are a lot of fun to make. Get a tin can of some sort...they are magnetic. Use the lid for the pond. Trace a blue piece of paper with the lid and then attach to the underneath part of the lid with glue. Then draw a long strip of zig-zags on green paper for grass. Glue the grass around the outside of the outside and inside ridge of the pond. Then draw lillp pads on green paper. Glue these to the blue paper. Now get some yellow and orange clay...follow the instructions above to make the duck. Place the magnet in the bottom of the duck's body. Let it completely dry before placing in the duck pond. You can make as many ducks as you want. Try to make a frog if you are over-ambitious.
Ducks Pond Craft for Preschoolers and Toddlers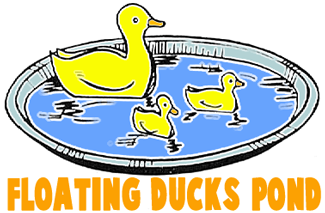 This is a great craft for youngsters. Firstly, print out these printable duck patterns. Now help child cut out ducks and color them heavily with wax crayons to protect the paper from water seaping in. Wax resists water. Color both sides except for the spot where the heads will be pasted together. Fold on the dotted lines and paste heads together on uncolored spot. Adjust folds so ducks will stand. Child may paint pie tin with blue poster paint, or pie tin may be painted ahead of time. Let child stand ducks in pie tins or float the ducks in water as seen in the illustration above. I hope that you have fun.
Make a Stand-Up Paper Goose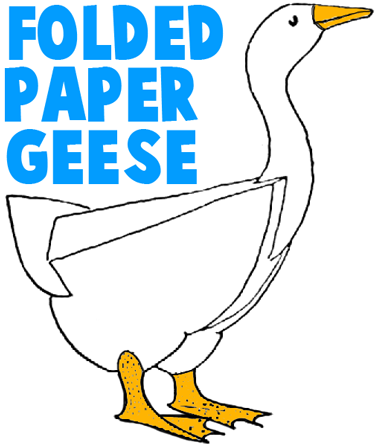 Here is a craft to make a folded paper model goose. This good will stand up and look real goose-like. Here is the 3d paper model goose template. Just print it out. Cut it out. Then you can color it with markers, colored pencils, or crayons. The only thing that needs to be colored are the feet and bill. Then fold according to the directions on the template.
How to Make Paper Duck Masks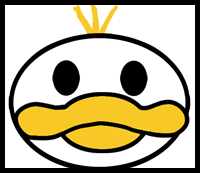 To make paper duck masks, just print out the follow duck mask template and then cut out and follow the included instructions.
Learn How to Draw Ducks
Choose one of the thumbnail pictures to choose which drawing tutorial you want to try.
More Duck Crafts Ideas

How to Fold a Standing Paper Goose and Duck with Paper Arts Instructions - Spring is here so it is is a great time to make ducks and geese and other creatures and critters to celebrate the new season. Today I have provided you with 2 patterns, one for a stand-up paper duck, and one for a stand-up paper goose. Just print out the pattern, fold it in half, cut it out, and stand it up…it is as easy as that.

Make Easter Baby Duck Paper Folding Craft for Kids - Make Easter Baby Duck Paper Folding Craft for Kids - Do you want a baby duck chick arts and crafts activity for Easter time? This is a great paper folding crafts activity for kids to make an Easter duck.

Make an Easter Duck Sitting on Eggs in Nest Card Arts & Crafts for Kids - This is an adorable Easter Card Idea for kids. We have provided both a color and black and white coloring page printout version of this Easter Mother duck sitting on eggs in nest card.

Papier Mache Duckie Rock / Stone Sculptures - This is a really cool idea. You start off with a rock and then you add a papier mache / clay like substance to make it into a sculpture. You can make all sorts of creatures and animals using this method.