Home > Arts and Crafts Projects for Kids > Animals Crafts > Birds Crafts > Eagle Arts & Crafts for Kids
EAGLE CRAFTS FOR KIDS: Ideas to make eagles with easy arts and crafts decorations, instructions, patterns, and activities for children, preschoolers, and teens
There are many different types of eagles, although the Bald Eagle is both the national bird and national animal of the United States of America. The Bald Eagle also appears on America's Seal. Its also the most popular eagle craft among American children. Children can make an Eagle from construction paper with their hand prints as wings, or they can make an edible Eagle from white chocolate chips, marshmallow, shredded coconut, chocolate-covered Oreo cookies, and cashews...yummy!
How to Make Standing Paper Eagles Craft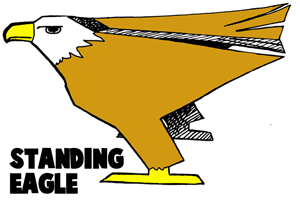 To make this paper standing eagle, just print out this paper eagle diagram and follow the cutting and folding instructions included on the printed page.
Even More Eagle Crafts Below

Bald Eagle - Children can make this Bald Eagle collage using construction paper, pencil, scissors & glue.

Bald Eagle Balloon Craft for Kids - Learn how to make a bald eagle from a white balloon, orange foam, white feathers, wiggle eyes and glue.

Bald Eagle Craft Making Instructions - This is a simple and fun Eagle craft for children ages 2 and up.

Bald Eagle Fourth of July Wreath for Children to Make - Make this beautiful Bald Eagle wreath for your Fourth of July celebration.

Bald Eagle Paper Craft Idea for Kids - This is a very simple Bald Eagle paper craft for the younger children.

Bald Eagle Toilet Paper Roll Craft - Find out how kids can make a Bald Eagle craft out of a toilet paper roll.

Paper Bag Bald Eagle Craft - Find out how your kids can turn a paper lunch bag into a Bald Eagle!