Home > Arts and Crafts Projects for Kids > Book Making Crafts to Make Handmade Books with Arts and Crafts Projects Ideas for your Kids
EDIBLE CRAFTS FOR KIDS: Ideas for Edible Arts & Crafts Projects, Activities, & Instructions to make with food and candy and treats that your children, preschoolers, and teens can eat
I love to eat - I mean it is truly my favorite thing in the world to do. I even love it more than crafting. I mean if I could make a living out of just eating all day and all night I would do it. But so far, nobody wants to pay me to eat, so I guess I will continue on this path and help you with crafts instead. :-) So when I realized there was such a thing as edible crafts (in other words crafts that you can eat) I thought that I had died and gone to heaven! This page is dedicated to crafts that have at least one edible element involved ....whether its candy, fruit, vegetables, hot dogs, eggs, whatever it is, it is edible. So enjoy the crafts and try not to eat your crafts until you are completely done with them!

Make a Mamma' Hen Sitting on Her Eggs - This one is perfect for Easter. A mother chicken made from a hard boiled egg, sitting on her baby's eggs in her nest.

Spaghetti Octopus Squid Dogs - Mom and Dad Can help you make these Octopus Hot Dogs for You with Spaghetti and Hot Dogs. They are so much fun to eat and make.

Make Bunny Rabbit with Vegetables - This is a fun Easter Bunny craft using vegetables on hand.

Making Valentine's Day Hearts Candy Doggy Card Project - If you want to make a special Valentine's Day Card Treat to give out to your friends and classmates this year at school, then here is a tasty and inexpensive project to make. It is a Tootsie Roll, Standing Hearts Doggy Card. The easy to follow, illustrated steps can be found below.

Hand Me a LolliPop Card - This is a great card to make because it has your child's image on the card. You then cut out a hole on either side of the hand and put a lollipop thru. It looks 3D, like your child's hand is sticking out with a lolly in her/his hand.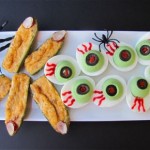 Scariest Halloween Edible Craft Ideas I was roaming the internet the other day and I came across some of the scariest Halloween treats that I have ever seen…. I just had to share them with you. I know food is not usually covered in this blog, but I was thinking…… not all crafts have to be made in the craft room. Today I'm going to bring the crafts into the kitchen. Check out some of the Scariest Halloween Edible Craft Ideas I have ever seen.

Valentine's Day Lollipop Flower Making Instructions - Give your special friend or loved one a lollipop shaped like a flower.

Sugar Cookie Leprechauns - Learn how to make these sugar cookie leprechauns.

Candy Bar Vampire Bats - Turn a normal candy bar into a vampire bat for Halloween Trick-or-Treaters.

Popcorn Bracelets - Find out how to make this edible popcorn bracelet.

Candy Filled Baby Chick Using Egg Carton - Using an Egg Carton, make these candy filled baby chicks.

Dracula Milk Jug Candy Holder - This is a great craft for Halloween. Just cut up and decorate a milk jug and then display it outside your house. You can place candy in the vampire's mouth.

Make a Lollipop Holder Card - If your sweetie pie likes Lollipops, you can make them this Lollipop holder, and put a special message on the front as the card.

Valentine's Day Chocolate Bar Wrapper Making Ideas - Give your special friend or loved ones a beautifully wrapped chocolate bar for Valentine's Day.

Ideas for Yummy Edible Christmas Crafts - Here are our favorite yummy edible Xmas crafts from around the net.

Ideas for Valentines Day Candy Cards - Learn how to make Valentines Day Candy Cards Ideas.

Candy Bird Nests - You can make these cute little candy nests for a spring or Easter treat. These treats are great to serve at parties.

Candy Cane Sleigh - This Candy Cane Sleigh is a cute Christmas craft to give or keep! Print the template for the sleigh right from your computer. You can print it on colored paper, or print it on white and decorate it! We filled our sleigh with little chocolates wrapped with ribbon, you can fill it with just about anything!

Candy Jewelry - Don't buy candy necklaces, make your own unique Candy Jewelry! This is a great edible craft and is a great activity for birthday parties as well!

Candy Pumpkins - These candy pumpkins are fun to create and would make a great decoration for fall cakes and cupcakes, or make a bunch and put them in a clear treat bag as a party favor!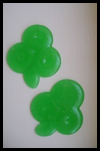 Candy Shamrocks - These Candy Shamrocks are so easy to make and look great on top of cupcakes, or make a bunch and put them in a bag for a great party favor!

Candy Train Craft - This candy train is made from a roll of hard candy (like Lifesavers), wrapped peppermint candies, a wrapped caramel, and a wrapped chocolate kiss.

Candy Valentine - Tastes sweeter than a card, this Candy Valentine will put a smile on anyone's face!

Candy Wreath - This Candy Wreath is a unique and sweet edible craft for the holiday season. It also makes a great.pngt or Christmas party favor!

Cup o' Worms - This party treat looks yucky but tastes great. Make an edible cup of worms in real-looking "soil." This is a great party treat you can make with your child.

Edible Jewelry - This craft is easy, inexpensive, and makes for a great way to occupy your child when you need it most. You will want to make several to store so they are ready to use when you need them!

Fire Truck Snack - Children can make these tiny fire trucks for a preschool or kindergarten treat.

Edible Turkey - Simple, but cute, this edible turkey craft is sure to please the turkey enthusiasts as we celebrate Thanksgiving.

Flower Lollipop - This Flower Lollipop is a great edible craft for kids. Make a whole bouquet and wrap them up as a.pngt!

Ghost Goodies - These Ghost Goodies are easy to make and will be a hit at any Halloween party!

Healthy Holiday Tree - This Healthy Holiday Tree is so easy to make, and very tasty too! Pick out any kind of fruits or veggies the kids will like, and get some extra in case they want to sample some of the ingredients! Perfect for a party!

Jello 3-D Animal Cell Craft - This projects lets the student make an edible, 3-D model of an animal cell. The various organelles of the cell are represented by fruits and candies. When you've finished making your cell and writing about it, you can eat it!

Johnny Appleseed - This Johnny Appleseed is a great Edible Craft to celebrate the fall harvest! If you can resist eating your creation, you can always set it out for a great fall decoration!

Lollipop Flowers - These Lollipop Flowers are fun kids craft for spring or anytime, make a whole bouquet and give it as a.pngt! These would also look great on top of a.pngt!

Love Train - This Love Train is an easy to make sweet treat for any Valentine. Any child would love to make or recive a candy train for Valentines Day, but this would also work great as a boys Valentine!

Mini Bird Nests - These Mini Bird Nests are an easy edible spring craft for preschoolers, on up! This is a perfect treat for the kids to make for Easter or spring, and would also works great as a party favor!

Mini Cornucopia - This Mini Cornucopia would make a great take home favor for a fall party or dinner. Make them into place cards by tying on a colored piece of paper and writing each guests name!

Mini Indian Corn - Not only are these Mini Indian Corn really easy to make, they're also really yummy to eat! These are made with simple items found at your grocery store!

Pot of Gold - This St Patricks Day make a Pot of Gold filled with yummy treats. So easy to make, to give or keep! These also work great as party favors!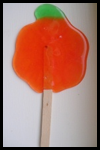 Pumpkin Lollipops - These yummy Pumpkin Lollipops are a creative edible craft for the fall season, they also work great as party favors!

Rainbow in A Cup - Make a rainbow Jello for St. Patrick's Day or other festive occasions. This cute snack is simple to make, but each layer has to set before you add the next layer, so start days before you want to eat it.

Rose Kisses Bouquet - Say 'I love you' by making this edible Rose Kisses Bouquet! All you need is a few simple items to make these easy mini Roses, you don't even need to make a whole bouquet, single red rose looks just as beautiful!

Sipping Snowman - This Sipping Snowman is a perfect and tastey way to drink hot chocolate on a cold winter day!

Sprinkle Christmas Trees - These Sprinkle Christmas Trees are so easy to make, and are also a tasty treat as well! This is a great Christmas craft for Preschoolers, and they can decorate their tree with any edible candy!

Sweet Necklace or Bracelet Craft -- This is an easy way to make a very sweet, edible necklace or bracelet using licorice whips and Fruit Loops cereal and/or Cheerios. This is a good group activity for a child's party.

Tasty Fish Bowl - This Tasty Fish Bowl is such a fun craft that any child would love to make and eat!

Tasty Turkeys - These Tasty Turkeys are an easy Thanksgiving edible craft. The kids will love to make them and then gobble, gobble them up!

The Magical Banana - Make a magical banana that will really surprise your friends! Tell them that you've discovered a brand new, genetically-altered banana that grows pre-sliced. This is the best invention since sliced bread.

Valentine Pretzels - Not only are these Valentine Pretzels fun and easy to make, they're also a yummy treat for someone you love. You can make these heart pretzels pink inside and then sprinkle cinnamon and sugar on top!