Home > Arts and Crafts Projects for Kids > Book Making Crafts to Make Handmade Books with Arts and Crafts Projects Ideas for your Kids
EDIBLE CRAFTS FOR KIDS: Ideas for Edible Arts & Crafts Projects, Activities, & Instructions to make with food and candy and treats that your children, preschoolers, and teens can eat
I love to eat - I mean it is truly my favorite thing in the world to do. I even love it more than crafting. I mean if I could make a living out of just eating all day and all night I would do it. But so far, nobody wants to pay me to eat, so I guess I will continue on this path and help you with crafts instead. :-) So when I realized there was such a thing as edible crafts (in other words crafts that you can eat) I thought that I had died and gone to heaven! This page is dedicated to crafts that have at least one edible element involved ....whether its candy, fruit, vegetables, hot dogs, eggs, whatever it is, it is edible. So enjoy the crafts and try not to eat your crafts until you are completely done with them!

Make a Mamma' Hen Sitting on Her Eggs - This one is perfect for Easter. A mother chicken made from a hard boiled egg, sitting on her baby's eggs in her nest.

Spaghetti Octopus Squid Dogs - Mom and Dad Can help you make these Octopus Hot Dogs for You with Spaghetti and Hot Dogs. They are so much fun to eat and make.

Make Bunny Rabbit with Vegetables - This is a fun Easter Bunny craft using vegetables on hand.

Making Valentine's Day Hearts Candy Doggy Card Project - If you want to make a special Valentine's Day Card Treat to give out to your friends and classmates this year at school, then here is a tasty and inexpensive project to make. It is a Tootsie Roll, Standing Hearts Doggy Card. The easy to follow, illustrated steps can be found below.

Hand Me a LolliPop Card - This is a great card to make because it has your child's image on the card. You then cut out a hole on either side of the hand and put a lollipop thru. It looks 3D, like your child's hand is sticking out with a lolly in her/his hand.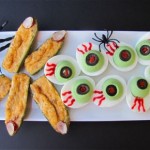 Scariest Halloween Edible Craft Ideas I was roaming the internet the other day and I came across some of the scariest Halloween treats that I have ever seen…. I just had to share them with you. I know food is not usually covered in this blog, but I was thinking…… not all crafts have to be made in the craft room. Today I'm going to bring the crafts into the kitchen. Check out some of the Scariest Halloween Edible Craft Ideas I have ever seen.

Valentine's Day Lollipop Flower Making Instructions - Give your special friend or loved one a lollipop shaped like a flower.

Sugar Cookie Leprechauns - Learn how to make these sugar cookie leprechauns.

Candy Bar Vampire Bats - Turn a normal candy bar into a vampire bat for Halloween Trick-or-Treaters.

Popcorn Bracelets - Find out how to make this edible popcorn bracelet.

Candy Filled Baby Chick Using Egg Carton - Using an Egg Carton, make these candy filled baby chicks.

Dracula Milk Jug Candy Holder - This is a great craft for Halloween. Just cut up and decorate a milk jug and then display it outside your house. You can place candy in the vampire's mouth.

Make a Lollipop Holder Card - If your sweetie pie likes Lollipops, you can make them this Lollipop holder, and put a special message on the front as the card.

Valentine's Day Chocolate Bar Wrapper Making Ideas - Give your special friend or loved ones a beautifully wrapped chocolate bar for Valentine's Day.

Ideas for Yummy Edible Christmas Crafts - Here are our favorite yummy edible Xmas crafts from around the net.

Ideas for Valentines Day Candy Cards - Learn how to make Valentines Day Candy Cards Ideas.

A Candy Wreath - - Mother's Day is a perfect day to show your mother how much you love her. Make Mother's Day special for your mom or other special lady in your life by giving her personalized homemade.pngts.

A cute watermelon snowman - - Surprise your friends and family with this holiday edible fruit centerpiece!

A Gumdrop Garden - - Give mom, or any garden lover, their just dessert -- a sweet bouquet of edible flowers.

Beads of Paradise - - Make your jewelry and eat it too! All you'll need for this cute make-and-take party favor is some elastic cord and a rainbow of LifeSavers candy.

Bubble Gum Bouquet - - Follow this tutorial and learn how to make a floral (bubble gum) bouquet.
Candy Airplane Ornament - - Indulge the sweet tooth of future fliers with this candy airplane ornament craft. Needless to say, it'll look good on your Christmas tree for extended periods of time, but will only taste good if consumed quickly.

Candy Bird Nests - - You can make these cute little candy nests for a spring or Easter treat. These treats are great to serve at parties.

Candy Cane Reindeer - - Inexpensive and attractive, these candy cane reindeer are simple for kids to make and great as decorations for.pngts.

Candy Cane Sleigh - - This Candy Cane Sleigh is a cute Christmas craft to give or keep! Print the template for the sleigh right from your computer. You can print it on colored paper, or print it on white and decorate it! We filled our sleigh with little chocolates wrapped with ribbon, you can fill it with just about anything!

Candy Countdown Garland - - The anticipation is truly sweet with this candy chain. And it's so easy to make, your kids can prepare one for every member of the family.

Candy Jewelry - - Don't buy candy necklaces, make your own unique Candy Jewelry! This is a great edible craft and is a great activity for birthday parties as well!

Candy on a Stick - - It is an easy and tasty project.

Candy Pendants - - Candy pendants are a fun twist on the original candy necklaces. They make a great activity for a girl's birthday party.

Candy Pumpkins - - These candy pumpkins are fun to create and would make a great decoration for fall cakes and cupcakes, or make a bunch and put them in a clear treat bag as a party favor!

Candy Race Car - - Kids, start your engines with this colorful candy race car ornament. Try different candies to create trains, airplanes, and more.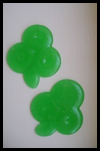 Candy Shamrocks - - These Candy Shamrocks are so easy to make and look great on top of cupcakes, or make a bunch and put them in a bag for a great party favor!

Candy Sleigh - - Looking for a way to sweeten the wait for Santa's sleigh? This little item should help.

Candy Stick Vase - - This simple craft makes a colorful centerpiece for your holiday table or an easy.pngt your child can create for someone special on her list.

Candy Train Craft - - This candy train is made from a roll of hard candy (like Lifesavers), wrapped peppermint candies, a wrapped caramel, and a wrapped chocolate kiss.

Candy Train Ornament - - Get on the Christmas track with this candy train ornament. Get your kids to try different candies to create airplanes, race cars, and more.

Candy Valentine - - Tastes sweeter than a card, this Candy Valentine will put a smile on anyone's face!

Candy Wreath - - This Candy Wreath is a unique and sweet edible craft for the holiday season. It also makes a great.pngt or Christmas party favor!

Chewy & Louie - - Whether slip-sliding across Lake Lollipop or waddling up to greet guests at the chalet, these dapper penguins are a cool yet comical pair.

Chocolate Cherry Mice - - For a really special.pngt, package these little guys with a mouse-related holiday book, such as "The Night Before Christmas," "How the Grinch Stole Christmas!," or "The Nutcracker."

Coconut Snowmen - - Our snowman is made of vanilla ice cream rolled in coconut. His eyes, mouth, and buttons are licorice candies, his carrot nose marzipan, and his hat a toasted marshmallow atop a chocolate cookie. To make these snowmen, you will need three ice-cream scoops in varied sizes. Shoestring licorice cut into small pieces can also be used for the buttons, eyes, and mouth.

Cookie Wreath - - The cookies in this holiday wreath are frosted with royal icing and then brushed with edible luster dust, available at most crafts and cake supply stores.

Creepy Crawlers - - Fun and tasty little critters are actually sandwich cookies in Halloween disguises. Using vanilla frosting and decorative candies make it easy to create these eerie edibles.

Crunchy the Snowman - - Dressed in colorful candy scarves and top hats, these stylish, easy-to-make snowmen are sure to liven up any holiday gathering.

Cup o' Worms - - This party treat looks yucky but tastes great. Make an edible cup of worms in real-looking "soil." This is a great party treat you can make with your child.

Dog-Bone Wreath - - Whether given to your own pet or a friend's Fido, this wreath with edible ornaments is the perfect pooch present.

Edible Bangles - - Made with jelly bean beads, these tasteful bracelets are more than sweet fashion accessories -- they're also a handy treat.

Edible Bird's Nest - - This fun craft is not only adorable when done, but it's tasty too! Sit the kids down to make this fun spring project. Be sure to make extras for friends and family.

Edible Bracelet - - Diamonds are so last year -- everyone knows that cereal is the next big thing in fine jewelry.

Edible Eagles - - Send your family's taste buds soaring with a nest of these bald eagle treats.

Edible Eyeballs - - Set out a platter of these creepy peepers, and your Halloween party guests are bound to do a double take.

Edible Haunted House - - Here's a fun Halloween project for the whole family. Use your imagination to decorate this house any way that you desire. Watch out for ghouls and goblins, they may just devour your masterpiece early!

Edible Jewelry - - This craft is easy, inexpensive, and makes for a great way to occupy your child when you need it most. You will want to make several to store so they are ready to use when you need them!
Edible Magic Wand - - Make a fun edible magic wand using a pretzel rod and a few other supplies.

Edible Napkin Rings - - These glittery napkin rings add a festive touch to Easter dinner -- and double as the bread course!

Edible Ornament Cupcake - - These delectable decorations are just the treat for a holiday tree-trimming party.

Edible Pilgrim Hats - - These adorable (and edible!) Pilgrim hat favors will decorate any pretty holiday table. Turn them over to use as a treat cup and fill with your favorite treats.
Edible Valentines - - If you're looking for a special treat for your teen on Valentine's Day, try this recipe.

Fire Truck Snack - - Children can make these tiny fire trucks for a preschool or kindergarten treat.

Edible Turkey - - Simple, but cute, this edible turkey craft is sure to please the turkey enthusiasts as we celebrate Thanksgiving.

Fish Food Gelatin Snack - - Here's an edible favor for your next party: gummy fish swimming in lemon-flavored gelatin.

Flower Lollipop - - This Flower Lollipop is a great edible craft for kids. Make a whole bouquet and wrap them up as a.pngt!

Fun Winter Cookie Pops - - If you are looking for a fun and easy recipe to do with the kids, try these deliciously simple Winter Cookie Pops. The kids will smile and giggle while making these treats, and will have something fun to give to family and friends!

Ghost Goodies - - These Ghost Goodies are easy to make and will be a hit at any Halloween party!

Gingerbread-Man Wreath - - Invite these friendly characters to hang around for the holidays. Before baking, lay gingerbread men in a circle, overlapping feet and hands (moisten dough with water so it will stick). After baking, let cool; then thread ribbon through spaces between the cookies. Display in a cool, dry place.

Graham Cracker.pngt Box - - Learn to make this edible.pngt box.

Healthy Holiday Tree - - This Healthy Holiday Tree is so easy to make, and very tasty too! Pick out any kind of fruits or veggies the kids will like, and get some extra in case they want to sample some of the ingredients! Perfect for a party!

Holiday &.pngt Chocolate Spoons - - Everyone knows that spoons are for eating, but with these chocolate spoons, they really are! Give these crafts as decorations on.pngts or as 'stir sticks' for coffee.

How to Make a Candy Bouquet - - It's really not so difficult to create; next time you want to give someone a bouquet, consider putting together something like this!

Jello 3-D Animal Cell Craft - - This projects lets the student make an edible, 3-D model of an animal cell. The various organelles of the cell are represented by fruits and candies. When you've finished making your cell and writing about it, you can eat it!

Jelly Bean Christmas Trees - - With jelly beans and plastic pastry decorating bags, your kids can assemble these quick and easy Christmas trees for party favors or Secret Santa presents.

Johnny Appleseed - - This Johnny Appleseed is a great Edible Craft to celebrate the fall harvest! If you can resist eating your creation, you can always set it out for a great fall decoration!

Jolly Snowman Bread - - Invite your kids to shape this classic white bread dough into snowmen. When the snowmen are baked, the kids can tie on ribbon scarves and present their edible sculptures to teachers and friends.

Kwanzaa Celebration Sticks - -Celebrate the colors of Kwanzaa with these sprinkle-coated pretzel sticks. Your kids can hand them out to friends during Kwanzaa, from December 26th to January 1st. Alternatively, you can create blue-and-white sticks for Hanukkah or red-and-green sticks for Christmas.

Lake Lollipop - - The perfect end to a day on Gumdrop Mountain? A peaceful ski around the lake, then back to the lodge for dessert and dreams of another visit.

Lollipop Flowers - - These Lollipop Flowers are fun kids craft for spring or anytime, make a whole bouquet and give it as a.pngt! These would also look great on top of a.pngt!

Lollipop Tree - - Studded with lollipop lights, this tabletop tree is a sweet alternative to a holiday candy dish.

Love Train - - This Love Train is an easy to make sweet treat for any Valentine. Any child would love to make or recive a candy train for Valentines Day, but this would also work great as a boys Valentine!

Mm-moose - - He may look stately, but Mm-moose is a goofball at heart. He loves nothing more than sliding down Gumdrop Mountain's toboggan run (even though it leaves his antlers twisted up like pretzels).

Merry Marshmallow Men - - Here is a little how-to for those little Marshmallow Men.

Miniature Gingerbread House - - This 'mini' craft has big flavor. Kids can decorate this Miniature Gingerbread House and enjoy as a Christmas treat, or as a decoration for years to come.

Mini Bird Nests - - These Mini Bird Nests are an easy edible spring craft for preschoolers, on up! This is a perfect treat for the kids to make for Easter or spring, and would also works great as a party favor!

Mini Bread Monsters - - Turn the kitchen into an edible monster laboratory where kids can create their own crusty creatures.

Mini Cornucopia - - This Mini Cornucopia would make a great take home favor for a fall party or dinner. Make them into place cards by tying on a colored piece of paper and writing each guests name!

Mini Holiday House - - Forget exorbitant gingerbread real estate. We've scaled back the usual candy-covered mansion to something a little more humble: a make-and-eat cottage built from graham crackers, lightly sweetened cream cheese, and nutritious decorations.

Mini Indian Corn - - Not only are these Mini Indian Corn really easy to make, they're also really yummy to eat! These are made with simple items found at your grocery store!

Mr. Bones - - Halloween party fun begins with these edible pretzel snacks that kids can easily make. A little bit of American cheese spread acts as "glue" on the graham cracker treats.
Peanut Butter Playdough - - This dough is edible, however be aware that peanuts can cause allergies in some children and eating wads of dough could be a choking hazard. Always supervise young children around playdough.

Peppermint Tree - - With green mint boughs and sour ball lights, this tabletop tree is a treat for kids to decorate -- and for holiday guests, who can harvest goodies from its branches.

Picabo Sweet - - Dressed in candy-colored outerwear and a jaunty ski cap, this racer (and her pals) pulls off some tasty moves on the resort's packed-powder trails.

Popcorn Wreath - - Popcorn strands are classic tree decorations, but you can also use them to create a wintry wreath.

Pot of Gold - - This St Patricks Day make a Pot of Gold filled with yummy treats. So easy to make, to give or keep! These also work great as party favors!

Puffy the Polar Bear - - Polar bears can be ferocious, but Puffy, the chalet's resident bear, is quite the opposite. With a gentle temperament and arms made for hugging, he's sweet to the core.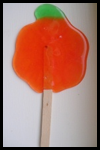 Pumpkin Lollipops - - These yummy Pumpkin Lollipops are a creative edible craft for the fall season, they also work great as party favors!

Rainbow in A Cup - - Make a rainbow Jello for St. Patrick's Day or other festive occasions. This cute snack is simple to make, but each layer has to set before you add the next layer, so start days before you want to eat it.

Red-nosed Reindeer Lollipops - - With its lollipop head, pipe cleaner antlers, and googly eyes, this treat is part craft project, part holiday sweet. Kids can easily make a whole herd for classmates and teachers.

Rice Crispy Turkeys - - These cute little rice crispy turkeys will make a sweet addition to your child's Thanksgiving table. They are sure to gobble them up for dessert!

Rose Kisses Bouquet - - Say 'I love you' by making this edible Rose Kisses Bouquet! All you need is a few simple items to make these easy mini Roses, you don't even need to make a whole bouquet, single red rose looks just as beautiful!

Sandwich Art - - Add a twist to the term "starving artist" by creating masterpieces with food coloring paint on a crusty canvas.
Scrumptious Cookie Puppets - - Cookies just got better, they're on a stick! Perched atop a lollipop or craft stick, this classic sugar cookie can become a great entertainer.

Sipping Snowman - - This Sipping Snowman is a perfect and tastey way to drink hot chocolate on a cold winter day!

Spooky Blueberry Smoothies - - Use thick fluffy meringue batter to easily create eyes that are edible but eerie. They top tasty smoothies that are hits at Halloween parties.

Sprinkle Christmas Trees - - These Sprinkle Christmas Trees are so easy to make, and are also a tasty treat as well! This is a great Christmas craft for Preschoolers, and they can decorate their tree with any edible candy!

Stained Glass Cookies - - Make your own tasty stained glass this Christmas! These Stained Glass Cookies are tasty to eat, or make for beautiful Christmas ornaments.

Strawberry Heart fruit and candy dessert - Edible creations are beautiful and tasty edible arrangements that have become very popular these days. "Strawberry heart" is an easy to make edible arrangement that can be a unique handmade .pngt or a dessert centerpiece.

Sugar Cookie Bouquet - - Learn to make this delicious sugar cookie bouquet.

Sweet Countdown - - This edible Advent garland will spruce up your holiday tree and give your child a way to keep track of the days until Santa's visit.

Sweet Necklace or Bracelet Craft - - This is an easy way to make a very sweet, edible necklace or bracelet using licorice whips and Fruit Loops cereal and/or Cheerios. This is a good group activity for a child's party.

Sweet Scarecrows - - These autumn treats are so adorable and easy to assemble, they won't scare anyone away. In fact, set out a batch, and kids are sure to flock to them.

Tasty Fish Bowl - - This Tasty Fish Bowl is such a fun craft that any child would love to make and eat!

Tasty Turkeys - - These Tasty Turkeys are an easy Thanksgiving edible craft. The kids will love to make them and then gobble, gobble them up!

The Magical Banana - - Make a magical banana that will really surprise your friends! Tell them that you've discovered a brand new, genetically-altered banana that grows pre-sliced. This is the best invention since sliced bread.

Tortilla Snowflakes - - These crispy treats are fast and easy to make with your kids. They make a perfect snack for a cold winter's day, so be sure to make plenty and invite your friends!

Valentine's Hearts made of candy - - If you are looking for cute homemade Valentine.pngt ideas, consider making tasty Valentine's hearts. Candy hearts will make your sweetheart smile. This is an easy Valentine's Day candy craft project.

Valentine Pretzels - - Not only are these Valentine Pretzels fun and easy to make, they're also a yummy treat for someone you love. You can make these heart pretzels pink inside and then sprinkle cinnamon and sugar on top!

Visions of Sugar Creatures: Candy Snails and Mushrooms - - Sprinkles on gumdrops and sweet gummy rings -- these are a few of kids' favorite things. It's easy to turn candy into lively decorations.