Home > Arts and Crafts Projects for Kids > Family Vacations & Travels Memory Savers Arts & Crafts Ideas & Crafts for Kids
FAMILY VACATION CRAFTS FOR KIDS: How to Make Memory Saving Family Travel Arts & Crafts Projects & Activities for children, Teens, and Preschoolers
What a wonderful trip with the kids this year. Could you have imagined that they would be so well behaved on that long car ride? Of course they never would have put up with it without the help of all those great travel crafts to keep them busy during that otherwise boring trip. So much better seeing the smiles from doing traveling crafts in the car and playing the travel games they made before the trip than just listening to the beeps and boops from electronics and the stale cold faces with glazed over eyes from watching videos all those hours. Now that we're back we definitely have to make some vacation memory crafts to immortalize the trip. This one was definitely worth remembering. Good times.
Binder Ring Travel Journal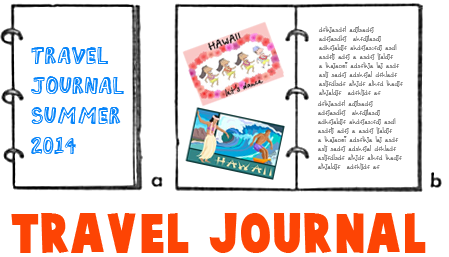 You will need 2 - 14 inch x 22 inch sheets of sturdy poster board (for the covers), a bunch of 14 inch x 22 inch pieces of paper (for pages), 3 small binder rings (or jump rings), paper punch, and pens. Punch 3 holes along the left edge of the covers and inside pages so all of the holes line up perfectly when they are stacked together. Insert the three binder rings as in illustration a. Name the book something like "Travel Journal Summer 2014" or something similar such as "Hawaii Vacation 2014". On the inside, tape or glue postcards and pictures from your trip. Write the date before each entry and then write about your day on the vacation. You can use it as your personal diary during your vacation.


How to Make Vacation Destination Memory Key Chains - This is a great idea for making keychains that showcase the places you went on vacation.

Make Denim Jeans Travel Tote - Hold all of your vacation stuff inside the pockets and legs of your pants. This hooks on to the seat in front of you...and NO SEWING AT ALL if you hot glue the pants legs instead of sew them (that is what I did)! I did this for my own kids and they carry so much more than any other store-bought totes can hold - and they are great for hiding stuff when you go into a restaurant.

Seashell Jewelry - These bracelets or necklaces are perfect ways to remember your beach vacation.

Coin Earrings - Learn how to make coin earrings - a great craft for travelers coming back from a foreign country...remember your vacation forever.

Sand Casting - Next time you visit the beach, make a design in the sand, and then use plast of paris to make a casting of your sand design. You can even press sea shells into it.

Seashell Painting - The next time you go travel to the beach, take away a huge shell and make a beautiful painting within it. You will always remember your vacation to the beach.

Coin Necklaces & Bracelets - A lesson on making coin bracelets and necklaces out of coins from different countries...great after travels to foreign lands.

Hold Your Memories in an Accordion Journal - This craft was originally meant for a year-long memory book - but it is just the perfect size to make a memory journal for your favorite Summer vacation.

Make Earrings with Sea Shells from the Beach - If you are going to the beach, pick up matching shells to decorate and turn into earrings. You will have these always to remember your beach vacation.

Sea Shell Tortoises -Sea Shell Turtles or Tortoises can be made the next time your travel to the beach.

Permanent Sand Castles - Save sand from your beach trip and use it to make this permanent sand castle when you get home. You make the structure with cardboard boxes and cylinder tubes. Then you paint on the sand with glue and sand.

Vacation Memories Scrapbook - Make a scrapbook of your favorite vacation with the following craft idea.

Activity Travel Tray - - Find out how to recycle an old cookie sheet into a fun activity tray. This makes a great Gift for kids of all ages and makes for a nice travel activity.
Bag Tags for Kids - - Whether it's back to college or on vacation, it will be easy to find your bags in a crowd of look-alikes when you attach these colorful tags.

Beach Scene Collage - - What's to love when you play and swim at the beach? Remember the fun times in the sand, sun, and waves!

Beat-a-Leaf Journal - - This project combines your kids' most primal gathering instincts with another activity they love: banging rocks. Although the name sounds decidedly un-eco-friendly, leaf-beating is a favorite with the thousands of kids who take part in the naturalist programs run by the Appalachian Mountain Club in New Hampshire's White Mountains. Put the finished print on the cover of a blank notebook, and your kids have a journal for recording their juiciest summer adventures.

Roadtrip Travel Timeline - Help your kids pass the time in the car by making a roadtrip timeline.

Travel Keepsake Boxes - A great idea from Martha Stewart...these would be perfect for journaling and keeping note of vacation travels.

Bubbling Up Pictures - - Have fun with your favorite photos! Let only parts of them show through cut-out bubble letters that sum up your party or vacation fun!

Campfire Caps : Camping Vacations Crafts Ideas - - My four- and five-year-old day campers got a big kick out of these hot headbands. When setting up your cap-making station, be sure to include at least twice as many marshmallows as the hats call for, as they tend to quickly disappear.

DIY Travel Journals - Here is a great idea for making keepsake travel journals...your kids will love this craft.

Driftwood Photo Holder - - Here's a fun way for your child to display his favorite beach snapshot or a collage of your best vacation photos.

Fabulous Footprints - - Bring home memories of a fun day at the beach long after the vacation is over.

Footprints in the Sand - - Capture that barefoot-on-the-beach feeling -- and a record of your feet -- with this simple plaster-casting project.

Friendship Sticks - - These vibrant sticks are banded with six colors, one for each letter in the word friend. At a recent camp for seven- to 13-year-old girls, the campers made these trinkets for one another and wore them around their necks as a token of their camp-forged bonds.

Friendship Quilt - - A great way to begin or finish summer camp or any other gathering. Memories will last for years with this fun and easy paper "quilt".

Glittery Shell Fish - - Compare and contrast various forms of ocean life, identify shellfish by their shell characteristics, and create ocean scenes inside shells.

God's-Eye Memory Keeper - - Kids love this traditional Mexican yarn craft because of its fun weaving technique, and this framed variation is perfect for displaying your family's summer vacation mementos.

Keepsake Suitcase - - Make a personalized suitcase to hold all your vacation souvenirs.

Jumbo Treasure Sack - - Instructions to make a large sack for carrying special treasures.

Leaping Dolphin Photo Holder - - Bring the ocean indoors! Create a fabulous photo holder that features a leaping dolphin and crashing waves. Funky wire spirals hold photos or postcards of your favorite friends or vacation memories.

Make Your Own Portable Game Set - - This homemade 3-in-1 game board lets players take their pick of challenges, with tic-tac-toe and checkers on one side and a penny-pitching target on the other. Roll it up like a scroll and take it on vacation for a rainy-day diversion.

Memorabilia Shelf - - Baseball-loving kids will be all over this grand slam of a decoupaging idea. The theme here is a visit to the National Baseball Hall of Fame in Cooperstown, New York, but any motif will shine: your kids could pay homage to a trek into the Grand Canyon, or their Smoky Mountains summer camp, or that Route 66 road trip. We chose a shelf, but you can easily apply the technique to other furniture, such as a desk or nightstand.

Memorable Times Together - - Make and save your memories on vacation, at camp—or wherever and whenever you go away!

Message in a Bottle - - Add a few special tokens of summer to kids' wish-you-were-here vacation greetings with this alternative to plain-old postcards.

My Summer Vacation T-Shirt - - Preserve summertime memories on a T-shirt—a great way to "show and tell" everyone at school how your spent your vacation.

Ocean Keepsake Box - - What to do with the shells, postcards, and other beach-related trinkets? Keep vacation memories safe inside this keepsake container.

On The Beach - - Remember that exciting day on the beach by saving your favorite photo in a cool, custom picture frame! It's like being there all over again.

Outback Memory Mirror - - Remember the fun you had a camp every time you look in the mirror.

Passport to Adventure - - Travel the world, explore a neighborhood, or record classroom adventures. Keep track of discoveries with colorful stamps in a hand-crafted journal.

Personalized Nature Pals - - This take on a classic camp craft inspires your family members to create versions of themselves with natural treasures from your own backyard.

Photo Frame Postcard - - Looking for a unique way to share family pictures, travel photos, or great pet shots? Create your own postcard in a photo frame!

Picture Postcards - - Send news and photos from the home-front with these simple homemade postcards.

Ribbon Roadway - - Follow this Ribbon Roadway to green pastures, your last vacation, or anywhere your kids' imaginations take them. The more details the better.

Rock Necklace - - Use a rock collected from a special place or during a special outing.

Rock Necklaces - - A variation on the age-old nature necklace, these wire-wrapped pendants are fun for kids to trade. Some girls paint their names on one side and their best friend's on the other, and wear them as a proclamation of their unbreakable bond.

Rockin' Garden - - This tabletop Zen rock garden lets kids display a collection of souvenirs from their summer travels.

Sand Candles - - Bring home some sand from your camping trip or vacation and make a candle to remember the good times.

Sand Castle Scrapbook - - A scrapbook that contains the memories of your exciting summer adventures deserves a cover with true grit - such as this castle made of sandpaper.

Seashell Picture Frame - - Use sea shells and sand gathered during your vacation to frame your favorite vacation photo.

Seashell Refrigerator Magnet - - This pretty vacation craft is made from shells and corals collected from a beach outing.

See the Sea - - What to do with your seashell collection? Relive your warm beach memories with these colorful shells.

Shadow Box - - Do try this at home! Want to help your kids turn their own beloved junk into a work of art? You don't need to spend your life scouring flea markets; chances are good you've got plenty of meaningful objects right at home. Set your kids loose to gather their stuff, arming them with two vital questions: 1) What do you most want to remember? 2) What do you think makes art beautiful?

Souvenir Rings - - Souvenir + Earrings = Souvenir-rings. Get it?

Souvenir Suitcase - - Children always need places to store their travel treasures. Take a dream vacation with them as they cover their suitcase with handmade travel stickers.

Sporty Sculpture - - Ride the waves, dudes, with this fun sculpture. Use Crayola® Model Magic® to sculpt a surfer—or whatever your favorite summer sport!

State and Province Plates - - Kids make this colorful license "plate" for your next trip. They search for license tags from the U.S. and Canada, or anywhere in the world, then fold back tabs to keep track of their finds.

Summer Welcome Window - - Welcome summer with colorful decorations. Show fun in the sun, your favorite flowers, or other summery messages-all in your windows!

Sunset Scene - - Just beachy! Smell the salt air as you look over the harbor at sunset—or is it sunrise? Create a memorable 3-D scene.

Traveling in Style - - Plan an imaginary trip anywhere in the world then draw and paint your group in the clothes of the culture.

Travel Scrapbook - - Decorate a journal or photo album for camp or vacation. This is a great craft for making mini scrapbooks to record your summer experiences.

Travel Totes - - Decorate a tote with real tire tracks!

Vacation Map Picture Frame - - Save old maps from your vacation to make this unique picture frame that doubles as a wonderful conversation piece.

Walking Stick Grip - - Personalize a favorite walking stick with a braided grip and wrist strap that are as comfortable as an old T-shirt.

Waterproof Beach Bag - - This colorful, rinseable carryall is the perfect beach bag for kids - great for packing up gear, collecting sandy treasures,
or toting wet suits and towels.

Writing on the Waves - - Ride that wave! Paddle a kayak! Keep that summer feeling alive with an action-packed vacation diary.