Home > Arts and Crafts Projects for Kids > Family Vacations & Travels Memory Savers Arts & Crafts Ideas & Crafts for Kids
FAMILY VACATION CRAFTS FOR KIDS: How to Make Memory Saving Family Travel Arts & Crafts Projects & Activities for children, Teens, and Preschoolers
What a wonderful trip with the kids this year. Could you have imagined that they would be so well behaved on that long car ride? Of course they never would have put up with it without the help of all those great travel crafts to keep them busy during that otherwise boring trip. So much better seeing the smiles from doing traveling crafts in the car and playing the travel games they made before the trip than just listening to the beeps and boops from electronics and the stale cold faces with glazed over eyes from watching videos all those hours. Now that we're back we definitely have to make some vacation memory crafts to immortalize the trip. This one was definitely worth remembering. Good times.
Binder Ring Travel Journal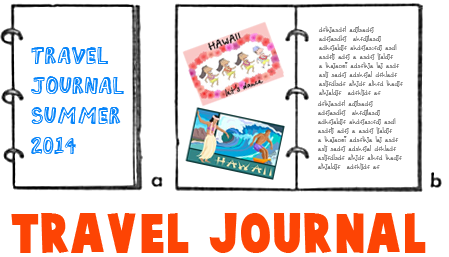 You will need 2 - 14 inch x 22 inch sheets of sturdy poster board (for the covers), a bunch of 14 inch x 22 inch pieces of paper (for pages), 3 small binder rings (or jump rings), paper punch, and pens. Punch 3 holes along the left edge of the covers and inside pages so all of the holes line up perfectly when they are stacked together. Insert the three binder rings as in illustration a. Name the book something like "Travel Journal Summer 2014" or something similar such as "Hawaii Vacation 2014". On the inside, tape or glue postcards and pictures from your trip. Write the date before each entry and then write about your day on the vacation. You can use it as your personal diary during your vacation.


How to Make Vacation Destination Memory Key Chains - This is a great idea for making keychains that showcase the places you went on vacation.

Make Denim Jeans Travel Tote - Hold all of your vacation stuff inside the pockets and legs of your pants. This hooks on to the seat in front of you...and NO SEWING AT ALL if you hot glue the pants legs instead of sew them (that is what I did)! I did this for my own kids and they carry so much more than any other store-bought totes can hold - and they are great for hiding stuff when you go into a restaurant.

Seashell Jewelry - These bracelets or necklaces are perfect ways to remember your beach vacation.

Coin Earrings - Learn how to make coin earrings - a great craft for travelers coming back from a foreign country...remember your vacation forever.

Sand Casting - Next time you visit the beach, make a design in the sand, and then use plast of paris to make a casting of your sand design. You can even press sea shells into it.

Seashell Painting - The next time you go travel to the beach, take away a huge shell and make a beautiful painting within it. You will always remember your vacation to the beach.

Coin Necklaces & Bracelets - A lesson on making coin bracelets and necklaces out of coins from different countries...great after travels to foreign lands.

Hold Your Memories in an Accordion Journal - This craft was originally meant for a year-long memory book - but it is just the perfect size to make a memory journal for your favorite Summer vacation.

Make Earrings with Sea Shells from the Beach - If you are going to the beach, pick up matching shells to decorate and turn into earrings. You will have these always to remember your beach vacation.

Sea Shell Tortoises -Sea Shell Turtles or Tortoises can be made the next time your travel to the beach.

Permanent Sand Castles - Save sand from your beach trip and use it to make this permanent sand castle when you get home. You make the structure with cardboard boxes and cylinder tubes. Then you paint on the sand with glue and sand.

Vacation Memories Scrapbook - Make a scrapbook of your favorite vacation with the following craft idea.

Roadtrip Travel Timeline - Help your kids pass the time in the car by making a roadtrip timeline.

Bubbling Up Pictures - Have fun with your favorite photos! Let only parts of them show through cut-out bubble letters that sum up your party or vacation fun!

Glittery Shell Fish - Compare and contrast various forms of ocean life, identify shellfish by their shell characteristics, and create ocean scenes inside shells.

Passport to Adventure - Travel the world, explore a neighborhood, or record classroom adventures. Keep track of discoveries with colorful stamps in a hand-crafted journal.

Ribbon Roadway - Follow this Ribbon Roadway to green pastures, your last vacation, or anywhere your kids' imaginations take them. The more details the better.

Souvenir Suitcase - Children always need places to store their travel treasures. Take a dream vacation with them as they cover their suitcase with handmade travel stickers.

Traveling in Style - Plan an imaginary trip anywhere in the world then draw and paint your group in the clothes of the culture.