Home > Arts and Crafts Projects for Kids > Garden and Flower Crafts for Kids
FLOWER & GARDEN CRAFTS FOR KIDS : Ideas for Arts & Crafts Projects & Activities with flowers & pots, vases, plants, planters Instructions for Children, Teens, and Preschoolers
Children loves flowers, especially girls. You can always find them in the garden helping their mother planting and picking beautiful flowers. Flower crafts are very popular, especially during the spring time. Children can make crafts such as pressed flowers bookmark, greeting cards, or a pendant. Children can also grow their own flowers in blown egg shells or recycled tin cans.
You can go a step further and make necklaces, rings and bracelets from flowers too. Sadly they won't last long, but you can always make more another day.

Make Tissue Paper Flowers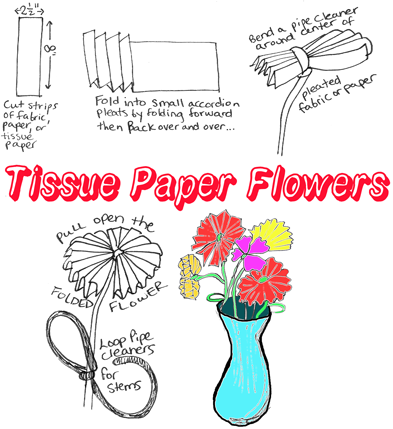 This is an easy craft that kids of all ages (even grown ups and teens) can try out. First of all cut strips of fabric, paper, or tissue paper up (about 8" x 2 1/2" is what I used above...but any size will work). Then start folding forwards and backwards in an accordion fold style. Now find a green pipe cleaner and fold it around the center of the pleated paper or fabric that you just folded. Now pull open the accordion pleated paper...now it is starting to look like a beautiful flower. For stems, you can just loop and bend pipe cleaners around the green stems. Make a whole bunch of these and stick them in a vase or wrap them in wrapping paper with a pretty bow to give to Mom or Grandma for a special occasion.
Tissue Paper Carnations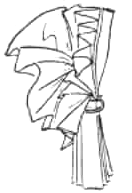 These look just like the real thing and are simple to make. One sheet of tissue—a double thickness--makes a flower (or Tissue Paper). First, fold the sheet in half lengthwise. Then make accordion pleats crosswise, as you would make a paper fan. Make the pleats about 1/2 inch wide. When it is pleated all the way across, fasten a paper clip through the center of the pleats. See the picture above. Next, tear a strip about 1/2 inch wide from each end. It is better if the torn ends are uneven and jagged. The carnation is made by separating the sheets of tissue. Starting at one side, carefully separate the top sheet, pulling it gently away from the rest and up toward the center. Do this clear across the folded sheet. Then go back and do the same with the other thicknesses—there are four on each side of the clip. When you have finished, you have a realistic-looking carnation. For a stem, loop a pipe cleaner through the paper clip at the center, and twist it. Colored tissues can be used.
Making Flowers Out of Household Items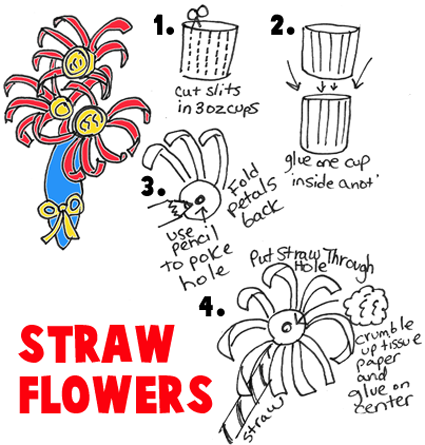 Get some items from around your house...some 3 ounce disposable cups, some drinking straws, some tissue paper or cotton or tissues, some gift wrap or decorative paper, some ribbon or string or yarn, glue, and some scissors. Follow the directions above to make this beautiful flower. Basically all you need to do is cut up some cups in vertical lines. Then you just glue the cups inside each other. Poke a hole in the center and fold back the flower's pedals. Then stick the straw through the flower and then give it a center with cotton or tissues or whatever you choose. Then just wrap up the flowers and close it with a bow. And that is all there is to it.
How to Make Ice Cream Spoon Garden Beds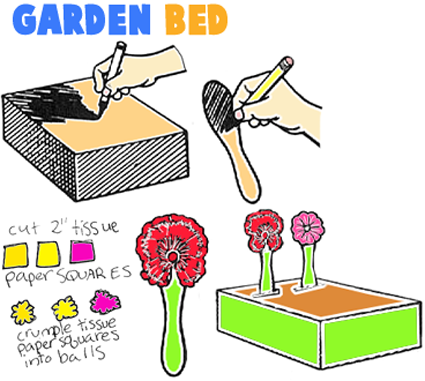 To make a spoon flower garden, you will need a small cardboard box (top or bottom), brown and green crayons, markers, or paint, scissors, small wooden spoons, and either tissue paper or flower stickers. To make this craft, turn a box so that the opening faces a table, and color top brown and sides green with markers or crayons. This will make the "flower bed." Cut slits in the top of the box to slip spoon flowers into. The slits need to be large enough for spoon ends to fit in as shown in the sketch above.) Children may color both sides of spoons green. If you are using flower stickers or Magazine or Internet Flower Prints. Paste matching flower stickers on both sides of bowl end of each spoon. If you are using tissue paper, cut 2" squares and crumple them into smushed flowers. Then glue them on the stick. the flowers are ready to place in the garden. (Put spoons in slots.)
Paper Flowers Baskets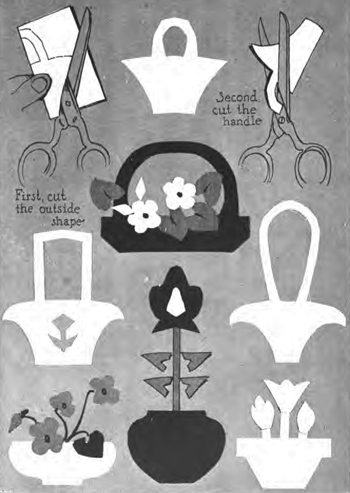 Fold a basket-colored piece of paper in half. Draw half of a basket-shape. A basket can be any shape really, as long as it has a handle. You can look at the many shapes of baskets above to get an idea. After you cut out the outside of the basket-shape...then cut out the inside of the handle. Then you can open up the piece of paper to see what your basket looks like. Then cut out flower shapes from pieces of paper. The easiest type of flowers to make are the ones that you see in the top flower basket. Just cut out circles for the petals and for the inside of the flower too. You can cut out hearts for the leaves. Your flowers will look beautiful in their paper basket, I'm sure of it.
Paper Flower Cutting Techniques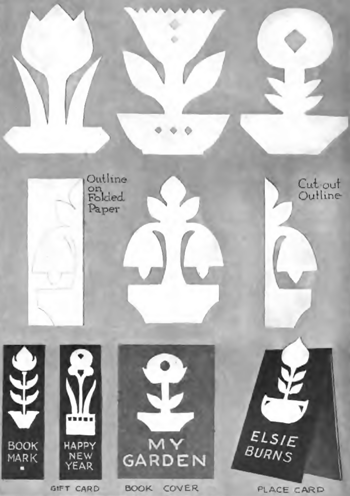 In order to cut out some really great flower patterns to use on handmade books, greeting cards, bookmarks, place cards, bulletin boards, and other projects, you will want a quick-making technique to do this. Here is a great way to make a lot of flowers in a few quick cuts. Here are 3 flower patterns that you can use to cut out a lot of paper flowers all at once. Print these out and then cut them out. These will be the flowers that you use to trace. Then get other paper out....fold them in half lengthwise. Then use the tracing flowers to draw half of a flower along the creased fold. Then cut out the flower while it is still folded. Then open up the paper and you will have a large flower. You can then decorate it if you want to.
Create Hand print & Fingerprint Flowers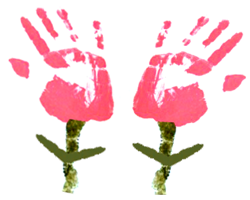 These are so simple to make so naturally they are great for younger children to make. The top of the flower is made with hand prints and the bottom of the flower is made with fingerprints. Just get out child-friendly paint, such as tempera, and help your child pick out colors and paper and get painting. This makes a great gift for a loved one.
Spinning Plates Flowers Craft for Preschoolers and Kindergartners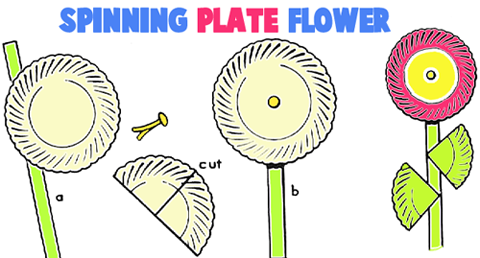 This craft is a lot of fun for younger kids. This is great for toddlers thru the earlier grades in elementary school. You can have the child color everything first with a crayon or makers or you can do that all at the end. Either way, you need a strip of cardboard that is about 3/4" wide and about a foot long. This is the stem and should be colored green. The plate should be 2 bright colors as it is the petals part of the flower. Attach a plate the the green stem with a brass paper fastener. Now it can spin. Cut a paper plate in half twice so that you have 4 pieces of plate. You only need 2 of these....color them green and glue them to the stem as pictured above.
Making Flower Pictures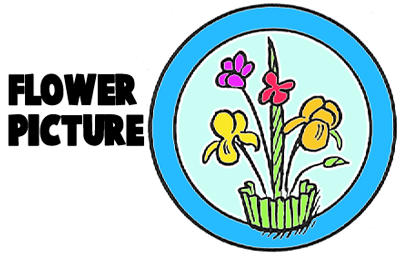 For this craft, you will need One 6" paper plate, .1/2 of a fluted cupcake paper, paste, scissors, 1 green crayon, 1 piece of string 4" long, Scotch tape, and pictures of flowers from magazines or garden catalogues. To make this flower craft, you will need to tape cupcake paper to paper plate so that it stands out to form a basket. Let children draw stems on plate, cut out flowers and paste them at tops of stems (see sketch). Tape string to back of picture to make hanger.
How to Make Cupcake Wrapper Flowers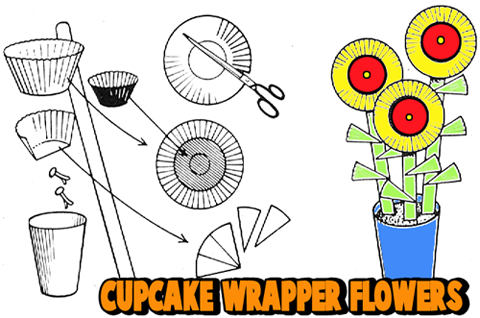 To make this craft, you will need 1 yellow or red paper baking cup, 1 small brown candy cup, 1/2 green paper baking cup, scissors, paste, green crayon, 1/4" or 1/2" paper fastener, 1 strip lightweight cardboard 3/4"x10", and 1 small glass jar or 4" deep paper cup filled with sand. Color one side of the cardboard strip green. Flatten out the baking cups and candy cup. Carefully snip in the edges of the yellow cup about 3/4" (making snips about 1/4" apart). Place small brown paper cup over yellow cup and fasten together in center with a paper fastener to make a pretty black-eyed Susan flower. Make a small hole in the end of the cardboard strip and fasten the flower to this with the paper fastener. Cut the green half baking cup in half again (to make quarter sections). Carefully snip the two green pieces in several places and paste on opposite sides of the cardboard stem for leaves. Make several of these flowers and place in jar or paper cup filled with sand. (Paper cup may be colored before filling with sand.)
Make a Bunch of Muffin Wrapper and Egg Carton Flowers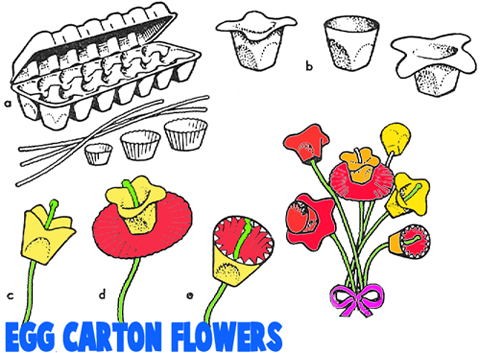 There are a few ways to make different types of flowers with this technique. Firstly, cut egg carton cups apart (we are calling the egg carton part that holds an egg, a cup). Now cut around the top of the egg cup to smooth out the edges...different flowers have different shaped cups...so cut them down like one of the drawings in picture b. Use a safety pin to poke a tiny hole in the bottom of each egg cup. You may paint the egg cups different beautiful colors. When completely dry, use a green pipe cleaner to thread it through the pin hole and then double up that end to keep the pipe cleaner from falling thru the hole. To make picture d, glue the egg cup to the top of a cupcake wrapper that is flattened out and then push the pipe cleaner thru and double up in the center of the flower to keep it from falling out. For picture e, place a cupcake wrapper into an egg cup and then push the pipe cleaner through and double up the pipe cleaner in the center of the flower. Bunch these together and tie in place with a ribbon or stick in the flower holder that you can make in the next craft.
Corrugated Cardboard Flower Holders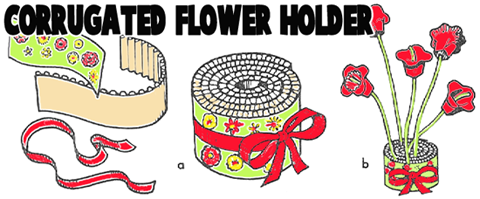 Get out a piece of corrugated cardboard 1 1/2 "x 12", paint, crayons or markers or decorative paper, and ribbon or colored string. Color or decorate about half of smooth side of corrugated cardboard, or cover it with decorative paper. Start with undecorated end of corrugated paper and roll it, smooth side out so that decorated portion is on outside (sketch a). Tie in place with colored ribbon or string. Stick stems of egg carton flowers into corrugations (sketch b).
More Flower Crafts Below

How to Make Twig Tissue Paper Flowers - Learn how to make these flowers from twigs, tissue paper, construction paper, a yogurt container, and glue.

Making Miniature Gardens - These miniature faux gardens are so cute...you will need an Ice cube tray, popsicle sticks, twigs, cvaft paper, crepe paper, green cellophane paper/ transparent plastic, scissors, and tape.

Flowers for Mom: Easy to make Paper Flowers with only 4 Materials - It is simply to make some pretty flowers with paper. Kids love this and what is even better is that they are so easy to make, a child of almost any age can make. You can also do a multitude of things such as mounting them on a Popsicle stick or use them to decorate pictures or cards. What is even better is the fact that these little flowers can be made with only a few items that can be found around the house.

Making a Booklet That Opens Up Into Daisy - This is an awesome pendant necklace craft. There is a booklet at the end of the pendant...if you open up this booklet, it becomes a daisy.

Making Paper Roses - Learn how to make this paper rose with these paper sculpture techniques.

Crepe Paper Flowers - Don't these look real? Find out how to make these with crepe paper and pipe cleaners.

Making Sweet Peas - a Type of Flower - With crepe paper, a doily, wire, adn a ribbon, you can make a beautiful flower corsage. It turns out beautiful and people will have to look very closely to tell that they aren't real flowers.

How to Make Flower Vases With Recycled Plastic Bottles - This is a recycling and a Mother's Day Present Arts and Crafts Activity for Kids to Make. Recycling can be your way of taking care of the environment. Here's a great craft activity that makes it really fun to recycle. Make a flower vase out of an old plastic bottle and then put fresh flowers in it for Your Mom.

How to Make a Bunch of Flowers as a Gift for Mom on Mother's Day - Make this beautiful branch full of flowers picture for your Mom, Aunt, or Grandma this Mother's Day. This picture of a bunch of flowers looks much harder to make than it actually is. All you will need to make this beautiful piece of art is some colored paper, scissors and glue….oh, and lots of Love.

Make Straw Flowers Garden Boxes - Learn how to make this gift flower box...the flowers are made with straws.

Egg Carton Tulips That Mom Will Love - These turn out beautiful and are easy to make. Find out how.

How to Make a Long Stemmed Flower - Make this daisy for your mom, grandma, or someone else special.

Make a Rose Flower Pendant - Use ribbons and a few other items to make this rose pendant pin.

Popsicle Sticks Paper Flower Garden - This is a fun craft that kids will love doing. This is easy enough for younger children to make. Find out how to make it by following the lesson.

Flower Pop-Ups - Make these flower favors that hold candy or treats and has a flower popping up from the center.

Make Flowers from Drinking Straws - Find out how ot make these adorable flowers with these simple instructions.

How to Make Lilies / Bouquet of Flowers Craft With Your Kids Handprints - This is a very cute Easter lily flower bouquet craft for young children and preschoolers … even older children will enjoy it. With just a few craft materials that are probably already around your house, you will be able to make cute Easter Lilies with your child's own handprints.

Wooly Fuzzy Yarn Flowers - Make these soft, wooly flowers with some yarn and cardboard. They turn out so soft that you will swear there are sheep in these things.

Tissue Paper Carnations - Make these beautiful flowers with tissue paper and pipe cleaners.

Making Cherry Blossom Trees - Make these with a twisting brach and some tissue paper. They turn out looking like miniature Japanese Cherry Blossoms.

How to Make a Peace Handprints Flower Craft Idea for Martin Luther King Day - Think at Peace as a beautiful flower. How this flower will look like? You can make this to celebrate the great Martin Luther King Jr. on Martin Luther King Day with your child's hand prints.

Tissue Paper Flower Bracelets - Find out how to make these beautiful tissue paper flower bracelets with tissue paper and pipe cleaners.

Making Ribbon Flower Necklace - Make this necklace from flowers cut from felt or velvet threaded along a ribbon.

Make Spring Princess or Fairy Flowers Crown Craft for Girls - Want to pretend to be a Spring flower princess or fairy? Here are easy instructions to make yourself this beautiful crown that is made up of paper flowers. The simple steps to make this craft are given below.

Carnation Mother's Day Card - This is a printable craft so it isn't too difficult for young children to mae this card.

How to Make a Spring Easter Bonnet, Hat, or Flower Crown with Your Kids - A Spring bonnet is a longstanding tradition for little girls in many families – and calling it a flower crown will make any little boy excited to be the king of spring!

Wallpaper Wax Flower Sculptures - Using some old wallpaper, cut out some flowers, attach them together and fold in correct direction. Then have mom or dad dip them in wax.

Making Flowers with Heart Petals - Learn how to make this paper-cut project that is a flower made with heart petals.

Sunflower with Real Sunflower Seeds - Here is a craft to make a sunflower with real sunflower seeds, construction paper, and a paper plate

Straw Painted Trees with Tissue Paper Flowers - Make these cool air blown trees with tissue paper flowers.
You Might Also Be Interested in Our Crafts that Use Real Flowers