Home > Arts and Crafts Projects for Kids > Styrofoam Crafts for Kids
STYROFOAM CRAFTS FOR KIDS : Ideas for Arts & Crafts Activities & Projects with Styrofoam Cups, Plates, Balls, & Trays for Children, Teens, and Preschoolers
Styrofoam is a great material to work with and you can find it in a lot of places. Cups, plates, bowls, fast food containers, and many other things are made out of styrofoam. You can certainly make things out of these items, or you can go to the crafts stores and buy many different-shaped styrofoam items...such as cylinders, globes, pyramids, cubes, and many other shapes.
Styrofoam is mostly used for packaging and thermal insulation but they can be used in children's crafts too, in fact they are greatly used in children's crafts. You can buy inexpensive Styrofoam cups, bowls, plates, food containers, balls, cubes, cylinder, etc.
You can also put Styrofoam balls, squares, cylinders along with other materials (paint, googley eyes, yarn) to make animals and dolls. The Styrofoam balls can be used to make Christmas ornaments or decorations.

Styrofoam Horses
You can make these adorable horses out of styrofoam cylinders, which can be purchased at your local crafts store. Firstly, cut the cylinder in 2 pieces, one large piece, and the other one smaller. The larger piece will be the body, the other piece will be the horse's head. Push your fingers into the head piece until it takes on the shape of a horse's head (it should bend pretty easily). Then cut a pipe cleaner to a height that is a little bit longer than the horse's neck should be...then attach the head to the body. Cut little pieces of pipe cleaner and make the ears ...pushing them into the top of the head. Cut 4 legs from pipe cleaners...fold them at the bottom so that the horse will stand on its own. Use a pipe cleaner for its tail. Cut yarn and glue it on the neck and head and tail to make the main and tail. You can use a black marker for 2 eyes.
Making Styrofoam Racks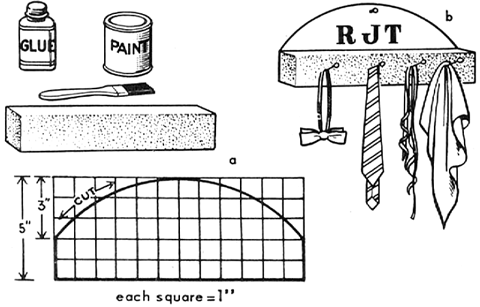 You will need a piece of styrofoam approximately 2" x 12" x l", a piece of cardboard 5" x 12", scissors, glue, paint and paintbrush or fancy paper, and 3 or 4 corsage pins. Cut cardboard as shown in sketch a. Punch hole in top center for hanging. Paint or cover with fancy paper. When dry, paint on freehand design or initials. Glue styrofoam strip across lower portion of cardboard (sketch b). Put several corsage pith on rack for attaching scarves, ribbons, ties, etc.

Make Glove and Styrofoam Ball Octopus Puppets - Transform a pair of gloves and a styrofoam ball into a fun octopus puppet.

Making Toothpick & Styrofoam Ball Ornaments - Learn how to use styrofoam ball or clay as the base to stick toothpicks.

Styrofoam Cylinder Monkeys - Make this adorable monkey out of pipe cleaners, and styrofoam cylinders.

Styrofoam Elephants - These elephants are made from 2 styrofoam balls and a few pipe cleaners. These come out so cute.

Styrofoam Ball Worm Pin Cushions - This is a craft tutorial to make a worm pin cushion out of styrofoam balls and yarn.

Styrofoam Lions - Make these adorable lions with yarn, pipe cleaners, and styrofoam cylinder.

Styrofoam Giraffes - Make these long-necked giraffe with a few pieces of pipe claner and a styrofoam cylinder.
................................................................................
You Might Also Like Crafts Foam Crafts
................................................................................