Home > Arts and Crafts Projects for Kids > Animals Crafts > Fox Crafts Arts and Crafts Projects Ideas for your Kids
FOX CRAFTS FOR KIDS: Ideas to make foxes with easy arts and crafts decorations, instructions, patterns, and activities for children, preschoolers, and teens
Foxes are adorable, small animals that belong to the canidae family (same as dogs). They are flesh eating animals who loves to hunt and are very clever. A female fox is called a vixen and the young are called pops, kits or cubs.
There are quite a few fox crafts for children make. Fox crafts goes well with children stories such as The Sky is Falling (also known as Chicken Little or Chicken Licken). Some fox crafts includes a sock puppet, fox mask from orange card stock or construction paper, a 3-Dimensional fox from toilet paper foll and printable fox template or origami fox (Japanese art of folding paper).

How to Make Paper Fox Masks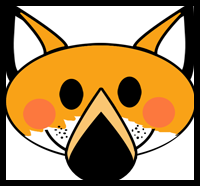 To make the above paper red fox mask, just print out the following fox mask template and follow the instructions included on the printed page.
Brown Paper Bag Foxes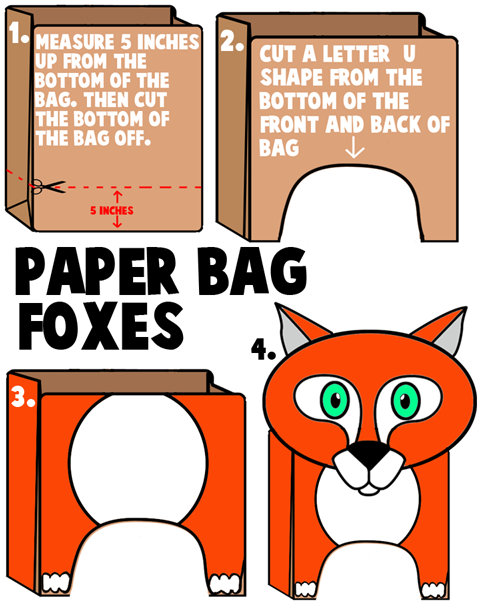 In this craft, we will make foxes out of brown paper grocery bags. You will need one that isn't all wrinkled up. Use a ruler to measure 5 inches up from the bottom of the grocery bag....draw the line all along the bottom of the bag. Cut on this line, as seen in picture #1 above. Then cut an upside down letter 'U' shape on the bottom-front and bottom-back of the grocery bag...as seen in picture #2 above. Use a marker to draw an oval on the belly. Also draw 3 ovals on each paw. Then use markers, colored pencils, crayons, or paint to paint the fox red / orange...as seen in picture #3 above. You can either draw a fox's face on a separate piece of paper or grocery bag or you can use this printable fox face template. Glue or tape the fox's face to the body. Now you have a large, standing up fox. I hope you enjoyed this craft.
Learn How to Draw Foxes
To learn how to draw cartoon foxes, then just click one of the thumbnail pictures above to choose that tutorial to try.
Even More Fox Crafts Below

Fantastic Mr Fox Mask - Make a fox mask using an orange card, scraps of paper, glue, elastic and pipe cleaners.

Fox Paper Crafts Activity - This is a fun and simple fox craft children can easily make from paper.

Fox Puppet Paper Folding Directions - Learn to make a fox puppet from paper.

Fox Toilet Paper Roll Easy Craft for Youngsters - Recycle a toilet paper roll and turn it into a 3D fox craft.

Origami Fox Paper Folding Diagram - Learn how to make a simple fox from paper.

Swiper the Fox - Make Swiper the Fox from a toilet paper roll and other inexpensive materials.