Home > Arts and Crafts Projects for Kids > Animals Crafts > Frog Crafts Arts and Crafts Projects Ideas for your Kids
FROG CRAFTS FOR KIDS: Find out how to make frogs & toads with easy arts and crafts projects, patterns, and activities for children, teens, and preschoolers
Frog crafts are great for children, especially when they are learning about frogs. Frogs are small animals belonging to a group called vertebrates (animals with backbones) known as amphibians. They live mostly on land but they need to be near water for breeding.
Frogs have amazing sense of hearing. They also have powerful back legs and webbed feet that help them jump great distances and also swim. Frogs drink water through their skin, not their mouths. They also has very good eyesight, they can see in almost every directions.
You can make a frog craft from basically any type of materials. For example, a pom pom frog, felt frog or a paper plate frog. You can also use a frog theme to make a door hanger, photo frame or even plant stake for the garden.
How to Make Sea Shell Frogs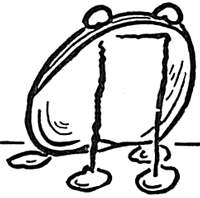 It's a long leap, but nevertheless here's a likeness of a frog to be made from shells. An open shell, with height and width about 2" to 3", with plain back or corrugated fan-like back, hinge side down, is decorated with 2 shells (tiny open ones) for eyes, 2 a bit larger for front feet, and a for rear feet. The rear feet are attached with glue to the bottom of the shell, and the front feet are glued to the ends of a pipe cleaner which is bent into a square arch, the latter being glued to the under surface of the shell.
Paper Bag Frog and Fly Puppets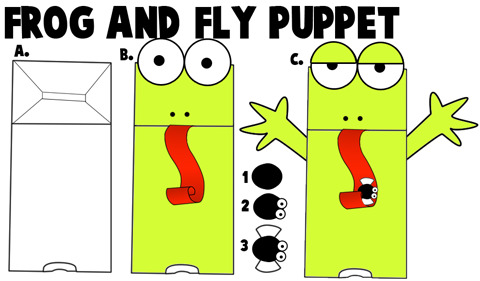 Here is a cute craft idea. How about making a brown paper bag frog puppet. Then we will make a fly to put on his tongue. Start off with a brown paper lunch bag, and turn it so it looks like picture A above. Then color the bag green ...whether you do it with paint, markers or crayons, is up to you. Cut out 2 white circle eyes and paste on the top of the bag for eyes. Draw black pupils in the eyes...also black dots for nostrils. Roll a strip of red paper for the tongue. Glue it to the inside of mouth...as seen in picture B. Cut out 2 green half circles and paste them to top of eyes for lids. Cut out 2 green hands and glue the to bag...as seen in picture C above. To make a fly, cut out a small black circle...and then glue 2 small white circles on them for eyes. Cut out white wings and glue to fly. See picture 1, 2, and 3 to see how to make the fly. Glue the fly to frog's tongue.
Even More Frog and Toad Crafts

Origami Hopping Frogs - How to Make paper origami frogs - that actually hop.

Frog Bean Bag Arts and Crafts Project for Kids - Learn how to make your own frog bean bad instead of buying one.

Frog Crafts for Kids - Here are a few fun and simple frog craft for kids of all ages.

Froggie Photo Frame Arts & Crafts Project - Make this Froggie Photo\Frame for someone special or for yourself.

Froggy Plant Stake Arts and Crafts Activity for Children - This homemade froggy plant stake holder would look great in any garden.

Frog Pouch Craft Idea for Kids - Learn how to make a frog pouch using a paper plate, green paint and construction paper.

Frog Themed Cross Stitch Pattern Sewing Craft for Children - This is a fun frog themed craft for the whole family.

Heart Frog Paper Craft Idea for Preschoolers - This is a fun frog themed activity for preschoolers and toddlers.

How to Make a Frog Visor Hat - Find out how children can turn a green visor into a frog hat.

How to Make Origami Hopping Frog - This is a fun origami craft for children.

Paper Bag Frog Puppet - Learn how to make a frog puppet using a paper lunch bag and a few other materials.

Paper Frog Puppet - Make a simple frog puppet using a piece of green paper, a small strip of red construction paper for his tongue, glue, scissors, crayons and googly eyes.

Paper Mache Frog Craft - Find out how you can make an adorable paper mache frog with your children.

Paper Plate Bull Frog Arts and Crafts Activity Ideas - Turn a paper plate into a cool bull frog that you can hang on your bedroom wall.

Patrin's Frog Toy Printable Paper Craft for Kids - This is a cute little frog you can make by downloading the frog template and putting it together.

Pop-up Frog Card Arts and Crafts Activity - Learn how to make this pop-up frog card using two pieces of construction paper.

Puddle-Jumping Frog Craft Instructions for Children - Children can easily make this puddle-jumping frog by following these instructions.

Talking Frog Card Arts and Crafts Activity for Children - Find out how you can make a frog card with a pop out mouth.

TP Toilet Paper Roll Frog Crafts Project - Turn a toilet paper roll into a frog using green paint, green construction paper and a few other supplies.