Home > Arts and Crafts Projects for Kids > Glasses Cases & Holders Crafts Arts and Crafts Projects Ideas for your Kids
GLASSES CASE & HOLDER CRAFTS FOR KIDS: How to decorate, customize, personalize, & make your own eyeglasses cases & holders with diy instructionsfor children, teens, and preschoolers
Sometimes your child might be depressed or may be struggling to adjust to wearing glasses. But they will need to wear them, especially if they want to do well in school. Apart from picking a stylish pair, you can encourage your child by helping them to make a stylish glasses case or holder.
You can either make one from scratch or decorate the current glasses case with stickers, gems, etc. There are a number of ways to make homemade glasses cases. You can knit one, make one from foam, or ever from a pot holder. You can do the same to your sunglasses cases too!

How to Make a Felt Eye Glasses Case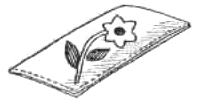 The above image shows an easy-to-make glasses case, suitable as a gift for your teacher as well as for members of your family. Cut a double thickness of felt 2 1/2inches wide by 6 inches long. Using a differernt color of yarn, do a simple running stitch around three sides or use a decorative blanket stitch. To decorate it further, cut some bits of felt to make a flower design and fasten them to the felt with glue.

There are many other simple things that can be made with a bit of felt—a case for your pocket comb, a small change purse, a pen wiper, even cute doll clothes. Felt makes a wonderful cowgirl costume for your favorite doll. Use a straight piece of felt for the skirt, cut narrow fringe all along the bottom, and fasten at the back with a small snap. Cut your own pattern for a vest, and fringe it down the front and along the bottom.
Even More Eye Glasses Case Crafts Below

How to Make Eye Glasses Cases Crafts Idea for Kids - Do you need a gift idea for Mom on Mother's Day or Dad for Father's Day or for somebody's birthday? If your loved one or friend wears glasses, why not make them an eye glassescase? It is easy to make and you can personalize the case with the person's name or initials.

Etched Design Leather Eye Glasses Case - Make this leather eye glasses case with a beautiful relief etched into the cover of the case.

Glasses Case Book Covers - Learn how to make glasses case book covers.

Caterpillar Eyeglass Cases - Find out how you can make this caterpillar themed eyeglass case. This is perfect for girls.

Craft: Easy Knit Glasses Cases - Learn how to knit a glasses case for yourself or as a gift.

Craft Project: Eyeglass Cozy Cases - Make an easy eyeglass cozy came from a pot holder.

Eyeglass Cases to Make Directions for Kids - Find out how children can make an eyeglass case from craft foam and other supplies.

Felt Glasses Cases Personalize & Decorated - Make this spring themed glasses case from green and yellow textile felt.

Glasses Case Making Tutorials - Learn how to make a glasses case from your favorite fabric.

Make A Glasses Cases - Children can make a glasses case for mommy or daddy using craft foam, yarn, foam stickers and a single hole punch.

Nautical Eyeglass Cases - Follow this free knitting pattern to create an eye glasses case for your dad.

Quilted Sunglasses Cases - Make a sunglasses case from a quilted fabric and a few other supplies.

Seminole Quilted Eyeglass Cases - Follow these instructions to create a diamond and triangle design eyeglass case.