Home > Arts and Crafts Projects for Kids > Grandparents Day Arts & Crafts for Kids
GRANDPARENTS DAY CRAFTS FOR KIDS : Ideas for Arts & Crafts Activities & Projects to Make Gifts for Grandma and Grandpa for Children, Preschoolers, and Teens
Grandparents' Day is only recognized by some countries (Australia, Canada, Estonia, France, Germany, Italy, Poland, Italy, Poland, Singapore, Taiwan, United Kingdom and United States). In the USA it is observed in September on the first Sunday after Labour Day.
Show your grandmother and grandfather how much you appreciate them by making them a home-made card, a picture frame, bouquet of flowers, or a plaque.
Make a 3 Compartment Yarn Dispensing Box for Grandma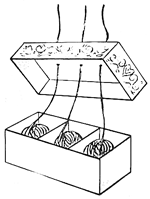 This is a very handy gift to any person who likes to knit...so if your Grandmother likes to knit then this would make a great present for her. This 3 Compartment Knitting Box it will hold three different balls of wool in such a way that they won't get tangled. Find a rectangle box with a lid. To make the partitions, measure and then cut out, 2 pieces of cardboard so that they will fit tightly inside the box. These partitions will make the compartments in the box. Place the partitions in the box, so that they divide it into 3 equal sections. Stick 4 straight pins, 2 in the front and 2 in the back, through the front and back walls of the box and into the cardboard partitions to hold them in place. Paint the box a solid color and allow it to dry thoroughly. Paint a decoration or design on the box. Paint and decorate the cover of the box the same way. Punch 3 holes through the cover of the box, 1 over the center of each compartment. Place a ball of yarn in each compartment and pull the loose ends through the holes in the cover. Replace the cover on the box. If you like, you may cut, trim, and then glue fancy paper to the box, instead. You can also make the designs or decorations on the box with colored wax crayons.
More Grandparents Day Crafts Ideas

Make a Laced Heart Shaped Book - Fill a Heart Shaped Book with The So Many Reasons Why You Love Your Special-Someone.

Absolutely Awesome Floral Bouquet for Grandparents Day - These Color Surge™ flowers are bursting with bright colors! Make a bouquet to dazzle someone special—it will always look fresh!

A Garden Plaque Making Instructions for Grandparents Day - Here is a clever craft idea for summer. Kids can make this garden plaque extra special with all their treasures and display it in the garden to admire - or give it as a very special gift!

A Glasses Case - Here is a simple craft idea that kids can make for parents, teachers, grandparents - perfect for a pair of beside reading spectacles!

Bright Borders Picture Frame to Make - Make memories with this easy-to-make, no-mess frame. Kids can display their own art or photos of themselves, pets, and family members.

Bookmark Gift to Make For Grandma - Choose a great book for your grandma to present with this crafted bookmark and I'm sure it will melt hearts!

Bunch of Daffodils Gift for Grandma - Aren't these daffodils pretty? You can make your own by following this easy guide!

Butterfly Handprint Painting - Encourage your children to let their imagination run riot with this colorful butterfly handprint painting.

Cameo Brooches to Make for Grandmothers - Here is a really inspirational and unusual gift idea which kids can make - perfect for Mother's Day or a favorite grandmother! You could also make a key ring or perhaps even a small pair of cufflinks so that Dads and grandfathers could be the lucky recipients, too!

Card Making for Preschoolers - Our Card Making for Preschoolers craft can make 'cards with words' easy for Preschoolers who may not be able to write, but they can recognize and pick out letters! These can be made for any occasion or holiday and is a great way to teach children how words are built!

Cup of Love - For Grandparents Day, make the nicest "drink" anyone could have. No one can refuse this special cup of love!

Daisy Picture - Children can sew this pretty daisy picture to give as a gift (mount it and frame in a simple frame like ours) or use it on the front of a card for someone special, perhaps at Mother's Day.

Decoupage Tray - This decoupage tray is a super gift which kids can make for Mother's Day, Father's Day, Grandparent's Day or any other special occasion! And how about serving a surprise breakfast in bed on it!

Easy Recipe Holder - This Easy Recipe Holder is a great gift for the women in our lives! It doubles as a functional craft AND a card for that special lady. Great for Mother's day for preschoolers on up!

Eggshell Mosaic - Next time you bake a cake don't throw away the egg shells - use them to create a lovely eggshell mosaic picture! Perfect as an Easter or spring craft.

Family Bulletin Board - This is a simple craft but it makes a cute gift that the kids can make themselves - perhaps for Grandparent's Day? And it is a super "Back to School" craft too, providing a special place for children to show off their best work.

Family Tree - This Family Tree is a great Grandparents Day Craft for Toddlers on up. They can make the tree and you can write on your family names. Make it even more special by gluing on family pictures!

Family Tree - This family tree display makes a great project (and poster) at any time of year, but also an unusual and special gift for Grandparent's Day.

Fishing Handprint - This Fishing Handprint craft is a really fun fish craft for Preschoolers or Toddlers to make! This would also make a great Father's Day, Grandparents Day, or Sunday School craft! Decorate your fish any way you choose, and write a message in the top right corner, for example: "Happy Father's Day", "Teach a man to fish" or "Gone Fishing"

Flower Photo Frame And Card - Perfect for Grandparent's Day or Mother's Day, you can make just one flower photo frame or fill up a vase or bouquet!

Foot Print Magnets - These adorable Foot Print Magnets are a perfect gift for a Grandparent or for someone special. These would even be fun to do with your baby, change the words to suit the occasion!

Golden Vase - Show your grandparents how you much you value them this Grandparents Day and create a golden vase to complement their home. These vases are attractive even without flowers!

Grandparent Award - The Grandparent Award is a great craft idea for toddlers (on up), you may need to cut the 'ribbons' and write on it, but they can stick on any decorations they'd like on their special homemade gift!

Grandparent's Day Muffin Flower Card - These are simple and fun crafts for even the youngest children to do.

Groovy Grandma Apron - Being a member of a family is wonderful. Because your grandparents have lived a lot longer than you, they have many things to share: stories about what life was like when they were your age, or skills and talents you can learn from them such as cooking or fishing.

Handprint Bouquet - This Handprint Bouquet craft is a unique and personalized craft to give or keep. Write your own message to the special someone who will receive this great work of art!

Handprint Heart - If your child prints a handprint heart, it will be yours forever! These make a super quick craft activity for Valentine's Day or Mother's Day and a lovely keepsake, too.

Handprint Magnets - Here is a fun way for children to display artwork on the fridge - and it makes a nice little present for Mother's Day, Father's Day or Grandparent's Day too.

Heart Fridge Magnet - Here's a handmade kids craft which anyone would be proud to display on their fridge - perfect for Valentine's Day or Mother's Day.

I Love My Mum Flower - This Mother's Day craft encourages children to think about what makes their mother special. It is sure to become a treasured possession!

I'm A Little Teapot Craft - This is a good craft for a grandparent who enjoys a cup of tea! You can accompany it with some purchased tea bags, tea pot or tea cup. Attach a single bag of tea and this poem for grandparent's who live in a different city.

Lacy Ring Binder - Transform an old or inexpensive ring binder to make a very special gift. Or maybe as a place for your daughter to keep her best work and other precious memories.

Mini Chest of Drawers - Here is a chance to turn all those un-recyclable fruit juice cartons into an attractive and useful gift. This chest of drawers can be an excellent desk tidy, or very useful in the workroom as storage for screws and nails. This is a craft that involves a bit of adult preparation but when this is done even the youngest child can achieve an impressive result.

Mosaic Plant Pot Stand - This craft is great for using up those little bits of fun foam you have left over after other craft projects. Choose random colors or encourage older children to think carefully about

Name Magnets - Kids love to see their own name, and with this craft they can make some really effective magnets to display their own artwork on the fridge - or to give as a gift to siblings or for Mother's Day, Father's Day or Grandparent's Day.

One Eyed, One Horned, Flying Purple People Eater Paper Mache Version - His mouth opens and you can put things inside! Give it as a gift to a sibling or a grandparent (I'm sure they remember the song!)

Paper Mache Bowl - This Paper Mache Bowl is a great gift to give someone special! It will have to dry overnight for two nights, but its well worth the wait!

Paper Maché Lion Book Holder - This is a very cute little gift for siblings to make for each other or for a favorite grandparent.
Paper Maché Tiger Book Ends - Make two identical tigers or two different animals for these cute bookends. Makes a great gift from the kids.

Patchwork Ring Binder - Give your children some scrap fabrics from your stash and let them decorate an old or inexpensive ring binder to make a super gift - or a special file in which to keep their certificates, awards etc.

Photo Frames from CD Boxes - Grandparents, aunties and uncles and godparents always love to get photos of their favorite children. Nice frames can be expensive to buy and impersonal too. Why not get your children to help you create some frames with bits and pieces you have lying around your house? You will all have great fun doing it and will produce fun little frames that will be especially treasured because the kids had a hand in making them. Be warned – this idea is addictive!

Plaster Handprint Picture - This Plaster Handprint Picture captures your child's hand forever and makes a unique gift for Father's Day, Mother's Day, Grandparent's Day or any special occasions.

Picture Puzzle - This Picture Puzzle is a unique, personalized gift idea that anyone would love to receive, and it's a super fun kids craft to make as well!

Pretty Summer Flowers - Bring a colorful bit of summer inside anytime with this miniature planter. This project will grow on you! It makes a great gift, too.

Shell Photo Frame - Take advantage of a trip to the beach to collect shells for this pretty shell photo frame - it makes a sweet gift which the kids can make themselves, too.

Silhouettes - These are a really super keepsake gift kids can make for Mother's Day, Father's Day, Grandparent's Day - or any time, just for fun!

Special Words Pencil Holder - Tell someone how great they are by making them this Special Words Pencil Holder. It's made from 100% recycled materials that you a have around the house! A great homemade gift for Mother's Day, Father's Day or for someone special!

Sun Handprint Craft - Bring a little sunshine into your home with this super easy sun handprint craft for summer! And as it involves some painting, some tracing, some cutting and some sticking, it proves a particularly popular craft for kids!

The Perfect Tie - Children can make The Perfect Tie for that special man in their life. Daddies, Grandpas, and Uncles will be proud to wear this tie made especially for them! A great homemade gift for Father's Day, Grandparent's Day, or any special occasion.

Tissue Paper Flowers and Juice Jar Vase - You can make some flowers and put them in a store bought vase or you can make the vase and put in some silk flowers.

'Visit Me' Guest Soaps - This Grandparents Day, make grandma and grandpa's visit sweet and bubbly with these pretty "visit me" guest soaps!

Votive Candle Holder Craft - Craft a holiday gem with this jeweled votive candleholder. Kids love bejewelling the baby food jar to make this treasured craft.

Watch Me Grow Handprints - With a little personal touch, you can capture your children's handprints in Crayola® Model Magic®. This keepsake wins hands down with parents, kids, and relatives!

Wallpaper Butterfly Note Holders - Add a clothespin and a magnet to these wallpaper butterflies and you have lovely note holders or picture holders for Mom to put on the fridge.

You Are My Sunshine Craft - A photograph or hand drawn picture of your grandparent's face(s) and a photograph or hand drawn picture of the child's face that will fit inside the circle of the flower and the circle of the sun.