Home > Arts and Crafts Projects for Kids > Halloween > Halloween vampires & bats arts and crafts projects
BAT & VAMPIRE CRAFTS FOR KIDS : Making Your Own Halloween Spooky Bats & Vampires with these arts & crafts ideas for Children, Teens, and Preschoolers

Bats are creepy and scary mostly because they usually show up in caves in large numbers. Also, movies, tv shows, and books might lead you to think that they are to be scared of. Did you know that bats aren't birds, that they are actually mammals just like you and me? The bat's hands are webbed like a duck's feet and are attached to wings. Bats are the only mammal that is able to fly long distances. Below you will find many Halloween spooky bats & vampires crafts activities for kids and fun parents. How to Make Your Own Halloween Bats & Vampires with these crafts ideas, instructions, patterns, and printables for Children.
Making Origami Vampire Bats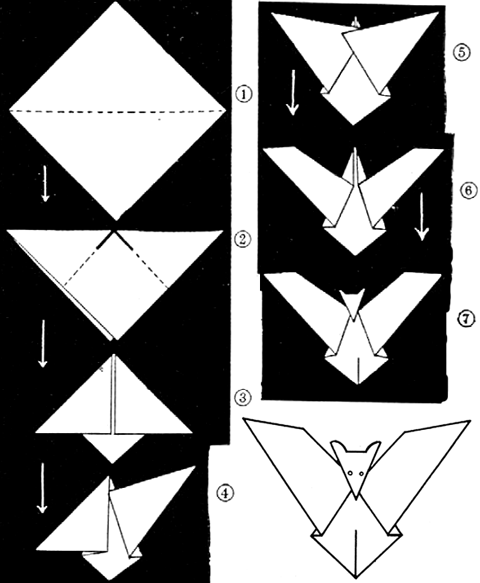 Here is an origami craft, so you will want to start with a black square of paper. Fold the paper as seen in each of the steps above. When you are done, you can draw eyes on the vampire bat.
How to Make Paper Bat Masks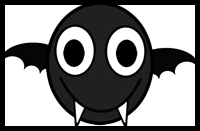 To make this paper bat mask, just print out our vampire bat mask template and follow the directions included.
Even More Vampire Bat Crafts Below

Foldable Vampire Paper Toy Craft - If you want to make this paper vampire / Dracula toy, don't worry, it isn't too hard to do. Just print out the template, cut out, fold, and paste together. Thats it.

How to Make a Juice Box Vampire Bat - In this post I'm going to show you how to make a Vampire Bat out of a juice box. In just a few steps you can make this fun and festive juice box Vampire Bat.

Candy Bar Bats - Make these candy bar bats with the wings that close around the candy bar.

How to Make a Bats Mobile for Halloween - Bats come out at night….. and Halloween is no exception. Why not totally spook out your house by adding this creative Bats Mobile decoration inside this Halloween. Or, better yet…. have your child make a few of these mobile crafts and they can fill their bedroom with these spooky Halloween creatures.

Making Vampire Teeth - This craft to make vampire fangs couldn't be any easier...you use a disposable plastic fork to make these nifty fangs.

Learn how to Draw Cartoon Vampire Bats - Learn in easy to follow, step by step instructions...how to draw cartoon bats.

How to Draw a Cartoon Vampires for Halloween with Easy Step by Step Drawing Tutorial - Today we will show you how to draw a Cartoon Vampire for Halloween. Learn how to draw a Cartoon Vampire with the following simple step to step tutorial.

Dracula Milk Jug Candy Holder - This is a great craft for Halloween. Just cut up and decorate a milk jug and then display it outside your house. You can place candy in the vampire's mouth.
Drawing Cartoon Vampire Bats
Before Making Crafts of Bats, we will show you how to draw cute cartoon bats....this way you will know how to use this knowledge to make crafts.
Halloween Bats aren't very hard to make. But I guess the first step in making creative bat crafts is to know how to draw them. I am going to show you how to draw a cartoon vampire bat and then maybe you will get some ideas for how to make some actual bat projects for Halloween.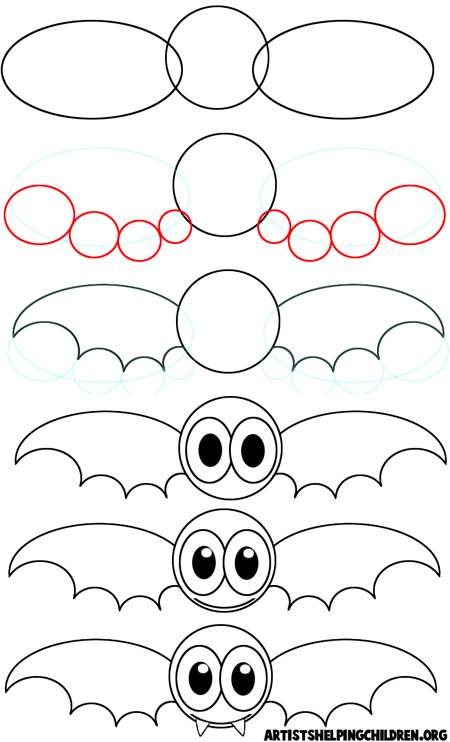 Basically draw a circle for the head and an oval for each wing. Then to make the points at the bottom, just lightly draw circles (about 4) on both sides of the body, under the wings. Then erase the bottom parts of the circles so that you just have the pointy ends. Then draw an oval for each eye...and another oval inside the eye....and fill that one in black....except for one circle...which you should keep white as the highlight of the ey. For the smile, just draw an upwards curved line...then draw 2 letter 'v' shapes for the teeth sticking out of his mouth. Wasn't that easy?