Home > Arts and Crafts Projects for Kids > Halloween Crafts > Make Halloween Candy and Treaets Arts & Crafts for Kids
HALLOWEEN TREATS & CANDY MAKING CRAFTS IDEAS FOR KIDS : Find out about Arts and Crafts Projects Ideas for Making Halloween Candies, Treats, Cookies, Candy Apples, and Cakes with the following crafts instructions, directions, recipes, and activities for children to make for Trick-or-Treating
Making spooky edible crafts from candy is a fun Halloween activity for the whole family. You can make eyeballs, spiders, or even ghosts. A cool ghost craft is dipping strawberries in white chocolate and then drawing the eyes and mouth with dark/brown chocolate.
You can also make creepy food which is not candy, such as pastries, mummy pizza bites, eye soups, or a meat loaf that looks like a burnt hand. If you want your children eating healthier this Halloween, you can carve a mouth with vampire teeth from a 1/4 of an apple. Below you will find many other ideas for tasty Halloween treats.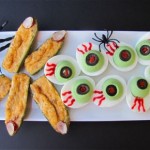 Scariest Halloween Edible Craft Ideas I was roaming the internet the other day and I came across some of the scariest Halloween treats that I have ever seen…. I just had to share them with you. I know food is not usually covered in this blog, but I was thinking…… not all crafts have to be made in the craft room. Today I'm going to bring the crafts into the kitchen. Check out some of the Scariest Halloween Edible Craft Ideas I have ever seen.
Back to Halloween Crafts