Home > Arts and Crafts Projects for Kids > Animals Crafts > Hamster & Guinea Pig Crafts Arts and Crafts Projects Ideas for your Kids
HAMSTER & GUINEA PIG CRAFTS FOR KIDS: Ideas to make hamsters & guinea pigs with easy arts and crafts decorations, instructions, patterns, and activities for children, preschoolers, and teens
Hamsters and Guinea Pig are very common pets for young children, especially toddlers. Guinea pigs are mostly described as a stocky and short rodent while hamsters are best described as burrowing rodent. Both are a like and often are confused with one another. Guinea pigs feeds on fresh grass hay and pellets while hamsters primarily feeds on fruits, vegetation, seeds and insects.
Since children love both hamsters and guinea pigs, home-made crafts on these loveable pets are very popular. Children can make a mask, paper model or a sock puppet of either pet.

How to Make Paper Hamster Masks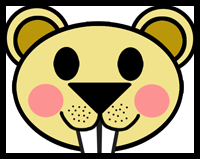 To make the above hamster mask, print out the following hamster mask template and follow the directions included.
Making Spool Hamsters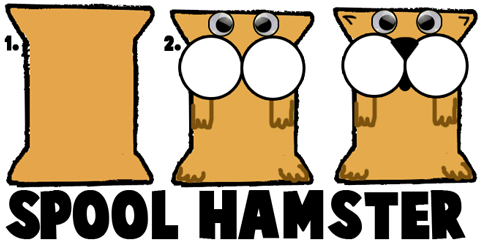 Here is a great way to make your own toy hamster figurines to play with. Recycle a thread spool and resuse it to make your cute hamster. Paint the spool tan or brown. Let it completely dry. For the cut out parts of this craft you can either use felt, crafts foam, or card stock. Cut out 2 white circles, a small black triangle, and a small black circle. Glue the white circles next to each other on the face for cheeks. Also glue on googly eyes, above the cheeks. Draw feet and hands with zig-zag shapes. Paste a triangle nose on top of the cheeks. Paste the black circle under the cheeks. Draw letter 'V' inside the ears. Have fun playing with your hamster figure.
Even More Hamster Crafts Below

How to Draw Cartoon Hamsters - Learn how to draw this cartoon hamster with easy steps.

Craft Hamster How-To - Learn how to make an adorable hamster by following these instructions.

Hamster Toilet Paper Roll Craft for Toddlers & Preschoolers - Find out how you can make a hamster craft from a toilet paper roll.