Home > Arts and Crafts Projects for Kids > Animals Crafts > Hippo Crafts Arts and Crafts Projects Ideas for your Kids
HIPPO CRAFTS FOR KIDS: Make your own hippos with easy arts and crafts instructions for children, teens, and preschoolers
Children are always fascinated with Hippopotamus (also known as a hippo). So it comes as no surprise that hippo crafts are very important, especially for toddlers and preschoolers. Hippos are very large, heavy and are related to whales and porpoises.
Children can make a hippopotamus craft from toilet paper roll and construction paper. They can also easily fold a hippo from a piece of paper using the origami method. Children can even make a hippo puppet from a paper bag.

How to Make Hippo Masks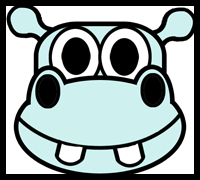 To make this paper hippo mask, all you have to do is to print out our paper hippo mask template...then just follow the directions on that printed page.
How to Make Brown Paper Bag Hippos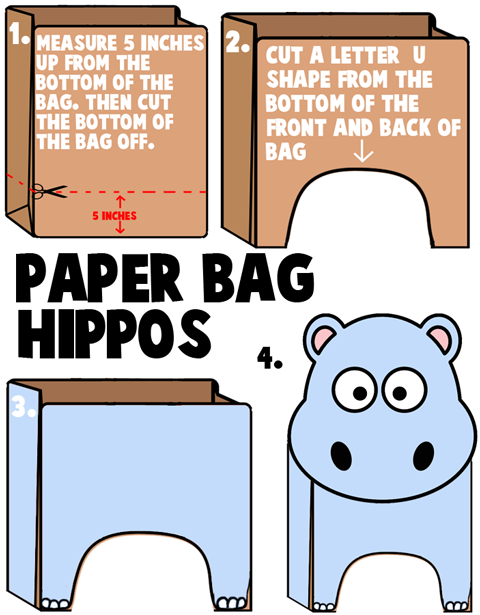 Here is a craft to make a big standing up hippo ...maybe for a decoration or for an animal in your jungle game. Either way, here is how to make this hippopotamus. You start off with a large brown bag from the grocery store. Take a ruler and measure 5 inches up from the bottom of the bag. Now cut off the bottom 5 inches of the bag, as seen in picture #1 above. Then for the front and back of the bag...cut a half circle from the bottom of the bag ...leave sides of bag alone...as seen in picture #2 above. Draw nails on the feet...they just look like letter 'U' shapes. Next, color the bag with markers, crayons, colored pencils, or paint. Hippos are a blue-ish gray ...leave the nails white...ase seen in picture #3 above. Next, either use the left-over bag pieces to draw the hippo's head or print out this one. You can paste it onto a grocery bag piece to make it sturdier...but this is optional. Paste the head onto the hippo's body and you're done.
How to Make Thread Spool Hippos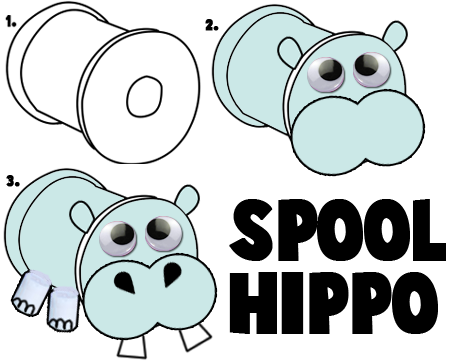 Do you have an empty thread spool hanging around? How about we use it today and make a hippopotamus?! Start off by painting it a grayish-blue (or you can use a marker or even cover it with felt, paper, or crafts foam). Let it dry. Cut out a blueish-gray number '8' shape from felt, paper, or crafts foam. Glue to front of spool. Glue googly eyes on the front as well. Cut out letter 'U' shape ears and glue them on as well..as seen in picture #2. Use a black marker to draw seed-shaped nostrils on the hippo's snout. Cut out white rectangle teeth and then paste the under the snout. Paint either 4 pencil erasers or 4 mini marshmallows blue-gray. Let dry completely. Then use a marker to draw on his nails...with squiggly lines..as seen in picture # 3.
Even More Hippo Crafts Below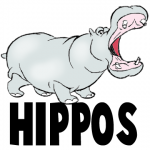 Learn How to Draw Cartoon Hippos - This drawing tutorial will guide you through the cartoon process, in easy-to-follow steps.

Foam Marshmallow Hippo Craft for Kids - Learn how to make this adorable hippo creature with foam marshmallows.

Heart Hippo Paper Craft for Preschoolers - Make a hippo using shapes such as hearts and ovals.

Hippopotamus Paper Activities - This is a simple and fun hippopotamus paper craft for preschoolers and kindergarteners.

Hippopotamus Paper Bag Puppet Craft (Hippo) for Preschoolers - Follow these instructions to create a hippopotamus puppet from a paper bag.

Hippopotamus Toilet Paper Roll Craft - Learn how you can make a hippopotamus craft from a toilet paper roll.

Madagascar 2: Gloria the hippo Mask - Wear this adorable mask of Gloria the Hippo from Madagascar 2.

Paper Bag Hippopotamus Puppet - Find out how you can make a friendly hippopotamus puppet from a paper lunch bag.