HOW TO DECORATE KIDS BIKES CRAFTS IDEAS & PROJECTS: Find out how to personalize your bicycles with the following decorations, instructions, patterns, and activities for children and preschoolers
Home > Arts and Crafts Projects for Kids > Bicycle Ideas & Crafts for Kids
Children can create their own individuality by decorating their bicycles to their own liking. To be honest, every child wants their bicycle to be unique and there are many inexpensive ways they can achieve this. One way is to make bike streamers from different colored plastic bags. They can also make their own personalised license plate from cardboard, colored pencils, glitter, glue, markers and use pipe cleaners to attach it to the bicycle. Don't forget to make two, one for the front and one for the back.
Another cool idea is to decorate the bicycle with crepe paper by wrapping different colors crepe paper around the bicycle (base and handle) and secure it with tape.

Below you will find many crafts ideas and projects for kids to decorate their bikes. Find out how to personalize your bicycles with the following decorations, instructions, patterns, and activities for children
Decorating Your Bike with Plastic Bag Streamers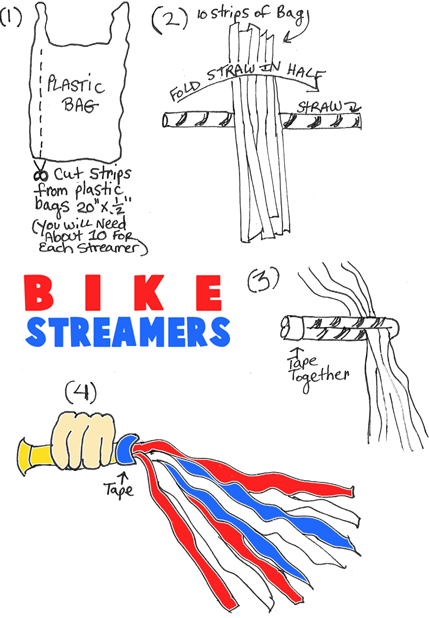 Why spend a lot of money for expensive bike streamers when you can make them at home with plastic bags, drinking straws, and duct tape. For materials, you will need grocery bags (in different colors) and drinking straws. Start off by cutting 20" x 1/2 " strips from the bag. Cut 20 streamers in all. You will need about 6-8 strips from each colored bag. Now take ten strips of each color and place them in the straw as seen in picture #2 above. Now fold the straw in half and duct tape together at the end. Go about folding the straw in 1/2 and tape together at the end, as seen in picture #3. You might want to get colorful duct tape...in white, red, or blue and then tape the straw nicely to the handle ... it will look so beautiful if you do. Have fun!
More Bike Decorating Crafts

How to Make Beaded Bike Streamers - Learn how to make beaded streamers that you can decorate your bicycle with.