Home > Arts and Crafts Projects for Kids > How to Make Homemade Address Books Making Crafts with Ideas Crafts for Kids
ADDRESS BOOKS CRAFTS FOR KIDS: How to make your own address and phone number books with these instructions for children, teens, and preschoolers
So you are looking to make your own address book? Most people don't really need these any more since there are ipods, laptops, computers, etc ... but that doesn't mean that you can't have one. Since it is hard to find address and phone listing notebooks, it is a great idea to make your own.
A great way to make your own is to just buy your own notebook and then decorate the cover in your own special way. You can even hand sew a felt cover for the notebook, put some ribbon on it and you have a personalized address book.
However, if you don't want to use a pre-made notebook to decorate, then you can make it in other ways. You can take 2 pieces of cardboard and then cover it with fabric. Take a long piece of paper and then accordion fold it. Glue the first page to the first piece of cardboard and the last page to the 2nd piece of cardboard. Draw Alphabet Letters at the Top of Pagse. Then use a ribbon to tie the Address Book Closed.
One More Idea ... Make a Rubber Band Binded Book. Take a stack of paper and punch 2 holes in this stack of paper ... you might have to do this in steps. Then Make a cover...maybe foam or felt wrapped around cardboard. Punch 2 holes in each of these covers. Then stack them on top of the stack of paper. Now stick the rubber band in one of the holes, from the back of the book to the front, and stick the loop around a pencil. Now wiggle the other side of the rubber band from the back to the front again, but in the other hole....then wrap it around the other side of the pencil. Now the book is put together and works.
How to Make Mini Address Phone Books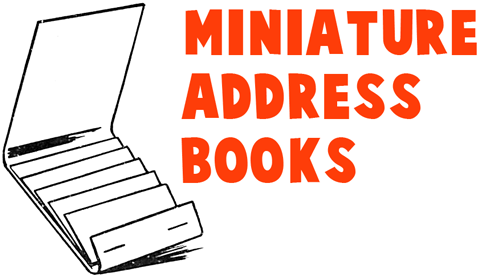 Firstly, ask your parents if it is okay to use a book of matches for this craft. Then take the staple and the matches out. Then decorate the cover by covering it with wallpaper, or decorative paper, or gift wrap, or ribbons, or paint (or something else). Cut several pieces of note paper, 1 3/8" wide but each slightly longer than the next. Arrange them in the folder so that the longest sheet is in the back and the shortest in front, and staple in folder. You can then gift it to someone as a gift or you can use it to write phone numbers & addresses in it right away.

Decorate Address, Schedule or Appointment Books with Felt Crafts Idea - Do you want to decorate your address books, appointment books, scrap books, or schedule books with felt. If you like to sew, then this is a great craft to get your sewing fix in. You will make your special book into a personalized keepsake. Have fun.

Bind it all Address Book Crafts Project for Teens

My Address Book Free Printable Project for Children