Home > Arts and Crafts Projects for Kids > How to Make Homemade Envelopes with Ideas Crafts for Kids
HOW TO MAKE ENVELOPES CRAFTS FOR KIDS: Ideas for Paper Crafts Projects & Activities & Instructions for Making Own Folded Stationery and Envelopes for children, teens, and preschoolers
Instead of buying envelopes, you can make beautiful ones of your own to match your equally as beautiful home-made greeting cards. I know I appreciate home-made cards over generic store bought ones.
You can make unusual folded envelopes with curved flaps from construction paper or left over gift wrapping paper. You can also make a simple magnetic foam envelopes from craft foam and two strong magnets to store yours school supplies in your school locker.
How to Make a Large Arts & Craft Project Envelope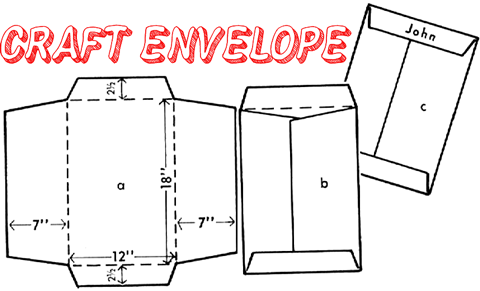 Too see the template bigger, please click here. 1 piece of wallpaper 23" x 26" (although any large paper would do), pencil, ruler, scissors, and paste. If this is envelope for your students' craft work, first draw a template so that they can trace yours. Draw envelope pattern (sketch a) on wallpaper, with a ruler, and cut out. Fold sides of envelope to center, overlapping as shown in sketch b and then paste them together. Fold bottom section up and paste. Fold top section down (sketch c). Write your name on envelope.

Making Your Own Xmas Envelopes - These envelopes aren't too hard to make, find out the patterns and the directions.

Blank Crafty Envelopes Crafts Activity -Here are a few creative blank envelopes you can print and decorate.

Curved-Flap Envelope Craft Paper Folding Craft - Learn how to make this cute curved-flap envelope by following these instructions.

Cute Envelopes with Free Printable Craft for Children - Follow these instructions to making very cute envelopes.

Hand-Made Envelope Craft - Make beautiful handmade envelopes out of old wrapping paper, catalogs, brochures etc.

How to Make Stationery - Learn how you can make envelopes from recycled materials.

Make Your Own Envelope - Follow these instructions to make homemade sassy envelopes.