MAKE QUILTS CRAFTS FOR KIDS: Ideas for Arts & Crafts Activities & Projects for Quilting Making for Children, Teens, and Preschoolers
Home > Arts and Crafts Projects for Kids > Quilt Crafts Arts and Crafts Projects Ideas for your Kids
Below you will find Quilt Crafts Arts and Crafts Projects Ideas for your Kids. Find out how to make your own arts and crafts quilting projects with the following decorations, instructions, patterns, and activities for children who love the wolf
How to Make Paper Quilts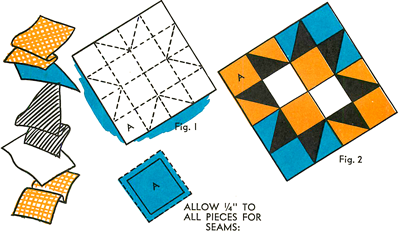 When our great grandmothers were little girls they spent many hours piecing blocks for quilts. Some of these blocks were simply squares cut from cloth, while others consisted of several sections put together to form a pretty design. Let's create a quilt design from a square of wrapping paper. Fold the desired square or block several times as shown in figure 1. Straight edges are always easier to cut and sew. Color sections of the folded square with crayon to create a design, as seen in figure 2. Keep this for a guide. Then make an exact copy of your designed block. Cut it apart. Use sections as patterns from which to cut the various pieces of cloth needed to make your quilt block. Allow one-fourth inch all the way around each piece. Use this allowance to sew the block sections together. Be sure to consult the guide frequently during the sewing process. Make as many blocks as are needed to meet the measurements of your quilt.
Even More Quilting Projects Below

Tuck your dolls or stuffed animals under this replica Amish quilt! You'll warm up to this colorful craft that's steeped in tradition!

Make dioramas depicting the endurance of an old world culture in modern times.

Kids and grownups alike go bug-eyed over this quilt, swarming with bees and other insects. Children will be snug as a bug when they wrap their imaginations, insect knowledge, and creativity into this decorative quilt.

In this tutorial you will learn how to make a quilt for your classroom.
Commemorative Group Felt Quilts -

This project is great for a small or large group. Each child can decorate 1 or 2 squares depending on the size of the group. After the quilt is complete it can be displayed somewhere for all to see.

Here are some beginner quilt projects that you and your child can enjoy together.

A great way to begin or finish summer camp or any other gathering. Memories will last for years with this fun and easy paper "quilt".
Friendship Squares Quilt Projects -

The block I drafted for the project has just three pieces and two seams. There are lots of ways to arrange this simple block. Here are two other options. Prior to the sewing day, the students used one math period to try different quilt designs using paper squares and a grid.
Fun and Easy Quilt Pattern for Kids! -

Three-year-old Declan with the quilt top he sewed (with a little help from Mom.

Little ones can remember their adventures in the garden by making a garden quilt with Crayola® Color Wonder™ and no mess!

Quilts are part of the American experience and history. During the pre-civil war period, folklore tells us quilts were used to help escaping slaves find their way to safety on the Underground Railroad.
Grandma's Quilt Paper Crafts -

In this tutorial you will learn how to make a paper quilt craft.
Hanging Hearts Cut-Paper Quilt -

Blend the honored tradition of quilt-making with brand new technology! Use your Crayola Cutter to create beautiful paper decorations that express your love.

You plan vacations. You schedule school work. Why not set a date for doing good deeds? Fill your colorful calendar quilt with acts of kindness!
Making Paper Quilts with Kindergarten and First Grade Students -

I start by reading Under the Quilt of Night, which is a great book about how the log cabin quilt block design was used as a code during the Underground Railroad. I give the students the option of making a traditional "Friendship Star" or "Log Cabin" quilt block.

Showcase children's family heritages and traditions with bright colors and distinctive patterns. These individual, no-sew quilt squares tell fascinating stories.

Crayola.com coloring pages may be used only for your personal, non-commercial use. Parents and teachers can print or photocopy multiple pages for coloring at home or in the classroom.

Every neighborhood is full of interesting stories. Gather friends to record favorite local scenes in cut-paper collages similar to those made by Faith Ringgold.

Here is a fun group project. Or save your child's pictures as she makes them and then put them all together to make this quilt.

Try your hand at this paper collage activity inspired by an early American craft, and you just may end up with a piece of pretty artwork to hang on a wall.

I have been asked to do a step by step tutorial for the paper quilts I have been making. These quilts are inspired by Beryl Taylor.

Create a patchwork quilt without sewing? Sure! Combine your imagination with geometry and Crayola® Overwriters to design a cool contemporary version of a warm, beloved tradition.

Celebrate your country's holidays! Remember famous leaders and events with national symbols.

Create a decorative classroom quilt kids will love to display!

When her husband, Craig, was out of town for a ten-day retreat, Susanne and her then five-year-old son, Ben Miller, decided to pull a While You Were Out. To surprise Dad upon his return, the decorating duo created a wall "quilt" from postcards.

Let me start by saying this is not my original idea. I got the idea from Alycia at Alycia Quilts on the left sidebar. Check out her website and help her make a Quilt of Valor! She has a goal of 400 quilts by next May. She has about 200 of them now (130 are quilted) and could use all of the help she could get. When I asked her how she made quilts with her kids, she told me what she did.

Lines and triangles make up this punch design from fabric squares. This easy technique can be used with a variety of materials and styrofoam.

Quilting is a great craft that you can teach your child, and eventually she can do it on her own.

This page is designed to describe the projects I have organized and give you ideas, techniques, and resources for working with children in making quilts.
Quilt Patterns Coloring Pages -

Crayola.com coloring pages may be used only for your personal, non-commercial use. Parents and teachers can print or photocopy multiple pages for coloring at home or in the classroom.

This quilt picture looks like a real, old-fashioned quilt, but there's no sewing -- and it takes less time to create than the real thing. It's like a miniature quilt that you can easily frame and hang it on your wall. It looks so pretty; you just might want to make more than one.
Signs of Spring Paper Quilts -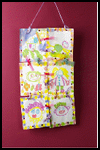 It's Spring! A Signs of Spring Paper Quilt is a creative way to remind you that warmer days are on the way! Crayola Color Wonder makes this project fun for artists ages 3 to 103!
Stack Squares, Patchwork Patterns -

Patterns are everywhere! Capture your favorites inside squares for a surprising quilt-like design using Black Color Explosion™.

Stitch together a storybook quilt for kids, with squares of family pictures, sayings, and stories to tell the story of your family.

In Colonial times, many evenings were passed creating decorative stitching samplers. Sewing in all forms was an important daily task from clothing to quilts. This project has a different twist on quilting by using a traditional pattern on a non-traditional surface, brown paper.

Discover the vibrant colors and patterns of traditional African fabrics! Create a classroom textile quilt that explores diverse cultures.

Art builds children's confidence and coordination. With these no-sew quilts kids discover the importance of patterns, colors, shapes, and texture.

Everybody has something special to be thankful for. Let each child print their name and their own reason to be thankful and piece them all together to make a beautiful Thanksgiving quilt.
The Farm – Paper Quilt Making -

Meanwhile, we've been beating the heat with some farm-focused fun in the form of paper quilts.
Valentine Quilt Block Crafts -

Use this simple quilt-block heart coloring picture as a basic pattern for kids Valentine paper crafts. Print out the full page design, then follow one of these ideas to make a special Valentine craft.

Bring the Bill of Rights to life! Create a visual Bill of Rights to hang in the classroom using Crayola™ Color Sticks™ Colored Pencils.