HOW TO MAKE TOY GLASSES CRAFTS FOR KIDS: Ideas for Arts and Crafts Projects & Activities for Making sunglasses for children, teens, and preschoolers
Home > Arts and Crafts Projects for Kids > Toy glasses Crafts Arts and Crafts Projects Ideas for your Kids
Below you will find toy eye glasses Crafts Arts and Crafts Projects Ideas for your Kids. Find out how to make your own arts and crafts toy sunglasses projects with the following decorations, instructions, patterns, and activities for children
How to Make Pipe Cleaner Glasses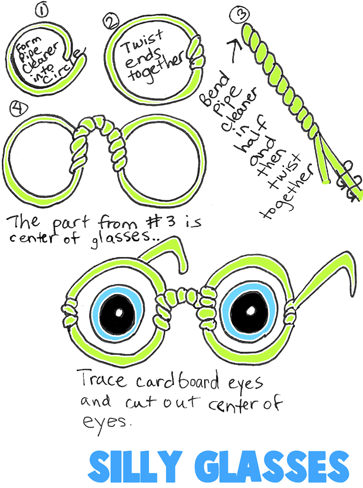 These are pretty easy to make. Just form a circle with a pipe cleaner and twist it together as a circle. Do this a second time for the other eye. And then take a third pipe cleaner and twist it together and then connect the 2 eyes together with this 3rd piece, as seen in illustration #4. Then make the arms of the glasses with 2 more pipe cleaners...just twist them on the ends of the glasses. If you want to just have a pair of glasses than that is it. If you want the silly eyes...cut out cardboard and draw eyes on them and then cut out a hole in the center so that you can see. Then glue the cardboard to the back of the pipe cleaner glasses.
Even More Glasses Crafts to Make

Beaded Sunglasses Holder Craft - Kids can keep their sunglasses safe by attaching it to a beaded sunglasses holder.

Beaded Necklace Sunglasses Holders - This sunglasses holder will make you look cooler than all your friends!

Colorful Eyeglasses - Find out how to make a colorful pair of eyeglasses from a heavy weight paper.

Eyes for You : Crafts with Craft Foam Sheets - This is a cute pair of glasses you can make for someone special to wear on Valentine's Day.

Fun Glasses - Find out how children can make fun shaped glasses.

Funky Eyeglasses - Use the free eyeglasses mask craft sheet to create funk eyeglasses masks.

Glasses Paper Cutout Toy Craft - Print out these black glasses, fold them up, and play with them.

Goofy Glasses Crafts - This is a fun way children can put their imagination into good use.

Harry Potter Glasses - Find out how you can make Harry Potter glasses for Halloween.

Harry Potter Glasses - Make a Harry Potter glasses from only two black chenille stems.

Heart Shaped Eye Glasses Crafts - Use this printable craft sheet to create a heart shaped eyeglasses for Valentine's Day.

Heart Shaped Glasses - Make a cute heart shaped glasses using inexpensive materials such as a poster board and rose colored cellophane.

Magical Mystery Glasses - Children can make their own magical mystery glasses using Crayola products.

Patriotic Eyeglasses - Celebrate Independence Day with a pair of patriotic eyeglasses in red, white and blue.

Patriotic Fun Glasses : Parade Crafts Instructions - Find out how children can make a pair of patriotic glasses.

Star is Born Sunglasses Masks - Print this celebrity sunglasses eye mask and follow the instructions.

Star Shaped Eyeglasses Crafts - Use the free printable to create a star shaped eyeglasses.