HOW TO MAKE TOY GLASSES CRAFTS FOR KIDS: Ideas for Arts and Crafts Projects & Activities for Making sunglasses for children, teens, and preschoolers
Home > Arts and Crafts Projects for Kids > Toy glasses Crafts Arts and Crafts Projects Ideas for your Kids
Below you will find toy eye glasses Crafts Arts and Crafts Projects Ideas for your Kids. Find out how to make your own arts and crafts toy sunglasses projects with the following decorations, instructions, patterns, and activities for children
How to Make Pipe Cleaner Glasses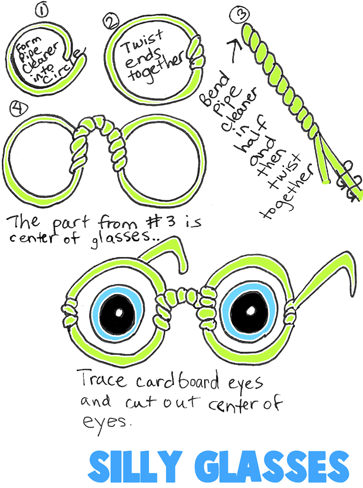 These are pretty easy to make. Just form a circle with a pipe cleaner and twist it together as a circle. Do this a second time for the other eye. And then take a third pipe cleaner and twist it together and then connect the 2 eyes together with this 3rd piece, as seen in illustration #4. Then make the arms of the glasses with 2 more pipe cleaners...just twist them on the ends of the glasses. If you want to just have a pair of glasses than that is it. If you want the silly eyes...cut out cardboard and draw eyes on them and then cut out a hole in the center so that you can see. Then glue the cardboard to the back of the pipe cleaner glasses.
Even More Glasses Crafts to Make

Funky Eyeglasses - Use the free eyeglasses mask craft sheet to create funk eyeglasses masks.

Heart Shaped Eye Glasses Crafts - Use this printable craft sheet to create a heart shaped eyeglasses for Valentine's Day.

Patriotic Eyeglasses - Celebrate Independence Day with a pair of patriotic eyeglasses in red, white and blue.

Star is Born Sunglasses Masks - Print this celebrity sunglasses eye mask and follow the instructions.

Star Shaped Eyeglasses Crafts - Use the free printable to create a star shaped eyeglasses.