Home > Arts and Crafts Projects for Kids > Animal Crafts > Jellyfish Crafts Arts and Crafts Projects Ideas for your Kids
JELLYFISH CRAFTS FOR KIDS: Make your own jellyfish with easy arts and crafts activities & for children, teens, and preschoolers
I always find jellyfish beautiful to look at. But don't make their colorful appearance fool you, jellyfish can accidentally sting you when you accidentally touch them. This sting can be very painful and dangerous. Jellyfish are found in basically every ocean worldwide.
There are so much jellyfish themed crafts out there for children. The most simple one I have every made is from a white plastic bag and crepe paper. But you can alternate the plastic bag with construction paper or a paper/plastic bowl which is safer for children.

How to Make a Jellyfish Windsock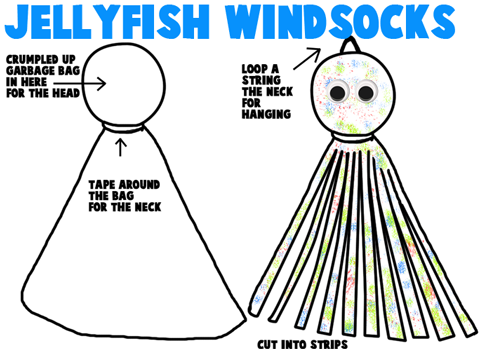 Start off with a white garbage bag. Crumple up a second garbage bag and stuff it to the bottom of the first bag. This will be the head. So wrap tape around the bag for a neck...it should now look like the first picture above. Next, cut the bottom of the bag into strips. Then either cut out paper eyes (cutting white and black ovals and gluing thing together) or paste large googly eyes to the jellyfish's face. Next, take a piece of string and loop it thru the tape neck...this will be for hanging the windsock. Next you can add glitter, sequins, and other colorful items to the jellyfish. Hang it and watch it blow in the wind.
Making a Jellyfish from a Paper Bowl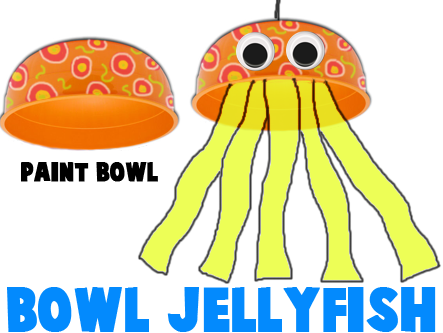 You start making this jellyfish craft with a paper or plastic bowl. Design the bowl with paint or Sharpie markers and then let dry. With parental supervision, poke a hole in the top of the bowl. Thread a string thru the hole and then tie a knot. Pull the string through and tie a loop for hanging. Then cut strips of colorful tissue paper. Then glue the strips to the center of the inside of the bowl. Also glue googly eyes on the outside of the bowl for its face.
Even More Jellyfish Crafts

A New Jellyfish Making Craft for Kids - It's really amazing to me, but I get searches for jellyfish everyday--who knew they were so popular? So the other night, while in bed, you think I would be sleeping, this idea popped into my head. These jellyfish are really easy, although there is not a lot of children work to it, but they look cute hanging around.

Bubble Wrap Jellyfish Halloween Costume Making Instructions - Make this easy no sew jellyfish costume by following simple instructions.

Coffee Filter Jelly Fish Arts & Crafts Idea - This is one of Evan's favorite crafts. He loves animals, especially sea animals. Any craft he can play with, he just loves to do. I love stain glass coffee filters. There are so easy and fun. I also know tons of crafts to do with them. Sean enjoys coloring with markers and the water painting. Both boys love playing with their jelly fish. When they run with the jelly fish, it looks like the jelly fish are flying.

Coffee Filter Jellyfish Craft to Make for Children - Making coffee filter jellyfish is a great way to introduce children to sealife, illustrate the letter J or simply have fun with an easy craft.
Coffee Filter Jellyfish - Make jellyfish out of coffee filters, cups and streamers.

Halloween LED Jellyfish Costume - - This is a visually stunning fancy dress costume using LED rope lights and a plastic washing basin to create a deep sea bioluminescent jellyfish thing.

Jellyfish Coffee Filters Making Directions - I love coffee filter projects. It's so neat watching the colors blend together!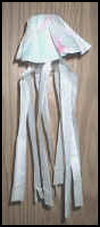 Jellyfish Coffee Filter Craft for Preschoolers & Toddlers - - I love coffee filter projects. It's so neat watching the colors blend together!

Jellyfish Craft - - The boys had a great time making this one (they especially liked being tickled on their heads with the tentacles). I just wished that the thunderstorm waited a little while longer and we could have completed this one outside like I had originally planned as my kitchen took a beating.

Jelly Fish Craft - - Lately we have been seeing a lot of great Jellyfish crafts out there in the blog world. Here is our version to add to the mix.

Jellyfish Craft and Beach Pail Candy Holder - - This is a cute and easy jellyfish craft.

Jellyfish Crafts Activity - How to Make this jellyfish project.

Jellyfish In The Ocean - - The boys recreated an underwater scene. First, they painted their ocean. Chipsy painted multiple colours with obvious black streaks on his blue paper. M opted for a clean and pretty dark blue background.

Jellyfish Paper Plate Craft - - Make a colourful jellyfish from a paper plate and tissue paper.

Jumping Jellyfish Crafts Instsructions - Here's a little tutorial if you're interested in giving it a go yourself :)

Kids Jellyfish Craft - - We came up with this jellyfish craft after a trip to our local aquarium. The jellyfish displays were lit up and beautiful and our daughter was hooked. This kids jellyfish craft is made to either hang from the ceiling or to be carried around by your favorite animal loving child! This ocean animal craft is simple to make and uses common house hold materials. Use different colors of tissue paper or different lengths of streamers for tentacles to add extra interest to this fun jellyfish craft.

Lovely Lace Jellyfish - - I used two different widths for the tentacle lace to make the 4 tentacles feel like more. Also, if you were clever and used only cotton lace these could be dyed! I'd love to see someone try that!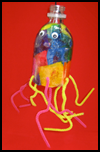 Make a Hanging Jellyfish - - As those long, hot days of summer approach, lots of families start thinking about trips to the beach. Even if you're staying home though, you can bring some of the surf to your kindergartner's life with this artistic craft project. The results are colorful and the process is fun, but this activity is also educationally beneficial. The next time you find yourself with a few hours to fill, try making these "Paper Plate Jellyfish." Your child will get to use her creativity, as well as practice her fine motor skills by painting, taping, and stapling. On top of all that, she'll learn about the creatures of the sea. This is a great way to spend an afternoon, and makes for some great decorations, too!

Moon Jellyfish Craft - - An easy to make puppet or hanging decoration in the style of a Moon Jellyfish.

Paper Plate Jellyfish - - Here is another cute craft we did out of the book, Crafty Kids, Fun Projects For You and Your Toddler. I love this paper plate jellyfish.