Home > Arts and Crafts Projects for Kids > Animal Crafts > Jellyfish Crafts Arts and Crafts Projects Ideas for your Kids
JELLYFISH CRAFTS FOR KIDS: Make your own jellyfish with easy arts and crafts activities & for children, teens, and preschoolers
I always find jellyfish beautiful to look at. But don't make their colorful appearance fool you, jellyfish can accidentally sting you when you accidentally touch them. This sting can be very painful and dangerous. Jellyfish are found in basically every ocean worldwide.
There are so much jellyfish themed crafts out there for children. The most simple one I have every made is from a white plastic bag and crepe paper. But you can alternate the plastic bag with construction paper or a paper/plastic bowl which is safer for children.

How to Make a Jellyfish Windsock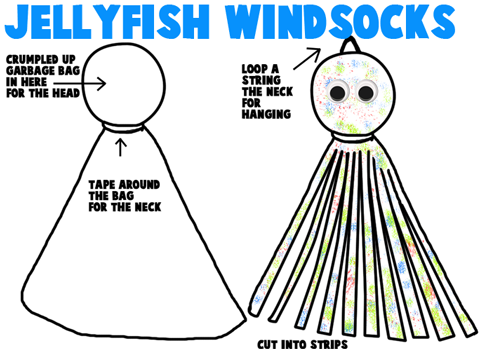 Start off with a white garbage bag. Crumple up a second garbage bag and stuff it to the bottom of the first bag. This will be the head. So wrap tape around the bag for a neck...it should now look like the first picture above. Next, cut the bottom of the bag into strips. Then either cut out paper eyes (cutting white and black ovals and gluing thing together) or paste large googly eyes to the jellyfish's face. Next, take a piece of string and loop it thru the tape neck...this will be for hanging the windsock. Next you can add glitter, sequins, and other colorful items to the jellyfish. Hang it and watch it blow in the wind.
Making a Jellyfish from a Paper Bowl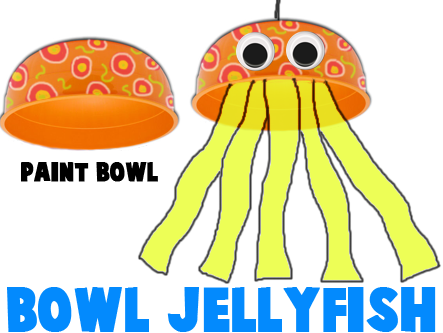 You start making this jellyfish craft with a paper or plastic bowl. Design the bowl with paint or Sharpie markers and then let dry. With parental supervision, poke a hole in the top of the bowl. Thread a string thru the hole and then tie a knot. Pull the string through and tie a loop for hanging. Then cut strips of colorful tissue paper. Then glue the strips to the center of the inside of the bowl. Also glue googly eyes on the outside of the bowl for its face.
Even More Jellyfish Crafts

A New Jellyfish Making Craft for Kids - - It's really amazing to me, but I get searches for jellyfish everyday--who knew they were so popular? So the other night, while in bed, you think I would be sleeping, this idea popped into my head. These jellyfish are really easy, although there is not a lot of children work to it, but they look cute hanging around.

Bubble Wrap Jellyfish Halloween Costume Making Instructions - - Make this easy no sew jellyfish costume by following simple instructions.

Coffee Filter Jelly Fish Arts & Crafts Idea - - This is one of Evan's favorite crafts. He loves animals, especially sea animals. Any craft he can play with, he just loves to do. I love stain glass coffee filters. There are so easy and fun. I also know tons of crafts to do with them. Sean enjoys coloring with markers and the water painting. Both boys love playing with their jelly fish. When they run with the jelly fish, it looks like the jelly fish are flying.

Coffee Filter Jellyfish Craft to Make for Children - - Making coffee filter jellyfish is a great way to introduce children to sealife, illustrate the letter J or simply have fun with an easy craft.

Crepe Paper Jelly Fish Craft for Youngsters- - This simple craft is great for any program theme involving the ocean or sea life, or just a fun summer project at home.
Coffee Filter Jellyfish - - Make jellyfish out of coffee filters, cups and streamers.

Egg Carton Jellyfish Making Instructions - - Find out how to create this fun jellyfish using egg carton cups and a few other supplies.

Glowing Jellyfish Costume - - Create a glimmering, glowing jellyfish costume with a clear umbrella and just a few other items.

Halloween LED Jellyfish Costume - - This is a visually stunning fancy dress costume using LED rope lights and a plastic washing basin to create a deep sea bioluminescent jellyfish thing.
How to Design a Jellyfish Aquarium - - If you're not using a tank and filter setup that's specifically designed for jellyfish, you'll need to make modifications to make sure your beautiful jellyfish don't turn into soup. The main objective is to keep the water circulating so that the jellyfish stay in the middle and away from the filter.
How to Make A Clay Jellyfish - - If you live near the beach than chances are your kids know about jellyfish first hand. If you don't this is a great opportunity to teach your children about jellyfish. Get a library book on jellyfish to read to your child and then take them in the kitchen to make a clay jellyfish of their very own. That way you incorporate fun in to learning for an experience your child will never forget.
How to Make a Coffee Filter Jellyfish - - A coffee filter jellyfish is a fun, easy and inexpensive craft that makes a unique room decoration. It also creates a perfect opportunity to talk with children about jellyfish and other marine life, and the importance of preserving the aquatic environment.
How to Make a Jellyfish Halloween Costume - - Making Halloween costumes for kids need not be expensive or time-consuming. This funny jellyfish Halloween costume uses simple materials and takes only minutes to put together. It's also a particularly convenient Halloween costume for kids, because it's easy to take off and put on. If you have several kids, consider making one for each of them. A school of jellyfish will look more realistic than just one.
How to Make a Model of a Box Jellyfish for a Science Project - - According to National Geographic, the venom of the box jellyfish (also called sea wasp, fire jelly or marine stinger) is considered to be among the most deadly in the world. A model of the fire jelly for a science project can be made from household and craft supplies to reflect the unique characteristics of the organism: 24 eyes, four sets of stinging tentacles that can grow to 15 feet and a boxy (cube-like) bell.

How to Make Paper Plate Jellyfish - - So you want to make a cheap, fun craft that doesn't require going to the store and buying supplies? This is simple and perfect for young children. It could be the start of an ocean-themed craft day at home!
How to Make Paper Plate Jellyfish - - If you are looking for a quick craft to do with your child, or you have a child who loves the ocean then you will want to read this article. With a few basic supplies, you and your child can make this paper plate jellyfish that will be both fun and easy to do.

Jammin' Jellyfish - - These jellyfish are quick to make and guaranteed not to sting you!

Jazzy Jellyfish Decorations - - On their way to finding Nemo, Marlin and Dory encounter a huge school (aptly named a smack) of jellyfish, and they have to bounce off the tops to avoid being stung by the dangling tentacles. While the colorful trailing ribbons on these paper jellyfish won't sting you, they certainly will add a jazzy touch to your child's birthday celebration. They also make nice take-home favors when the party's over.

Jellyfish Beaded Safety Pin Patterns Craft - Use this free Jellyfish pattern to make beaded safety pin jewelry.

Jellyfish Crafts Activity - - Always use your imagination and be creative when building these kids crafts or any others. It's your creation, so be inventive when looking for building supplies — you just may be surprised! When building your project, experiment with new and different ways of putting it together. The most important thing is to have fun!

Jellyfish Halloween Costume Making Directions - - A costume contest entry from FamilyFun.

Jellyfish Coffee Filters Making Directions - I love coffee filter projects. It's so neat watching the colors blend together!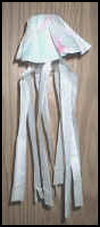 Jellyfish Coffee Filter Craft for Preschoolers & Toddlers - - I love coffee filter projects. It's so neat watching the colors blend together!

Jellyfish Costume - - To get this sweet and sassy jelly ready to roll, cover a broad-brimmed hat with bubble packaging and sparkly fabric, then add some ribbon-and-rickrack tentacles.

Jellyfish Craft - - The boys had a great time making this one (they especially liked being tickled on their heads with the tentacles). I just wished that the thunderstorm waited a little while longer and we could have completed this one outside like I had originally planned as my kitchen took a beating.

Jelly Fish Craft - - Lately we have been seeing a lot of great Jellyfish crafts out there in the blog world. Here is our version to add to the mix.

Jellyfish Craft and Beach Pail Candy Holder - - This is a cute and easy jellyfish craft.

Jellyfish Crafts Activity - How to Make this jellyfish project.

Jellyfish In The Ocean - - The boys recreated an underwater scene. First, they painted their ocean. Chipsy painted multiple colours with obvious black streaks on his blue paper. M opted for a clean and pretty dark blue background.
Jellyfish Mobile - - Find out how you can make a fun jellyfish using a styrofoam cup.

Jellyfish Paper Lamp - - I love folding paper. I especially love how a few elegant curves and pleats can turn a plain sheet of paper into something that is beautiful, at once organic and mechanically precise. Looking at those simple shapes and beautiful lines inspired me to make this paper lamp, which resembles some kind of exotic jellyfish creature.

Jellyfish Paper Plate Craft - - Make a colourful jellyfish from a paper plate and tissue paper.

Jolly Jiggly Jellyfish - - It has no brains or body, but this jellyfish sure looks jolly! Create a whimsical sea-faring friend with Crayola Color Explosion™ White.

Jumping Jellyfish Crafts Instsructions - Here's a little tutorial if you're interested in giving it a go yourself :)

Kids Jellyfish Craft - - We came up with this jellyfish craft after a trip to our local aquarium. The jellyfish displays were lit up and beautiful and our daughter was hooked. This kids jellyfish craft is made to either hang from the ceiling or to be carried around by your favorite animal loving child! This ocean animal craft is simple to make and uses common house hold materials. Use different colors of tissue paper or different lengths of streamers for tentacles to add extra interest to this fun jellyfish craft.

Lovely Lace Jellyfish - - I used two different widths for the tentacle lace to make the 4 tentacles feel like more. Also, if you were clever and used only cotton lace these could be dyed! I'd love to see someone try that!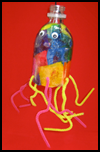 Make a Hanging Jellyfish - - As those long, hot days of summer approach, lots of families start thinking about trips to the beach. Even if you're staying home though, you can bring some of the surf to your kindergartner's life with this artistic craft project. The results are colorful and the process is fun, but this activity is also educationally beneficial. The next time you find yourself with a few hours to fill, try making these "Paper Plate Jellyfish." Your child will get to use her creativity, as well as practice her fine motor skills by painting, taping, and stapling. On top of all that, she'll learn about the creatures of the sea. This is a great way to spend an afternoon, and makes for some great decorations, too!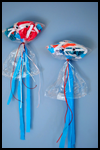 Make jellyfish! - - Now, it might be a bit of a stretch, but if you squint your eyes slightly those creatures pictured on the right look like slippery little jellyfish. Or at least my boys are quite content to think they are! We made them yesterday and it was a really easy and fun project. And of course my boys are loving their new jellyfish 'toys'.

Make Some Swishy Jellyfish Arts and Crafts Project Idea - These fetching jellyfish are easy to make, and very popular with kids who love to use sticky tape. For one of our jellyfish's dangly bits we used short lengths of clear plastic string that I found in a craft shop and pieces of pearl-cotton cord from my sewing supplies. For our second one we used a plastic shopping bag cut into very thin strips.

Moon Jellyfish Craft - - An easy to make puppet or hanging decoration in the style of a Moon Jellyfish.
Paper Jelly Fish - - So easy to make, yet the ribbons and crepe paper make this paper jelly fish so pretty!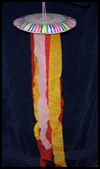 Paper Plate Jellyfish - - Fun and easy paper plate craft for children.

Paper Plate Jellyfish - - Children love paper plate crafts! Today we made a cute Jellyfish.
Paper Plate Jellyfish - - Here is another cute craft we did out of the book, Crafty Kids, Fun Projects For You and Y

our Toddler. I love this paper plate jellyfish.

Sea Urchin Jellyfish Ornaments - - Dust shells with glitter to create a seashore-inspired tree. These spangled sea urchins morph into jellyfish with tinsel tentacles.