Home > Arts and Crafts Projects for Kids >Toys and Games > Kites
MAKING KITES DIRECTIONS FOR KIDS : Find out how to make your own fun flying toy kates with ideas, instructions, patterns, and activities for children, teens, and preschoolers
Below you will find out how to make your very own kites with materials from your home. These are great kite making crafts with easy enough instructions...with step by step illustrations...that will guide you through every step of the craft.
You Might Also Like Our Crafts to Make Toys and Games or Airplane and Glider and Flying Toys Crafts
Easy First Kites to Make Instructions for Kids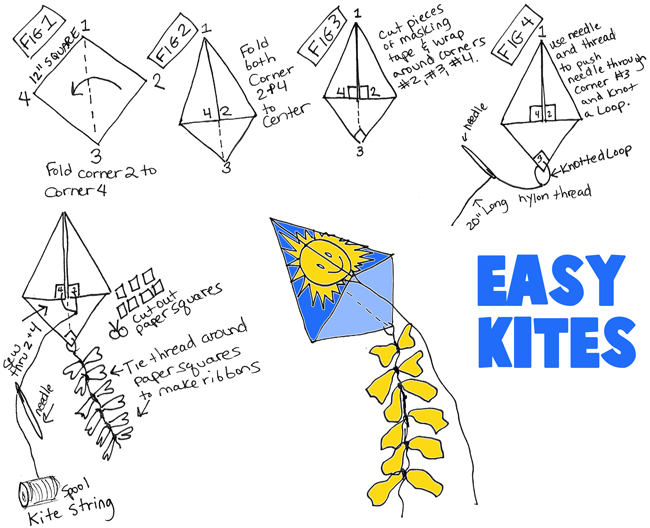 This is a great kite for kids to make because it is easier to make than the traditional kite. Follow the step by step, illustrated instructions above. We are going to use a 12 inch x 12 inch square piece of paper. Cut one out if you don't have one this size. As seein in (Figure #1), Fold the square in half. OPEN BACK UP TO SQUARE. As seen in (Figure #2), now fold corners #2 and #4 to the center. Wrap masking tape around corners #2, #3, and #4, as seen in (Figure #3). Knot a loop in corner #3 by using a needle and 20 inch long nylon thread to poke thru corner thread and make a knotted loop (Figure #4). Now take a spool of kite string and sew it thru corners #2 and #4 and tie a knot...as seen in (Figure #5). Cut out paper squares and then wrap the 20" nylon thread around the paper squares...one at a time to form ribbons. Now use the spool of kite string to fly your beautiful kite.
How to Make a Toy Kite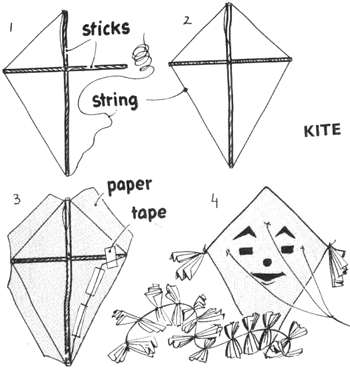 It's much more fun to fly a kite you've made yourself than one you've bought in a store. Here's how to make it. Form a cross from dry reed grass or slender sticks, fastening them together with string. Draw the string from the center to the top of the vertical stick and tie it. Then stretch the string from there to all the other ends. Cover everything with light paper and tape it on as shown. Make small holes and draw strong but thin pulling cord above and on both sides of the crossbars. Don't forget the ears and tail of your kite, which will hold it in balance when the wind carries it high. To make the tail of the kite, tie ribbons (tied) about every 4 inches down the string of the kite. Tie one ribbon on each ear of the kite (look at number 4 above).
Making Bag Kites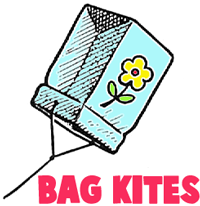 The materials needed to make this craft are 1 paper grocery bag, crayons, scissors, and a rule. You may color or draw pictures on a paper grocery bag. Fold down top twice to make an inch band at the bottom of the bag. Fasten a string through this folded edge. Child may hold the string and run outdoors with his or her kite. The wind will fill the bag with air and make it fly for a few moments.