Home > Arts and Crafts Projects for Kids > Linoleum Crafts for Children
LINOLEUM CRAFTS FOR KIDS: Ideas for Arts & Crafts Projects & Activities with Linoleum to Create Block Printing and Hand Stamped Projects for Children, Teens, and Preschoolers
Below you will find many Ideas for Linoleum Arts & Crafts Projects & Activities with Linoleum to Create Block Printing Arts for Children, Teens, and Preschoolers.
Make Good Linoleum Block Cuts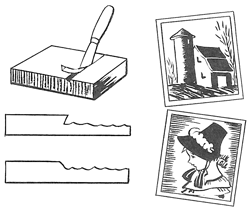 To make good linoleum block prints use a smooth grade of unlacquered linoleum which is light enough in color to make transfer lines, drawn in pencil, easily seen. Buy an extra piece on which to practice cutting deep straight lines at a slight angle.
THE DESIGN on YOUR LINOLEUM BLOCKS
Because straight lines and large surfaces are most effective in linoleum prints, select a subject that will not require much detail. Draw the design on paper the exact size of the block and place it in reverse on the block. To do this, rub oil over paper sketch to make it transparent. Rub the face with white chalk. Place face down on block. Trace with a pencil. Retrace the chalk lines with ink. In printing, the right hand side of block will become the left hand side of the completed print.
LINOLEUM CUTTING TOOLS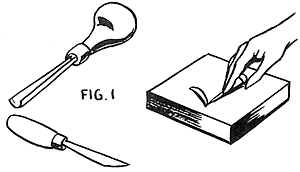 You must make sure that your parents, teachers, or suprevisors are okay with you using these linoleum cutting tools. Although all block cutting may be done with a well sharpened knife, the most serviceable tool is the medium V-shaped veiner, Fig. 1, which may be purchased for a small sum of money. Always cut away from the person and keep the hand which holds the block behind the direction of the cutting tool. The portion which is not to be printed may be cut away in large pieces. Cut the finer detail lines after all lines have been outlined with the knife. Round the outer edges of the block slightly after the cutting has been completed.
MAKING THE LINOLEUM PRINTS ON PAPER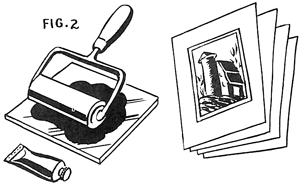 Although the ink can be applied with a brush the results are not always as fine as when the ink is applied with a brayer, an instrument used for spreading ink. Fig. 2. Press some printing block ink, which comes in a tube, onto a piece of glass. Smooth it out with a side of a knife. Run the brayer back and forth over the glass until it is well inked. Then roll it over the surface of the block. Lay a piece of unglazed paper on top and with a smooth board press the paper against the linoleum. Or you may use an ordinary clothes wringer for a press. If the first proofs are not up to expectations, trim off the rough edges that remain on the block. Always clean the block with a soft rag and gasoline. Wrap in newspapers and keep in a dry place until you wish to use it again.
Making Patterns with Linoleum Block Prints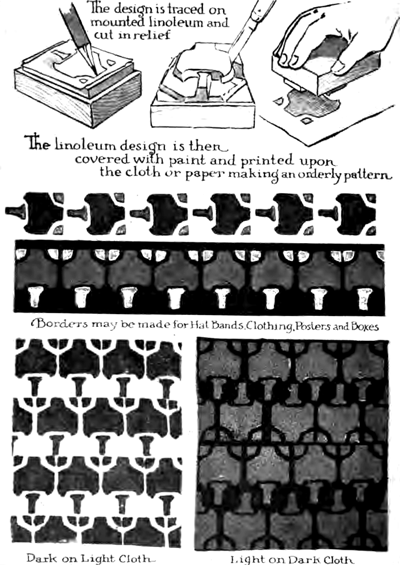 Find out how to make patterns with Linoleum Block Prints...the above diagram illustration shows you how to do this. Patterms are perfect for wrapping paper, tablecloths, cards, and drapes. You can make professional looking items with the use of a good linoleum block print. Find out how...above.
How to Use Block Printing on Fabrics and Cloth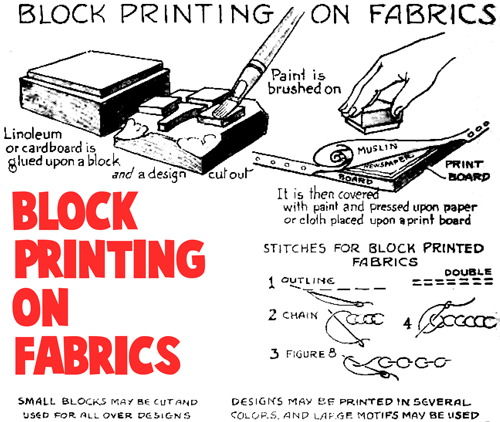 Look at the image above to find out how to cut Linoleum Blocks and then in turn use them for block printing on fabrics. There is a process to do it right. First you brush the paint on the block. You need to cover and staple the fabric on to a board to keep the fabric tight and flat. Then ou press the block onto the fabric.
More Linoleum Lessons

Block Print Cards Made with Linoleum - Patricia Zapata demonstrates how to create your own handmade block print greeting cards with linoleum.

Linoleum Printing with Kids - My six-year-old and my four-year-old were able to do everything in this process except the cutting. This is the first time I've done this since high school, so I'm certainly no expert! Do you like it when I tell you that I don't really know how to do something, but then I proceed to tell you how to do it? Yeah, I have a problem with that.

Lino or Linoleum Block for Linocut Stamp Carving - Linoleum, more commonly known by the shortened name, lino, was originally developed as a floor covering. It is now popular with artists who carve into the smooth lino surface, creating linocut blocks that are used for block printing. These carved lino pieces can be used for a variety of purposes, including creating art prints and printing images on t-shirts. Small linocut images also make great stamps. Small pieces of lino can be carved to make custom stamps. While lino is a little harder to work with than other carving blocks, it is relatively low cost and readily available.

Making Linoleum Block Prints - Linoleum blocks can be used to print cards, make your own wrapping paper or simply for art.