Home > Arts and Crafts Projects for Kids > Animals Crafts > Lion Crafts Arts and Crafts Projects Ideas for your Kids
LION CRAFTS FOR KIDS: Ideas for Arts & Crafts Activities & Projects to Make Lions for Children, Teens, and Preschoolers
Lions are the largest cat with some weighing over 500 pounds. They are so big that they are even bigger than tigers. With their ferociousness and agility, lions are at the top of the food chain. That is why some people refer to lions as "The King of the Jungle". Currently lions live in the wild in both Asian and Africa. However, you can always see a lion in a zoo or a circus. Lions used to be the most widespread mammal on the earth after humans, but their population is suffering greatly. If you are a fan of lions then here are some crafts that you might be able to use. Happy Crafting!
Make Pipe Cleaner Lions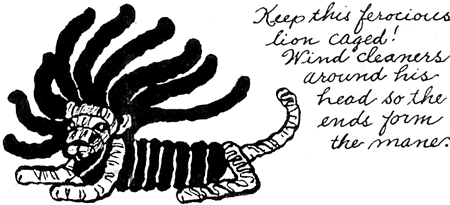 Get a stone for the lion's boday. Wrap a pipe cleaner under the stone, slightly out the front but mostly out the back, for the tail Wrap pipe cleaners around the stone and the tail, as pictured above. Now wrap a pipe cleaner around the rock for both the front and back lets. Wrap pipe cleaners around the part of the pipe cleaner that is hanging out the front to form the head. Then wrap pipe cleaners around his head so the ends form a mane.
Styrofoam Lions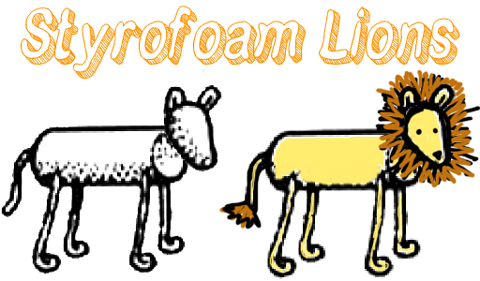 These are so much fun to make and each one turns out differently. You will want to buy a styrofoam cylinder. Cut this cylinder to the right width for a lion's body, and then you can use part of the remainder to cut the head. Squeeze the cylinder in between your fingers until you feel you molded it to the right shape. Then attach the lion's head to the body with a toothpick or a pipe cleaner. Make each of the lion's legs with the right color pipe cleaners. Stick them into the body and then bend the bottom of the legs into the right shape, in order to make the lion stand. Cut a pipe cleaner for the tail and ears and then stick into the lion. Both sides of the ears get stuck into the head in order to make the curved ears. Cut brown-ish yarn for the lion's mane and tail and then glue it all around the lion's face and on the bottom of the tail.
Make Lions with Mailing Envelopes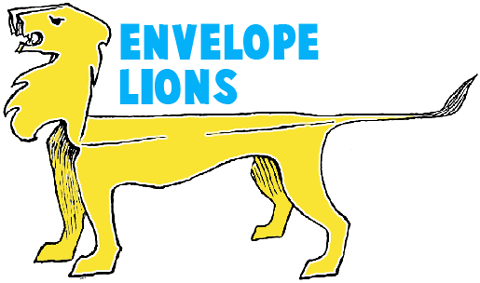 You will need a mailing envelope for this craft. Start this craft by printing out the following lion template. Either trace the lion onto the folded edge of a paper envelope or cut it out and paste it onto the folded edge of an envelope. Cut the lion out. Open it up and fold on the dotted lines so that the lion will stand.
How to Make Paper Lion Masks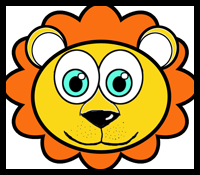 This is an easy craft that kids of all ages can enjoy. Just print out the paper lion mask template and follow the instructions on that page.

Handprint Elephants and Lions - These handprint lions and elephants are adorable...find out how to make them here.

Circus Traveling Lion Cage - Make this 3-dimensional horse-drawn lion cage with the following paper templates and instructions.

How to Draw Cartoon Lions - Here is a step by step cartooning and drawing tutorials for drawing lions.
More Lion Crafts

Chinese Lion Dance Costume with Chinese New Year Crafts - The kids will have great fun making this super Chinese Lion Dance costume - and wearing it in their own Chinese New Year parade!

Chinese Lion Puppet for Chinese New Year - With its concertina body, the kids can make this Chinese lion puppet dance up and down just like it's doing a real Lion Dance.

Circle Lion Paper Craft : Shapes, Scissor Skills, Colors, and Counting Practice - Circle Lion Paper Craft - Shapes, Scissor Skills, Colors, and Counting Practice for Preschoolers

Easy Paper Plate Lion Craft for Preschoolers & Kindergarteners - This king of the jungle is made with a paper plate.

Hand Print Lion Arts and Crafts Activity for Preschoolers - This Hand Print Lion is a great craft for Toddlers and Preschoolers on up. They can make the hand print, and you can help them make the lion's face!

How to Fold Origami Lions Animals - Lion origami model.

Lion Mask Craft for Kids - This is a cute but very simple craft. I think it would be a nice one for younger kids to make for Halloween if they're not really into wearing a big fancy costume (both my girls were like that at age 2).

Lion and Lamb Arts and Crafts Instructions - Explore opposites with a lion of a project that kids and parents greet with a roar of approval. Through art, young children learn letter recognition, too.
Lion Toilet Paper Roll Craft Idea for Kids - This is a cute three dimensional lion craft that is fun for young children to make and to play with.

Lion Face with Noodle Main Craft for Kids - Make a lion with noodle hair out of stock, crayons, dry uncooked long curly noodles, red food dye and rubbing alcohol

Lion Mask : Crafts Projects for Chinese New Year - On the third day of the Chinese New Year, the Lion Dance begins. Some people believe putting money in the lion's mouth will bring them luck! Bring good fortune to yourself with this lion mask.

Magnificent Lion Masks - Print out and decorate many masks: lion, cat, dog, pig, koala, and robot...perfect for celebrating Mardi Gras with your kids.

Macaroni Lion Arts and Crafts Ideas for Kids - This Macaroni Lion is an easy craft for kids. The best part is you only need a few simple craft materials to make this cute creature!

Paper Bag Lion Puppet - This is a fun and easy cut and paste paper craft that uses a paper bag as a base to make a puppet. You can omit template 3 (the mane) for a female lion.

Paper Plate Lion Crafts Project - This adorable paper plate lion is a great, inexpensive Lion craft for kids!

Paper Maché Lion Book Holder - This is a very cute little gift for siblings to make for each other or for a favorite grandparent.

Save the Sphinx - Explore the ancient Egyptian treasure, the Great Sphinx. The 4,500-year-old monument has a king's head and a lion's body. Find out what it was made of and how it was constructed.

Stuffed Lion Crafts for Kids - Make a stuffed lion from Crayons or markers, Small plastic food baggies (don't have to be zip-lock), yellow pom poms (large ones are better) OR you can substitute tissue paper (scrunched up balls), yellow and orange construction paper, stapler, staples, glue sticks, scissors. (scroll down).