Home > Arts and Crafts Projects for Kids > Macrame Crafts for Kids
MACRAME CRAFTS FOR KIDS : Easy Instructions to Make Macrame with Tutorials & Lessons for Children, Girls, and Teens
Macrame was one of the first crafts I remember being exposed to. During the '70s I remember my parents hanging all kids of weird rope projects around our apartment. I remember my father making this funny macrame clown doll that he hung from the rear view mirror of our gold colored Plymouth Fury. I also remember our spider plant hanging from a macrame flowerpot holder. I guess that's why I have always had a special place in my heart for Macrame crafts, they almost define for me what crafting is all about, making a craft that is isn't too difficult but looks really cool and can be super practical too. You can also use macrame crafts to make cool clothing accessories or parts of Hippie costumes for Halloween.

Make a Ribbon Macrame-Like Belt - Learn how to make this simple starter Macrame Belt. This is perfect for kids just learning how to knot in a Macrame Like Style. After this project, they can move to bigger and better projects.

A Child's Macrame Project - A step by step macrame project. It took two days for her to complete a hanger that is 48 inches long. It was made of pink, lilac, blue and white 6 mm cord. She learned only two knots and how to butterfly the cord, to make this project and had to complete the bottom later, using a crochet hook to make it all fluffy.

Angel Door Decoration Macrame Project - This particular one has flowing blonde hair, a pretty dress, and gold wings. She's easy to make, and designed for children or beginners. You can add flowers, bells, or tiny ornaments to embellish the design.

Chunky Key Ring Macrame Craft Project for Kids - This Chunky Key Ring is so thick and colorful, you will find your keys very quickly. It's constructed with thick yarn rather than Macramé cord. When choosing colors, make sure they are bold and bright. Try changing the pattern by using different knots for the bottom half, or use regular macrame cord instead of yarn.

Colorful Macrame Bookmark Tutorial - This is a Step-by-step instruction and scheme for a colorful macrame bookmark.
MACRAME PATTERNS & INSTRUCTIONS D-F

Designer Hangers Macrame Project for Kids - Choose from a variety of Knotting Techniques to cover metal Hangers for your clothing. This is one of my special "flexible" Macrame Patterns.

Double Half Hitch Macrame Instructions - This page contains macramé instructions for the double half hitch. Some of the many variations on this knot will be added to this site in the future.

Faith Bracelet Macrame Craft to Make- Learn how to make this Macrame Faith Bracelet.

Flower Bracelet Macrame Instructions for Kids - The Flower Bracelet is designed to be soft and feminine. The loops resemble leaves or flower petals, and can be made in different sizes. Young children may need help with some of the knots in this pattern.
MACRAME PATTERNS & INSTRUCTIONS H

Hemp Friendship Bracelet - Learn how to make a hemp friendship bracelet craft for kids.

How to Create a Dog Chew Toy From Scraps : Macrame Project - Why pay money for a rope toy when you can make one using your old t-shirts or fabric scraps? Why pay money for a rope toy when you can make one using your old t-shirts or fabric scraps?

How to Macrame : How to Do Things - Here we will cover set up and two of the most basic of knots. There is a host of other types of knots, but most projects will have the majority (if not all of their knots) using these two types.

How to Make A Macrame' Bracelet (or Necklace) - Taking a long road trip this summer? Well, we know how boring those can be. That's why we're gonna show you how to make some awesome hemp bracelets. It'll keep you awake and you can keep the driver awake. Plus, hemp is for both guys and girls, so guys, get our your hemp too and let's get ready to hit the road!
MACRAME PATTERNS & INSTRUCTIONS I-M
Introduction to Macrame - Intro to Macrame for Children.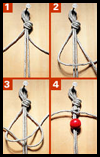 Macramé Bracelets: Homemade Camp Crafts - Woven from sleek hemp twine, rather than jute, it looks earthy and cool. And, when strung with beads (either store-bought or made from seeds and shells), it also makes a perfect bracelet for a best pal.

Macramé Butterfly Pin Craft for Children - Quick and easy. Make them by the dozen for all your friends

Macramé Flower Pot Craft for Children - Learn how to make this Macrame Flower Pot craft with the following pattern instructions.

Macrame' Choker to Make - Great teen craft! Something they will actually wear.

Macrame Dragonfly Barrettes Making Instructions -A bit challenging, but makes an interesting set of barrettes for little girls to wear.

Macramé Key Chain Project for Teens - Learn how to create this great Macrame Key Chain project. Great teen project!

Macramé Power Bead Ankle Bracelet Instructions for Children & Teens - Too cool! Pick the beads you want for the power you need.

Mounting Cords Using the Lark's Head Macrame Instructions - This page contains macramé instructions for mounting cords using the lark's head knot.

My Butterfly Bookmark Macrame Project Directions - was created when I was playing with some cords one day. I looked down, and there it was. You could use this simple design to make something other than a bookmark. For example, this Butterfly would make a nice decoration for a gift. Or you could wear it in your hair, by attaching some barrettes to this butterfly design. Children over age 3 should find this easy to create.
MACRAME PATTERNS & INSTRUCTIONS P-Z

Patriotic Macramé Bracelet Craft Activity - Fashionable and patriotic, this macramé bracelet only uses one knot. Great for beginners.

Ribbed Dog Collar Macrame Project - This Ribbed Dog Collar is a great Macrame project, for your pet, that is fashionable as well as practical. You can even use this pattern to make a matching belt or watchband for yourself, simply by making a few adjustments. This pattern uses basic knots, but a beginner may find it a challenge.

Simple Chain Necklace Macrame Crafts Idea for Children - This Simple Chain Necklace is a children's project that's also suitable for adults just learning Macrame. There are only 2 knotting techniques you need to know. This necklace can be embellished with beads, and any type of pendant can be used.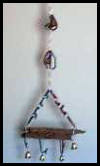 Tses Instructions for an Easy Wind Chime - I usually use variegated cord for this type of project. But for this one I used different three colors.

Tses Macramé Plant Hanger Instruction Page - I don't use a pattern for my work, but I've been asked for directions so here goes. Since I made this in both a short hanger and longer hanger both instructions are on this page. The picture is of the shorter hanger:

Using the Double Half Hitch to Mount Cords - This page contains macramé instructions for using the double half hitch to mount cords on a dowel or on another cord.

tses Macramé Crown Knot Instruction Page - Learn how to Make Crown Knots. This knot is made by holding the cords upside down, and separating the cords into groups, numbered counter clockwise, any number of groups over four (4) can be used to make a crown knot.
MACRAME KNOT TYPING INSTRUCTIONS

Basic Square Knot Hemp Bracelet Instructions - For these square knot hemp bracelet instructions you will need the following supplies: One 90 inch piece of 1mm hemp for your knotting cords. One 30 inch piece of 1mm hemp for your base strands.

How to Macrame & Square Knot - A bookmark craft seems the obvious answer, but a cut and color project leaves to much opportunity for restlessness. Mom still has the plant hanger you made that summer at camp. Teach them a couple simple knots, engage them the entire time and the kids leave with a handmade memory they can use.

How to Make a Square Knot for Macrame Jewelry - Learn how to make a square knot for macrame.

How to Tie a Square Knot Macrame Lesson - The reef knot, also known as the square knot, is a simple, handy knot for temporary ties. It's great for tying your shoes (the "bow knot" is a double-slipped square knot). Note, however, that it is not suitable for connecting two ropes together or any application where it will take a high strain

How to Tie a Square Knot Properly - Also known as a reef knot, the square knot is secure and easy to untie. Get out a piece of rope and start practicing the techniques down below and you should have it down in no time.

Hemp Overhand Knot Directions - To make a hemp overhand knot cut two pieces of 1mm natural hemp jewelry cord.

How to Macrame : WikiHow - Macrame ("MAH kruh may") is the art/craft of tying cordage into knots in such a way that they form a useful or decorative shape. This was a very popular craft in the 1970s in the USA that is now being revived in the form of "jute jewelry" and knotted purses.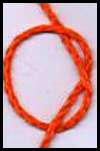 Overhand Knot Macrame Instructions - This page contains instructions for a simple overhand knot.

Spiral Hemp Bracelet Directions - Learn how to make spiral hemp bracelets.

How to Tie Basic Macramé Knots - There are relatively few knots used in the creation of macramé. Master the basics and then move on to more complex knots.

Learn Macrame - The Basic knots found in most Macrame patterns are listed below. Just click on the images of the decorative knots you want to learn, or need a review on. The step-by-step process, with photos, will show up. If you want to learn Macrame, it's important to know how to tie ALL the basic knots listed.

Troop 1379 Macrame Knots - Learn how to tie knots for Macrame.

Tses Macramé Knots Page - Learn how to tie Macrame knots such as Alternating double half hitch knots Alternate lark's head knots, Alternate square knots Butterfly Crown knot Figure eight knot, Double half-hitch, Half Hitch Half knot, Interlocking Larks, Head Braid Interlocking Square, Josephine knot, Lanyard knot, Lark's Head Knot, Lee Medallion Overhand knot, Reversing square knots, Square knot, Square knot, button Triple half-hitch

Macramé Basic Knots - Macrame items look beautiful, but often rather complicated and hard to do. You won't believe it, but the design of the most macrame works is built up from the different combinations of a few basic knots! There are few of them. Once you become familiar with these knots, you will be able to create absolutely any project you want! Learn the following knots - Square Knot, Hitches, Loop Knot, Frivolité, Capuchin Knot, Wind Knot
Macrame Knot Library - I've created this handy Knot Library to help you find and learn the knots you need for your macrame and fiber jewelry making. Select the knot you need to know, and you'll find a hot link to directions for each one. I've tried to include some of the more popular knots used in macrame.

How to Tie a Double Half-Hitch Knot - This knot is fast and easy to tie and untie and is best used for fastening a rope to an object such as a post.
HOW TO MAKE A LARKS HEAD KNOT

How to Macrame : Make a Larks Head Knot - Learn how to make a Larks Head Knot.