Home > Arts and Crafts Projects for Kids > Decorative Pin Crafts for Kids
DECORATIVE PIN CRAFTS FOR KIDS: Ideas for Arts & Crafts Projects & Activities to Make wearable decorative pins jewelry with the following instructions, patterns, for children and teens
Below you will find many crafts for kids to learn how to make your own decorative pins. Find out how to make your own wearable decorative pins with the following instructions, patterns, and activities for children
How to Make a Basic Decorative Pin

This is a decorative pin making craft that is perfect for younger kids, such as toddlers, preschoolers, and Kindergarteners. You can make these from cardboard or felt. Just cut out different shapes and glue them together. You can paint them or cover them with decorative items such as fabric scraps, decorative paper, lace, noodles, beans, seeds, beeds, buttons, paint, glitter, and many other materials. Then when you are done, just have a parental figure...such as Mom or Dad, hot glue a safety pin to the back of the cardboard.
Making Little Sailor Pins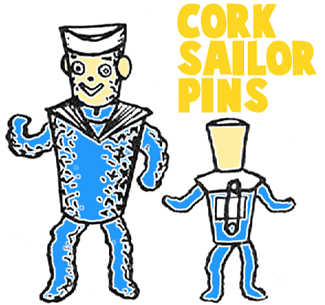 Do you want to make a neat looking decorative pin sailor? Find a big cork and a maller cork and paint the larger cork blue. This will be the sailor's body. Now bend blue pipe cleaners for for arms and legs. Now just bend the ends of pipe cleaners for his hands and feet. The smaller cork is for the sailor's head. Now paint white around the top of small cork for the sailor's cap. Now the facial features for the sailor's face.You can use straight pins for eyes instead if you want to. You can also use tacks for ears. Yo ucan attach the small cork to body by inserting a toothpick halfway into cork head and then pushing rest of toothpick into blue cork body. Cut collar from felt and glue or pin to body. Scotch tape a small safety pin on back of sailor body for lapel pin.
Even More Decorative Pin Crafts Below

How to make a Valentine Gift Box with a Bear Heart Brooch Pin - This is a cute and easy to do, Valentine's Day gift that kids can make for their parents, grandparents, or close friends. This arts and crafts lesson is in 2 parts. In this arts and crafts tutorial, we will show you how to make a Teddy Bear Heart Brooch Pin.

How to Make a Leather Star Brooch Pin - Made from two different shades of leather this craft is sure to turn out beautifully. Imagine how proud you will be to wear a brooch that you made yourself.

Make a Rose Flower Pendant - Use ribbons and a few other items to make this rose pendant pin.

Make Halloween Decorative Pin / Brooch Ghosts - Make these polymer clay ghosts and turn them into brooches / decorative pins.

Polymer Clay Turkey Brooch - Make a Polymer Clay Turkey brooch pin for Thanksgiving time.

Patriotic Red White and Blue Pin - Learn how to make these patriotic decorative pins for the Fourth of July.

Make Leather Decorative Pins - Learn how to make these leather decorative pins with parental supervision.

Baby in a Papoose Decorative Pins- Make this adorable baby being carried in a papoose and then attach it to a safety pin and you have an adorable decorative pin.


Pot of Gold Shirt Pins for Saint Patrick's Day - Celebrate Saint Patrick's Day by wearing a Pot of Gold Shirt Pin.

Decorative Macaroni Pins - You sew these noodles on to some felt and sew on a safety pin and you have a nice jewelry pin.

Acorn Faces Pins - Learn how to make these 3 cute faces and wear them around everywhere you go.

Making Plaster of Paris Decorative Pins - Learn how to make these plaster pins...great for making beautiful designs.