Home > Arts and Crafts Projects for Kids > Make Maps and Treasure Maps with Ideas & Crafts for Kids
MAKE MAPS CRAFTS FOR KIDS: Find out ideas to make Treasure Maps with the following arts and crafts instructions and activities for children, teens, and preschoolers
Below you will find many map making crafts ideas and projects for kids. Find out how to make Maps and Treasure Maps with the following arts and crafts instructions, patterns, and activities for children
Making Maps is Fun : Find Out How to Do It
If you have always believed that the only maps in the world are those variously colored creations which cause you so much trouble in your geography book, you are in for a surprise. As a matter of fact, you can make a map yourself, and have a great deal of fun in doing so. A map of your community which will show the various points of importance, interest, and significance will be an interesting summer pastime, revealing to you some unknown facts about your own town. There are several different types of maps that you can make. Automobile maps, historic maps, picture maps, and topographic maps of the type used by the United States Geodetic Survey are among the possibilities.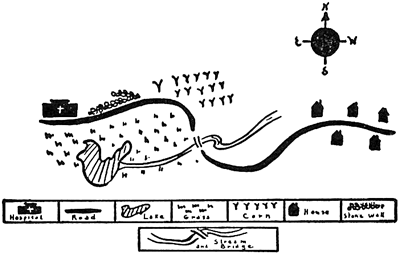 The complete map might prove truly helpful to guests who are coming to visit you, or you might like to use it in playing games with your friends, or as an interesting wall decoration. You need not necessarily make a map of your town, but you might map out the section of woodland near your home, or of the open country nearby.
The map must be drawn to scale and must have directions indicated. The scale which you choose will determine how many miles each inch on the map represents. Or you can have an inch represent a certain number of blocks of the town. In one corner of the map, draw a square. In this square, print what the map represents, the name of the maker and the date made, compass directions, distance or scale, key or legend, symbols that are used to represent various objects, such as the symbol for a church, a school, a fire house, a road, hill or mountain, river, etc.
To indicate the compass direction, in one corner of the map draw an arrow with the tip pointing north, and the letter N printed above the tip. Make the map with north at the upper end of the paper, as is usual for all maps. The signs or symbols used in the map are interpreted by the key or legend, as mentioned above. The map should include structures as well as natural items. Construction points to be noted include buildings, roads, fences, railroads, and bridges. Natural items include streams, woods, lakes, fields, and swamps.
Making Relief Maps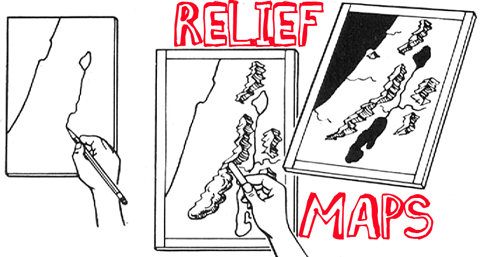 You will need the following materials to make this relief map...Soapsuds Paint (recipe here), waxed paper, piece of plywood or heavy cardboard, sandpaper or binding tape, flat lollipop stick, paint, paintbrush, and a pencil. Bind the edge of cardboard for map base, or sand edges of plywood. Outline map on board with pencil. Apply soapsuds paint in layers to show topography of country, such as Palestine, Bible Lands, Mediterranean Lands, etc. Slightly moisten hands when shaping mountains, etc. Fresh soapsuds paint can be added to the dry part without danger of cracking. Be sure to allow each layer to dry before applying the next. Use the lollipop stick to draw in rivers, shape mountains, etc. When dry, paint lakes, rivers, mountains, etc.
More Map Making Crafts




Egyptian Papyrus Paper - Ancient Egyptians made their own paper—and you can, too! Then write a message in hieroglyphics or create a treasure map for more fun with your friends.

How to Make a Pirates Treasure Map for Children - Creating a treasure map and letting the kids work out the clues can be a challenging and entertaining way to spend time with the kids. as well as stimulating their imagination and sense of mystery.

Make a Treasure Map Arts and Crafts Activity for Kids - Maps are very easy to make. With a few simple steps, your treasure map will look like it was made 100 years ago by a pirate.

Pirate Map - Have your little Pirates make their very own Pirate Map, complete with a secret "X" marks the spot. A quick and easy Pirate Craft for Kids!

Pirate's Treasure Map Craft for Kids - Tasha started kindergarten this year and has been in "craft overload" a bit so we don't do as many projects at home as we used to. But every once in awhile, I come up with something to intrigue her and "making" the paper for the treasure map definitely did!

Relief Map - Fun to make relief map.

Treasure Map - Pirates aren't the only ones who make and follow treasure maps. Bury "treasure" in your yard and then create a map for your friends to follow.

Underground Tube Map Shoes - Never get lost in the subway again! This project will show you how to make you pair of shoes a walking GPS. This page lists everything you'll need to find your way thru the underground.
Kids Map - Make a map easily with this craft.