Home > Arts and Crafts Projects for Kids > MP3 & iPod Cases, Holders, Covers, & Cozies Ideas Crafts for Kids
MAKE MP3 / iPOD CASES / HOLDERS / COZIES / COVERS CRAFTS FOR KIDS: instructions, patterns, and activities for children, teens, and preschoolers
Please get off my dresser Miss Kitty. Crash, crack!!! Oh man, there goes my ipod again. I can't believe how many MP3 players I've gone through because they've fallen and cracked the screen. I wish they would just make them all with Gorilla Glass or something similar.
In the mean time I need to come up with a better way to store my music player. Maybe a home made Ipod case craft to make a holder that will give at least a bit of protection if my Ipod gets knocked over again. Maybe something to help protect the glass from scratches at least, like an MP3 player cozy craft that I could sew. That might make a nice gift too. I could sew the Ipod cozy and give it to a friend.

Altoids iPod/MP3 Case : How to Make an iPod Case - - In this instructable you will learn how to make an Altoids tin in to a iPod/MP3 player case.

Altoids MP3 Player Case - - This design can be easily adapted to fit other mp3 players with a modification of just one step and has been made to fit a 4GB Creative Zen, and works perfectly.

Altoids Tiny Tin Case - - So here's a guide on how to make an MP3 player/iPod shuffle case using a discarded or empty Altoids tiny tin which are sort of hard to find but are useful.

Cabled iPod/Music Player Holder - - Here's a cute holder for those little MP3 players or iPod minis you have in your possession.

Cassette Case Reincarnate- - This is a very simple yet highly functional and not hard to carve project. The aspect I like most is how the iPod's menus show clear through the closed case.

Clear MP3 Cover : How to Make MP3 Covers - - Are you always scratching the screen on your mp3 player? Well now, there's an easy and cheap way to keep it protected. Find out how with this guide.

Cozy Baggy - – Give a trendy look to your mobile gadgets such as mobile phones, PDAs, and iPods or similar MP3 players with this homemade craft product

Cozy for MP3 Player MP3 Cozies - - Take your MP3 player everywhere you go in this eye-catching cozy. This video tutorial will show you how.

Cozy iPod - - Keep your iPod warm this winter by knitting it a snug little cosy.

Cozy Wool Pouch Make MP3 Pouches - - There are so many cosies out there that we decided to add a Basic iPod cosy pattern to get you started, this pattern is ideal if you are a beginner or advanced.

Crafting Through the 80's - - Felt is quick, easy, and cheap! This little iPod case cost only a whopping $0.60 and was finished in about 45 minutes.

Crosshatch Necklace - - This craft project measures about 3 1/2" X 1 1/2" and is perfect for an iPod Nano or similarly sized Mp3 players..

Crowning Glory Case . : How to Make MP3 Cases - - Let your personality shine with Tulip® Fashion Glitter™! Embellish your phone or iPod case with a fabulous design and sparkle that speaks volumes.

Custom Built MP3 Player Cradle - – This project is essentially a docking/charging station for all portable electronics such as the Archos Jukebox 6000. Since many portable electronics don't come with docking cradles, this project could be adapted to work with many of them.

Denim Gadget Cases - - I decided to put my old jeans to a good use and make an iPod case, i wanted to keep the coolest part about jeans which is the leather label on the waistband. Now like most guys i don't know a whole lot about needles and sewing so i decided the easiest way to make it was just to cut a strip out, fold it over and sew it together. You can modify the sizing for any gadget you want!

Denim Mp3 Player Holders - - Make this great holder to carry a personal MP3 player (like an iPod or Zune) or cell phone. It makes a fun present for Father's Day, Mother's Day, or an older sibling's birthday. Whatever the occasion, this makes a great Gift .

DIY iPod/MP3 Cover - - Here's an easy DIY project to customize your iPod or similar MP3 players.

DIY Music Player Covers - - Although this is kind of hard to make due to the size, the holes, and the cutting; it is all worth it when you're done.

Domokun Cozy Crafts - - Domokun (or Domo-kun) is the mascot of the Japanese Television station NHK and is a monster like creature. In this project, you are going to create a cozy for your iPod which looks like Domokun!

Domokun Mp3 Player Cosy - - Keep your beloved music players protected. Here's how...

Duct Tape Case . - - This guide will teach you how to make a duct tape case with a screen protector for your treasured mp3 player.

Duct Tape Case for Mp3 players - - This how to make a duct tape case is for any iPod or Mp3 player. If you want to make it simple you don't have to cut all the necessary holes for the hold button, headphone jack, etc.

Easy Ipod or Camera Cover - - This project was born out of the necessity to protect my precious music player. I hope you could find it useful too.

Fabric iPod/MP3 Carrying Case . - - With a bit of time and materials, you can make your own custom iPod carrying case... for a fraction of the price found in most electronics purveyors shops. With prices of iPod accessories so over-inflated, you could sew up ten of these for the price you'd pay at the electronics store. The sewing level required is average to experienced, but a beginner could do this with a bit of patience and perseverance. iPod and MP3 players vary in size and shape, but the general instructions would apply to any roughly rectangular shape.

Felt and Fleece MP3 Player Case . : How to Make iPod / MP3 Holders - - The synthetic "craft" felt may scratch the finish of your player. Don't use craft felt as a liner. I've used 100% wool felt as a liner and never had any problems with scratching.

Felt and Fleece MP3 Player Case no. 2 . : How to Make iPod / MP3 Holders- - For squarish MP3 player cases that fit the Rio Karma are hard to come by - if you're handy with sewing, here's how to make your own.

Felt Cases for Music Players . - - Protect small electronics and other essentials with cases you can whip up in minutes. .

Felt iPod/Blackberry Case : How to Make iPod / MP3 Covers - - These little suckers are just made out of sheets of regular .20 craft felt! The fun part is that you can whip up several to match whatever outfit or purse you want to wear.

Felt Ipod Cozy : How to Make iPod / MP3 Cozies - - Love your music? Love felt? (C'mon who doesn't nowadays). Well look no further. Here's how to make one uniquely yours.

Five Gum Case - - If you like 5 gum as much as I do, then THIS is for you! In this Pocket-sized instructable, I will show you how to make a pretty pimpin' Ipod case. :)

Furry Monster Case (Domokun) : How to Make iPod / MP3 Covers - – Here's another furry little creature to make as a holder for your precious music gadget.

Gum Case : How to Make iPod / MP3 Covers - - Did you ever want to chew your tunes, we great news to you now you can with this wicked awesome case made out of a gum box.

Handy Gadget Holder : How to Make iPod / MP3 Covers - - Keep your necessary technological devices within quick and easy reach with a soft bag to hold your iPod, cell phone, digital camera or PDA.

Happy Star - - Every iPod and MP3 player needs a buddy!

Hard Case Book - - Recycle a used/useless book into a functional hard case for an iPod or other mp3 player!

Homemade Gadget Case for Dad - - How many dads actually wear ties anymore? Instead of giving dad a present he'll only use twice a year, steal one of his seldom-worn ties to make a cool gadget case. Kids can help with pinning and sewing.

Hooded Weasley Sweater MP3 Cozy - – This craft project is simply too coooool! So cool in fact that you won't find it for sale at any department store so, here's a guide to teach you how to make one.

iCosy Mp3 & iPod Cosy Crafts - - Do you know how to do some knitting? Then here's a simple craft project to keep your Ipod/MP3 player cosy this winter!

iDisguise - - Designed as a disguise for your iPod or Mp3 player as well as a protective case, the iDisguise cleverly hides your music player behind a candy tin for the fictional candy company "Olde Lyme Imports".

iHoodies : Mp3 & iPod Cases - - Say you're walking one day and listening to your tunes and it starts raining. Your precious mp3 player/iPod must be kept fry and protected from the rain! Our solution: put your little mp3 player in an easy to make hoodie!



iPod Carrying Case : Mp3 & iPod Case Crafts - - With a bit of time and materials, you can make your own custom iPod carrying case... for a fraction of the price found in most electronics purveyors shops.

iPod Cover - - Well, you finally bought an iPod. It looks so shiny and new that you just wish it would look like that forever. At least you can keep it shiny, new and safe by making your own felt iPod cover.

iPod cozy - - This is so easy and makes good use of those sweater sleeve leftovers just as they are. I already had this one felted and ready to cut into, but you can felt a second-hand wool sweater in the hot wash and dryer.

iPod Cozy - – This craft project is actually easy to make, especially for the "tweeners" age bracket, that you'll feel like a pro once you're done.

iPod Cozy - – Here's a simple craft project that will hold not only your music player but your other precious gadgets as well.

iPod/Mp3 Holder - - It looks cool and it's easy to make. This funky holder will protect your iPod with cushy foam. You can decorate it anyway you like and make them as Gift s for your friends too! This super soft holder will protect your I-Pod. They are so cute and fun that you will want to make them for your friends too! It's also a great project for sleepovers and parties

iPod Mp3 Case - - This nano case would be a great stocking stuffer for the holidays and even more special cause you made it.

iPod/MP3 Carrying Case - - Here's something to keep your beloved iPods or MP3 players away from scratches.

iPod/Mp3 Gadget Cover - – Prevent scratched and swirls on your shiny new mobile electronic toys with this gadget cover made of soft wool. The best thing is that you need not spend a fortune getting one for you can easily make it right in the comfort of your own home on a rainy Sunday afternoon.

iPod Nano Case (Orbit Gum) - - Don't want to pay $40 for that new Nano case? You've come to the right place! Learn how to make a Nano case for (nearly) free out of an Orbit gum package.

iPod Nano/Small Mp3 Players Case - – This trendy little gadget case is not just a looker but functional as well. All you have to do is pop in your treasured music player and you are good to go! Here's how you can make one…

iPod Touch Felted Cozy - - Felting the yarn adds an extra thickness to this cozy which will help keep your iPod Touch protected from miscellaneous scratches.

iShuffle Cosy - - Keep your iPod shuffle cozy, warm and stylish. This works for similar sized mp3 players too!

Knex MP3 Player Holder - - This holds Various MP3 Players such as the Zen V, the Zen V Plus, and the new version of the iPod Nano.

Knitted Cosy w/ Armband - – Stylish, unique, and best of all – it's affordable! All you need to do is follow our easy guide.

Knit Your Own Mp3 Player Case - - You want to keep your precious music player safe or you can't find a case for your music player either it be a Zune, iPod or other mp3 players.

Little Bag For Mp3 Player And Speakers - - Revamp a make-up bag for your mp3 player and speakers.

Little Girl Cozy - - Put some smile into your MP3 player carrying case!

Make your own iPod/Music Player Case - - Reusing old clothing fabric to make a cover for your mp3 player may seem more like an arts and crafts project than an environmentally friendly action, but it can be quite helpful for the planet. Making your own cover instead purchasing one, saves resources that would otherwise be used to manufacture one in a factory. You'll also save money and lengthen the lifespan of your device!

Mario Mushroom - - This one goes for all the Mario Bros. fans! And then some...

Micro-Fiber Case - - As the case is in your pocket or bag the weight of the iPod/iPhone shifts and it rubs against the microfiber cloth which in turn polishes and cleans your device! Simple!

Mobile Gadget Cozy - – If you know how to knit, then this craft project is a great way to make a holder for your beloved music player. Boys need not worry, any colored yarn will do.

Mobile Gadget Pocket - – Take your music everywhere with you in this easy to make furry little thing.

Monster Cosy - - Here you will find a felt monster i-pod tutorial that will take less than an hour to make.

Mp3 Case - – Who says protecting your electronic gadgets such as Mp3 players need to be expensive? Follow our guide and we'll show you how to make your own, in style.

MP3 Player Case: New and Improved - - This "new and improved" case that fits the Rio Karma is easier to make than the old design, and it can be made so all the controls and jacks on the device are accessible while it's in the case. This case closes when the loops at the top are joined in the carabiner, which can be used to attach the case to a bag, belt or waistband. There is a protective vinyl cover over the screen. The general style of this case is easily adaptable to fit outher squarish MP3 players.

Mp3 Player Covers - - These little covers will add style to any personal electronics devices and can help hi-tech teens personalize their gadgets and try out the low- tech craft of hand sewing. These holders can be adapted to fit many hand held electronic devises such as cell phones, mp 3 players, or hand-held video games at a fraction of the cost of holders that are sold at the mall. Teens will find these holders so easy to make and so inexpensive they can make several. These would also make creative Gift s for friends and family.

Mp3 Holder : Mp3 & iPod Holders Crafts for Children - - You can tailor this make to create covers for portable CD players, mobile phones or digital cameras. In fact you can make one to fit just about anything! Try making some for members of your family - they make the perfect personalized present. Never lose your mp3 player by stitching your name onto the holder.

Mp3 Player Cozy : Mp3 & iPod Holders Crafts for Children - - On today's environment, geek chic rules with these cute cozies for the technological gadgets in your life. An MP3 cozy therefore, makes a great Gift . Follow these step-by-step instructions.

Mp3 Player Holder - - Find an old pair of jeans with a pocket that fits your MP3 player snugly. Use child-safe scissors and ask an adult for help with this project. Remember to observe safety first before anything else.

Mp3 Player Neck Holster - - Over your shoulder or around your neck, these knit pouches are handy to hold keys, lipstick, and your cell phone or MP3 player. Off you go on a walk or quick trip to the grocery. These little pouches can be used in many ways. Vary the dimensions according to your needs.

Mp3 player on the Cap - - Summer, hot. Do you like listening to music, but hate the lace on the neck and the mess of wire? Attach your player to the visors!

NES Mp3 - - This is a simple 20 minute project on how to transform an old NES Controller into a cool looking MP3 player holder using materials that will cost you for about $20.

Nice Disguise Cosy - - Got iPod pride but want to keep your iPod safe and warm while showing off it's still an iPod? Make it an iPod disguise cosy.

Paper Case - This will show you how to make a case for your iPod using paper and clear packaging tape in easy to follow step by step instructions.

Paper Mache MP3 Holder - - Paper mache, sounds crazy huh? It used to be that masks were made using paper mache, but here is another way to carry your MP3 player in style. Just give it a try! Of course, you can use this for any kind of iPod, MP3 player or cellphone, as long as you have somewhere to take a mold of the gadget.

Plastic Needlepoint - – Wait… is that the sound of decades crashing together? Yes, iPod meets plastic needlepoint is a little bit like Hannah Montana singing backup for the Bee Gees. But in a rather good way. Because while it would have taken the entire decade to needlepoint a case for our 8-track tape player, this carrier sews up in a snap.

Playful iPod Holder - - Tuck-away pockets protect tune players and ear buds in a simple clip-on carrier.

Playing Cards Case - – Now here is something unique! Turn those incomplete decks of playing cards into something useful for your treasured MP3 player.

Plex Electronic Gadgets Charging Pocket - -The charging pocket saves space by keeping electronics off counters and tables. Begin with a crayon box and use our templates to embellish it with Plex details. Cords drop through the bottom of the box.

Pig iPod Cozy - - Help celebrate the Chinese New Year, "Year of the Pig" by making this cute pig iPod cozy from recycle felted sweaters. So cute!

Piglet Costume - - Here's a little something different for the girls who never forget to bring along their tunes with them.

Pouch For Ipod Nano/Small MP3 Players - - This guide will teach you how to make a case for your new iPod Nano or similarly sized music players to stop it from getting scratched in the depths of your bag or pockets.

Protect the Tech - - Recycle cast off denim into a convenient caddy with three separate pockets to protect delicate expensive gadgets from your keys, pens, half eaten granola bars and whatever else lurks in your backpack or purse. Add an optional wrist strap and it can double as a minimalist purse.

Purse Pouch - - A set of woven pouches can keep electronic devices such as cameras and MP3 players (at left) safe inside your bag. Each has an attractive scalloped edge -- no finishing required.

Sandwich Cover - - Made with craft foam, and cheap dollar store acrylic paints, here is a nice, non-edible sandwich to keep your Ipod/Mp3 Player Warm :)

Santa's Gadget Cozy - - This modified sock makes a perfect pouch for your precious gadgets such as a mobile phone, small digicam, iPod or any other mp3 player. It will also add a festive touch to your phone. The sock works great as its stretchy, quick to make and prevents scratches whilst being utterly unique!

Sew Bot - - I just needed an ipod cover and thought a robot would be cute...it ended up coming out pretty good. So here's acute little robot to protect your iPod, cell phone or whatever you want!

Shuffle/Mp3 Gum Cosy - - Disguise your iPod shuffle as a packet of gum with this crafty tutorial.

Silicon Mp3 Case - - Handheld MP3 music players have revolutionized the world of personal entertainment, unfortunately, they can sometimes be fragile devices. Silicone sleeve cases make an attractive and fun protector; with just a trip to you local kitchen supply store, you can make your own. Here's how to pattern a personalized silicone MP3 case using a silicone baking sheet.

Snoopy Cover - - Here's a great way to recycle a sock… Snoopy style!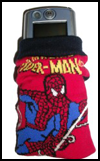 SpiderMan Pouch - - This modified sock makes a perfect pouch for your precious gadgets such as a mobile phone, small digicam, iPod or any other mp3 player.

SquiPod iPod Cozy - – There's no better name for this crafty craft project other than what we have given it. But then again, you could change it yourself once you have made your own. Find out how!

Sweatpants Sock - - All you need is a pair of old sweatpants (or at least the leg), a sewing machine, and some creativity!

Swiss Tech Case - -This guide will teach you how to make a cool looking and tough ipod case out of a swiss tech box.

Techno Hoodie - - Here's something that you can do to take the boredom out of a rainy Saturday afternoon. Since you can't go out to go window shopping at the mall, why not make something to protect your beloved electronic gizmos?

The iMug - - This iMug holder will be able to hold any iPod or MP3 player (I do not say that it will not be stolen).

The ZipDock - – Learn how to make an iPod dock/charger made from parts that are found lying around the house.

Wooly Jumpers - - If you have some spare wool around the house, then do some knitting! This guide will show you how to make all shapes, sizes, colors and styles of the snug little jumper/pockets/socks for phones, iPods, and similar MP3 Players.

Woven Fabric MP3 Player Case - - This pattern was made for the 4th generation iPod, but a few simple modifications should allow it to fit other models. This case was made for a player which is 5/8" wide.