Home > Arts and Crafts Projects for Kids > Making Wind Chimes Ideas & Crafts for Kids
WIND CHIME CRAFTS FOR KIDS : Ideas for Arts & Crafts Projects & Activities to Make Wind Chimes for Children, Preschoolers, and Teens
Below you will find many crafts for making wind chimes projects with these crafts ideas and projects for kids.Find out how to make Wind Chimes with the following arts and crafts decorations, instructions, patterns, and activities for children
Making Wind Chimes with Baking Cups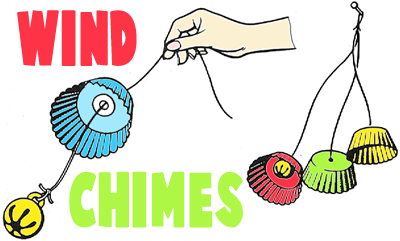 Wind Chimes are a great addition to any porch or backyard. To learn how to make these mucial chimes, follow the instructions below. Just poke a tiny hole in the middle of each paper baking cup (try to buy different colored baking cups). To protect the holes from ripping, place a hole reinforcement sticker over each hole (the kind that kids use when their notebook paper rips), on the inside of the baking cup. You will need to cut 3 pieces of string (one should be 8", 10", and 12"). Tie a bell to the end of all of these strings. Take the end of each piece of string and pull it through each paper baking cup. Now the bell should be on the inside part of each baking cup. Tie all of these string together above the bells. Now you have some wind chimes...hang them from a tree or porch.
Making Wind Bells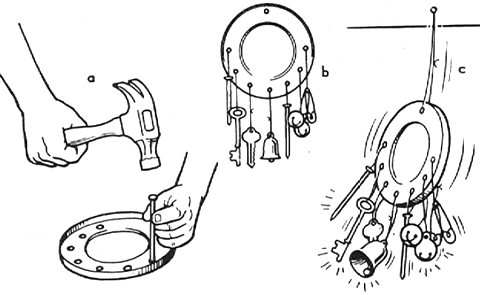 To make this special type of wind chimes, you will need 1 coffee can lid; hammer and nail; about 4 yd. heavy thread or lightweight colored string; an assortment of seven metal objects such as old keys, small bells, and 3" nails. With hammer and nail (and parental supervision or assistance) punch holes in coffee can lid as shown in sketch a. Cut the heavy thread or string in varying lengths and tie the metal objects to the lid. Do this in such a way that the objects will jingle against each other or the lid and sound like bells when jostled by the wind. Tie a 12" length of string to the top of the lid as shown in sketch c and suspend set of windbells in an open window, on the porch, etc.
Even More Wind Chime Crafts

911 Wind Chimes - Easy to make 9/11 wind chime.

Beaded Wind Chimes - String a variety of beads and drinking straw to make this wind chime craft.

Birdhouse Wind Chime - You can make this bird house wind chime in any color scheme.

Buggy Wind Chimes - Paint a wind chime and add some wiggle eyes for character.

Cross Wind Chimes with Flowers - These wind chimes are just beautiful! Makes a great Easter project or any time in Sunday School.

Cutlery Wind Chime - Easy to make wind chime made of cutlery.

Daisy Wind Chimes - Just right for your littlest scouts! Make wind chimes to look like the daisy scout logo.

Feng Shui Wind Chime - Easy to make wind chime.

Flowerpot Wind Chime - Give spring's warm breezes a unique voice with this earthy wind chime.

Flower Pot Wind Chimes - These natural-looking flower pot wind chimes will add a touch of charm to any porch or breezeway.

Lady Bug Wind Chime - This is a fun craft that young children can make.

Luau Wind Chimes - Paint colorful wind chimes with a luau theme for your camp or party.

Measuring Cup Wind Chime - Easy to make wind chime.

Musical Stars and Stripes - Let freedom ring with this easy-to-assemble patriotic wind chime fashioned out of a few basic craft supplies.

Nature Wind Chime - Gather some twigs, seeds, bark and pebbles and use them to decorate wind chimes.

Patriotic Wind Chimes - Hang it outside to show your patriotism and listen to it jangle in the wind.

Seashell Wind Chime : Instructions for Making Wind Chimes - Bring the sight and sounds of the beach home with you.

Seashell Wind Chimes - There are many things you can make with seashells.

Silvery Wind Chimes - Everyone enjoys a good outdoor summer concert, and it's literally a breeze to orchestrate one with this homemade wind chime.

Simple Wind Chimes - Take some old keys and make a neat and simple windchime.

Spoon Percussion Mobile - Create a melodic mobile with recycled spoons. Visit flea markets or yard sales to find spoons that will glimmer and sing at your touch!

Terra Cotta Wind - Here's a cheerful wind chime for Mom to hang from the porch or maybe near a window that is left open to catch the spring breeze.

Terra Cotta Wind Chime - If you like wind chimes with a subtle sound, then this miniature terra cotta pot wind chime will fit the bill.

Train Wind Chime - Turn our train kits into wind chimes you can enjoy all season long!

Wind Chime - As intriguing to look at as it is to listen to, this wind chime is a breeze to make.

Wind Chime - This homemade wind chime will alert you to a breeze with a gentle tinkle.

Wind and Sun Catcher - Make a wind chime that also catches and reflects the sun.