Home > Arts and Crafts Projects for Kids > Masks and Costumes Crafts for Kids
MASK CRAFTS FOR KIDS : Ideas for Arts & Crafts Projects & Activities for Mask Making for Children, Teens and Preschoolers
So you need a mask crafts idea to make? This page is full of ideas...there is no way that you won't find at least one activity that you will like. There are easy, medium, and intermediate arts projects for all age levels that can be found on this page. Whether you are going to a costume party or just playing dress-up, a mask is right at your fingertips.
Really the best way to make a good mask is to use papier mache techniques, but if this is above your level (such as a preschooler or Kindergartener), you might like the idea of using felt, crafts foam, paper plates, or construction paper. Look below and if you can't find a project, let us know.
Below you will find Masks to make with masks crafts ideas for Kids. Here are Ideas for Cool Mask Making Arts and Crafts Projects with the following crafts ideas, instructions, patterns, and printables for Children
Make a Spanish Zorro Type Mask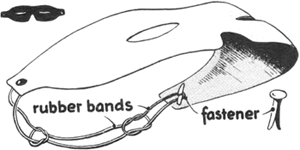 Use black paper for the mask, first drawing the design and then cutting it out. Hold it in front of your face and make a small pencil mark where your eyes are. Then cut the holes to fit over your eyes. Loop several rubber bands together and fasten the ends to the mask with staples or spread-fasteners.
Making a Halloween Mask Step by Step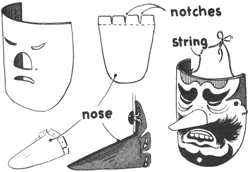 To complete your Halloween costume, you will need a mask. This is how to make it. Holding a piece of cardboard over your face, make light pencil marks where the eyes, nose and mouth should be cut. Then remove the cardboard from your face and cut holes into the marks you made, as large or small as you like. But watch the nose hole! Just cut a half circle for it. Then take another piece of strong paper and trim it to the shape in the picture. Cut notches in the straight edge, as shown. Fold the paper and pull it into the nose hole of your mask. Fasten the flaps with spread-fasteners. Color the mask as you wish or use some of the designs in the picture.
Brown Paper Bags Costume Masks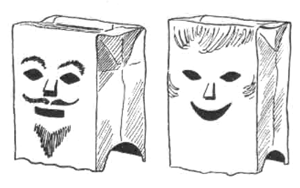 This craft is great for preschoolers and young children. If you have any extra brown grocery bags hanging around, then this is a really fun craft to do with your younger kids. All you have to do is cut eyes and mouth out....you can draw the rest on with markers. Youngsters love running around chasing eachother with these on their little heads. Don't ever go outside near streets with these masks on though....your paripheral vision won't be good enough.
Making Mask Beards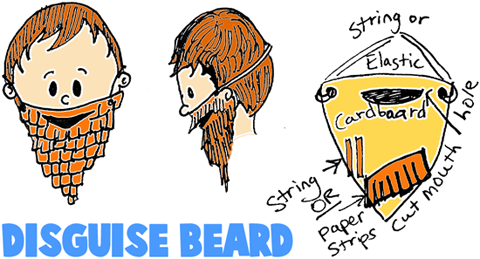 Do you need a beard mask to sneak around like you are a spy? Or do you need a beard to go along with your sorcerer costume. First of all you will need to cut cardboard in the shape of the hairy beard that you want...there are long beards, short beards, fat beards and freaky beards. Just figure out what type you want. Now cut out a mouth hole and a string hole for tying in the back of your hair. Then apply glue and yarn, string, or cut strips of paper. Then just put your mask beard on and enjoy.
More Mask Making Projects Below

Mask Making Fun : How to Make 3 Different Style Masks How to Make 3 Different Style Masks - Everyone knows that Masks are a perfect craft for Halloween. But, if your kids are anything like my two littlest ones…. Masks are fun ANY time of year. My children LOVE masks… love them!! So, today I'm going to show you how to make three different style masks….. make your favorite or make all three. Plenty of mask making fun.

Make Cereal Box Masks - Do you have a cereal box hanging around your house?! What?! And you haven't made a mask out of it yet?! What are you waiting for?! Here is how.
Making Purim Party Masks - This is a very elegant party mask to make for masquerade parties where you have to hide your identity but still look good at the same time.

How to Make Fairy Masks - Learn how to make this fairy mask with transparent foil.

Make a New Years Eve Mask - Wear a New Years Eve Mask as if You were at a Fancy New Years Ball.

Printable 3D Mask - Print out this 3d mask or design your own based on our instructions.

African Tribesmen Masks - Learn how to make African masks with dampened paper plates.

How to Make Paper Bag Masks - Here are some simple instructions for making masks out of brown paper bags.
YOU MIGHT ALSO BE INTERESTED IN COSTUME CRAFTS TO MAKE