Home > Arts and Crafts Projects for Kids > Mobile Arts and Crafts Projects
MOBILE MAKING CRAFTS FOR KIDS : Ideas for Arts and Crafts Projects & Activities for How to Make mobiles for children, teens, and preschoolers
ALL ABOUT MOBILES

Years and years ago, the Chinese fashioned movable ornaments of little painted glass prisms. These were hung in open doorways and windows and the wind would cause the prisms to strike gently against each other making a delightful tinkling sound. Our modern mobiles are made up of all sorts of objects suspended from a framework in such a manner as to be movable.
The simplest mobile (for younger children) can be made by hanging one object from a single thread or string. The next easiest form of mobile is made by suspending two objects on a stick of wood or piece of wire which is suspended by a single thread in such a position as to allow ease of movement and to create balance. The mobile may become more and more complex (for older children) as additional groups of objects and strips of wood or wire are suspended from each other in such a way as to create balance and ease of movement. Objects to be suspended may be made from paper, wire, papier-mache, pipe cleaners, etc.
HOW TO BUILD A BASIC MOBILE STRUCTURE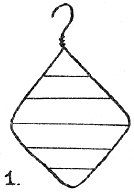 Bend a wire coat hanger into a diamond shape. Attach cross pieces of thin wire, as in Figure 1. Beads and ornaments may be strung on the cross wires, or objects may be suspended from them .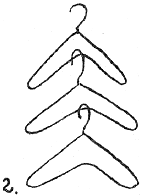 Join three wire coat hangers into a tree-like skeleton, as in Figure 2.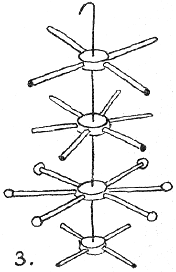 Assemble a child's building toy for framework, as in Figure 3. Thin pieces of dowel in varying lengths may also be used.
HOW TO SUSPEND OBJECTS

Wire, heavy thread or string may be used to suspend ornaments.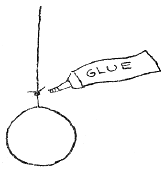 When knots are tied, and the balance of the ornament on the structure is achieved, put a drop of glue or household cement over the knot to hold it in place.
Making Greeting Card Mobiles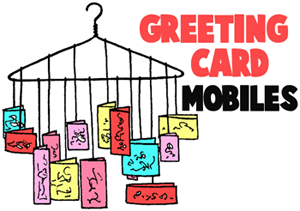 People send you greeting cards when it is your birthday, when your sick, when it is Christmas or Easter or another holiday. To save some of the love that your family and friends have sent to you in the mail, how about making a greeting card mobile. Get a wire hanger and wrap ribbon, yarn, string, decorative paper, raffia, or other material all around it so that the hanger looks beautiful. Then cut all different sizes of string or ribbon and tie them to different parts of the hanger. Then just glue your greeting cards onto the strings. Hang this from a hook and you have a beautiful piece of art to look at.
Making Animals Themed Mobiles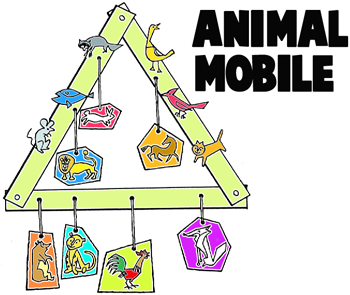 You will need lightweight cardboard, scissors, magazine pictures or print-outs of animals, string, punch or pointed instrument, Scotch tape, glue or paste, annd paper fasteners. Firstly, cut cardboard into 3 strips measuring 1" x 11". Punch several holes along the strips. Attach ends of strips with paper fasteners so that a triangle is formed (see sketch above). Cut string or yarn in 8", 10", and 12" lengths. Put string through holes in cardboard strip so the ends hang down. Scotch tape ends of string to back of animal pictures. Other animal pictures or birds may be pasted to sides of triangle. Hang triangle on wall or from ceiling.
Make Fish Mobiles with Metal Coat Hangers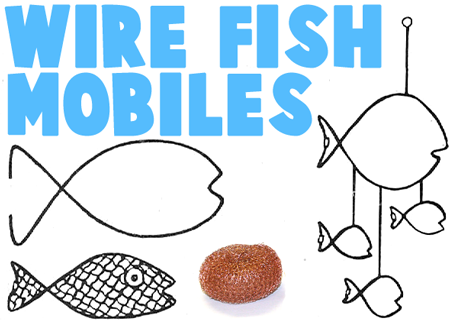 (PARENTAL SUPERVISION NEEDED) These fish mobiles turn out gorgeous...but it is a craft for older kids with some help from parents. Get a thin wire coat hanger and snip the hook from it with wire snippers. So now you should have one long strip of wire left (when straightened out). Now make a sharp bend near the center and then 2 reverse bends one inch from first to create the fish's mouth. Then cross the wires about four inches from the ends to form his tail fin (see picture above). Now just bend tail so wires meet and tape together. You can make 2 fish out of one wire hanger. Now hang the fish mobile by string, thread, or yarn. A cool thing to do (optionally) is to take a copper pot cleaner (as seen above) and remove the fastener so that you see a copper mesh netting. Now stretch it in place over the fish for his scales.
Foil Pan Bird Mobiles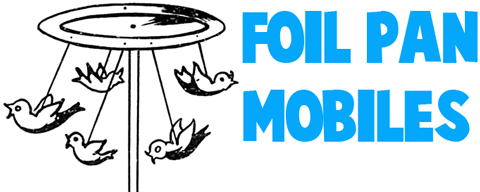 Make five or six holes around the edge of a large aluminum foil plate with a pointed tool (with parental supervision) Draw, color, and cut out a corresponding number of birds from heavy paper or thin cardboard. Suspend the birds by string from the holes in the plate. Force a thumbtack -through the center of the plate and into the top of a 12" dowel. Twirl the dowel between your hands to see the birds fly.
More Mobile Crafts Below

How to Make a Bats Mobile for Halloween - Bats come out at night….. and Halloween is no exception. Why not totally spook out your house by adding this creative Bats Mobile decoration inside this Halloween. Or, better yet…. have your child make a few of these mobile crafts and they can fill their bedroom with these spooky Halloween creatures.

How to Make Wooden Stick Mobiles - This tutorial gives instructions on making basic mobiles with sticks and string. This mobile example is for fishies.

Bird Mobiles - Find out how to make this bird mobile with wooden downs and thread.

Branched Mobiles - Make mobiles from branches of a tree and paper designs tied up with string.

3D Mobiles - Here is a way to make it appear that your paper hangings are 3 dimensional. Make this cute mobile by checking out this tutorial.

How to Make a Thanksgiving Mobile - Make a Thanksgiving mobile to remind everyone what you are thankful for this year. This is a great way to think about all the things that you are thankful for...the real meaning of Thanksgiving.

3-D Fruit Craft : Crafts with Wire Clothes Hangers - - These 3-dimensional fruits are made from paper. You can make apples, watermelons, pears, plums, peaches, strawberries, oranges, and other great-looking fruit. They are great to hang in a window (from a curtain rod), from the ceiling, or in a mobile.

A Family Tree Mobile : Grandparents Day Crafts - - A traditional family tree, with its maze of branches and leaves, isnot an easy concept for kids to grasp. This whimsical mobile, which looks wonderful suspended above a child's bed, puts basic lineage into perspective. Your child's portrait is at the top, supporting three generations: you, his grandparents and his great-grandparents.

A Kite Mobile : Crafts with Clothes Hangers for Kids - - This is an excellent way to let your child participate in the decoration of his or her room while at the same time having fun working on a creative crafts project! All you will need for this project is probably already lying around your house. Find a wire coat hanger, some yarn, some colorful construction paper, glue, and decorating materials, such as paint, markers, crayons, stickers, glitter, etcetera.

Angelic Mobile - A host of angels make up this mobile.

Bat Mobile : Clothes Hangers Crafts - - We've gone batty! This easy-to-make Bat Mobile will guarantee a spooktacularly fun Halloween for the kids.

Bat Mobile : Halloween Bat Crafts Ideas - We've gone batty! This easy-to-make Bat Mobile will guarantee a spook-tacularly fun Halloween for you and your kids.

Batty Witch Mobile - Fun and easy bat mobile for Halloween.

Beadie Buddies (Perfect for Mobiles) Crafts for Children - Beadie buddies make fun beaded key chains, backpack decorations, mobiles, necklaces, and ornaments at Christmas time.

Bird Mobile Craft - Instead of buying expensive mobiles, your kids can create their own mobile using their imagination to design their own creation.

Birthday Mobile : Clothes Hangers Crafts Ideas For Children - - Decorate your birthday table with this easy & versatile mobile. Include the birthday child in the process, so they can show off their handy-work at the party!

Bright New Year Mobile Tray Crafts - - Kids are eager to help decorate your home for a New Year's Eve get-together! This whimsical mobile adds glitz to any decor.

Butterfly Life Cycle Mobiles - - Make a mobile that shows the complete metamorphosis of a butterfly from egg to larva (caterpillar) to pupa to adult (the butterfly).

Butterfly Mobile with Cellophane - Create colorful butterflies with colored cellophane. String them together and make a mobile in a jiffy.

Butterfly Mobile with Clothes Hangers Crafts Project - - This project uses wonderful butterflies that the kids have made and turns them into this really fun mobile.

Butterfly Mobiles Pony Bead Patterns - - In this tutorial you will learn how to make a butterfly mobile with pony beads.

Butterfly Mobile Sticks Craft for Kids - A colorful butterfly mobile made from construction paper, thread, and twigs / sticks / branches from nature. This carefully balanced sculpture moves with every breeze.

Canadian Thanksgiving Mobiles - - October 12th our Canadian neighbors celebrate their Thanksgiving. In honor of this celebration we have designed a Thanksgiving Mobile just for them.

Canada Mobile Crafts Activity - - This is a simple mobile made up of maple leaves and flags. We usually create our mobiles by using two straws or sticks taped or tied in a criss-cross (see picture) or by using one paper towel or gift wrap roll with all the pieces tied to it (this isn't as 3D a mobile, but is good for recycling).

Cascade of Stars with Drinking Straws- - Make a cascading star mobile from paper stars, a drinking straw and yarn. When you're finished, you can hang this cute decoration from the ceiling.

Celestial Mobile with Clay and Dough - - The fun continues way after dark with this illuminating craft.

Cereal Box Cut-out Mobile - Making a brightly colored mobile is a fun way to use up those cereal boxes you may have sitting in the recycling bin.

Chick Paper Mobile Craft - One of the chicks is not quite ready to hatch! The mobile is perfect for decorating a window in the spring. This decoration is easily made, even by smaller children. It requires 2 different sized oval shapes.

Christmas Card Mobile with Clothes Hangers Craft - - Don't be afraid to display your Christmas card mobile high above the crowd!

Cork Ship Mobile for Columbus Day- - This ship mobile is the perfect craft for little sailors. Follow the easy direction s.


Creation Mobile Bible Craft Idea for Kids - The center of the mobile says, "In the beginning God created all things and saw that they were good." The mobile hangs from a 4 sided cloud. The mobile pieces are a star, a fish, a pig (animal) and a bird.

Disco Ball CD / DVD Suncatchers / Mobiles Craft - Seems like everyone is saving CDs and using them for crafts. We had 100's of responses -- many for suncatcher, mobiles and ornaments. Our favorite suggestion for this disco ball submitted by Kellie of Fayetteville AR. We also have posted several other ideas including an ornament and a picture frame Here is a Disco Ball Sun Catcher craft.

Diwali Lamp Mobile Craft - - Here's something to hang up on your bedroom, living room or porch in celebration of Diwali.

Diya Mobile Project - - This simple diya mobile will look pretty hung in the entrance or window during the Diwali Festival of Lights. Use bright colours and different textures so that your mobile really catches the light!

D.I.Y. High-Contrast Baby Mobile - Here's how to make a baby mobile on the cheap from items you have around the house. All you need is an internet connection, some extra wire hangers, some duct tape, cardboard, glue and some string. It's very easy to make, and much cheaper than buying one from a store.

Dolphin and Whale Mobile Craft (PDF) - - Print out these whale and dolphin characters and make a cool mobile out of these.

Drinking Straw Mobile Straws - - This simple-to-make mobile is made from drinking straws, paper clips and construction paper. They look great hanging from the ceiling!

Easter Mobile with Christian Message Crafts Activity - This is a simple mobile made up of crosses with John 15:13 in the center. We usually create our mobiles by using two straws or sticks taped or tied in a criss-cross or by using one paper towel or gift wrap roll with all the pieces tied to it (this isn't as 3D a mobile, but is good for recyclying).

Egg Carton Buggy Mobile - This cute little buggy mobile is a time consuming project, but the results are well worth the time invested! You can shorten the time of this craft by making it a group project. Let each child make one bug to hang on the mobile and it'll come together in no time.

Fall Leaf Spiral Mobile - - Watch the leaves dance in the breeze and mobile spin. Fun and easy to make.

Finger Paint Mobile - This finger-painted mobile combines pie-in-the-sky fun with fine-motor and coordination skills building. Move outside and turn on the hose for easy cleanup.

Fish Mobile Arts & Crafts Project Instructions - Get into the swim of things by researching fish habitats and food sources and make a mobile.

Floating Collage Arts & Crafts Project These collages may be used as tree ornaments. They look wonderful hanging in windows, worn as pendants and sent as cards. Why not create several and construct a mobile with them?

Floating Hot-Air Balloons - - Imagine floating through the air in the basket of a hot-air balloon. You'll have almost as much fun as a real ride when you craft this colorful mobile!

Friendship Mobiles - - In this activity, children will discuss how the different elements of nature (the sun, wind, clouds, rain, etc.) can be their "friends." Then they will make a mobile showing their different "friends."

Golf Ball Mobile Craft for Dad - Score a hole in one with this tee-rific gift.

Hanging Heart Mobile Valentine's Day Card Craft - Sometimes it's a good thing if you're hung up on love! This fun heart-shaped mobile card doubles as a great bedroom or classroom decoration.

Kite Mobile - - Make this neat mobile using paper and a wire coat hanger.

Kwanzaa Mobile Craft - This craft project incorporates the three colors and seven principles of Kwanzaa.

Fish Ornaments From Soda Cans - These shiny ornaments would be beautiful on a Christmas tree, but they can as decorations year-round. String some together to make a mobile that will catch the sun in the springtime. Or make a chain of them to use for a backyard party in the summer. Soda can fish are both earth-friendly and eye-catching any way you use them.

Fun To Make Autumn Leaf Mobile Craft - Fall is such a pleasant time for me. I really enjoy the cooler temperatures and the changing colors of the foliage. When a gust of wind comes along and the leaves rain down, I smile. I guess that is why I like these mobiles so much. It is like being outside even when I have to be inside. Make this with tree branches, twigs, and sticks.branches.

Ghost Mobiles Activities - Floating and flying ghosts haunting their surroundings.

Hawaii Luau Party Mobile with Ribbons - This Party Mobile is easy to make and looks fantastic hanging over your party table or hanging from the ceiling.

Islamic Prophets Mobile Ramadan Craft for Muslim Kids - This is a simple mobile featuring the 4 prophets names written in calligraphy (Abraham, Jesus, Moses and Muhammad) plus a central "Peace be upon them" square. The Qur'an prohibits using images of people or animals as they may be mistaken as idols. In Islam, geometric designs, floral motifs and calligraphy are often used. These templates reflect this.

Kid Territory: Crafts: Snake Mobiles Craft - Snakes have beautiful patterns on their smooth, scaly skin. Those patterns help them blend into their habitat, so food doesn't see them coming, and critters looking for a snake snack won't see them! Here's your chance to make your own colorful snake-skin pattern, anyway you like, to hang at your house.

Maple Leaf Mobile - - This maple leaf mobile is an excellent Canada Day craft for kids, who will enjoy cutting out and assembling the maple leaf shapes from our template.

Message Mobile Arts and Crafts Organization Activity - Hung from a plant hook or the bottom of a kitchen cabinet, this message center will keep important notes, permission slips, and school announcements from getting trampled, stained, eaten by the dog, or just plain lost.

Moonlight Mobile : Creepy Ghosts Craft - This Moonlight Mobile adds ghoulish delight to Halloween decor!

Mosque Craft Mobile Ramadan Craft - Make an easy beautiful Mosque mobile using a printable template.

Ocean Mobiles Hawaiin Craft - This is a simple mobile made up of printed ocean shells and fish (you could add real shells with small holes in them as well!).

Origami Bats Mobile Craft for Kids - Haunt your halls with a colony of these denizens of the dark. They can just hang around, or they can take wing as a bat mobile -- tape several to pieces of monofilament and string them from a small branch.

Origami Goldfish (Perfect for Mobiles) - This cute little goldfish is easy to fold and fun to display or use to make a greetings card, mobile, bookmark or Chinese New Year charm (goldfish are thought to be lucky by the Chinese). You could make a few and create your own goldfish bowl collage or picture - or mix them with some other origami fish - to make your own aquarium.

Origami Whale (Perfect for Mobiles)- Here is a gorgeous origami whale which is quite simple to fold. There is an optional fold at the end for more experienced folders which will make the whale viewable from either side, which makes it perfect for a mobile or hanging decoration.

Pacman Paper Mobile - - I made a Pacman paper mobile for my baby niece and her parents last winter. This is how. The only cost for this is for five sheets of colored paper. About $2 total cost. Easy and cheap!

Paperclip insect mobile - Has your little one made paperclip chains before? This craft makes them even more fun! Kids under three may find the paperclip element too challenging. If so, try slipping the wings into a clothes peg, or taping them onto a popstick.

Pretty Ribbon Mobile (Wind Sock) - This project was inspired by an article from the now-defunct Martha Stewart Kids magazine. It's a refreshing take on the old "wind sock" art project.

Prowling Jungle Cat Mobile In the wild, leopards love to pounce, prowl, and play! This realistic mobile hits the spot!

Rainbow Mobiles Craft for Saint Patricks Day - These mobiles are very colorful and are very easy to make. They look so inviting you may end up making more than just one!

Recycled Soda Bottle Fish Mobile Craft for Children - Colorful tropical fish or goldfish swim around in a gentle circle when you suspend them from a recycled CD to make this fish mobile. The finished mobile would look great hung in the corner of a child's room!

Ribbon Fish Arts and Crafts to String Up as Mobile Project for Children and Teens - This delightful little fish can be used to decorate packages, cards, clothes or make several to string up as a mobile. Choose colors to match the holiday or make it monocromaticly classic.

Salt Dough Space Mobiles - - Salt dough is a fun medium for all ages of kids. Make this easy mobile and hang it in your child's room or share it with a science teacher. A fun activity to help your kids appreciate our solar system.

Santa Paper Mobile - Kids can create these mobiles to decorate the windows in their rooms or to hang freely from the ceiling.

Skeleton Mobile - - Make this gorgeous skeleton out of your old cardboard boxes - fun and recycling all in one!

Snow Mobile : Hanger Activities for Boys and Girls - - Bring a little winter inside the house this Christmas with a sparkling snow mobile.

Snow Mobile - Showcase your favorite winter sports with this one-of-a-kind Snow Mobile. Recycle cardboard tubes and milk cartons into heart-warming art projects!

Sparkly Snowflake Mobile - Kids have been making paper snowflakes for generations. Even grandparents get in on the fun when the paper and scissors come out! Hang this fun mobile from the ceiling.

Spider and Web Mobile - Fun Halloween spider web craft.

Spoon Percussion Mobile - Create a melodic mobile with recycled spoons. Visit flea markets or yard sales to find spoons that will glimmer and sing at your touch!

Springy Mobile - - Anybody can make a mobile, but can they make a springy mobile like yours? Try this recipe for bouncy fun with mobiles.

Stable Airplane Mobile for Boys and Girls - - When you make a Stable Airplane Mobile with your kids, you'll create a monument to flight that's rooted on the ground. A stable mobile doesn't need to hang from the ceiling. These planes are in the air, but they won't fly away.

StarBurst Ornament or Mobiles - - Recycle Gift Wrap to make unique Tree Ornaments or Assemble a Beautiful Mobile. This is a great way to recycle the wrappings from your Gifts - be it from a birthday or from Christmas or any other occasion for that matter.

St. Patrick's Rainbow Mobile Craft - Make a rainbow mobile with a hanging pot of gold and shamrock to celebrate St. Patrick's Day.

Tahitian Fish Mobile Craft- Bring a little of Tahiti's waters into your room, make a tropical fish mobile.

This Project Looks a Little Fishy This crafty little fish will be happy swimming around in your bedroom or your classroom! It's a great preschool or kindergarten class activity where everyone can show off their individuality while still being part of the "school."

Upward Mobility - This DIY mobile is a fresh way to display your family tree.

USA Mobile - This is a simple mobile made up of stars and flags.

Whale and Dolphin Mobile Craft- Make this interesting craft to decorate your room.

Wire Hanger Mobile - - Wire coat hanger mobiles are a fun and inexpensive craft to make. Hanging from a ceiling, window, or doorway, mobiles are delightful to watch.

Wire Hanger Mobile - - Wire hanger mobiles are creative decorations to hang anywhere in the home. As a piece of decorative wall art, wire hanger mobiles can display images from family photos, scenic views from postcards, or even holiday motifs. This guide will give basic instructions on how to make a wire hanger mobile to display in your home.