Home > Arts and Crafts Projects for Kids > Optical Illusion Crafts for Kids
MAKE OPTICAL ILLUSION & EYE TRICKING CRAFTS FOR KIDS : Find out how to make your own fun optical illusions and eye tricks with the following arts and crafts ideas for children, teens, and preschoolers
I love optical illusions, messing with your eyes and your brain. Helps make you realize how much we rely on our senses but how very wrong they can be. Perspective makes such a huge difference on how we perceive the world and you can only become wiser when you start to think from many different perspectives. So make some optical illusion crafts for kids and really everybody and start hacking your brain.
Here are some classics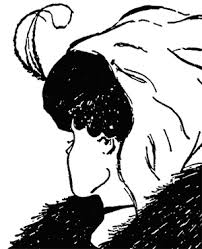 Old woman or young girl?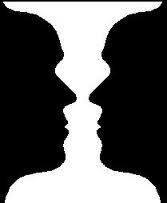 Goblet or two faces?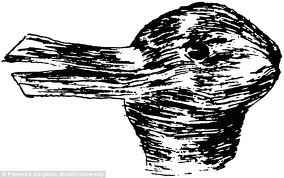 bird or bunny?

How to Make Color Wheel Spinning Toys Craft Idea - This is a good arts and crafts activity to teach kids about colors (and it is a lot of fun to play with). Kids will be so surprised when they find out that when they spin the toys, the colorful rainbow of colors turns into a charcoal gray. You can teach kids a little bit of science and lit bit of art with the use of this crafts project. Have fun.

Color Wheel Spinning Top - Find out which colors mix together make which resulting color - but have fun while you do it.

Color Wheel Spinning Toy - This is a 3 tiered color wheel so it is more complex than other color wheel spinning toys. Find out what mixing 2 colors together results with.

Color Spinners Optical Illusions Craft for Kids - - Bring all of the colors of the rainbow together in a spinning wheel of color. Spin fast—or slowly! Experiment with color science.

Complementary Color Experience Eye Tricking Activity - - Discover complementary colors! Then see how your brain can trick your eye into seeing images.

Eye – Popping Op Art 3-D Illusions Project for Children - - Create the illusion of 3-dimensional space in the Op Art style of Victor Vasarely.

Flash a Neon Mini-Sign Twirling Message Effect - - Get your message across with an optical illusion. Neon colors on a twirling sign are sure to make your point

Geometric Illusion Banners 3-D Illusions Craft for Kids - - In the wonderful world of optical illusions, lines create the look of 3-D. Create bold, bright, geometric banners in this exploration adapted from Crayola Dream-Makers®.

Geometric Optic Spinner - - Investigate how the eyes and brain work together then create your own optical illusions.

How to Make 3D Game Glasses - - Some board, electronic and DVD-based games require 3D glasses. The problem is that these games come with a set number of glasses. So make your own 3D glasses. Then you can add extra players or replace lost or damaged glasses.

How to Make a Bird-in-a-Cage Spinning Toy (Victorian Thaumatrope) - - A traditional and old-fashioned design, the bird-in-the-cage spinner, known as a Thaumatrope in the Victorian era, still fascinates kids with its optical illusion. Below is a simple design for making one, complete with original drawings for each side.

Layers With Lines - - How are landforms such as mountains and valleys drawn on maps? Learn about landforms and how to draw a topographical map, using lines to show elevation.

Mini Cartoon Optical Illusion - - Amaze your friends by making your own mini-cartoon! This easy do-it-yourself toy craft creates an optical illusion that kids find fascinating.

Op-Art Weaving - - Use your Crayola Cutter to create eye-popping optical illusions with vibrant weavings!

Optical Delusion - - Design your own optical illusion! Discover a scientific principle called the Moiré Effect. Trick your eyes and brain with lines.

Optical Illusion - - This is an ideal optical illusion for boy scout troops.

Optical Illusion - - This optical illusion is an easy science activity for kids that combines art and magic. Paint a plate with primary colors, spin the plate, and you'll see your design change in midair.

Paper Movies - - The saying "you can't believe your eyes" reflects a relatively new idea. In the early 1800s everyone believed their eyes. Not because people were gullible, but because their eyes were the most accurate and effective tools they had to study the world. So it was natural for scientists and others to be curious about how the eye itself worked. Optical illusions were particularly interesting because they seemed to show that the eye could be tricked.

Play Ball! An Optical Illusion Craft - - A baseball optical illusion craft your kids will enjoy.

Rippling Marker Colors - - Children dive into this easy but fun ripple project without splashing a drop of water. They create an eye-catching picture in the process.

Spot the Phantom Dots - - Slim, the custodian, thought his spring cleaning would be a breeze, but ghostly smudges kept appearing between the tiles of his shower wall. Was someone playing an April Fools' prank on him?

Three Dragons - - This dragon optical illusion has been one of the most visited items on the Grand Illusions web site, and millions of people have downloaded the PDF and made their dragons.
You Might Also Like Our Board Game Making Crafts Page ... Toys & Games Crafts