Home > Arts and Crafts Projects for Kids > Animals Crafts > Otter Crafts Arts and Crafts Projects Ideas for your Kids
OTTER CRAFTS FOR KIDS: Ideas to make otters with easy arts and crafts decorations, instructions, patterns, and activities for children, preschoolers, and teens
I love otters. They are by far, one of my favorite animals. They are so cute, floating on their backs in the water using their cute bellies as little tables to munch away on their lunches. If you could have an otter as a pet, I would totally be in on the I want a pet otter band wagon. Everything from their cute little paws to their fuzzy cheeks and whiskers is just calling to me, I want to cuddle. Sure, it isn't safe to snuggle up with even the cutest wild animals, but in my imagination I can play with my new pet otter all I want. Since I can't have one in real life, I will just have to live with the second prize of making otter crafts for kids. Then I can play with those otter crafts with my kids and we can have lots of fun playing in our otter masks and drawing otters on posters all over our rooms. You otter get working on yours too.
How to Make Paper Otter Masks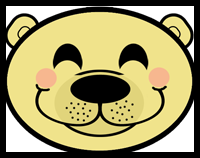 If you want to make this paper otter mask, all you have to do is print out our otter mask template and then follow the directions on that printed page.

How to Draw Otters - Learn how to draw this otter in easy to follow steps.
Even More Otter Crafts Below

Origami: Sea Otter Craft for Kids - Follow this tutorial to create a simple sea otter from paper.

Otter Craft for Preschoolers and Toddlers - Find out how to make an otter craft from a toilet paper roll and other inexpensive materials.

Sea Otter Paper Plate Craft for Kids - Follow this tutorial and make this adorable sea otter out of a paper plate.