Home > Arts and Crafts Projects for Kids > Paper Crafts for Kids > Paper Dolls and Clothes
PAPER CUT OUT DOLLS CRAFTS & FOLD on CLOTHING FOR KIDS : ARTS & CRAFTS PROJECTS & ACTIVITIES USING PAPER FOR CHILDREN AND PRESCHOOLERS
Here are paper doll making & paper clothing crafts activities and instructions for kids to make beautiful dolls crafts projects with paper.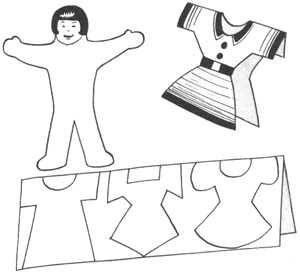 It's very easy to make a paper doll, and it's even more fun when you make lots of clothes for it. Draw the outline of the doll on cardboard and cut it out. Make the face and hair with crayons or paints.
For the doll's dresses, fold a piece of white paper in half and draw different but simple outlines of dresses. Make sure that the opening at the neck will fit over the doll's head. Then cut the dresses out, cutting through both sides of the folded paper. Color the dresses, adding collar, belt, buttons or anything else you like, and the doll has a pretty wardrobe.
It is lots of fun for your daughter to design her own wardrobe of dresses for her paper dolls. She can do this with plain white paper and crayons or paints. She might also try cloth dresses for her paper dolls. Make a pattern for the dress and lay it on the chosen fabric and cut around it. The material can then be pasted to the paper pattern, and trimming details can be added in crayon or with contrasting bits of cloth.

Paper Children Dolls of All Colors and Religions - Learn how to make these adorable children ... they are all cut out of different colors of paper...these turn out really nice.

Interlocking Paper Dolls That Stand - This is perfect for Martin Luther King Day...these are cut paper dolls...with interlocking hands....no matter what color you are...we can all love and understand eachother.
You Might Also Be Interested in Paper Doll Chains