Home > Arts and Crafts Projects for Kids > Paper Clips Crafts for Children
PAPER CLIP CRAFTS FOR KIDS: Ideas for Arts & Crafts Projects & Activities with Paper Clips for Children, Teens, and Preschoolers
Making a Fishing Game and Pole with Paper Clip Hook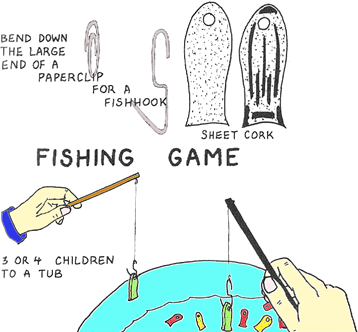 This is a simple game to play and it is pretty simple to make as well. All you will have to do is to make some fish that are about 2-3" long and 1-2" wide. They need to be big enough to poke a hole in them for the hook to go through. To make sure that they are waterproof, cover each fish with a good coating of crayons. To make the fishing pole, use a stick, chopstick or a nice pencil. Then tie a string to the pole and on the other side bend a paperclip into a hook by looking at the illustration above. Then to play dump a bunch of the fish into a bath tub and then see who gets more fish...that is the person who wins.
Paper Clip Book Worm Bookmarks

To make these paperclip bookmarks, you will need one 12" pipe cleaner, felt scraps, thread the same color as scraps, needle, sequins, small beads, cotton, paper clip, glue, pencil, paper for pattern. Cut felt into the zig-zaggy pattern you see above. Overcast (directions for the overcast stitch here) body pieces together along zig-zaggy felt edge, sewing beads to spine. Add bright beads for eyes and sequins for decoration. Insert pipe cleaner so that 1" sticks out at X and rest of it goes through body and out point marked XX. Stuff body with cotton and sew to bottom. Sew paper clip below. XX. (See sketch.) Curve wire on top of worm's head; glue sequin to end. Clip bookworm to outside of book and bend wire tail to mark place in book.
Paper Clip Animal Chains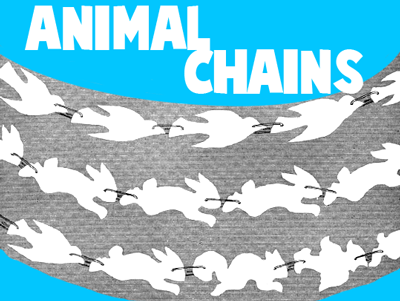 You will need animal patterns to trace ....there is a bird, bunny, squirrel, and a parrot. Cut out the animal templates and then connect them with paper clips thru the head region. You can string all the animals together or just string one type of animal. You can string them across a window or across a wall.
Even More Crafts with Paper Clips

How to Make a Mini Zip Line Moving Toy with Paper Plates, Poster Board, Bobbins, & Paper Clips - This is a really cool toy idea…one that can be changed for a lot of different variations of moving toys. This is an air ship / space ship zip line moving toy. Find out how to make this zip line toy that zips and moves, by reading the step by step, illustrated instructions below in our crafts project tutorial.

Thanksgiving Garlands Decorations with Paper Clips and Ribbons-Here's a beautiful Thanksgiving Fall leaves garland to decorate your home this Thanksgiving. What's even better is that its a very meaningful craft to do , and will help you remember all that you're thankful for. Its something your whole family can do together.

Flower Clip Bookmarks - Learn how to make a cool looking bookmark that is really a paper clip. Paper clips make great bookmarks.

How to Make a Paper Airplane Glider with Paper and Clips - Learn how to fold this amazing paper airplane glider that flies really, really far. All you need is a piece of paper and 2 paper clips.

3-D Paper Leaf - - Mother Nature paints us a beautiful picture in the autumn. The colors of the season are brilliant reds, oranges, golds and browns on the trees. It lasts only a few weeks and eventually the leaves fall, leaving the trees bare until spring. You can capture the colors by making your own decoration.

New Years Resolution Reminders - Learn how to make the following New Years Resolution Reminder with cloth, textile paint, needle and thread, scissors, cotton pads, beads, and 9 paper clips.

Paper Clip Earrings to Make - Make cool earrings out of Paper Clips. and buttons and other items.

Moving Letter Paper Clip Trick - This is a funny trick to play on your friends on April Fools Day.

Making a Paper Clips Necklace - Use Both Paper and Paper Clips to Make a Pretty Cool Necklace.

Making Milk Container Candles - Recycle old candles to make a very colorful candle that is molded in a milk container and the paper clip is used to hold string taut while you're molding it.

3-D Paper Snowman - - This is a paper snowman who will stand on his own. He looks good from all sides and can also be hung up as a window or tree decoration. Using the technique for creating 3-D paper figures, he is easily made.

Accordian Folded Birthday Card for 70th Birthday - - This birthday card takes more time to craft but the effort is worth it. It has a total of 4 sides - the cover and 3 inside "pages". Each page is unique but matches the whole color theme.

Angel Clip Necklace - - A girl I work with made these cute necklaces for all of our co-workers one year for Christmas. This would also be a great craft for kids. You could even hang one in your car with a note, "Don't drive faster than your guardian angel can fly."

Autumn Pumpkin Paper Clip Tag - - Decorate any fall.pngts with this charming and country looking tag. It is easy to make and is created using leftover paper craft and sewing supplies. The shades of orange are perfect for the season. This tag can of course also be used as a decorative element for cards and scrapbook pages, too.

Beaded Paper Clip Bookmark - - This is an easy way to create a bookmark design to sell as a fundraiser or give as.pngts.

Bouncing Buttons Game - - Use a shoebox lid and felt to make a Bouncing Buttons Game.

Butterfly Pencil Toppers - - Pencils take flight with easy kid butterfly crafts. Unleash your child's creative genius and make some spring kid crafts...you'll find the materials you need right at home.

Chef Hats Craft - - Nothing says "chef" like a poofy white hat, and these are especially easy to make.

Circus Centerpiece - - Throw a circus theme party! Streamers flow from this festive big-top to each place at the table.

Clay Charms - - These clay creations can be used as key chain charms or bag charms, or can even be worn as a pendant. Make them for your mom on Mother's Day or for your friends on Valentine's Day. A cute Paper Clips Craft.

Clip-on Jewelry - - This flowery necklace makes a great accessory for jazzing up your child's spring wardrobe. It's also the perfect.pngt for a relative who loves to garden.

Drinking Straw Mobile - - This simple-to-make mobile is made from drinking straws, paper clips and construction paper. They look great hanging from the ceiling!

Easter Egg Tree - - Holiday trees aren't eggs-actly just for Christmas anymore! Celebrating spring and Easter with an egg tree is a natural when you have creative kids.

Fantastic Friendship Fans - - Making friends is an important social skill. Children can celebrate the joys of friendship with a homemade.pngt.

First-night Hats - - You can count on our shiny hats to make the ideal toppers for a New Year's party, but there's no reason to confine them to the countdown. Tailor the decorations to the mood and theme of your holiday party: glue on large menorah-shaped sequins (available at party supply stores) or festoon the hats with mini candy canes. Note: not all these materials are required to make each hat.
Fish Fry Invitations - - These Fish Fry invitations are loads of fun for kids parties or BBQ's.

Fishing for Letters - - Make this fishing craft with your child and use it as an exciting way to practice the alphabet and develop early decoding and reading skills.

Flowery Sentiments - - Since many readers asked for valentines to give a teacher, we came up with this easy doily flower. But of course, teachers aren't the only ones who'd appreciate one, or an entire bouquet, of these lacy blooms.

Fun Foam Heart Purse - - This is a great craft for practicing simple sewing stitches without having to worry about poking yourself with a needle.

Glue Starfish Craft/Necklace - - This pebbly-textured starfish is easily made from white glue sprinkled with sand or glitter. It is fun to wear, display, or hang in a window.
Go Fishing Craft- - For this fishing trip, you won't even need to buy a license!
Go Fish Learning Activity - - This activity is an old time favorite and is a great activity for young and old. It is suitable for theme days as well as awarding prizes for the "most caught fish" for fun days or fetes.

Gold Heart ATC - - This artist trading card is kept in shades of red, orange and gold. An embossed gold metal heart gives this project a shiny final touch. Find out more about metal embossing in the link below under "Instructions".

Handprint Craft - - Make a handprint of your child using Plaster of Paris. You can hang this cute decoration on the wall.

Heart-shaped paper clips - - A piece-of-cake Valentine project: bend regular paper clips into little heart shapes. These are jumbo clips I got in a multi-color pack at Target for about $1.50, I think. I fished out the pink ones for this.

Holiday Hangers - - Deck your halls, trees, doors, wreaths, and windows with these festive holiday ornaments. Kids choose the theme and start a family tradition!
Homemade Paper Clip Jewelry - - Who needs to drop a dime (or 10,000) at Tiffany's when cool baubles are for the taking just by raiding the desk?

How to make a Huge Paper Clip topper - - Learn how to make a huge paper clip topper.
How to make a magnetic boat - - Watch this video and learn how to make a magnetic boat. Perfect activity for kids.

How to Make a Paperclip Necklace - - Office supplies never looked so cute. Imagine making beautiful handmade jewelry from paper clips. It's time to get creative and make a unique necklace from paper clips.How to Make a Paper Clip Necklace - - Jewelry making is a popular craft. Projects can become intricate and complex, rivaling professional jewelry makers, but the roots of these projects go back to simple childhood creations. A simple craft that almost every child has made is a paper clip necklace. Though this is mostly a fun and funky project for kids, with a bit of a twist, the uncomplicated craft can become a beautiful piece of jewelry.

How to make Colorful Sun Paper Clip Magnet - - Learn how to make this fun and colourful sun magnet out of paper clips.
How to Make Paper Airplanes - - Put your best paper airplane to the test with the paper plane playoff activity.

How to Make Paper Bookmarks - - Make this fun and easy hearts and flowers bookmark and promise her you'll keep yourself and your siblings busy for at least 15 minutes a day so she can quietly read and put your creation to use.

How to Make Paper Helicopters - - With some strips of paper and a few paper clips, you can create a mini papercopter that spins like a real helicopter.

How to Make Paper Puppets - - Put on a puppet show with this crazy box puppet paper craft. This crazy puppet will give you an earful!

How to Make Valentine's Bracelets - - Valentine's Day is right around the corner and is always a favorite holiday for children. There are many inexpensive, fun, and adorable crafts that can be made at home for very little money. Why not let your little girl make Valentine's bracelets! She can make one for herself, and matching bracelets for her favorite girlfriends. Make this the sweetest Valentine's ever!

Ice Skate Ornaments - - Be on the cutting edge of cool with these ice skate ornaments. Hang on your family Christmas tree and make as.pngts for teachers and relatives.

Kindness Calendar Quilt - - You plan vacations. You schedule school work. Why not set a date for doing good deeds? Fill your colorful calendar quilt with acts of kindness!

Lacy Gold Paper Star Tree Ornament - - Create these delicate and lacy stars to give your Christmas tree an elegant look. These stars are easier to craft than they look and one is completed within a half an hour. You can also enlarge the pattern and use heavier cardstock to create window decorations with these stars as well.

Leprechaun Hat - - Lucky for you, these leprechaun hats wish everyone a Top O' the Mornin'! Kids create madcap fun to celebrate wearing green.

Library Log - - Looking to log in more library time with your kids? This Library Log turns heads and pages while keeping children on a reading roll.

Lucky Penny - - This cute coin-headed doll, good for one wish, makes a great New Year's party favor.

Magnet Fishing Game Craft - - One of our daughter's favorite cartoon shows had an episode where the characters went fishing, so of course she wanted to go fishing too. The problem is that it's mid-February here and it snowed last night so we needed a way to go fishing indoors (which frankly is this Mommy's prefered method of fishing regardless of the weather!). So we put together this fun magnet fishing game! This cute fish craft is a great way to make a variety of preschool learning games as well.

Make Zany Bookmarks from Paperclips - - Just add giggles! Use fun colored oversized paperclips to make this a extra special project all kids will love to design and use at school and home.

Mayflower Toppers - - Not only are these holiday hats a boatload of fun for your kids to wear, they're also a reminder of the historic voyage the Pilgrims had to take before they sat down to their Thanksgiving feast in 1621.

Mia's Skating Bookmark - - Follow the following instructions and make this stake bookmark.

Mother's Day Surprise Box - - Perfect for chocolates or other treats, our.pngt box is simple and elegant.

Orange Flower Power ATC - - This artist trading card in orange is a bright modern design for those who like bright colors. All you need is just a few ribbons and scrap pieces to create this cheerful card.

Palm Leaf Fold and Cut Craft - - This is a fun Palm Sunday craft that works a lot like cutting out paper snowflakes. The fronds end up being large enough that the children can carry them around waving them for a Palm Sunday parade.

Paper Angel Window Decoration - - This transparent angel looks lovely in her white attire and looks like a stained glass decoration. All you need to complete this project is paper and glue.

Paper Bag & Magazine Dolls - - This couture-inspired project lets kids give a paper bag and old magazines a model makeover.

Paper Basket with Doilies - - This cone-shaped Paper basket with doilies is the perfect activity for kids and grown-ups to do together. It makes a great springtime .pngt or Mother's Day keepsake.
Paper Birds - - Here's a super-simple way to assemble a flock of featherless friends. This nearly no-mess project is easy enough to make in minutes and lets kids add lots of inspired elements of their own.

Paper Butterfly Suncatcher - - This project is recommended for children ages 10 and older (caution is required using the craft knife) If younger children wish to make these, parents or teachers can help out by cutting the inside spaces or letting the children cut the spaces out with scissors.

Paperclip Angel - - Use this video tutorial to make easy but classy Christmas angel ornaments.

Paper Clip Angel Necklace - So my 8th craft is simply adorable and quick.
Paper Clip Bracelet - - Judith Reed explains how to make a simple bracelet using paper clips and beads.

Paper Clip Charms - - The classic paper clip is indispensable, but these handmade clips -- which double as bookmarks -- are much more enchanting. Try clipping one onto a homemade card for a surprising little.pngt.
Paper Clip Jewelry for Dolls and Kids - - Whether the economy is thriving or slumping kids still love to craft. Parents of crafting kids may not have much money to spend on crafts, but there are lots and lots of things kids can make that cost very little, but keeps them happy and proud. One such craft will allow little girls to make cute necklaces and bracelets for their dolls, their stuffed animals - even themselves. Best of all, it only costs pennies to make each jewelry piece, yet the jewelry is actually very impressive.

Paper Clip Necklace - - Our bear is looking gorgeous wearing her new necklace. This project is inexpensive and easy for kids to create. It takes about 30 minutes to complete and would also be a fun project for a group to do together and then show off their new treasure. When finished, the necklace makes an interesting sound as if it were made out of another material. Try it out and see!

Paper Gyrocopter - - Take your kids for a spin around the neighborhood with a toy gyrocopter. You can make one in five easy steps.

Paper Lanterns - - Your family can celebrate the Chinese New Year (February 14th) and its finale, the Lantern Festival, with a collection of these flameless mini paper lanterns.

Paper Organizer - - This easy-to-make honeycomb-shaped wall shelf is great for holding tiny trinkets. Just add more tubes to show off a larger collection.

Paper Plate Dinosaur Crafts for Kids - - This paper plate dinosaur is very easy and inexpensive and is great for kids of all ages. Kids love dinosaurs so this is the perfect paper plate craft idea. Get out your paper plates, green paint and your imagination for this fun kids craft idea.

Paper Plate Dragon Craft for Kids - - This paper plate dragon is just too cute with his fire breathing, spiked tail and paper plate body. This paper plate crafts uses not only paper plates but colored construction paper, glue and other simple craft supplies. Use your imagination to make your dragon fun and scary.

Paper Strip Paperclips Pumpkin - - With just a few strips of paper and two gold brads and you can create this autumn pumpkin within minutes. By using shorter lengths and widths of paper, you can also create smaller versions of this pumpkin. Kids will also enjoy making this project.

Petite Picture Frames - - Capture the excitement on kids' faces. These small picture frames add a personal touch to family and school photos, or children's original art!

Pumpkin Hat - - To give the judges (we usually have at least three) the ceremonial seriousness their position requires, make our Pumpkin Judge's Hat. If other partygoers want their own -- and they probably will! -- they're a snap to make.

Puzzle made of paper-clips - - This puzzle is an example of the game that we were making using simple tools from father's toolbox and regular paper clips (bureaucracy provided infinite supply of paper-clips so they were quite easy to get).

Rainbow Fishing Game - - Put up a "Gone Fishing" sign! Play this fun fishing game-you create it with Crayola® Twistables™.

Recycled Belt - Embossed Bird Bracelet - - This recycled craft project shows you how to make a masculine bracelet cuff using a recycled leather belt.

Roses are the flower I would prefer - - One of the rings I made yesterday turned out really well, and it's super simple. I wore it to work today and got quite a few compliments. So here are the instructions with a paperclip!
Rudolph the Red-Nosed Handprint - - Your child gets to lend a hand in crafting this ultraeasy decoration, which makes a sweet.pngt for grandparents this Christmas.

Say It Fabulous Signs! - - Give your loving words some WOW with the super-bright Crayola Color Surge™ Paper and Marker system! Greet an athlete with a cheerful message, congratulate a friend, or make a teacher smile with signs that really stand out from the crowd.

Scrap Paper Bookmarks - - Make your own bookmarks as inexpensive.pngts using things found around the house paperclips crafts activity.

Scratch 'n Sniff Necklace - - The smells on this necklace will delight your preschooler made with paperclips.

Snip 'n Clip Beads - - Dress in style! These bright, easy-to-make chains are fun to make with friends—and so cool to wear. Create key chains, bracelets, and other accessories.

Snowman Necklace or Ornament - - Make a snowman that you can wear as a necklace or use as an ornament.

Soldered paper clip bracelet - - This Instructable will guide you through the process of making a (fairly good-looking) bracelet, out of simple paper clips.

Spoon Percussion Mobile Paperclips Craft - - Create a melodic mobile with recycled spoons. Visit flea markets or yard sales to find spoons that will glimmer and sing at your touch!

Sunflower Card with Poem - - There is nothing more breathtaking at the end of summer than a field of sunflowers. They look so majestic while holding their heads high towards the golden sun. Sunflowers make also beautiful card motifs. If you know someone who loves sunflowers, then you can create this card for that person. It takes just a few minutes to complete once you have your supplies gathered.

Tissue Paper Turkey - - Proud as he may appear, this gobbler is simply folded paper held together with pipe cleaners. Assemble one ahead of time to use as a centerpiece, then provide extra supplies so your guests can make their own.

Vintage Love ATC - - This artist trading card is perfect for the theme of love or for Valentine's Day. It uses left over papers and supplies from scrapbook and card making and has an antique romantic look to it. A cute Paperclips Craft for kids.

Vintage Pisa Card - - Not everyone likes bold or pastel colors. Some prefer the primitive and country style with its subtle and warm colors. This card is made with scrapbooking and natural papers to give it a nostalgic, antique sort of look.

Wubbzy Zipper Pulls - - Print these tags, cut them out, and laminate them. Or make them permanent using shrink plastic. Tied onto kids' jackets, they make zipping up and down super easy.