Home > Arts and Crafts Projects for Kids > Paper Cone Arts & Crafts for Kids
PAPER CONE CRAFTS FOR KIDS : Ideas to Make Paper Cones with Easy Arts & Crafts Activities & Projects for Children, Teens, and Preschoolers
If you have ever seen a water cooler in an office or school, you will notice that they usually have cone-shaped cups. Also, you might see cone cups if you ever get a snow-cone...the shaved ice is placed in the cone and different flavored syrups are sprayed on the top of the ice. Yummy! Well, anyway, these are the sort of cups that we will use in the crafts listed on this page. The work great for crafts that require a cone or pyramid-like shape. Have fun crafting!
Cone Cup Christmas Angels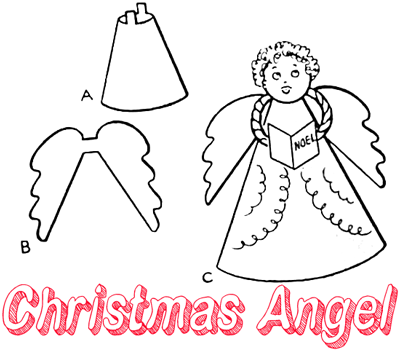 A water cooler cone cup is the base of this Christmas angel figurine. She comes out beautiful and she will be the spotlight of your Christmas decorations. Start off by cutting 2 inches off the tip of the cone-shaped cup. Leave a small tab on each side as in picture A above. You will want to make the angel's clothes look pretty, so use colorful paper (or even metallic / gold ) over the cone cup. You can also glue a paper doily over her.Cut a piece of pipe cleaner for her arms and glue it around the top of the cone. For her song book, fold a piece of paper in half and then put in her hands. Either use a doily or colorful paper for her wings. Cut it out in the shape of the wings you see in Picture B above. Paste the wings on the back of the angel body. Paste a ping pong ball to the 2 tabs (from picture A) . You can make the curls from a dish scouring pad or from yarn. Paint the face on the front of the ball.
More Water Cooler Cup Crafts

Cone Cup Tepees - These cone cups make great tepees, the structure is already complete for you, you just need to make a few adjustments.

3D Paper Christmas Tree - - This simple Christmas Tree is a great craft for young children to create with very little adult assistance. It was created to be used in Sunday school.

A Halloween Tussie Mussie - - In Victorian times, ladies carried these around filled with small bouquets of flowers. Now I think they make adorable treat holders for candies or small.pngts, or look cute hanging as ornaments.

A Pteranodon - - Learn to make a pternanodon with a cone cup and other materials around the house.

Baby Shower Favors On Daytime - - This morning on NBC's Daytime Columbus I'll be demonstrating how to make these beautiful baby shower favors.

Blooming Bouquet - - This beautiful bouquet will bloom forever in the hearts of those receiving it. It's perfect for celebrations, as decorations, or when kids want to express good wishes.

Bubble Mania - - Time and again, science has shown us that first impressions can't be trusted. Consider the bubble: At first glance, it looks like the most fragile thing in the world.

Butterfly Christmas Tree Topper - - Create a whimsical and unique Christmas tree topper using glittered butterflies.

Candy-Filled Cones - - Paper drinking cups make creative Halloween treat holders when embellished with glitter and metallic chenille-stem handles.
Christmas crafts: How to make paper angels - - An angel looking over everyone. What better way to show someone you love them than to craft an angel for them to decorate their home in?

Clown Hats - - Create a cone-shaped clown hat which comes with a mop of colorful curly hair.

Color Wheel Umbrellas - - Learning the basics of colors and color mixing can be super fun by turning a color wheel into an adorable paper umbrella.

Cone Angel - - Learn to make this simple cone angel your children will enjoy.
Cone Christmas Angel - - For this adorable Christmas angel you will need a cardboard cone, you can make your own cone using some cardboard or purchase a polystyrene cone.

Cone Christmas Tree - - Children will love to make their very own Cone Christmas Tree! Dress your tree with scraps from around the house like buttons, felt, sequins and such! Preschoolers will need help making the cone, but they'll love to decorate their very own tree!

Cone Cup Bunny - - A simple, cute Easter bunny craft for young kids, it could also be a great Easter table decoration.

Cone Cup Pinatas - - Posadas (Pasadas) is celebrated from December 16th to 24th in Spanish and Mexican communities. The feast - which ends each evening with a pinata filled with treats for the children - celebrates the journey of Mary and Joseph to Bethlehem.You can make your own mini pinata using paper cone cups, a few extras like paint and paper and treats (well, of course).

Cone Favors - - Victorian-style paper cones stuffed with wrapped chocolates, both from Bell'occhio. Or create your own cones.

Cone Ornaments - - These cones are quick to make and have a variety of uses. You can hang them on your Christmas tree, use them as ornaments or use them for centrepieces.

Cone-struction Piñata - - You can't beat this piñata with a stick -- nor should you! Instead, kids take turns pulling strips of "caution" tape from its base. Pick the right one, and a trapdoor releases a cascade of candy.
Cone Witch Hat Decorations - - Halloween is a great time to make crafts with your family. Making miniature witch hates is very easy, and these hats make fun decorations as well as cute costume pieces for dolls or small animals! Although these hats will not fit on your child's head, they are still fun to make!

Cotton Ball Christmas Tree - - These beautiful trees can done by very young children with help from an adult.

Country Bouquet Holder - - Wallpaper embellished with fan flowers and ribbons makes these country bouquet holders special.

Craft Cute Daisy May Baskets - - These easy baskets are perfect to create for party favors or just to say "I love you."

Crimped Paper Tree - - Combine several different green patterns of cardstock to create a delightful Christmas tree. The tree will also keep your room freshly scented as it is made from a Renuzit® air freshener.

'Daisy-filled Cones' Place Cards - - Fill little paper cones with small flowers to make beautiful place cards that bring in Spring.

Dragee Favors: Paper Cones - - These whimsical dragee cones standing in a galvanized tray will delight even adults.

Easter Baskets - - Hang on a doorknob filled with candy or small toys (beanies are a perfect size!) for the kids to find on Easter morning.

Easter Party Favors for Kids - - Get the whole family involved in this easy, economical, Easter craft. Repurpose peat pots and paper cones or cups into charming take-home favors for kids. Grown-ups will love them too!

Easy Treat Cones for Your Tree - - Hang treats from your Christmas Tree using scrapbook paper, a little glue, and some ribbon. The result: A simple and clever treat to share anytime.

Easy Witches to Make for Halloween - - These cone witches are easy to make. The witches are made from a cone body and a separate head. The head simply sits loosely on the top of the body. The witches can be adapted in many ways - dress them up in bright colors or keep them dark and mysterious.

Fairytale Castle Craft - - Who could resist trying this gorgeous fairytale castle craft! Easy to make from cardboard tubes and others scraps, it makes a fantastic desk tidy which will make any child happy to sit down and do their homework.

Fairy-Tale Cone - - Create these silvery cones and fill them with heart-shaped rice to toss at the couple.

Flower Cones - - Learn to make this attractive flower cones.

Funny Animal Faces Ring Toss - - Hear the roar of approval from kids, and play this game along with them! Tossing rings at the funny faces builds coordination skills - so everybody wins in this game!

Goody Witches - - A band of plump, popcorn-filled witches swoops in to add a spirited spell to your Halloween festivities.

Halloween Treat Cones - – Make and fill these to give to your guests at the end of your Halloween party or have them ready for those trick or theatres!

Hanukkah Paper Cones - - Imagine seeing this lacy beauty on your doorknob or bedpost, brimming with Hanukkah gelt or small.pngts.

Heart Cone - - Why not make a quick heart-shaped cone for a buddy this holiday? Fill it with his or her favorite treats and you're sure to get a big smile.

Holiday Cone Friends - - Simply a fun way to create a Holiday ornament.

Homemade Ornaments Around the House - - Looking for great craft making ideas on a budget? I bet you have enough supplies around your house right now to have a whole day of fun making holiday ornaments. Here is one homemade ornament idea that uses only simple materials like paper, wire and glue.

How to Make a Cone Doll - - This project is virtually perfect. It's easy, fun and quick to make. It will hold the interest of kids for hours. Even the youngest creative little hands can produce masterpieces with this activity. Better yet, you've already got most of what you'll need. Substitutions can be made for almost everything else. Any supplies that you don't have are inexpensive and readily available at any neighborhood discount or department store.
How to Make a Paper Bouquet Holder - - Bridal and wedding party bouquets are easily dressed up by simple but sophisticated-looking bouquet holders. While the options are endless for types of holders, one easy solution is to create your own using wallpaper and other tools and decorative accessories. In a few simple steps, you can have an elegant, handmade paper bouquet holder.

How to Make a Paper Elf Hat - - An elf hat is a tall conical hat worn by certain small mythological beings. The elf hat is typically soft, and falls over to one side--the point reaching almost back down to the brim of the hat. The brim itself is usually upturned and can be shaped like a crown. An elf hat is usually made of cloth, but you can make one out of newspaper.
How to Make a Paper Horn - - A paper horn is a simple and fun party noisemaker, a one-time use novelty item that you can make yourself from construction paper or recycled materials. This is a great holiday craft project for both kids and adults wanting to create a little good-natured noise and ruckus during the celebration of a special event.

How to Make a Star Pinata - - Star pinatas were first used in Mexico as religious metaphors of the seven deadly sins. The blindfold and stick were said to represent faith and virtue while the sweets and coins inside of the pinata were said to represent the riches of heaven.
How to Make Favor Cones - - Regardless of the theme or reason for your party, it's a nice gesture to send guests home with a favor. Favors needn't be expensive or elaborate and can be as simple as inexpensive candy. Add a homemade touch by crafting cones to hold the contents of your party favors. The cones are fairly simple to make and use items you may already have at home.
How to Make Pew Cones - - Pew markers are the perfect accent piece for any church wedding. They provide a cohesive look as well as a pleasing aroma to the proceedings. A pew marker is a matter of patience and practice

How to Make Special Halloween Treat Cones - - If you have neighborhood children or children of friends who are special to you and always stop by your house to trick-or-treat, give them a decorated Halloween paper cone filled with treats.

How to Welcome Spring with May Day Baskets - - Nothing says Spring like May Day Baskets filled with flowers, ribbons and candy. When we were kids we used to make these little baskets from paper cones and hang them on the neighbors' doors, ring the doorbell and hide in the bushes to see them open the door to a Spring surprise. Read the following instructions to see how you, too, can delight your neighbors as Spring comes to your neighborhood.This project is for May 1, May Day, which falls on a Sunday this year, so this is a perfect Sunday afternoon activity.

Lacy Treat Cone - - Fill these beautifully decorated cones with.pngts or treats. They lend a festive touch to any holiday.

Lolly Tree - - Tinsel Tree - Make a cone shape with the card board. Attach the star shape on the top with Tape.
Lolly Tree - Cadbury Wrapped Chocolates - - This Quick Christmas Craft project is very easy and is a great.pngt, you can make them large or small depending on the family size and are great for teenagers or families.

Make a Bat Cone Treat Holder for Halloween - - This bat holds sweet surprises. Make these as treat bags for Halloween guests or decorations for a bat-themed party.

Make a Christmas Tree Using Different Sized Paper Cones - - This paper stacked cone Christmas tree is easy to make and is an ideal way to use up odds and ends of paper left over from other rubber stamping or scrapbooking projects.

Make a Paper Cone Christmas Tree - - This paper cone Christmas tree is so easy to make, you can easily whip a few up to make a pretty festive display in an evening.

Make a Paper Cornucopia for Thanksgiving! - - When I think of Thanksgiving, the first thing I think of is delicious food and turkeys! Another important part of Thanksgiving that is easily overlooked though is simply getting together with family and friends to share thanks. Flipflops and Applesauce has an easy craft for kids that will remind everyone of thankfulness- paper cornucopias full of thankful thoughts!

Make a witch hat for this Halloween - - Making this witch hat is simple, yet so professional, that all witches are sure to be eyeing it.

May Day and Spring - - May 1 is May Day. Here are some fun crafts and ideas to celebrate.

May Day Basket - - Your kids will learn how to make their very own may day baskets!

May Day Baskets - - As I contemplated the idea of May Baskets, I started thinking that maybe a "basket" per se was a bit overdoing it. After all, this is just a little "hello" to your neighbors with a few tasty or pretty treats included. So, the idea of a simple cone came to mind. I ran around the house looking through my scraps of wrapping paper and ribbon and created a variety of beautiful cones that will hold a few surprises and hang nicely on a front door knob. Here's how to make them.

May Day Cone Basket - - Follow these directions and learn how to make a cone-shaped May Day basket you can hang on a neighbor's door knob.

Mini Piñatas - - Modeled after traditional piñatas, these personal-size candy holders tear open easily, revealing a cache of sweets inside. And since they're a cinch to put together, they make great favors for a school party.

Newspaper Flower Holder - - What could be nicer than finding a bouquet of flowers on your doorknob? Here's an easy flower holder you can make to hold a bouquet of wild flowers that you have picked for someone special.

Paper Christmas Tree - - This craft project is fun for both young and old alike and looks great plain and decorated. A whole forest of trees can be created which also looks really great. All you need for the basic tree is just green construction paper or cardstock, scissors and glue. The tree can be made as large or as small as you like, depending on the size of circles you use. Using decorative edged scissors to cut the circles out, give the tree ends a more realistic look.

Paper Christmas Tree - - This project is simple enough for children and can result in an entire Yuletide forest for the mantle or dining table.

Paper Cone Angel Craft - - This cute angel can sit as a central dinner table decoration, as a seating arranger (just write the name of each person on an angel and set them on the plates) or you can put her on top of a small Christmas tree!

Paper Cone Christmas Tree - - This simple craft is such a pretty addition to your holiday décor! Make this then display it near your big tree to see it sparkle.

Paper Cone Witch/Warlock - - My 5th graders work on a "theme" cone witch.The most popular themes seem to be athletes, dancers, and computer geek witches. The students create the cones, one large (for the body) and two smaller ones (for the arms). They are also asked to use a minimum of 5 different lines and 5 different shapes.

Paper Cones - - In Victorian times, paper cones like these were filled with fruits and nuts. Made from patterned and textured paper, these modern versions are trimmed with rickrack and vintage silver tassels, and hung with ribbons and beaded wire. Brimming with sweets, the cones make wonderful little.pngts or party favors.

Paper Cones Filled with Treats - - We made a smaller version to hold a few treats, small supplies, and the like, but you could easily scale this up to a traditional size using a sheet of poster board.

Paper Cornucopia - - This paper cornucopia craft would make a lovely addition to your Thanksgiving table. Although it looks impressive, it's super-easy to make!

Paper Crafts For Valentine.pngts - - Valentine's .pngts can be clever and inexpensive… and… you make them yourself. For me… it has to be an uncomplicated task or I lose interest real fast.

Paper Doily Victorian Tussie Mussie - - These cones are not only very pretty, but really easy to make! Each cone shown above consists of 2 heart shaped doilies. One red and one white. They are perfect for both Valentine's Day and Christmas!
Paper Rocket Model - 4th of July Craft - - The Star Spangled Banner talks about the "rockets' red glare, the bombs bursting in air." Thankfully, the only rockets and bombs that can be found on the Fourth of July are fireworks and patriotic decorations. If your child wants rockets this July 4th, let them make their own that they can enjoy after the holiday has passed.

Petal Toss Cones - - Fill it with petals and you're all set.

Pom-Pom Ice Cream Cone - - These adorable little ice cream cones are the perfect size for a doll! They are easy to make and look almost good enough to eat.

Popcorn Cones - - A movie night just isn't complete without popcorn. Single-serving paper cones and a popcorn seasonings bar allow viewers to customize their snacks.

Potted Paper Cones - - These elegant trees are so versatile -- you can make them in a variety of sizes and with almost endless decorating possibilities -- they'll fit in any (or every!) room in your house.

Printable Pokemon Christmas Cones - - Click one of the links below to make one of these fun Christmas cones.

Santa Clause Baby Food Jar Craft - - This Santa Claus baby food jar craft is fun to make and has practical uses (as a candy or coin holder).

Santa Decoration - - This is a cute no sew project that stands on its own! You may choose to make a few of them for your Christmas dinner table to decorate each plate or setting, or make a group of these in different sizes to decorate your window sills or shelves.

Stars and Stripes Clip-Art Paper Cones - - Filled with a mix of beet and blue-potato chips, this easy-to-make container is something to cheer for.

Starting School Treat Cone - - What is more exciting than your child's very first day of school? Make a starting school treat cone with your child and learn about the charming German custom of Schultüte.

Striped-Paper Cone Project - - Decorate doors, gates, or fence posts with a lavender striped-paper cone filled with flowers.

Table Centerpiece - - Whimsical Trees - This free Christmas craft project shows you how to make a whimsical paper Christmas tree decoration for your home.

Teepee Craft - - This is a fairly simple craft for kids to make (you likely remember making one as a child). It's fun for them to get creative when they decorate the paper before wrapping it around the straws.

Tree Ornament - Traditional Cone - - This free Christmas craft project shows you how to create a hanging Christmas tree ornament for your tree. You can fill the cone with sweets or handmade candy.

Triangle Pouch Tutorial - - I showed this little triangle pouch, and several people have asked me how it was made. I actually learned how to make this fun little pouch from my BFF Tracy, and until she gets a blog, I'll just share all I learn from her with you.

Valentine .pngt Cones - - This traditional German craft may look like a big piping bag, but it's a.pngt cone filled with presents and candies for any special occasion.

Valentine Paper Crafts for Kids - - Learn to make this valentine.pngt for your love ones.

Victorian Paper Cone - - Try making these Victorian inspired paper cones for holiday decorations around your home. If you have kids, this is a great project to do together. They can hang on door knobs, wall hooks, or on the Christmas tree. These aren't limited to Christmas decorations; make a variety for year-round decorations.

Victorian Valentine's Day Paper Cone - - Fill with candy, silk flowers, etc!

Witch and wizard paper craft - - Many of my readers celebrate Halloween, so I thought I'd post something related. Do you like these cute witch and wizard? They can be made out of paper withing a very short time. Actually, you can make any figure following the same principal: create a paper cone, cut out and attach arms and hands, then just decorate and add attributes and accessories. For the wizards it's a magical wizard hat and Turkish shoes, for the witch it's also a broomstick. Got it?

Wine Cork Santa Claus - - Who can believe that this Santa is made out of a recycled wine cork? Kids will have fun making this cute Christmas craft for the holidays. It is a really easy project and is finished with a couple of hours.

Witch Candy Holder Craft - - This craft can be made with the head only or the head and body. I like the whole thing, but if you're looking for a smaller project, just do the head. Older children can try their hand at painting the face onto the pot, but if they're nervous about it (or if they try it and it doesn't work out) I've provided a template face you can just glue on the front of the pot.

Witch Hat and Wizard Hat - - A witch's hat and a wizard's hat are both made up of a tall cone top and a wide brim. Learn how to make and decorate these into fantastic wearable Halloween hats.

"You're Sweet" Candy Cone - - Love all that yummy Valentine candy and chocolate? Collect or give sweet treats in this easy-to-make paper cone.