Home >Paper Folding Projects > Paper Quilting Crafts Projects
PAPER QUILT CRAFTS FOR KIDS : Ideas to Make Paper Quilts with easy arts & crafts instructions, activities, & projects for Your Children, Teens, & Preschoolers to Learn About Quilting
Here are paper quilts crafts activities and instructions to make beautiful paper quilts arts projects by using quilting techniques with pieces of paper. Find paper quilts crafts below.
How to Make Paper Quilts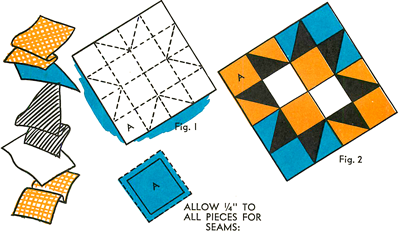 Quilting has been around since the beginning of time. Today we will give you a great idea to make a paper quilt design, starting from a square of wrapping paper. Fold the desired square or block several times as shown in figure 1. Straight edges are always easier to cut and sew. Color sections of the folded square with crayon to create a design, as seen in figure 2. Keep this for a guide. Then make an exact copy of your designed block. Cut it apart. Use sections as patterns from which to cut the various pieces of felt or decorative paper needed to make your quilt block. Now get a large piece of poster board and glue the decorative pieces of paper or felt to the poster board. When it is done, your decorative paper quilt will be amazing to look at.
Even More Paper Quilting Projects

Danielle's Place : Paper Quilt Craft - Here is a fun group project. Or save your child's pictures as she makes them and then put them all together to Creation Paper Quiltmake this quilt. (Scroll Down past first few crafts to get to this one)
How to Make Scrap-Paper Mosaics - While this isn't strictly a DIY craft project, I would encourage anyone in need of a little adult play time to give it a go. Once you start making these simple snapshots—SCRAPshots, actually!—you'll never want to stop. Best of all, this needn't be just a paper project. I can well imagine a whole gallery of portraits made of buttons, yarn, quilting scraps, colorful thread spools, beads...

Family Quilt Wall Hanging Craft for Children - Fun and simple craft project! This Family Quilt makes a great gift for a child to give to a parent or grandparent. Also makes a wonderful classroom project for Mother's Day. Complete crafting instructions included along with three additional variations.

Friendship Quilt Activity for Kids - A great way to begin or finish summer camp or any other gathering. Memories will last for years with this fun and easy paper "quilt".

Garden Quilt Craft Preschoolers & Kindergarteners - Little ones can remember their adventures in the garden by making a garden quilt with Crayola® Color Wonder™ and no mess!

Grandma's Quilt Paper Craft Instructions - Thanks to Sharra for sending this fun cut and paste paper craft in!

Hanging Hearts Cut-Paper Quilt - Blend the honored tradition of quilt-making with brand new technology! Use your Crayola Cutter to create beautiful paper decorations that express your love.

Jean Power's High School Quilt Projects - Here is how they did it.

Kindness Calendar Quilt Activity with Easy Directions - You plan vacations. You schedule school work. Why not set a date for doing good deeds? Fill your colorful calendar quilt with acts of kindness!

Making Paper Quilts with Kindergarten and First Grade Students - Learn how to use paper to teach about quilts.

Paper Quilt Square - Try your hand at this paper collage activity inspired by an early American craft, and you just may end up with a piece of pretty artwork to hang on a wall.

Paper Quilts Projects for Children & Teens - Making a real quilt takes a lot of planning and a long time. Women and men around the world have been making quilts for thousands of years. They are colorful and often meaningful. You too can enjoy working with all the pretty shapes and colors by making a paper quilt and you can do it in a fraction of the time it takes to sew a quilt. Remember to ask an adult for help.

Paper Quilts : Easy Collaborative Art - Quilts are fun to make and share, and paper quilts are easy to make and piece together. They make a nice experience in collaboration, since everyone has their unique artwork represented in a larger group project. Quilt making demonstrates to children that they are important as individuals, and also important as members of a group.

Paper Quilt Making Instructions- Make a unique "quilt" using this paper weaving technique.

Patchwork Quilt Paper Craft - Create a patchwork quilt without sewing? Sure! Combine your imagination with geometry and Crayola® Overwriters to design a cool contemporary version of a warm, beloved tradition.

Postcard Wall Quilt Crafts Activity for You and Your Children - When her husband, Craig, was out of town for a ten-day retreat, Susanne and her then five-year-old son, Ben Miller, decided to pull a While You Were Out. To surprise Dad upon his return, the decorating duo created a wall "quilt" from postcards. "

Texture-Triangle Quilt Craft on Crayola - Art builds children's confidence and coordination. With these no-sew quilts kids discover the importance of patterns, colors, shapes, and texture.

Tree of Life Paper Quilt Craft - In Colonial times, many evenings were passed creating decorative stitching samplers. Sewing in all forms was an important daily task from clothing to quilts. This project has a different twist on quilting by using a traditional pattern on a non-traditional surface, brown paper.
Canada Paper Quilt : National Symbols : Canada Day - Tell the children they are going to have fun learning about a beautiful and large country: Canada. The activities will culminate with making a Canada Paper Quilt that reflects some of their national symbols: the flag, the beaver, maple leaf and it honors an important community helper: the Royal Canadian Mounted Police.