Home > Arts and Crafts Projects for Kids > Decorating pets collars and leashes Ideas & Crafts for Kids
MAKE or DECORATE PETS' COLLARS and LEASHES CRAFTS IDEAS & PROJECTS FOR KIDS (for dogs and cats)
Below you will find many crafts for making pets collars & leashes projects with these crafts ideas and projects for kids. Find out abotu making or decorating dogs / cats collars & leashes with the following arts and crafts decorations, instructions, patterns, and activities for children
How to Make a Strong Braided Dog Leash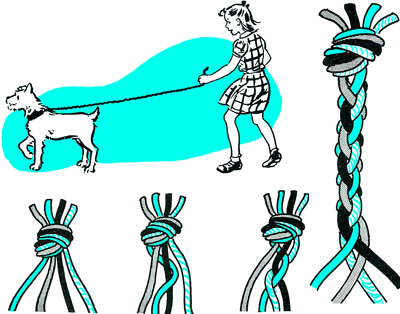 Use twine that is smooth and hard, not hairy. It should be about 1/16th of an inch thick. You are going to braid eight pieces of this twine together, so you don't want the cord to be too clumsy to handle. A round braid is usually made of four strands, but four double strands will be much stronger; and that's what is recommended. Cut your twine into eight 6 1/2 -foot lengths. Tie them on a doorknob or on the back of a chair, knotting them together. These strands will make a six-foot leash. Important: To make the explanation simpler, we are going to speak of each double strand as if it were just one single strand. In the pictures, you will see that the strands are numbered 1, 2, 3, and 4. Take hold of Strand 1 which is on the extreme left. Move it behind Strand 2 and Strand 3. Then bring it forward and fold. Hold it there with your left hand: Then take Strand 4 which is on the extreme right. Move Strand 4 behind the two strands that are now next to it. Then bring Strand 4 around over Strand I. Strand 4 will then be between Strand I and Strand 3. Keep repeating this process. First use the strand on the left side, then do the same thing with the strand on the right side. Braid slowly and tightly. Smooth the strands out often so that they don't get tangled. When you have completed your braid, slide it off the doorknob and knot the ends so that the weaving doesn't unravel. Now you can tie one end of this nice strong leash to your dog's collar, and tie the other end into a big knot to hold on to.
Even More Pet Collar & Leash Crafts

Cat Food Wrapper Pet Collar Craft Activity - Make your eco-pet proud with this collar made out of recycled materials. By turning food wrappers and bedding pouches into neck decor, you'll find that feline fashion is in the bag!

Colorful Dog Collar Craft - String all the beads on the shoelace. Wrap one end of the shoelace around the lanyard hook and push it into the nearest bead. Attach the ring in the same way at the other end.

Doggie Collar - Make your own collar to match your pet!

Dog Collar Crafts for Kids - Make a really cool collar for your doggy.

Dog Collar Craft : Stuffies Need Bling Too - This craft was completely child suggested . I asked my son "What do you want to make today?" and he grabbed "Pup Pup" and "Little Puppy" and said they needed collars like his aunt's (real) dog has. The only deliberate direction I through in was to make the collars in the shape of a diamond, since we often don't find that shape and it seemed like a good opportunity to use and reinforce it.

Personalised Pet Collar - Easy to customise pet collars.

Recycled Dog Collar - Fun way to make a collar for your dog.

Ribbed Dog Collar Macrame Project - This Ribbed Dog Collar is a great Macrame project, for your pet, that is fashionable as well as practical. You can even use this pattern to make a matching belt or watchband for yourself, simply by making a few adjustments. This pattern uses basic knots, but a beginner may find it a challenge.

Sew A Cute Dog Collar- This easy collar for small or large dogs is great.

Trendy Pet Collar Craft for Children - Trendy and easy collar for your pet.
Custom Pet Collars - Keep your pets looking sharp with these custom collars for pets. Kids can adapt this craft for any holiday or event by applying different ornaments. Some lucky pets even have different collars for home and cottage.
Decorate A Dog Collar - Purchasing an ordinary dog collar and applying fancy embellishments can save a great deal of money, and best of all, it will be a one-of-a-kind item not found in any pet store.
Dog Collar - Dogs truly are man's best friend. So if you adore your dog as much as you should, why not make a personalized collar to show everyone how much you care?
Dog Collar Craft - Fun to make dog collar.
Dog Collar - Fun and easy dog collar craft.
Unique Pet Gift: Hand-Painted Collar - Kids can make their favorite pet dog or pet cat a personalized and unique pet gift: and painted pet collars. This craft idea is useful, cheap and easy for school-aged children to make.