Home > Arts and Crafts Projects for Kids > Easy Pinwheel Making Crafts for Children
PINWHEEL CRAFTS FOR KIDS : How to make your own pinwheels with easy arts & crafts instructions & ideas for children, preschoolers, and teens
Below you will find many Pinwheel making crafts activities for your kids. Learn how to make your own handmade pinwheels with these easy pinwheel making crafts instructions, ideas, and inspiration for children
Pinwheel Dutch Mills Hat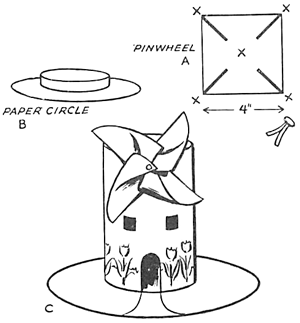 This pinwheel actually works and you can wear it on your head. You will need a clean quart-sized ice cream container. Wash this completely out and then dry it. Paint the container grey (put some Elmer's glue in the paint to make it stick to the waxy surface) then let it dry and set. Make the Pinwheel out of a 6 x 6 inches square piece of paper. Look at illustration A above. Make four cuts in the paper, one at each corner lettered 'x'. Fold each of these corners, one over the other, pointing towards the center of the piece of paper. Push a metal fastener through the center and through the front of the hat and close it from the inside. Take the ice cream container lid and paint it green like grass...let this dry too. Now cut an eight inch circle from green construction paper, using a large bowl as the tracing pattern. Now glue the lid, closed surface down to the center of the green circle that you just cut...illustration lettered 'B' Now they can fit together. You can paint flowers / all around the bottom of the hat...paint a door and windows...as you see in illustration 'C'.
The Basics of Making Pinwheels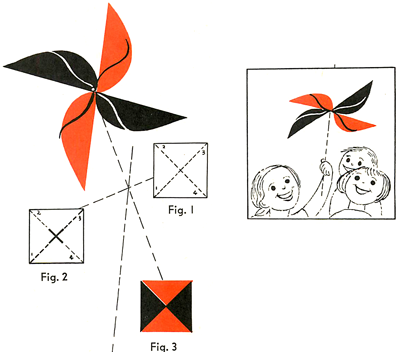 To make a pinwheel, cut a piece of paper 4 inches square. Number the corners I , 2, 3, and 4 as seen in figure 1. Join corners I and 3 and corners 2 and 4 with dotted lines. Then draw an X as shown in Fig. 2. Color each section, repeat the colors on the opposite side of the paper, as in Fig. 3. Now cut along the dotted lines up to the X at the center of the paper. Then take corner I and lay it over the center. Place corner 2 on top of corner I. Then put corner 3 on top of corner 2, and corner 4 on top of corner 3. Push a pin through all the corners and into the top of lollipop stick. Hold your pinwheel against the wind. It will spin.
More Pinwheel Crafts Ideas

Easy Pinwheel Pencil Craft for Kids for Independence Day on July 4th - I love making pinwheels with my kids because they get as much enjoyment out of it as I did. They are very easy to use and they only require a few supplies that most people have in their homes or home offices.

Making a Valentines Day Pinwheel Sweet Candy Gift Box Craft for Kids - We will show you today how to make a complex looking, but very easy to do, Valentine's Day Candy Gift box with sweets or candies.

4th of July Patriotic Pinwheel – There's no better way to help celebrate the Independence of our country than creating a patriotic pinwheel with your children. This craft is quick, inexpensive, and fun all without complicated steps or needing a closet full of craft supplies. This craft is especially fun for those children with sensory issues that make working with finger paints or other wet or sticky substances difficult.

All-American Pinwheels - When winter gusts give way to gentle breezes, these pinwheels will make you glad for windy spring weather. A fun toy for kids and a great party favor for guests. Use them to decorate your garden, table top, or gift basket. With seven different designs, you can mix and match!

Autumn Pinwheel Craft - I loved pinwheels when I was little... they seem to be one of those toys that have been around forever.

Bike Basket Pinwheel - Have your bike sport a vintage-style basket adorned with an oversize pinwheel made of two different fabrics.

Birthday Pinwheel Card - These pinwheels are so easy to create and they add the perfect embellishment to a card or scrapbook page. I rounded the corners, inked some of the edges, and added a matching blue brad. Brown plaid ribbon and silver gems pull this card together.

Blue Pinwheel - The children may wish to decorate the pinwheels with tiny stickers before assembling them.

Clothespin Pinwheel - So pretty they'll make you dizzy, these patriotic whirligigs spin in the wind. They're tacked to clothespins so you can clip them to anything -- like a bicycle basket. Cut two 5-inch squares in different colors from patterned paper. Glue back-to-back; let dry. Draw diagonal lines from corner to corner. Make a 3-inch cut along each line. Fold every other point toward center; glue. Affix to clothespin with map tack.

Color-It-Pretty Pinwheels - Pick out all your best-loved colors from your crayon box and use them on paper! After you color a sheet, turn it into an awesome blow-in-the-wind pinwheel!

Colored Pinwheels – These are easy to make, cheerful to play with. All you need is a little bit of wind to get this thing going!

Daffodil Pinwheel - This cute daffodil craft uses the basic pinwheel with a cup on the front to form a daffodil. You can use the templates I've provided or design your own.

Dora's Paper Plate Pinwheels - Use colored paper plates to create a playful garden ornament. It's easy, and because the plates are coated to prevent ice cream from seeping through, Dora's pinwheel is weather-resistant. When it's ready, set it in a sheltered spot, or prop it in a big flower pot filled with soil or gravel.

Double Pinwheel Quilt Block - The Double Pinwheel Quilt Block is from the Traditional Treasures Quilt Design. This whimsical quilt block echoes the playful shape of its namesake.
Earth Day Pinwheel Crafts - I loved pinwheels when I was little... they seem to be one of those toys that have been around forever. There are three different templates to pick from.

Easter Craft Pinwheels - The project makes a cute toy, but you could also make a bunch of them to place in a vase as a faux-flower bouquet to grace your table.

Festive Potted Pinwheels - Add color and movement to an outdoor party with these whirling wonder tabletop decorations made from bright colored scrapbook papers and planted in painted terra-cotta pots.

Festive Pinwheels - Pinwheels or paper windmills are traditionally thought of as being a children's play thing for the garden. The pinwheels are normally attached to a stick and allowed to blow around in the wind. There are many other ways that pinwheels can be used. They make lovely card toppers, are ideal for adding to a gift as an alternative to a bow or ribbon, or - as we've done here - used to make unusual decorations for Christmas and the holidays.

Fireworks and Music Pinwheel - When April winds blow, enjoy some outdoor play with these educational and fun projects especially designed for blustery spring days.

Flower Pinwheel - These playful pinwheels are featured in the December 2008 issue of Creating Keepsakes magazine, along with many other fabulous projects and ideas for the holidays. You won't believe how well these pinwheels work - they even spin when you're just walking past them.

Flower Pinwheel Bouquet – These are not just dainty summer toys but decorative art pieces as well. Follow this easy guide to making your own pinwheel bouquet.

Flower Power Centerpiece - Make simple pinwheel flowers with paper and pins. This flower centerpiece is easy to make and pretty as a pinwheel!

Foam Pinwheels - Add your own special touches to these charming foam pinwheels with peel and stick foam embellishments and Foam Paint, the only paint on the market made especially for craft foam.

German Wind Farm Pinwheel - Germany has the largest number of wind farms in the world. Wind farms consist of many wind turbines that spin in the wind to generate power for electricity. Try this easy pinwheel to introduce your kids to wind farms, wind turbines and the concept of renewable energy!

Girls' Pinwheel Hair Barrettes - Fresh and fun with a hint of glamour, a pinwheel barrette is just right for those occasions when you want to wear something extra special. Glitzy, bright, lavish -- it's all that. And the smoochy red lips added as a finishing touch make your pinwheel barrette memorable.

Halloween Pinwheel Craft - I loved pinwheels when I was little... they seem to be one of those toys that have been around forever. There are four different templates to pick from. You can use the templates I've provided or design your own.

Heart Pinwheels - Welcome to my Spring Crafts for Kids section.

Hershey's Pinwheel Party Favors - Add cheer to your home with Easter crafts from HERSHEY'S. Not only do they make great springtime decorations, they're also a great Easter basket filler!

Homemade Pinwheel Craft - In the 1800s, pinwheels offered kids endless hours of amusement. (So that's what they did before TV!) Bring some retro fun to your kid and invite him to make his own homemade pinwheel. He may even willingly turn off the tube for a while and entertain himself the old-fashioned way. Imagine that!

Homemade Pinwheel Kids Craft - Kids love to make things move and work. Homemade Pinwheels are a fun children's activity to make and kids love to play with them.

Independence Day Pinwheel - Make this fun red, white, and blue pinwheel craft project for the 4th celebration.

Journal and Pencil - A matching pinwheel diary and pencil make great gifts for birthdays or any other special occasions.

July Pinwheel - Younger children love watching pinwheels spin in the breeze or as they blow on them. Children also love making "real" things, that is, things they or others can really use. For these reasons, this Fourth of July pinwheel craft is very popular with kids. Plus, they can create their own pinwheel designs! This craft is most suitable for first grade and up, and first and second graders will likely need some help with the folding.

Make a Colorful Pinwheel - You might have made pinwheels as a kid and enjoyed running around with them, watching them spin. But do you remember how to make them now? No problem. They're so easy, your kids can do it.

Make a Pinwheel - Pinwheels delight children as they spin around, their colors whirring together; a true pattern of beauty to behold. Crafting a pinwheel is simple and even the smallest children can make most of the steps (the pin part needs supervision and assistance). Experiment with different types of paper that you have lying about the house to see what sort of different effects you can create.

Making Pinwheels - This is a freebie for anyone interested in a cool PINWHEEL project.

Mini Pinwheel Charm - Put a fanciful spin on your summer style with a paper pinwheel that can be donned as a twirling ring, a ponytail charm, a pin, or even a shoelace decoration.

Make Your Own Pinwheels - Pinwheels are a great boredom buster for kids; and since they can be made out of items that you already have around the house, they're a great freebie too!

Modern Pinwheel - Parental guidance and help may be needed in the cutting process of this easy art craft project.

Modular Origami Pinwheel - This modular origami pinwheel is like a cross between a pinwheel and a ninja star. It also looks like a weapon used in some of the kung-fu movies.

Old Fashioned Pin Wheel - This works best if you use two buttons for washers. Stick a few in the yard! You'll be glad you did.

Origami Pinwheel - It is fun for kids but a little difficult. Start with square origami paper. You will need a pin and a straw or wood stick. Follow diagrams and instructions.

Origami Windmill - You can attach your windmill to a paper cup, pencil or gift tag with a pushpin or brass tack and it will really spin!

Paper bag Pinwheel - Use an old paper bag to create a beautiful pinwheel that sparkles as it blows in the wind!

Paper Pinwheel Craft - A paper pinwheel amazes young children in how you can take very simple items and turn them into something entirely different. You can use this craft to educate them on wind, movement and cause and effect actions. They'll enjoy these colorful personalized wind toys.

Paper Pinwheel Crafts - Go on a nice little trip down memory lane when every summer with this craft project. Reminisce those times when you walk into a store and see some of the same toys that have been summertime favorites. Now pass it on to your kids and introduce them to this easy pinwheel craft project.

Paper Pinwheel Flowers - We call these pinwheel flowers as they remind us of a pinwheel. These are fun to make and fairly easy which is why these are great for kids of all ages. They can make these flowers and brighten up the house by placing these beautiful flowers in a vase and decorate for spring.

Paper Pinwheels - Colorful pinwheels, made out of coordinating sheets of origami or lightweight paper, stand tall against a blue summer sky, poised to whirl at the slightest suggestion of wind.

Paper Pinwheels/Windmills - You can have fun and learn a lot experimenting with your own paper model windmill designs. A small office fan can provide wind but of course you can try them outside. What follows are some ideas to get you started but please have a go making up your own designs and please do send us your designs.

Paper Pinwheels for Rubber Stamping - Paper pinwheels or windmills are fun to make and are ideal for decorating with rubber stamping! These cute pinwheels are not longer simply for outdoor use - they make lovely table decorations for parties, unusual favors for weddings and showers and are simply a great way to make unusual and unique decorations for any occasion! Tip: Very small pinwheels make great card toppers.

Paper Pinwheels Project - Pinwheels made from scrapbook papers can be arranged in a large vase as a whimsical "bouquet" for a party or wedding.

Party Pinwheels - Getting the wheels turning at your next party is a breeze with party pinwheels. Children color each panel a different color and watch a rainbow dance in the wind.

Patriot's Pinwheel - This guide provides pinwheel crafts along with templates. It will show you how to create a colorful pinwheel that actually spins. This craft is great for children to create themselves to celebrate the 4th of July.

Patriotic Pinwheel – This is a simple-to-make pinwheel for older children. (This craft uses a push-pin, so it is not suitable for younger children.)

Patriotic Pinwheel Brooch - If you like quilting, but never tried it, don't be afraid. It's simply a few running stitches (straight) through three layers of fabric and batting. Simple to do and a point of patriotic pride to wear!

Pencil and Paper Pinwheel - Pinwheels are a fun toy and an educational tool that can teach children about how the power of the wind can create energy. By using household items, this also makes for a very inexpensive project that anyone could easily do at home or in the classroom.

Pencil Pinwheel - Aside from writing and drawing, there are other uses for pencils too. Take this pinwheel craft for example...

Pin-less Pinwheels - Thanks to Ursula Accumanno from New Jersey who came up with this alternative way to create pinwheels! See the photos below and download her directions.

Pinwheel - This is a simple craft idea taken from a familiar summer plaything.

Pinwheel Basket - This is one lovely craft project which will surely look great wherever you place it inside your home.

Pinwheel Bow - This bright and cheerful wrapping is easy to make.

Pinwheel Card - Surprise the birthday celebrant with this really unique yet easy to make pinwheel card. You even get to write in a personal note!

Pinwheel Favors - A colorfully striped pinwheel that can be used as a favor at a child's party or as a room wall decoration.

Pinwheel Flower Centerpiece - Give the season's inaugural picnic a boost of color with this fanciful centerpiece.

Pinwheel Hair Bow - Pinwheel hair bows are described in a variety of ways. Basically, the bow is in a pinwheel shape, with four loops that branch out in four directions. You can make a pinwheel bow from a large variety of cloth and ribbons. Grosgrain and more heavily woven ribbons give a stiffer bow that holds up well for an active wearer. You can make pinwheel hair bows in different sizes that will fit well for the age of your child.

Pinwheel: How-to - Would you like to learn how to make pinwheels? Here I will explain simple step-by-step process of making one. This craft project will create many smiles at your party! Let's get started...

Pinwheel On A Lamp Shade - Give a plain lamp shade an easy makeover with a decorative pinwheel.

Pinwheel Play Craft - Pinwheels are the perfect way to enjoy some of those breezy outdoor days. Kids will love creating and decorating their very own pinwheels out of simple, around the house materials. Exploring with pinwheels can be a great way to teach children about air and wind while they have fun doing it!

Pinwheel Spring Crafts - These were so fun as a kid! Here's how to make some for your children or grandchildren.

Pinwheel Treat Bags - Create fun party favors using playful patterned paper and a circle cutter.

PINWHEEL TURBINE - Turbines are used to generate electricity from rushing water, blowing wind, or steam created by burning coal or splitting atoms in a nuclear reactor. Build your own pinwheel turbine to see how it works.

Pinwheel with Sparkle - Here's an easy way to make a bright, spinning pinwheel. With Crayola Scissors, cut one end off of Crayola Neon Color Explosion™ paper to create a square. Draw a circle in the center with the color-reveal marker. Then draw straight lines from each corner to the rim of the circle.

Pinwheel Windowsill Garden - The Pinwheel Windowsill Garden paper planter makes it easy to grow a colorful garden right in your own home, even during the dead of winter. Just blow gently to set your pinwheel flowers in motion on this paper craft.

Pinwheel Wreath - The temperature is supposed to reach 95 degrees today and 99 degrees tomorrow. So although it's not summer on the calendar yet, it definitely feels like summer! That means it's time for summer crafts! Since Flag Day and the 4th of July are coming up, I decided to kick off summer crafts with a red, white, and blue pinwheel wreath.

Pinwheels for Preschoolers - Remember running around outside with pinwheels when you were small? The wind would catch them and they turned as you ran. You don't need to spend a lot of money to help your preschooler enjoy that same experience. Here's an easy pinwheel craft you can make with your preschoolers.

Pinwheels for Peace - Imagine a simple, yet effective art installation project that ties the written word with visual interpretation--a project for peace ... imagine, "whirled" peace!

Playful Paper Pinwheel Wreath - Let this playful paper Pinwheel Wreath get you in the mood for summer fun.

Pretty Pencil Pinwheel - Pinwheels are an age old craft that your Grandma will remember. Put together these pretty wind decorations and stick them in your garden.

Pretty Pinwheel Wreath - Get the party off to a festive start with this whimsical wreath consisting of different colored pinwheels. Create you own designs and proudly put it up on display right next to your Christmas porch decorations.

Printable Christmas Pinwheels - Print and make these easy printable Christmas pinwheel for kids! All you need to make this craft project is your printer, a pencil or dowel, and a pin or glue. You can make a penguin pinwheel, or a reindeer pinwheel, or even combine them into one pinwheel!

Printable Pinwheels - These are all great spring/summer pinwheel designs kids will love!
Rainbow Pinwheel - In preparation for St. Patrick's Day we thought a rainbow pin wheel might help you find the pot of gold. These are simple to build and fun to play with. They can be made by printing the patterns from our web site or by drawing out your own.

See-through Pinwheels - Pinwheels are fun to blow indoors, and for parades, picnics, reunions, or other outdoor events. The same technology that makes these festive pinwheels work helps to generate energy around the world.

Simple, Paper Pinwheel Craft - This is a nice outdoor toy or even fun decorations made using a few simple supplies you probably have lying around your house.

Snowflake Pinwheel Craft - These snowflake pinwheels are just like the ones grandpa made when he was a kid. Watch these pinwheels spin with the wind.

Spinney Pinney Wheels - Like the mighty windmill, these tiny breath powered versions are a breeze to make. Just print them out, attach to an eraser head with a pin and blow...

Spring & Easter Crafts Paper Pinwheel - This is a fun and easy project for adults and kids alike. You can craft the pinwheels and give color to your flower boxes or plants in the window-sills or you can create small versions of them to use as table decorations for picnics. When correctly made, they really do turn in the breeze.

Spring Flower Pinwheel - School is ending and the long days of summer will soon be upon us. So it's time for craft projects to keep those restless kiddos entertained. These simple pinwheels can be made for decorations, party favors, or just for fun.

Spring Pinwheel! - New life springing up everywhere. Here you'll find easy spring crafts for kids that help capture the feeling of spring.

Spring pinwheels - Spin into spring with these delightful pinwheels available in a range of fun patterns!

St. Patrick's Day Pinwheel - I loved pinwheels when I was little... they seem to be one of those toys that have been around forever.

Summer Pinwheel - Kids will enjoy making and playing with these pinwheels. They are very quick, easy and inexpensive.

Summer Pinwheel Craft - Pinwheels seem to be one of those toys that have been around forever. In this guide, there are two different templates to pick from. You can use the templates provided or design your own for a more unique approach.

Triangle Shaped Pinwheel Crafts - Pinwheels have amazed kids of all ages for a long time. We can all remember getting pinwheels at one time or another when we were kids. So instead of buying them one this year, let them have fun making their own by simply coloring a handful of triangles.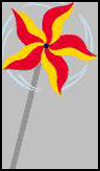 Twirling Windmills - Make your own windmills to decorate the top of a pencil or just for fun!

Two-toned Patriotic Pinwheel - Daily, Easy, Functional, Children Arts and Crafts projects on video, for Kids of all ages. Arts and Crafts Web Show featuring: Crafts made out of recycled and eco-friendly materials, as well as paper, cardboard, fabric, pompoms, ribbons, construction paper and more. FREE Simple & Easy crafts and toys that not only look good, but also have a purpose!

Wheelie Fliers! - Make and toss your own flying toy! Go for distance or aim for targets you create yourself. Create several with friends for even more fun!