Home > Arts and Crafts Projects for Kids > Plastic Container Crafts for Children
PLASTIC CONTAINER CRAFTS FOR KIDS: Ideas for Arts & Crafts Projects & Activities with Plastic Containers for Children, Teens, and Preschoolers
Many things come in plastic containers...in fact more things are coming in plastic containers than they used to. You can even get lunch meat in containers now...but you can get many things such as margarine, soup, ice cream, lettuce, mashed potatoes, and so many more things. Plastic containers are one of the best free crafts materials that you can use. They are usually sturdy, and they can hold a shape so they are perfect to work with. This page has tons of crafts with plastic containers as one of the materials used. I hope you enjoy all of these crafts.
Make Totes with Plastic Containers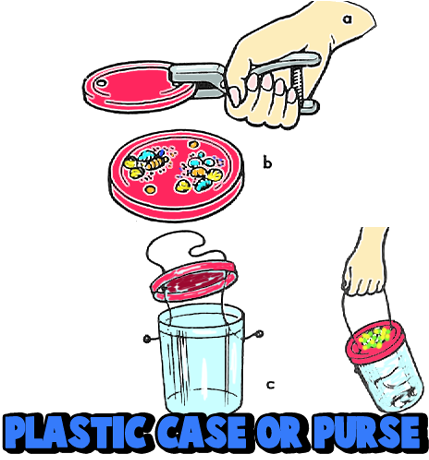 You will need a pint-sized and clear plastic container (lid may be colored), 20" length of heavy cord or string or ribbon, paper punch, glue, and assorted shells and glitter or cluster of imitation flowers. Punch two holes in opposite sides of lid about 1/2" from edge (sketch a). To decorate lid of plastic container, spread glue on lid and arrange shells and glitter, or a cluster of flowers (sketch b). Punch two holes in container opposite each other 1/2" below edge. (Be sure they correspond to holes punched in lid.) Run cord or ribbon through holes in lid, then through holes in container so that ends are on the outside (sketch c). Make a large ornamental knot in each end of cord so that it cannot slip through hole.
Use Plastic Containers to Make Banjos

To make the above musical banjo, you will need a cottage cheese container or other plastic container that is about the same size. Now you whould cut 1 3/4" long slits on opposite sides of the container, as seen in picture 'a'. Cut 1 1/2" x 10" strip of heavy cardboard and then slide it into the slits that you just cut in the container. Leave about 1: of cardboard still sticking out on right side of container, as seen in picture a. Punch two small holes on both sides of the cardboard and then place paper fasteners in both of these holes. Now take 2 three inch rubber bands (or any rubber bands that you have) and stretch them around the paper fasteners. Now, notice where the rubber bands cross the top of the container and cut 1/4" slits in the rim of the container to hold rubber bands in place....as seen in picture b. Now you can play your new banjo.
Even More Crafts with Plastic Containers

Make Flower Holders Gift for Mom on Mothers Day - Flowers make a great gift for Moms on Mother's Day…they are beautiful, just like she is, inside and out. How about making a pretty flower holder vase for the flowers that you pick for her (or buy for her). This beautiful flower holder in which you can place real flowers would make an especially nice Easter gift for someone you love.

Rubber Band Motorized Dump Truck Toy - Make a dump truck that really goes...with a plastic container, some caps, and rubber bands.

Spider Web Plastic Bottle Bracelets - Find out how to make these spider web bracelets out of recycled bottles for Halloween.

How to Make Flower Vases With Recycled Plastic Bottles - This is a recycling and a Mother's Day Present Arts and Crafts Activity for Kids to Make. Recycling can be your way of taking care of the environment. Here's a great craft activity that makes it really fun to recycle. Make a flower vase out of an old plastic bottle and then put fresh flowers in it for Your Mom.

Making Maracas & Rhythm Shakers - Find out how to make these maracas with a plastic container, a stick, and seeds / beans / rice.

Make Set of Cannisters as a Gift - Make Kitchen Cannisters to hold kitchen items. The Lid Pull is made with a spool and the cannisters are made from ice cream containers.

All Aboard! Train Craft for Kids - - What type of train do you like best? Freight train? Passenger? High-speed? Subway? Monorail? Invent your own engine, cars, and sound effects! Make it with Plastic Containers

Astronauts Arts & Crafts Activity - - Meticulously constructed from household items including a plastic bucket (helmet), a dish towel (helmet padding), and rubber boots (space boots), this little space traveler is out of this world.

Backyard Napkin and Utensil Holders - - Recycle food containers to make functional table decorations your guests will love

Bejeweled Vase to Make with Plastic Containers - - Sculpt a vase around a recycled container. Embed plastic jewels and other craft items to create a simple, striking gift.

Berry Basket Gadget Keepers to Make - - Turn a simple plastic berry basket into a fabulous work of art that is functional as well as beautiful! Save space in a landfill and get organized at the same time!

Blue's Clues Bank and Cookie Jar Activity for Preschoolers & Toddlers - - Recycle a Kool-aid canister and get two great Blues Clues gifts in one. This cool kid's cookie jar is easily transferable into a personal bank and is great for birthdays and holidays.

Bobbleheads - - Now fans can have their very own bobblehead dolls, just like the players do -- no NFL contract required.

Bunny Bank - - Learn to make this bunny bank with a round plastic container and other materials.

Bunny Bucket - - This irresistible Easter basket will surely be at your child's side long after the egg hunt is over.

Butter Tub Planter - - This week's contest winner is Sarah from Haymarket, VA. She is a stay at home mom with two young children. In her words, "I try to recycle as many things as I can as creatively as I can, and involve my children to help spark their imaginations and learn to live earth-friendly lives".

Cauldron Broom and Wand (Pencil) Holder - - This cauldron broom and wand pencil holder craft is perfect, whether for fun or filled with magical jelly beans for a children's Halloween party.

Chinese Dragon Drum - - Calling all percussionists! Drums are easy to learn to play and their sounds are recognized around the world. These red Chinese replicas are gorgeous to look at, too.

Christmas Flower Pot - - This is an idea what you can make out of small plastic containers from the kitchen. This particular plastic bucket was a container for joghurt. With paper napkin applique, you can turn an otherwise piece of trash to a decorative piece of treasure. Clean the container with soap and hot water before decorating and remove any labels if there are any.

Clear plastic tooth box - - Give a kid a cool place to put a tooth that's newly fallen out with this clear plastic tooth box. They can easily take it out to look at and show off to their classmates, but are less likely to lose the tooth... again.

Cool Creatures - - Don't just throw away those take-out tubs you get at the deli or supermarket. Instead, let your kids use them as canvases for reverse painting, a style that calls for painting in layers -- from the details out -- on the inside of a clear container.

Counting Jars Game - - Here's a really simple idea which is fun to put together and fun to play with. You can play with the jars in many different ways, making is suitable for a wide age range too. Perhaps older kids could make the game for younger siblings?

Dads Desk Organizer - - Give Dad something he can use every day and remember how much you appreciate him.

Dad's Faux Leather Pencil Holder - - This is a recycling craft that makes a practical gift for Dad - a pencil holder with a polished finish that looks like leather!

Dalmatian Bank or Cookie Jar - Let your child's birthday party go to the dogs with this fun dalmatian bank and cookie jar craft. Pre-cut the felt and set up the materials ahead of time for a fun and simple activity.

Decorate a Compost Bin - - This project isn't only fun, it's great for the environment and your garden. This project will help you create your own compost bin to keep on your porch or back deck.

Diwali Light - - Craft a pretend light to mark the end of the Hindu year-and you'll be ready to celebrate Diwali, the festival of lights.

Dressed-Up Vase - - Learn how to make a dressed-up vase like this one from recycled household items.

Easter basket craft - - This is an activity the kids will love to do over and over again!

Fowl Weather Umbrella Basket - - A springtime conundrum: How do you prevent the umbrella that kept you dry outdoors from getting everything indoors soaking wet? Let it drip dry into a special basket that you can empty out later. And when the long, dry days of summer roll in, this decorative bucket has an even duckier use: storing pool toys!

Franken Jar Halloween Project - - Parents and kids together can create this spooktacular halloween candy jar with Glue Dots, some paint, black paper and a few embellishments. Try this great kids halloween craft project.

Fun and easy Halloween buckets - - These easy-to-make Halloween buckets are perfect for festive decorations. Or, send them out with your little ones for trick-or-treating!

Grass Head Guys - - "After we spoke at an elementary school here in northern Ohio, the entire third-grade class made Grass Head Guys as a project," says Danita Thomas. "The children were excited to see their Guys each morning at school. Each child enjoyed creating his or her own, but the kids cared for all the Guys as a group, watering them and trimming their hair. We were amazed to hear that the projects lasted for more than four months."

Grouch-In-a-Can - - Bring home your own Oscar -- the Grouch, that is. An empty film canister becomes the perfect home for your child's grouchy friend.

High Fliers - - Kids will flip for these funky button bouncers.

How to make a recycled potato container car - - How to make a car from a recycled plastic potato container.

How to Make a Piñata - - This hot-air balloon piñata is great for first time makers -- and it makes for a nice big target for little piñateros.

How to Make a Recycled Photo Pencil Holder for Mother's Day - - This easy mother's day craft makes use of a recycled container to make a pencil holder for Mom. She'll love it, because you decorate the sides with photos of her favorite people. Now, whenever she reaches for a pen or pencil, she'll see the smiling faces of her family and friends!

How to Make Halloween Treats Using Recycled Pudding Containers - - Make these very inexpensive treat containers for elementary classroom Halloween parties. They are fun for Fall Harvest and other fall parties too. Save money and have fun making these child friendly treats.

I Love Bugs Pencil Cup - - Surprise the bug-fancier in your family with an 'I Love Bugs' pencil cup. Recycle a Play-Doh can into just the thing for young students 'bugged' by homework.

Junkmobile - - Drive the sturdy, smooth-riding Junkmobile around the neighborhood on regular collection days, or park beneath the Waste Shooter for a quick fill.

Kaleidoscope - - Construct a colorful cascade of symmetrical shapes -- and learn just how and why a kaleidoscope works in the process.

Kids' Kaleidoscope - - What a wonderful world to see when you make your own Kids Kaleidoscope with recycled film canisters--a fun summer or scouting craft.

Kris Kringle Wreath - - Create a beautiful, unique Christmas wreath. Your whole family will enjoy making and displaying these handmade holiday decorations.

Make a Nightlight out of a Crystal Light Container - - I don't know why I've always had a 'thing' for Crystal Light containers. They are sturdy, tall, slender, and I've been wanting to turn them into a useful craft for a very, very long time. Some ideas have failed. But this weekend I triumphed and turned the Crystal Light container into a durn purty nightlight that you can decorate with decoupage in an infinite number of ways!

Mini First Aid Kit - - Recycle a film canister and transform it into a handy Mini First Aid Kit for kids to wear on their belt. Great for Tiger Cubs.

Mini Music Makers - - Easy to make from empty film canisters and craft sticks. Thanks go to Dawn of Morganton, North Carolina.

Monkey Bank - - Encourage your child to save money by making this cute Monkey Bank together. A colorful, fun and easy art project.

Monster Stompers - - Here's a fun craft activity to make ... Monster Stompers! Kids can play with these inside or outdoors. What is more fun than pretending to be a Monster and getting exercise at the same time. Quick and easy craft.

Mosaic Masterpieces - - Explore the ancient Greek art form of mosaics. Discover how to make an intricate mosaic to create a beautiful vase or desk accessory.

Mother Earth Suet Holder - - One of the "duties" of Mother Earth is to provide for the wildlife of the world. Our wire holder will feed the wildlife in your own garden or backyard.

Musical Maracas - - My first experience with papier-mâché involved a much-younger me, Halloween and a misguided plan to be a bunch of grapes. It wasn't my shining moment, but it did turn me on to the wonderful marriage of paste, newspaper and sticky hands. Twenty-five years later, when I passed this discovery on to my children, we made these maracas, and the kids were grinning to beat the band.

My Mess-Free Desk - - Paperclips…colored pencils…erasers…coins. What a jumble! Recycle plastic containers into an organizer that brightens up your desk!

Native Pottery Replicas - - Discover the beauty, and functionality, of ancient Native American pottery! These replicas are a wonderful way to learn more about a culture.

Perfect Prints Pencil Cup - - Design a delightful, decorative pencil cup. Just stamp on the pattern. Get organized for school or art class. Grown-ups think this is a great office gift, too.

Pet treat container - - Make sure that your pets only have treats when you want them to with this pet treat container craft. It's an easy and decorative way to keep snacks away from wet noses and gobbling mouths.

Pikachu Canister - - Keep your nick nacks in a single spot and celebrate Pikachu all at once with a Pikachu canister. These are great for around the house, or as birthday party favors. It works with a Pokemon theme, too.

Pill Bottle Snowman - - Recycle a pill bottle to make a little snowman ornament.

Plastic Canister Poliwhirl Figure - - Add a Pokemon accent to a kid's room with this plastic canister Poliwhirl figure. You can also use this craft to introduce the idea of recycling household materials.

Play Doh container flower basket - - Recycle an empty plastic container into a flower basket and you've got a cute springtime craft for Mother's Day or even Earth Day--makes a perfect gift.

Plush Pain Pail Pals- - When your kids have finished off the paint in those little plastic containers, what do you do with them? Throw them away? Use them for more paint? Store tiny items in them? How about making these darling little magnets!

Pokemon Chansey Canister - - No kids' Pokemon birthday party can be without this Chansey canister. Perfect for a game of Pokemon ring toss or just keep it as a fun desk decoration.

Pokemon Pencil Holder - - Help Pokémon fans to keep their pencils all in one spot with—you guessed it—a Pokémon pencil holder. It's a fun and useful back to school craft for Pokémaniacs whose pencils may elude them.

Recycled Robot Craft - - The idea behind this recycled robot craft for kids is simple. All you need is an empty, clean container, aluminium foil and glue and you can create a robot. For this robot craft we used an empty country time lemonade container, as we had just emptied it that afternoon, but we've also done this process with empty yogurt containers, empty margarine containers, etc. The result is an adorable robot craft every time! Our preschool daughter really enjoyed this one and has had fun pushing him around the floor making robot noises.

Recycled Yoplait Trix Yogurt Cups - - Learn how to make these adorable mini buckets from yogurt cups.

Recycled Yogurt Cup Bud Vase - - This wonderful project comes to us compliments of Michelle Sybert of Her Cup Overfloweth. Michelle recycles an ordinary kid's yogurt drink container into a cute little bud vase. Hooray for less plastic waste! Make these with your kids on Mother's Day for fellow moms, grandmoms and your own home.

Robot Athletes - - Robots and sports? YES! Whether it's a robot quarterback getting ready to throw the winning pass or a marathon runner on the starting blocks, robots love sports, too.

Sandcastle Rooflines - - Recycle plastic containers into an Art Nouveau sandcastle that gleams in the light. Build your masterpiece in the celebrated architectural style of Antonio Gaudi—or invent your own unique construction.

Scarecrow Crafts for Kids - - If you have a garden or planning to have one, building a scarecrow with your kids can be so much fun.

Seascape Pencil Holder - - Make a splash with this seascape pencil holder craft. All you need is a juice can or similar container and you can easily recycle it into a pencil holder with any theme.

Snow Angel - - Dressed in a soft, snow-white robe, this angel will look heavenly (or at least your kids will think so) set on a table or perched atop your Christmas tree.

Snowball Pitch - - Tell kids to throw snowballs in the house? That's right -- it's the aim of this cool target game.

Sock Snowfolk - - Give winter boredom the boot with this easy snowman craft.

Space Station - Always Under Construction - - "Space Station One calling Earth: Need more parts to finish the station! Over." Why not start your own magnetic, expandable space station?

Spiral Vase - - Looking for a memorable, handmade gift? The sculpting technique of building with coils may be ancient, but this vase crafted in Model Magic® is totally cutting edge.

Sports Pencil Holder - - Give an athlete or sports fan a surprise with this sports pencil holder. We've used golf as the example, but it's easy to substitute decorations from any sport.

Sprout Necklace - - Our all-natural answer to those ubiquitous digital "pets" also requires daily attention to thrive, but it rewards its caretaker with a real live sprout, suitable for transplanting to a pot and growing in a sunny window. The necklace itself, we should note, also serves as an attractive spring fashion accessory.

Starry Pencil Holder Craft for Kids to Make - - Turn any canister into a fabulous starry pencil holder.

Tiger Seltzer Rocket - - Kids can safely blast off with this animal seltzer rocket craft. We made a tiger, but you can adapt it to any animal by using different colors of craft foam and a little creativity. These make a great alternative to fireworks for Canada Day, Independence Day or Kwanzaa. You can decorate them as your favorite animal too.

Tortoise or Turtle Craft - - In the United States, any Testudines that live in salt water or fresh water (part time or full time) are known as turtles. Testudines that live only on land are called tortoises. There's actually a third group of Testudines called terrapins ... these are basically turtles that live in swampy water.

Toss It in the Trash! - - Decorate a container you would otherwise just throw away—and help save the Earth as well as the mess on your desk.

Trash Can Drum - - Young percussionists can march to their own beat on this easy-to-make instrument.

Two-Toned Desk Organizer - - Make a practical gift for someone you love or for yourself by reusing film canisters or other containers! Play with fun designs and colors to customize these handy desk accessories.

Waterless Snow Globe - - For an unusual variation on a classic winter or Christmas craft, try this waterless snow globe. Kids can use the plastic container from vending machine prizes as the base for this fun miniature ornament.

Water Swinger - - Tip a bucket of water upside down and you'll have a soggy mess to explain, right? Not if you put the right spin on the situation, with the help of this string-handled bucket.

Winter Bloom Container - - An art activity that will add springtime cheer to a dreary winter day!

Yogurt Cup Pin Cushion - - Do you want a cute gift to make from a yogurt cup? Any mom, grandmother, or aunt would love this creative work of art made by you and your child (an older child could do this craft alone, too).

Yogurt-cup Shakers - - Shake, rattle, and roll with a set of these music makers.