Home > Arts and Crafts Projects for Kids > Plastic Bag Crafts for Kids to Make Handmade Popsicle Stick Crafts and Creations
PLASTIC BAG CRAFTS FOR KIDS : Make Arts and Crafts Projects Using Ziploc, sandwich, grocery, and garbage bags. These Activities & Ideas Are for Children, Preschoolers, and Teens
Below you will find arts and crafts projects for children to craft with popsicle sticks - or with what they now call craft sticks. You will be able to make cool things with popsicle sticks / craft sticks such as picture frames, business card holders, puppets, and much more. Look below to find craft projects.
Organize Your Closet with Plastic Bag Pockets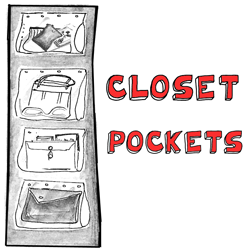 If you have a cluttered room, then this craft might help you and your messy room situation. Get some plastic bags and a long, closet-door sized piece of cardboard (slightly smaller than the door so you can still close it). Attach large plastic bags to the cardboard either opening on the right or on the top, depending on what you are using these organizational pockets for. If you are organizing bigger items...opening on the right might work for you...for smaller items, attach the bags to the cardboard to open up at the top. Then attach the cardboard to the door by putting 2 holes at the top of the door and hanging it there with hooks.
How to Make Plastic Bag Beanies

(Never Put Plastic Bags Over Your Face - This is only for kids old enough to know not to do this) You will need 1 plain plastic bag (such as fruits and vegetables come in) large enough to fit on head, a 12" length of colored yarn string or ribbon, small pieces of felt, household glue, and scissors Now, cut out small decorations from assorted colors of felt. Fold up open end of plastic bag once or twice to form beanie cuff. (Number of folds 'will depend upon length of bag. Try beanie on head to get right size.) Glue inside top edge of cuff to bag. Gather closed end of bag with ribbon or yarn. Wrap around gathers several times and tie securely. Glue on felt decorations. When dry, beanie is ready to wear.
Make Bike Streamers with Plastic Bags and Drinking Straws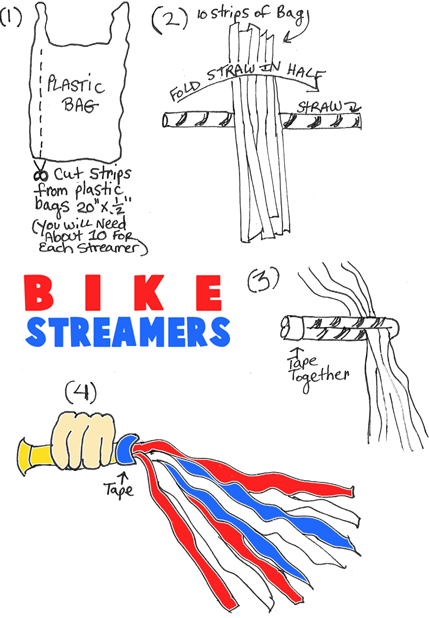 Want a spiffy bike with great bike handle streamers blowing in the wind? Here is a way to decorate your bike for free and they turn out awesome! Find various colored plastic grocery bags. Use a scissor to cut strips from the bag that are approximately 20" x 1/2 ". Cut 10 of these strips for each streamer...when you are done you will have 20 streamers. If you want the same amount of strips for each color, then cut 6-8 strips from each plastic bag color. Next, take 10 strips (various colors) and then put them in a straw, (pic 2 above). Fold the straw in 1/2 and tape together at the end (pic 3 above). You might want to get colorful duct tape...in white, red, or blue and then tape the straw nicely to the handle. Your bike is going to look gorgeous!!! Have fun!
More Plastic Bag Crafts

Balloon Ghost Craft with Kids - This cute ghost is easy to make from a balloon and two plastic grocery bags. It makes a great Halloween decoration or a toy (but not for very young children). This ghost flies really well!

Braided Clothes Hanger : Clothes Hangers Crafts- - Cut plastic bags into loops, join the loops and use to braid around a plastic clothes hanger. The resulting braided clothes hanger looks attractive - and clothes won't slip off!
KID'S PLASTIC BAGS ARTS AND CRAFTS PROJECTS IDEAS - C

Easter Bunny Jelly Bean Bag Craft Activity - Dress up a plastic bag full of jelly beans - learn how to make an Easter bunny jelly bean bag!
KID'S PLASTIC BAGS ARTS AND CRAFTS PROJECTS IDEAS - E-F

Flag Windsock : Alternative Uses for Clothing Hangers - - There's no better time than the Fourth of July to fly the flag -- or a flag windsock, especially when it has the added advantage of recycling plastic bags. (Just remember to keep the plastic bags away from small children - plastic can pose a choking hazard.) Your windsock will be tons of fun to play with at your Fourth of July picnic. It looks pretty, too.
KID'S PLASTIC BAGS ARTS AND CRAFTS PROJECTS IDEAS - G

Grocery Bag Ghosts : Spooky Ghosts Crafts Projects for Children - Here are three simple ways to make ghosts out of plastic bags for a spooky bit of Halloween fun.

Grocery Bag Outfits : - - Children of all ages will enjoy designing their own outfits and then showing them off in an Earth Day Fashion Show.
KID'S PLASTIC BAGS ARTS AND CRAFTS PROJECTS IDEAS H - L

Jelly Bean Bunny Easter Craft for Kids - Learn how to make an Easter bunny with jelly beans.
KID'S PLASTIC BAGS ARTS AND CRAFTS PROJECTS IDEAS - M-O

Music Mobiles - - Learn how to make this music mobile.
KID'S PLASTIC BAGS ARTS AND CRAFTS PROJECTS IDEAS - P-R

Plastic Bag Butterfly Crafts - - This project is quick, simple and fun, along with being a great way to use up scraps!

Plastic Bag Rugs - - This rug is pretty is easy, really cool and costs next to nothing to make.

Plastic Bag Snowman - - Isn't he gorgeous? Kids will love creating their own "snowman" from the recycling basket!

Recycled Bags Wreath - This Christmas craft projects shows you how to use recycled plastic bags to make a wonderful Christmas Door Wreath.

Recycled Grocery Bag Snowman - - My grocery bags have been piling up and in need of recycling. So I made this Grocery Bag Snowman

Recycled Plastic Bag Purse - - Crocheted using recycled plastic bags this Granny Square Bag is a quick and fun project!
KID'S PLASTIC BAGS ARTS AND CRAFTS PROJECTS IDEAS - S

Snowman Craft for Kids - - This craft can also be made into a great gift by placing gourmet popcorn inside the bag instead of packaging peanuts.
Space Capsule Craft - Make a space capsule

Ziplock Garden or Aquariums - - Quick, cheap, and easy kid craft for those rainy days or anytime.