Home > Arts and Crafts Projects for Kids > Plastic Bag Crafts for Kids to Make Handmade Popsicle Stick Crafts and Creations
PLASTIC BAG CRAFTS FOR KIDS : Make Arts and Crafts Projects Using Ziploc, sandwich, grocery, and garbage bags. These Activities & Ideas Are for Children, Preschoolers, and Teens
Below you will find arts and crafts projects for children to craft with popsicle sticks - or with what they now call craft sticks. You will be able to make cool things with popsicle sticks / craft sticks such as picture frames, business card holders, puppets, and much more. Look below to find craft projects.
Organize Your Closet with Plastic Bag Pockets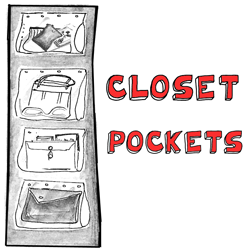 If you have a cluttered room, then this craft might help you and your messy room situation. Get some plastic bags and a long, closet-door sized piece of cardboard (slightly smaller than the door so you can still close it). Attach large plastic bags to the cardboard either opening on the right or on the top, depending on what you are using these organizational pockets for. If you are organizing bigger items...opening on the right might work for you...for smaller items, attach the bags to the cardboard to open up at the top. Then attach the cardboard to the door by putting 2 holes at the top of the door and hanging it there with hooks.
How to Make Plastic Bag Beanies

(Never Put Plastic Bags Over Your Face - This is only for kids old enough to know not to do this) You will need 1 plain plastic bag (such as fruits and vegetables come in) large enough to fit on head, a 12" length of colored yarn string or ribbon, small pieces of felt, household glue, and scissors Now, cut out small decorations from assorted colors of felt. Fold up open end of plastic bag once or twice to form beanie cuff. (Number of folds 'will depend upon length of bag. Try beanie on head to get right size.) Glue inside top edge of cuff to bag. Gather closed end of bag with ribbon or yarn. Wrap around gathers several times and tie securely. Glue on felt decorations. When dry, beanie is ready to wear.
Make Bike Streamers with Plastic Bags and Drinking Straws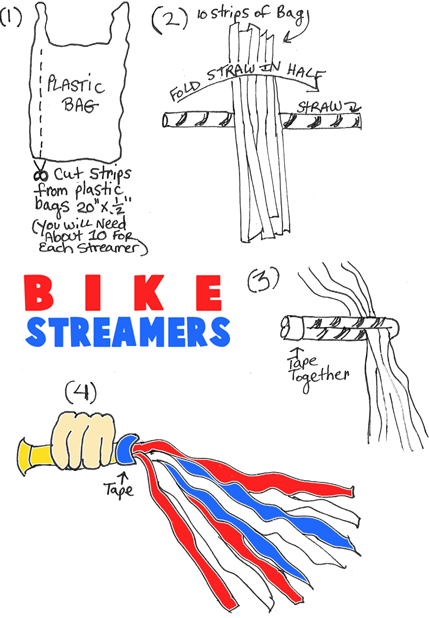 Want a spiffy bike with great bike handle streamers blowing in the wind? Here is a way to decorate your bike for free and they turn out awesome! Find various colored plastic grocery bags. Use a scissor to cut strips from the bag that are approximately 20" x 1/2 ". Cut 10 of these strips for each streamer...when you are done you will have 20 streamers. If you want the same amount of strips for each color, then cut 6-8 strips from each plastic bag color. Next, take 10 strips (various colors) and then put them in a straw, (pic 2 above). Fold the straw in 1/2 and tape together at the end (pic 3 above). You might want to get colorful duct tape...in white, red, or blue and then tape the straw nicely to the handle. Your bike is going to look gorgeous!!! Have fun!
More Plastic Bag Crafts
Baggie Butterflies - Make a butterfly out of plastic bags. (scroll down)

Balloon Ghost Craft with Kids - This cute ghost is easy to make from a balloon and two plastic grocery bags. It makes a great Halloween decoration or a toy (but not for very young children). This ghost flies really well!

Braided Clothes Hanger : Clothes Hangers Crafts- - Cut plastic bags into loops, join the loops and use to braid around a plastic clothes hanger. The resulting braided clothes hanger looks attractive - and clothes won't slip off!
KID'S PLASTIC BAGS ARTS AND CRAFTS PROJECTS IDEAS - C

Crocheted Plastic Bag Coasters : - - Talk about something from nothing! Jobyna Carpenter of Poulsbo, WA cut ordinary plastic bags into strips and crocheted them into simple rounds. These clever coasters are a great way to recycle.

Crocheted Plastic Bag Hats : - - Of course, you can also use your favorite crocheted hat pattern. Start crocheting using the pattern you chose. At end of each strip, overlap the end of the next strip and continue to crochet until done.

Crocheted Plastic Wristlet Bags : - - Crochet yourself this cute summer wristlet purse. Wristlet purses have gotten very popular lately and I wanted to get one crafted using recycled materials before summer was over. This purse was crocheted using recycled plastic grocery bags. It's a quick little purse that is just right for a summer outing or as a great gift idea.

Cup Cakes : - - Here's a special treat for the sweet tooth on a child's list: a coffee mug filled with the fixings for a delicious, near-instant cupcake for one. Teachers, sitters, relatives, and neighbors will love this creative (and yummy!) gift so much, they'll probably ask for the recipe as well.

Easter Bunny Jelly Bean Bag Craft Activity - Dress up a plastic bag full of jelly beans - learn how to make an Easter bunny jelly bean bag!

Eco-friendly Wreaths : - - Looking for something fun to do with a child? This wreath of recyclables is a beautiful way to repurpose those old plastic grocery bags, and given the longevity of the plastic, the wreath will last for many years.
KID'S PLASTIC BAGS ARTS AND CRAFTS PROJECTS IDEAS - E-F

Easy Plastic Bag Rabbit : Crafts with Cellophane Activities for Children- This easy rabbit is a great quick craft for kids of all ages. Have plenty of bags handy as your enthusiastic crafter won't want to stop at one!
Fabric Sit-Upons - Instructions to make a small cushion to sit on outside. Great simple sewing project!
Film Container Parachute - Instructions for making a parachute using an empty film container

Flag Windsock : Alternative Uses for Clothing Hangers - - There's no better time than the Fourth of July to fly the flag -- or a flag windsock, especially when it has the added advantage of recycling plastic bags. (Just remember to keep the plastic bags away from small children - plastic can pose a choking hazard.) Your windsock will be tons of fun to play with at your Fourth of July picnic. It looks pretty, too.

"Fused-Plastic" Belts : - Ok, it is my only fused plastic belt, but I'm loving it. I made one for Sienna too but I ordered a vintage "seat belt" buckle for it, so I'll post photos of hers when finished.
KID'S PLASTIC BAGS ARTS AND CRAFTS PROJECTS IDEAS - G

Garbage Bag Ghost Crafts : - - Find out how to make a ghost decoration or prop using a plastic garbage bag and a few other supplies.

Garbage Bag Spider Crafts : - - How to Make a Spider Using a Black Garbage Bag.
Ghastly Ghosts - These home made ghosts, ranging from tiny to large, are great additions to your haunted house.

Ghost Hosts : - - Summon up the Halloween spirit with this spectral sextet.
Ghost Tree Ornaments - Scary Halloween Ornaments made from plastic bags

Grocery Bag Ghosts : Spooky Ghosts Crafts Projects for Children - Here are three simple ways to make ghosts out of plastic bags for a spooky bit of Halloween fun.

Grocery Bag Flying Ghost Crafts : - - Follow these directions submitted by Donna and you can make a little flying ghost using grocery bags.

Grocery Bag Greetings : - - No matter which holiday you observe, your waste-free wishes will come true as you celebrate respect for our planet and hope for peace on earth with this recycled wreath.

Grocery Bag Outfits : - - Children of all ages will enjoy designing their own outfits and then showing them off in an Earth Day Fashion Show.

Grocery Bag Pumpkins : - - Donna, from Garbag gift s.com, shared this craft which shows you how to transform a handful of plastic grocery bags into a great pumpkin.
KID'S PLASTIC BAGS ARTS AND CRAFTS PROJECTS IDEAS H - L

How to Make a Tote Bag Out of Plastic Grocery Bags - - Do you have wads of plastic grocery bags under the sink, or in the pantry, or stuffed inside another plastic bag? You intended to take those back to the store to recycle, but you can never remember to do it - or you use them for small trash can liners and you wind up with more bags than cans.

How to turn plastic grocery bags into a crocheted reusable bag - - I always manage to forget my reusable bags at home when [ex] Husband takes me grocery shopping, and that's when I do the major grocery shopping, so I end up with this growing pile of plastic grocery bags. And then I forget to take them back to the store for recycling.

Jelly Bean Bunny Easter Craft for Kids - - Learn how to make an Easter bunny with jelly beans.
Lawn Spider - A fun decoration for your lawn.
KID'S PLASTIC BAGS ARTS AND CRAFTS PROJECTS IDEAS - M-O

Make mini scrapbooks from ziploc bags - - Learn how to make inexpensive mini scrapbooks. Great project to introduce kids to scrapbooking.

Make stained glass from Ziploc bags - - Summer afternoons can become a long boring stretch if there is nothing to do. Why not make some artwork with stuff from around the house? Turning plastic sandwich bags into "stained glass" masterpieces is simple, with things that are easy to find.

Mini Scrapbooks from Ziploc Bags : How to Make a Scrapbook Directions for Kids - Learn how to make inexpensive mini scrapbooks. This is a great project to introduce kids to scrapbooking.

Music Mobiles - - Learn how to make this music mobile.
KID'S PLASTIC BAGS ARTS AND CRAFTS PROJECTS IDEAS - P-R

Patriotic Pom-poms - - Cheer on the Fourth of July parade with a red-white-and-blue pom-pom made from plastic shopping bags.
Plastic Bag Wreaths - Make a plastic bag wreath.
Plastic Bag Bunnies - - This easy rabbit is a great quick craft for kids of all ages. Have plenty of bags handy as your enthusiastic crafter won't want to stop at one!

Plastic bag butterfly crafts - - This project is quick, simple and fun, along with being a great way to use up scraps!

Plastic Bag Hair Rosettes - - We found this project on Craftster.org. It was designed by Xan Rosado who is a stay-at-home mom living in Halethorpe Maryland with her daughter Autumn Rose. She likes sewing, books, hot glue guns, recycling, and gettin' caught in the rain.

Plastic Bag Paratroopers - - Faster than you can yell, "Geronimo!" you can outfit an army of action figures with parachutes for an aerial rescue raid on the neighborhood.

Plastic Bag Rugs - - This rug is pretty is easy, really cool and costs next to nothing to make.

Plastic Bag Snowman - - Isn't he gorgeous? Kids will love creating their own "snowman" from the recycling basket!

Plastic Bag Wreaths - - Here's how to make a beautiful wreath using plastic grocery bags and some ordinary househod items.
Plastic Ghost Craft - Another fun easy Ghost craft.

Plastic grocery bags dog leashes - - How to turn those pesky plastic grocery bags that seem to pile up into a cool dog leash and also help keep plastic bags out of our landfills.

Recycled Bags Wreath - This Christmas craft projects shows you how to use recycled plastic bags to make a wonderful Christmas Door Wreath.

Recycled Grocery Bag Snowman - - My grocery bags have been piling up and in need of recycling. So I made this Grocery Bag Snowman

Recycled Plastic Bag Purse - - Crocheted using recycled plastic bags this Granny Square Bag is a quick and fun project!

Recycled Plastic Messenger Bags - - Learn how to use old grocery shopping bags to create a fused recycled plastic messenger bag.

Recycled Totes - - Fuse a stack of plastic shopping bags into a durable, water-resistant carryall, great for toting sleepover gear, wet bathing suits, or sandy beach treasures.

Recycled Vinyl Tote : Tote Bag Making Crafts for Kids - We rescued some really cool punched vinyl from the landfill. Use it to weave a tote from recycled plastic bags to take with you the next time you go shopping. Makes a great beach bag too!
KID'S PLASTIC BAGS ARTS AND CRAFTS PROJECTS IDEAS - S

Snowman Craft for Kids - - This craft can also be made into a great gift by placing gourmet popcorn inside the bag instead of packaging peanuts.
Space Capsule Craft - Make a space capsule

Sweet Witch Treats - - Treat little monsters to these magically delicious party favors.

Two crocheted tote bags - - Just when we were looking for a clever way to recycle plastic shopping bags.

Unique Christmas Wreath : Wreath Crafts Projects - Put your elves to work on a wreath with a magical snow-and-ice look. Made of plastic bags tied onto a hanger, it's a perfect outdoor decoration.

Wallflowers (Plastic bag hanging flowers) - - Reuse plastic grocery bags to make modular flowers to accent your indoor environment. Simple and elegant - wallfowers utilize the overabundant plastic bag.

Witch Crashes - - This witch may have failed driver's ed., but she's still got a few tricks up her sleeve -- namely, the ability to provoke hysterics in every trick-or-treater who sees her.

Ziplock Garden or Aquariums - - Quick, cheap, and easy kid craft for those rainy days or anytime.

Ziploc bag Snowman - - The Snowman craft making activity can help children to learn about the winter season. The Snowman craft project involves children in a problem solving activity that is to dressing up a snowman with different winter clothing combinations. Snowman craft activity is for children of 3 years and up.