Home > Arts and Crafts Projects for Kids > Animals Crafts > Polar Bear Crafts Arts and Crafts Projects Ideas for your Kids
POLAR BEAR CRAFTS FOR KIDS: Ideas to make polar bears with easy arts and crafts decorations, instructions, patterns, and activities for children, preschoolers, and teens
Lumbering through the icy wasteland, invisible among the blown up white specks of snowy dust comes one of earths most frightening yet surprisingly cuddly of creatures, the mighty and adorable polar bear. I know, I know, how can something so huge and frightening also be described as cuddly and adorable? I don't get it either, but I can't help it. They just look like they would be awesome to play with and snuggle with on a cold night when you can't seem to get that draft to stop coming in from under the door. I wouldn't suggest doing that with a real polar bear, but having some nice polar bear crafts in your room could definitely increase the cuddle factor in any bedroom. Also, if you want to be the cuddly one, you could certainly start off with an awesome polar bear mask craft for kids. Just stay warm and keep out of the near frozen water surrounding your iceberg bed
How to Make Paper Polar Bear Masks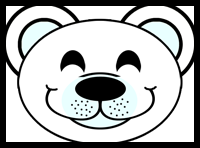 Learn how to make this adorable polar bear mask. It is very easy...just go to our printable polar bear mask template, print it out, cut it out and then follow the directions on the printed page.
Even More Polar Bear Crafts Below

Circle Polar Bear Craft for Children - - This craft can be used to teach a variety of skills. You don't have to use all the thoughts for lessons... just choose the ones you're working on with your child.

Cotton Ball Polar Bear Craft for Preschoolers & Toddlers - - Have the children glue cotton balls to the polar bear.

Felted Polar Bear Activity for Youngsters - - This tutorial shows you how to make a felted polar bear on your own!

How to Draw a Polar Bear - - Learn how to draw a polar bear of your very own.

Paper Bag Polar Bear Craft - - The kids and I were fooling around with a polar bear craft and this is what we came up with. I think he turned out too cute.

Polar Bear Crafts for Kids - - This tutorial shows different types of polar bear crafts.

Polar Bear Mask - - We made this easy polar bear mask.

Polar Bear, Polar Bear What Do You Hear? - - In this section I've put together some simple pages to go with the story. You can use them in a number of ways.

Polar Bear Puppet - - Children will develop their fine motor skills to make this easy craft.

Polar Bears - - We have included some fun things to do for a unit on Polar Bears.

Polar Bears - - This card is perfect for those who have winter birthdays but yet Christmas motifs are not appropriate. The card is also very quickly made. Polar bears are cute winter motifs and these happy guys cheer up any person receiving this card.

Polar Bear Snack - - Children will have fun making a healthy polar bear snack.

Polar Bear Story - - This is a fun story that is loved by all children! After reading Polar Bear, Polar Bear, What Do You See? by Bill Martin, Jr. I like to tell the story of the Magic Polar Bear.

Polar Bear Warmth Science Activity - - The polar bear warmth science activity will help you answer an important question: How do polar bears stay warm in the freezing cold of the Arctic? You'll use coffee to find the answer.