Home > Arts and Crafts Projects for Kids > Animals Crafts > Polar Bear Crafts Arts and Crafts Projects Ideas for your Kids
POLAR BEAR CRAFTS FOR KIDS: Ideas to make polar bears with easy arts and crafts decorations, instructions, patterns, and activities for children, preschoolers, and teens
Lumbering through the icy wasteland, invisible among the blown up white specks of snowy dust comes one of earths most frightening yet surprisingly cuddly of creatures, the mighty and adorable polar bear. I know, I know, how can something so huge and frightening also be described as cuddly and adorable? I don't get it either, but I can't help it. They just look like they would be awesome to play with and snuggle with on a cold night when you can't seem to get that draft to stop coming in from under the door. I wouldn't suggest doing that with a real polar bear, but having some nice polar bear crafts in your room could definitely increase the cuddle factor in any bedroom. Also, if you want to be the cuddly one, you could certainly start off with an awesome polar bear mask craft for kids. Just stay warm and keep out of the near frozen water surrounding your iceberg bed
How to Make Paper Polar Bear Masks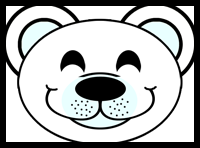 Learn how to make this adorable polar bear mask. It is very easy...just go to our printable polar bear mask template, print it out, cut it out and then follow the directions on the printed page.
Even More Polar Bear Crafts Below

2 Great Preschool Polar Bear Activities - - In the United States, Polar Bears have become synonymous with Coca-Cola advertisements. We watch cute polar bears have parties and fun while drinking Coca-Cola soda in the Arctic. Preschool children need to understand that there is much more to polar bears and that they don't actually drink Coca-Cola!

Beadie Bear Pony Bead Pattern Arts & Crafts Project - Make a polar bear key chain with this instruction.

Bean Bag Bear Craft for Teens to Make - - You can make personalized bean bag bears for everyone you know using a sock and a few other supplies. Just remember, this toy is not for young kids who like to put things in their mouth!

Circle Polar Bear Craft for Children - - This craft can be used to teach a variety of skills. You don't have to use all the thoughts for lessons... just choose the ones you're working on with your child.

Cotton Ball Polar Bear Craft for Preschoolers & Toddlers - - Have the children glue cotton balls to the polar bear.

Egg Carton Igloo and Polar Bear Pal Craft - Our latest contest winner is Rodney and Jennifer from Milford, Indiana. This adorable Polar Bear peeks out of its igloo made from recycled egg cartons.

Felted Polar Bear Activity for Youngsters - - This tutorial shows you how to make a felted polar bear on your own!

How to draw a polar bear - - Learn how to draw a polar bear of your very own.

How to Make a Cotton Ball Polar Bear - - Making a polar bear is a nice way to while away the hours around Christmas. This polar bear, made from a paper plate and cotton balls, also makes a good school project. When it's finished, the bear can serve as either a toy or a decoration. Try to save this craft project for days when it's impractical to go outside. (International Polar Bear Day, which takes place on February 27, is another reason to indulge in some polar-related activities.)

How To Make Adorable Polar Bear Ornaments Out Of An Old Wool Sweater - - Print out the polar bear stencil that I made or make your own.

How to Make a Polar Bell Ornament - - A Polar bell ornament is a fun way to add a polar bear these to your holiday decorations. This is a cute craft with a lot of personality. Below are the instructions for the Polar bell Ornament.

How to Make a Shrinky Dink Polar Bear - - Children will love making a polar bear Shrinky Dink. Polar bears are fun because their white coats allow them to blend in with the snow. They make for a great winter craft theme. You can draw them large on your Shrinky Dink sheets, but don't be surprised when they end up half the size.

Make Churchill the Miniature Stuffed Polar Bear - - This little bear requires patience to create. It is made using two basic sewing stitches (the ladder stitch and the back stitch) and requires a five to six inch square piece of good quality white felt or thin imitation suede fabric for each bear.

Needle-Felted Polar Bear - - This incredibly soft polar bear -- perfect for a stocking stuffer -- was made by needle-felting. The technique involves sculpting shapes from unspun wool called roving, by manipulating the fibers with a special needle until they interlock and become dense. An experienced crafter can make one in about an hour.

Origami Polar Bear Folding Instructions - - How to make origami polar bear. Easy and advanced origami polar bear folding instructions. Diagrams range from 5 steps to 19 steps.

Paper Bag Polar Bear Craft - - The kids and I were fooling around with a polar bear craft and this is what we came up with. I think he turned out too cute.

Playful Polar Bear Toss - - Toss a snowball between the polar bears and the ice floes! Create your own game with recycled tissue box, tissues, and a bit of Crayola® Model Magic®.

Polar Bear - - Along with the brown bear, the polar bear is one of the largest of the bear species. The white fur that covers polar bears' bodies means that they are sometimes referred to as "white bears." Polar bears are strong swimmers, and it is said that they can swim for distances of up to 65km, at a speed of 6.5km/h. They also have acute senses of smell and hearing, useful when hunting as this allows them to detect the scent of seals swimming beneath the ice.

Polar bear crafts - - Polar bears live alone. Young Polar bears stay with their mothers for 1-2 years, and they become mature when they are 5–6 years old. People think Polar bears can become 25–30 years old in nature, but in captivity (for example in zoos) they can become up to 45 years old.

Polar Bear Crafts for Kids - - This tutorial shows different types of polar bear crafts.
Polar Bear Cubcakes - - We just couldn't bear to keep this cool polar family a secret any longer. Here's how to make your own irresistible trio, starting with Mama Bear.

Polar Bear.pngt Bag - - Write a message on the back, put a.pngt or treat inside, add some ribbon at the top, and give it to someone special!

Polar Bear Handprint - - Make a polar bear with just a hand print.

Polar Bear Mask - - We made this easy polar bear mask.

Polar Bear, Polar Bear What Do You Hear? - - In this section I've put together some simple pages to go with the story. You can use them in a number of ways.

Polar Bear Puppet - - Children will develop their fine motor skills to make this easy craft.

Polar Bears - - We have included some fun things to do for a unit on Polar Bears.

Polar Bears - - This card is perfect for those who have winter birthdays but yet Christmas motifs are not appropriate. The card is also very quickly made. Polar bears are cute winter motifs and these happy guys cheer up any person receiving this card.

Polar Bears - - Create an awesome artic bear, by cutting out a bear using the template and decorating him with cotton balls

Polar Bear Snack - - Children will have fun making a healthy polar bear snack.

Polar Bear Story - - This is a fun story that is loved by all children! After reading Polar Bear, Polar Bear, What Do You See? by Bill Martin, Jr. I like to tell the story of the Magic Polar Bear.

Polar Bear Warmth Science Activity - - The polar bear warmth science activity will help you answer an important question: How do polar bears stay warm in the freezing cold of the Arctic? You'll use coffee to find the answer.

Pom-Pom Polar Bear - - This cute little pom-pom polar bear is all ready for winter! This cuddly guy makes for a great winter craft, and is a cute addition to your homework desk or windowsill. Decided

Pom Pom Polar Bear Craft - - Let these cute fuzzy Polar Bears from the FreeKidsCrafts Team take you on an adventure through the frozen north.
Preschool Crafts With A Polar Bear Theme - - Polar bear preschool crafts can be introduced by teachers as part of a winter theme or animal theme. Children will enjoy these craft ideas, which involve using art mediums that simulate the feel of a polar bear's fur. Preschool students can work with marshmallows, cotton balls, and felt material.

Puffy the Polar Bear - - Polar bears can be ferocious, but Puffy, the chalet's resident bear, is quite the opposite. With a gentle temperament and arms made for hugging, he's sweet to the core.

Soda Bottle Polar Bear - - Turn an empty two liter soda bottle into this cute giggling polar bear! Choose your child's favorite colors for the hair and mittens.