Home > Arts and Crafts Projects for Kids > Animals Crafts > Pony Crafts Arts and Crafts Projects Ideas for your Kids
PONY CRAFTS FOR KIDS: Ideas to make ponies with easy arts and crafts decorations, instructions, patterns, and activities for children, preschoolers, and teens
Below you will find Pony Crafts Arts and Crafts Projects Ideas for your Kids. Find out how to make your own arts and crafts Ponies projects with the following decorations, instructions, patterns, and activities for children
How to Make Pony Masks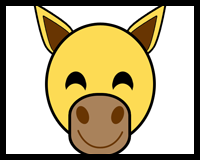 To make this pony mask, just go to our paper pony mask template and print it out. The directions for making the mask are printed on that page.
Even More Pony Crafts Below

My Little Pony to Crochet Craft for Teens - Find out how you can make a cute crochet little pony.