Home > Arts and Crafts Projects for Kids > Animals Crafts > Rhino Crafts Arts and Crafts Projects Ideas for your Kids
RHINO CRAFTS FOR KIDS: make your own arts and rhinoceros arts and crafts projects with the following instructions, ideas, and activities for children & preschoolers
Rhinoceros is such a funny word. It is one of the words that is so hard to know how to make it plural. My gut tells me that it should stay as rhinoceros, but it could very well be rhinoceroses or even rhinoceri. Much easier to just call the silly beasts rhinos. They are very silly you know and super dumb. The first time I ever saw one in person was at a drive through safari park. The Rhino started charging at my car from like 50 feet away. Scared the willies out of me, but then half way through the charge it totally forgot what it was doing. Just stopped and wandered off.
Bet you would like charging around like that too with a giant horn coming out of your face. Someone told me once that rhino horns aren't even made of bone or ivory even though they are super hard. They are actually made from compressed hair. Its hard to imagine that hair could become something so brutal. Well have fun playing with Rhino crafts for kids and try not to scare too many people if you make a mask. You want them to leave puddles all over the floor
Below you will find rhino Crafts Arts and Crafts Projects Ideas for your Kids. Find out how to make your own arts and crafts rhinos (rhinoceros) projects with the following decorations, instructions, patterns, and activities for children
How to Make Paper Rhino Masks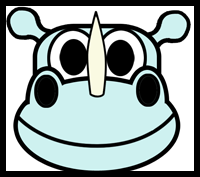 To make this printable paper rhino mask, just print out this Rhinoceros template and then follow the instrructions on that page.

Learn How to Draw Cartoon Rhinos - Follow these step by step drawing instructions to learn how to draw a cartoon rhino.
Even More Rhino Crafts Below

Folding Origami Woolly Rhino - Woolly rhino origami model.

Folded Paper Rhinoceros Craft for Kids - How to make this Folded Paper Rhinoceros Craft for Kids.

Heart Rhino Paper Craft for Kids - Read a bit about DLTK's Grow With Me Craft Concept to get some ideas on how this basic craft idea can be used with different materials to make it appropriate for everyone from ages 2 thru 82!

Making Origami Rhinoceros Directions - Rhino origami model.

Rhinoceros Paper Craft for Preschoolers - This rhinoceros is a simple cut and paste paper craft that is fun for young children to make. It makes a great project for preschool and kindergarten kids and works well for an animals, jungle or letter R theme.

Rhino Toilet Paper Roll Craft Activities - This is a simple three dimensional rhinoceros craft that is fun for kids to make and play with. I thought a horn would be a good thing to hold, since rhinos are most recognizable for the horn on their nose.