Home > Arts and Crafts Projects for Kids > Rice Crafts for Children
RICE CRAFTS FOR KIDS: Ideas for Arts & Crafts Projects & Activities with Rice for Children, Teens, and Preschoolers
Rice is such a simple and inexpensive staple in everyone's pantry that it makes a perfect main ingredient for a kid's craft. It is particularly good as a filling device since dried rice, I believe, lasts forever. The exception is brown rice, don't use brown rice in crafts it does go bad eventually.
My favorite quick craft I make with rice are juggling balls. Just fill small balloons with rice and tie them off. Makes a great addition for a clown Halloween costume as well even if you don't know how to juggle. If you want to make them last longer and reduce the chance of the rubber ripping and exploding rice everywhere this can be an easy sewing project as well, especially if you do it as a flatter bean bag shape.
Below you will find many Ideas for Arts & Crafts Projects & Activities with Rice for Children, Teens, and Preschoolers.

Making Maracas & Rhythm Shakers - Find out how to make these maracas with a plastic container, a stick, and seeds / beans / rice.

How to Make Juggling Balls & Stress Balls from Balloons and Lentils in Easy Craft Activity - Today we will show you how to make your very own juggling balls….with balloons and lentils or rice. This is a fun family activity to do with your sisters and brothers and parents. These juggling balls feel a LOT like stress balls, so they can also be used for that purpose as well.

Animal Bean Bags - - Create these adorable animal bean bags from craft foam.

Baby Water Bottle Rattle - - This craft project shows you how to make a baby toy out of a recycled water bottle. This baby toy craft is a great sensory toy for little minds to help them play and develop.

Beanbag Bundles - - Make your own beanbag bundles, and toss them into tubs. This is one of the easiest tossing games to play, and even adults find it fun on game day! Make your own magic with this bean-bundling fun!

Bean Bags - - Great beginner sewing project or just make some to use up those left over scraps of fabric.

Bling Bouquet - - Time to have some fun, go through all of your old earrings with the grandkids and select some fun colors and funky shapes. You may want to use the earring colors to decide on the colors for you mini-vase, or let the kids imaginations run wild and just paint their favorite colors. I have a Rowdy Grandma rule, when crafting with the kids, don't aim for perfection - it's more important to let their imaginations soar and give them the freedom of choice.

Clay Pendant - - Learn how to make a clay pendant and how to design it.

Cuddly Animal Heating Pad - - Simply throw this cute little aquatic fella into the microwave for 1-2 minutes and use as a heating pad for sore muscles or to warm up a cold bed. Throw it in the freezer for an hour or two and use as an ice pack for bumps and bruises. Great for kids!

Dinosaur Color Matching Game - - Time to go on a dinosaur hunt with our dinosaur color matching game! Just print and cut out the dinosaur cards and color cards from our provided templates. Lay the color cards out on the floor or table and bury the dinosaur cards in a container of rice. Then let your children dig through the rice to find the dinosaurs and match them to their color cards! This dinosaur color matching game is a fantastic preschool learning activity. Digging through the rice adds a great sensory experience to this fun dinosaur game for kids. Our two year old daughter absolutely loved this game and we played it over and over again.

Dinosaur Fossil Game - - When paleontologists go on a dinosaur dig and find fossils they have to put them together like a puzzle to figure out what the dinosaur looked like. This was the inspiration for our dinosaur fossil game. Simply print out our fossil template to create your puzzle pieces and bury them in a pan of uncooked rice for an instant dinosaur activity to do with your kids! You can also customize this dinosaur activity to meet the ability level of your child.

Dirt Race Track - - This Dirt Race Track is so much fun to make and play with, and it's made with sand from your very own yard! Preschoolers will need some help making this, but they'll love to play with it, especially outside!

Easy Shamrock Paper Craft - - Younger children will find this a very easy craft to make. The shape has big, bold lines with relatively few curves which should make it easier for preschoolers to cut out on their own.
Frankincense Jars - - These frankincense jars will make your whole room smell sweet on Christmas, and they're pretty enough to present to a king!

Frog Bean Bag - - The project requires either sewing or hot glue skills. A child of age 9 or so could do the project with adult supervision. Younger children can help stuff the project and would love to receive it as a.pngt from an older sibling, parent or grandparent.

Hedgehog Pet Paper Weight - - Make this awesome hedgehog pet paper weight out of a rock and some rice.

How to Dye Rice with Food Coloring - - Rice dyed with food coloring is a safe and nontoxic alternative to colored sand and glitter. It can be used similarly in craft projects, and easily adheres with all-purpose glue or paste. This recipe yields approximately 4 oz., or 1/2 cup, of dyed rice. However, it can be repeated as many times as necessary to make as many different colors as you desire.

How to Make a Balloon Bouquet - - It's always fun to make something special and fun by hand. There's that feeling of accomplishment, especially if you are making something for others. Seeing the gratification and smiles on their faces makes all the work you did more rewarding. I enjoy home crafts and love making things for my friends and family, especially around the holidays. One of my favorite things to make are colorful balloon bouquets. They can be playful and fun or glamorous and elegant. It's really simple, inexpensive and colorful.
How to Make a Door Draft Stopper - - This tutorial will teach you how to make your own door draft stopper.

How to Make a Professional-Quality Rain Stick - - The Chilean Indians used rain sticks to affect the weather. This rain stick may or may not have that effect - that depends on how good you are with it and if the rain gods are listening.
How to Make Aromatherapy Rice Bags - - Aromatherapy rice bags are great.pngts and easy to make. Use them as cold or hot packs to soothe aching joints or to relieve headaches. The rice in the bag absorbs moisture from the air, staying either hot or cold for long periods of time.

How to Make a Snowman out of a Washcloth - - There are many ways to create a snowman. If you are looking for a new and different way, consider this snowman made out of a washcloth. Use it as a decoration in your bathroom. Add a wintertime fragrance to it, such as cinnamon or evergreen, to keep your bathroom smelling fresh. Your children can make a washcloth snowman just for the fun of squeezing it.

How to Make a Stress Ball - - Stress balls are a great way to relieve tension. Stress balls relieve stress by exerting pressure on a ball. Stress balls are convenient (can go anywhere) and effective. Making stress balls is an inexpensive, easy and fun activity.

"Jesus Loves You" Beanbag Craft - - Follow these instructions and make a "Jesus Loves You" beanbag out of rice yourself or for someone special.

Ladybug Bean Bag - - The project requires either sewing or hot glue skills. A child of age 7 or so could do the project with adult supervision. Younger children can help stuff the project and would love to receive it as a.pngt from an older sibling, parent or grandparent.

Mexican Maracas - - This tutorial is very simple, you will be shaking your maraca in no time!

Octopus Sock Craft - - The project requires either sewing or hot glue skills. A child of age 9 or so could do the project with adult supervision. Younger children can help stuff the project and would love to receive it as a.pngt from an older sibling, parent or grandparent.

Paper Maché Tiger Book Ends - - Make two identical tigers or two different animals for these cute bookends. Makes a great.pngt from the kids.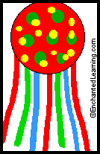 Paper Plate Maracas Craft - - A maraca is a Latin American and Tupi rattle. The original maracas were made from hollow gourds filled with pebbles or seeds.

Pasta Mosaics - - Give child a project board. Encourage him to glue the materials to the board creating a design.

Pet Heat Pack - - Take the old sock, or new sock and fill it with the rice.

Rainstick - - Rainsticks are ceremonial musical instruments used to invoke the rain spirits. They are made by people who live in the deserts of northern Chile. In Chile, rainsticks are traditionally made from dead cactus tubes with hundreds of cactus spines hammered into the tube. Tiny lava pebbles cascade gently through the tube, sounding much like rain.

Rangoli designs - - Rangoli is a popular art form among Indian women. Rangoli are painted on the ground in front of houses using rice powder -- sometimes supplemented by flower petals and other colorful materials. Rangoli are typically painted during the tamil month of Maarkazhi (between December 15th and January 15th).

Rice Hot Pack (or Cold Pack) and Rice Buddy 'Faux Hot Water Bottle - - We now have directions for two versions of the popular rice pack free sewing patterns on this page. The original Rice Buddy Hot Pack and the new Faux Hot Water Bottle Rice Pack. If you wish to add the power of aromatherapy to your hot packs, you can add small amounts of herbs or a few drops of your favourite herbal essential oil to the rice before filling the packs. Lavender smells wonderful and has been used for centuries for its calming effect.

Rice Ornaments - - Turn ordinary clear glass ornaments into extraordinary and unique ornaments by filling them with colored rice.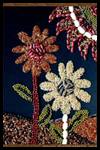 Seed Mosaic - - Seeds come in all sorts of interesting shapes, colors, sizes and smells. Create a marvelous mosaic with these wonderful.pngts from nature.

Shake-It-Up Musical Activity for Kids - - Your kids will love to make their own fun and unique instruments in this shake-it-up musical activity!

Snowstorm Art - - You don't need snow to create a snowstorm -- all you need is a little starch or glue, some rice and a shake of the hand to create your own dazzling winter wonderland!

Spiderweb Rice Art - - This spiderweb art is great for kids to make for this Halloween. All you need is some black construction paper, glue and white rice. This is also great for your preschooler or toddler to learn how to draw lines and shapes.

Touch N Feel Winter Scene - - In this Touch N Feel Winter Scene craft kids can make and feel the prickly pine trees and soft, fluffy snow!