Home > Arts and Crafts Projects for Kids > Safety Pin Crafts for Kids
SAFETY PIN CRAFTS FOR KIDS: ARTS & CRAFTS IDEAS & PROJECTS WITH SAFETY PINS & BEADS FOR CHILDREN, TEENS, GIRLS & PRESCHOOLERS
A safety pin is basically a regular pin with a spring mechanism and a clasp so it can safely close. They are commonly used for nappies (cloth diapers) years ago and also when alternating clothes or keeping torn clothing together.
Safety pins are often used in making home-made jewelry (such as earrings, necklace and bracelets...even pendants) and other crafts especially when colorful beads are involved. You can also use safety pins to decorate your jeans, shirts, school bags and cushions.
Make a Safety Pin Fishing Game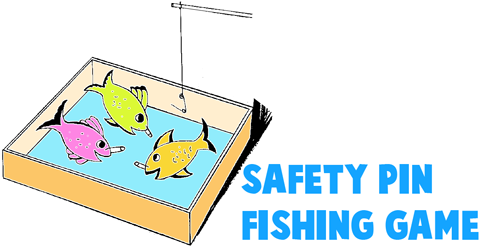 Paint the insides of any sturdy box a bright blue. Draw, color and cut out several fish from heavy paper or thin cardboard. Pin a small safety pin through the nose of each fish and place the fish inside the box. Make a fishing pole by tying an 18-inch string to the end of a 12-inch dowel or stick. Attach an open safety pin to the loose end of the string. To land a fish, a player must catch the hook of the pole into the nose pin of the fish.
Making Waxed Safety Pin Bracelets

This craft is suited for groups of children working with an adult, so this would be a great Summer Camp or Art Class craft. The adult teacher or camp counselor may hold a stick of sealing wax over a lit candle, just long enough for the stick to soften a bit. The kids should each close their safety pins and then dip the heads of the safety pins (only one at a time) into the softened wax stick. Now the child should twist pin to smoothen wax and then hold still long enough for the wax to 'set'. The teacher should have a lump of clay ready. The kids should place the safety pins in the clay in order for them to dry on their own. When the wax is fully hardened and set, the children can string the safety pins onto elastic, yarn, or string (thru the circle in the small end of the pin). Close the string, yarn, or elastic shut. Now you have a beautiful bracelet.

Make Wind Bell Chimes with Metal Items - Make these Wind Chimes with a coffee can lid and metal items from around the house, such as nails, bells, keys, safety pins, and other items.

Safety Pin Papoose Baby - Make this decorative pin with an adorable baby in a papoose, the way native americans used to carry their babies.

Decorative Pins with Safetty Pin Backs - Make these felt decorative pins by sewing macaroni noodles on there in any design that you like. The safety pin on the back is what makes these pins work.


7" Safety Pin Beaded Christmas Tree - Learn how to make a christmas tree from a safety pin.

Beaded Safety Pin for St. Patrick's Day Lesson - Beaded safety pin crafts are very inexpensive and fun to make. All you need is some beads and safety pins, and your creativity! To get you started, here are two patterns for St. Patrick's Day, the Irish flag and a shamrock.

Flag Lapel Pin (Safety Pin Jewelry) to Make - You will need a needle nose pliers and something to spread the loop end of your large safety pin. I find that a metal fingernail file works well for this, or perhaps a small letter holder.

Jesus Fish Beaded Safety Pin - This Jesus Fish beaded safety pin is made from a few safety pins and tiny seed beads. Any color combination can be used for this pin, so you can make a pin to match any outfit. This pin will look wonderful for Easter, but also can be worn at any time of the year as a tribute to the Christian faith. This is an excellent craft for Sunday school. Older children are quite good at threading the little beads on the pins, which takes some dexterity and patience. I have found that this type of craft can keep them busy for quite awhile. It really helps them practice their eye and hand coordination as well.

Bracelet Pattern Using Safety Pins, Beads, and Stretch Cord - Create a unique and lovely bracelet with safety pins, seed beads, bugle beads, and stretch jewelry cord. Easy and versatile, use different colored beads, different types of beads, different colored safety pins, different size siafety pins and different patterns for your beads. All materials listed in the material list are linked to the page on this site where you can purchase the product.