Home > Arts and Crafts Projects for Kids > Safety Pin Crafts for Kids
SAFETY PIN CRAFTS FOR KIDS: ARTS & CRAFTS IDEAS & PROJECTS WITH SAFETY PINS & BEADS FOR CHILDREN, TEENS, GIRLS & PRESCHOOLERS
A safety pin is basically a regular pin with a spring mechanism and a clasp so it can safely close. They are commonly used for nappies (cloth diapers) years ago and also when alternating clothes or keeping torn clothing together.
Safety pins are often used in making home-made jewelry (such as earrings, necklace and bracelets...even pendants) and other crafts especially when colorful beads are involved. You can also use safety pins to decorate your jeans, shirts, school bags and cushions.
Make a Safety Pin Fishing Game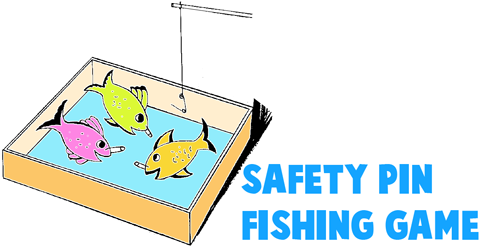 Paint the insides of any sturdy box a bright blue. Draw, color and cut out several fish from heavy paper or thin cardboard. Pin a small safety pin through the nose of each fish and place the fish inside the box. Make a fishing pole by tying an 18-inch string to the end of a 12-inch dowel or stick. Attach an open safety pin to the loose end of the string. To land a fish, a player must catch the hook of the pole into the nose pin of the fish.
Making Waxed Safety Pin Bracelets

This craft is suited for groups of children working with an adult, so this would be a great Summer Camp or Art Class craft. The adult teacher or camp counselor may hold a stick of sealing wax over a lit candle, just long enough for the stick to soften a bit. The kids should each close their safety pins and then dip the heads of the safety pins (only one at a time) into the softened wax stick. Now the child should twist pin to smoothen wax and then hold still long enough for the wax to 'set'. The teacher should have a lump of clay ready. The kids should place the safety pins in the clay in order for them to dry on their own. When the wax is fully hardened and set, the children can string the safety pins onto elastic, yarn, or string (thru the circle in the small end of the pin). Close the string, yarn, or elastic shut. Now you have a beautiful bracelet.

Make Wind Bell Chimes with Metal Items - Make these Wind Chimes with a coffee can lid and metal items from around the house, such as nails, bells, keys, safety pins, and other items.

Safety Pin Papoose Baby - Make this decorative pin with an adorable baby in a papoose, the way native americans used to carry their babies.

Decorative Pins with Safetty Pin Backs - Make these felt decorative pins by sewing macaroni noodles on there in any design that you like. The safety pin on the back is what makes these pins work.


7" Safety Pin Beaded Christmas Tree - Learn how to make a christmas tree from a safety pin.

Apple Beaded Safety Pin - Use this free pattern to make beaded safety pin jewelry.

Airplane Beaded Safety Pin Tutorial - Use this free Airplane pattern to make beaded safety pin jewelry.

Backpack Danglers Craft - As any kid will tell you, there's no greater fashion faux pas than a naked backpack. So we devised these jazzy danglers to dress up even the drabbest canvas. You'll need to lay in some inexpensive supplies ahead of time, but once they're handy, your kids can whip up new danglers to suit their daily whims. We've described three methods below, but your kids will undoubtedly dream up their own.

Beaded Safety Pin for St. Patrick's Day Lesson - Beaded safety pin crafts are very inexpensive and fun to make. All you need is some beads and safety pins, and your creativity! To get you started, here are two patterns for St. Patrick's Day, the Irish flag and a shamrock.

Charmed Pins Building - Theses are so fun to design with safety pins.

Circle of Pins to Make - Ever seen a safety pin look so elegant? Because this bracelet takes a little longer to craft, it makes a great project for a rainy afternoon or a sleep-over.

Coiless Irish Pins to Make - No more struggling with coiled pins! Larger sized "E" beads make beaded pins easier for kids.

Colored Safety Pin Bracelet - No one will guess this bracelet is made from colored safety pins! Everyone from age six to age sixty loves this bracelet!

Easy Bead Jewelry -With this jewelry-making project, kids can make bead necklaces and redesign them daily.

Easy Coiless Butterfly Pins Easy Directions - No more struggling with coiled pins! Larger sized "E" beads make beaded butterfly pins easier for kids.

Easy Coiless Western Pins Easy Instructions - Great for camps, coiless pins make it easier for younger hands.

Easy Coiless Flag Pins to Make- No more struggling with coiled pins! Larger sized "E" beads make beaded pins easier for kids. Many flag pin patterns available here.

Felt Turkey Pin -In the day before Thanksgiving or on the day itself, give guests and friends a special reminder with this felt turkey pin. This is a fun kids' craft that can be done at school or at home.

Flag Lapel Pin (Safety Pin Jewelry) to Make - You will need a needle nose pliers and something to spread the loop end of your large safety pin. I find that a metal fingernail file works well for this, or perhaps a small letter holder.

Friendship Pal Making for Kids - These little dolls are a new twist on a summer classic, the friendship bracelet.

Funky Coil Bracelet Safety Pin - Safety pin jewelry is very trendy! Combine our cool colored metallic pins with memory wire bracelet forms for a punk look that's also pretty.

How To Make Safety Pin Bracelets Easy Instructions - They say that one can make a silk purse from a sow's ear. That being the case it is not surprising that you can make this colorful, fashionable cuff bracelet from a handful of safety pins and a couple of packages of beads.

Girl Scouts Easy Coiless Trefoil Pins - Make sure to use coiless pins and making these SWAPs is easy!

Happy Canada Day! Celebrate with a Jewelry Project - In celebration of Canada Day here's an idea for making a patriotic craft for all you fellow Canadians out there in cyberspace (or anyone who wants to pose as a Canadian for traveling purposes).

Jesus Fish Beaded Safety Pin - This Jesus Fish beaded safety pin is made from a few safety pins and tiny seed beads. Any color combination can be used for this pin, so you can make a pin to match any outfit. This pin will look wonderful for Easter, but also can be worn at any time of the year as a tribute to the Christian faith. This is an excellent craft for Sunday school. Older children are quite good at threading the little beads on the pins, which takes some dexterity and patience. I have found that this type of craft can keep them busy for quite awhile. It really helps them practice their eye and hand coordination as well.

Love Beads Craft for Valentine's Day - Charm someone special on Valentine's Day with a piece of homemade jewelry.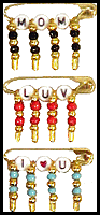 Love Pins Safety Pin -Make one for Mom or anyone else you want to show your love to.

Bracelet Pattern Using Safety Pins, Beads, and Stretch Cord - Create a unique and lovely bracelet with safety pins, seed beads, bugle beads, and stretch jewelry cord. Easy and versatile, use different colored beads, different types of beads, different colored safety pins, different size siafety pins and different patterns for your beads. All materials listed in the material list are linked to the page on this site where you can purchase the product.

Poinsettia brooches Craft for Children - Bring a smile of seasonal cheer to the faces of your friends by giving them Poinsettia brooches. This also makes a wonderful little Christmas gift for teachers, hairdressers, etc.

Pony Bead & Safety Pin Flag Pattern Idea - The perfect kid version of the famous flag pin. For ages 7 and up.

Pony Bead Irish Flag Pin Easy Directions - For St. Patrick's Day or for thinking day, this pin is easy enough for kids as young as seven years of age.

Pony Bead Flag of Italy Pin Making with Ease- Celebrate the country hosting the 2006 Winter Olympics or make these pins for thinking day. Easy enough for kids ages 7 and up.

Power Bead Safety Pins - Make someone a pin and wish them health, wealth and harmony by choosing the right power beads for the job!

Safety Pin 911 Flag Pin Patriotic and How to Make It - Easy for kids to make in remembrance of September 11th

Safety Pin Bracelet Activities - This come out really nice. Try designing your own, the possibilities are endless!
Safety Pin Angel Crafting Ideas- Combine everyone's two favorite crafts... pony bead patterns and beaded safety pins for a winning angel project. Makes great ornaments or back pack decorations.

Safety Pin & Bead Bracelet Making Directions- Learn how to make this cool safety bin and bead bracelt with this crafts instructions project.

Safety Pin Bead Bracelet Activity - 50-100 safety pins. (depending on how big you want it) Seed beads in various colors Two lengths of stretchy cord or elastic.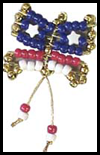 Safety Pin Freedom Butterfly to Make - Butterflies are a true symbol of freedom. Now you can make these patriotic butterflies from safety pins and pony beads.

Safety Pin Jewelry Making Instructions- Safety pins were invented in 1857 to hold garments together. Barbara Burnett, author and media director of Design Originals, makes an American flag friendship pin using only seed beads and safety pins. These pins make great projects for Boy Scouts and Girl Scouts.

Safety Pin Pendant Craft - I came across something similar and wanted to see if I could use the idea in a pendant myself.

Safety Pin Necklace -The necklace is a companion accessory to our funky coil bracelet. Very cool.

Safety Pin Sleeve Holders Craft - Use jumbo safety pins to secure your tee shirt sleeves for a cool summer look.

Safety Pin Pony Tail Holder Craft - Here's something you don't see everyday! A ponytail holder made from colored safety pins.

Safety Pin Butterfly Craft - Make beautiful metallic butterflies to clip to your backpack or your key ring.

Safety Pin Bracelet -Here comes this year's coolest fashion accessory... safety pin bracelets.

Safety Pin Tea Light Holders -Wow! Watch the light dance off these elegant candle holders made from colored metallic safety pins.

Shamrock Pin -Start your "wearin' of the green" wardrobe with this sweet St. Patrick's Day pin.