Home > Arts and Crafts Projects for Kids > How to Make Sculptures
SCULPTURES & SCULPTING CRAFTS FOR KIDS
CRAFTS MATERIALS NEEDED

Very little equipment is needed for sculpture. A few simple tools, such as a kitchen knife, an orange stic and a wire modeler (as illustrated), and newspapers or oilcloth to protect the work table.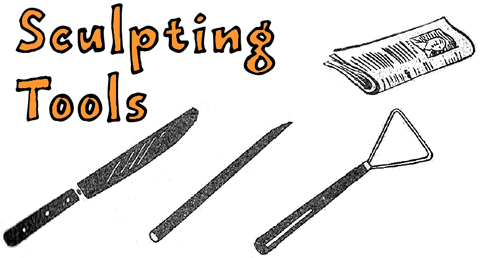 ABOUT COMMON SCULPTURE MATERIALS

SOAP : Use standard cakes of Ivory white soap, and pumpkin or clay carving tools...Here is how to safely carve soap
PAPER : Paper sculpture is a lot of fun...Find out how to make paper sculptures here.
CLAY : Use wet clay or Plastelene, a wire modeler and an orange stick. Wet clay must be kept moist between work periods, either in a well-covered crock, or by a covering of wet cloth. Plastelene, also known by other trade names, remains soft and pliable indefinitely, and may be be used oved and over again. Find out how to work with clay here.
CHALK : Use ordinary blackboard chalk and a pin to scrape away unwanted chalk. Here is a chalk sculpture tutorial.
CANDLE : Use wax candles or melted parafin, a blunt knife, an orange stick and a wire modeler. (FOR TEENS WITH ADULT SUPERVISION)
PLASTER : Mix plaster of Paris with water to form a hard mass. You need to sculpt immediately or it will harden too much. (FOR TEENS WITH ADULT SUPERVISION)
Sculpting and Molding Animals and Creatures Out of Clay

You will need ready-prepared modeling clay or the variety which can be mixed with water (from your hobby store); poster paints; brush; newspapers; and toothpicks Children will enjoy making animals out of clay. Spread newspapers on table and make animals as directed. When dry, paint with poster paints. Simple instructions for making animals are as follows: (1) Knead the clay and roll it into large balls. (2) Break it into smaller pieces. (3) Mold into shapes of legs and bodies. (4) Put together to form animals. (Toothpicks may be stuck through the legs and into bodies to hold animals together.) (5) Use toothpicks to draw in features. (6) Allow to dry.
More Sculpture Crafts

Making Sculpture Birds - If you are into paper sculpture than you will really love making these sculpture birds...from paper.

Soap Sculptures for Kids - Learn how to make soap sculptures with safe soap carving tips for children.

Wire Sculptures - How to make basic wire sculptures.

Wire Giraffe Sculptures Craft - Made with Crepe Paper / Raffia and a Wire Hanger, this giraffe sculpture turns out great.

Crepe Paper Papier Mache Stone Sculptures - This is a really cool idea. You start off with a rock and then you add a papier mache / clay like substance to make it into a sculpture. You can make all sorts of creatures and animals using this method.

Chalk Sculptures - Find out how to make chalk sculptures with the following lesson.

Techniques for Making Clay Sculptures - Learn about the different methods of making clay sculptures, such as molding, carving, and cutting & folding over.

Sculpting with Fimo Clay : The Goldfish Crafts Project for Kids - I will teach you how to create a very basic fimo sculpture fish that most children will enjoy making again and again.

Clay Sculptures : People, Mice, and Turtles- Here are 4 examples of clay sculptures - clay heads, bodies, mice, and turtles.

Wooden Poodle Sculptures- Taking a block of wood and cutting a poodle shape out of it...and then whittling it down to look 3-dimensional is difficult to do. Find out the techniques with this step by step tutorial.

Making Paper Roses - Learn how to make this paper rose with these paper sculpture techniques.

Wallpaper Wax Flower Sculptures - Using some old wallpaper, cut out some flowers, attach them together and fold in correct direction. Then have mom or dad dip them in wax.

Drawing with Paper Sculpture - Learn the basics of Paper sculpture with the following child-friendly tutorial.

How to Whittle Wood - Now this is a dangerous craft so you have to know the right way and the wrong way to do it. Safety is very important so you ALWAYS need to have ADULT SUPERVISION for whittling wood.

Paper Wave Sculpture - Learn how to make this interesting paper shape.

Lampshade Sculpture - Learn how to maket his cool looking paper sculpture.

Blown Egg Sculptures - Make these silly sculptures from blown eggs.