Home > Arts and Crafts Projects for Kids > Animals Crafts > Seal Crafts Arts and Crafts Projects Ideas for your Kids
SEAL CRAFTS FOR KIDS: Ideas to make seals with easy arts and crafts decorations, instructions, patterns, and activities for children, preschoolers, and teens
"There used to be a graying tower alone on the sea. You became the light on the dark side of me. Love..." What? I thought you wanted Seal crafts. We could do a tower and a rose and a graveyard with a rose on the grave. Oh, you don't want the singer Seal, you want the animal kind of seal kid's crafts. I suppose that does make a really big difference. I have to admit I was pretty surprised when you were looking for Seal crafts. This makes so much more sense. Well, you can certainly start off with a seal mask and then go on from there. In the mean time I'm suddenly in the mood to listen to some music

Below you will find Seal Crafts Arts and Crafts Projects Ideas for your Kids. Find out how to make your own arts and crafts Seals projects with the following decorations, instructions, patterns, and activities for children
How to Make Paper Seal Masks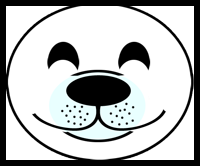 To make this adorable seal mask, all you need to do is print out our seal face mask printable template. On the page are instructions on how to make that print out a mask.
Floating Cork Seals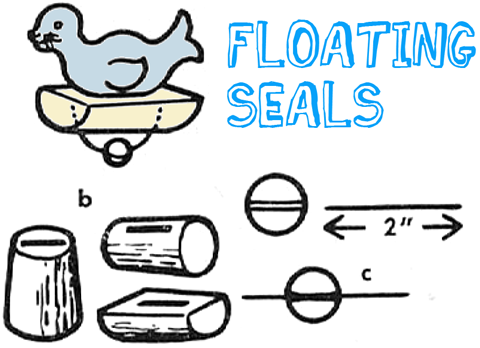 For this craft you will need large corks; (mom or dad will need to use sharp knife or razor blade); pieces of plastic or cardboard, 3" x 3" square; 1/8" or 1/4+, lead fishing weights; pliers; lightweight wire; and crayons for cardboard or enamel paint for plastic. An adult should cut a 1/2"–deep slit into the small end of a cork, or in the side of a whole or half cork (sketch b). Print out the pattern of the seal and trace onto cardboard or plastic. Cut it out. Child may color cardboard toys on both sides. If toys are made out of plastic, an adult or the child may paint in details with colored enamel paints. Help the child insert the tab in the slit in cork. The adult should then use pliers to squeeze one or two weights to wire. Insert ends of wire into cork opposite toy figure (see sketches c and d.) The number of weights required to balance cork will depend upon size of toy. Place toys in water and watch them float.
Even More Seal Crafts Below

How to Draw Cartoon Seals - Learn how to draw this adorable cartoon seal by following step by step instructions.

Baby Seals Arts & Crafts Project for Kids - This is an easy craft your kids can do on a rainy day.

Folding Seal Paper Folding Origami Craft - Learn how to fold a seal out of a piece of paper.
How to Make a Pom Pom Seal - Learn how to make a seal from pom poms by watching this video.

Seal Door Sign Activity - Find out how to make a seal themed door sign using colored paper, card for stencils, a black fine liner and a blue fine liner.