Home > Arts and Crafts Projects for Kids > Animals Crafts > Skunk Crafts Arts and Crafts Projects Ideas for your Kids
SKUNK CRAFTS FOR KIDS: Ideas to make skunks with easy arts and crafts decorations, instructions, patterns, and activities for children, preschoolers, and teens
OH MY, WHAT IS THAT TERRIBLE STENCH???? I think it might be a SKUNK!!!! Oh, it isn't, you just haven't showered in a few days. Well, if you are going to smell like a skunk, you might as well live up to it and make some skunk crafts. You can start off with a quick paper skunk mask, and then make some other kids skunk crafts. When you are done please oh please take a bath, that's all I am asking for.
Below you will find Skunk Crafts Arts and Crafts Projects Ideas for your Kids. Find out how to make your own arts and crafts Skunks projects with the following decorations, instructions, patterns, and activities for children
How to Make Paper Skunk Masks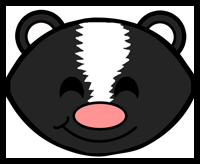 It is very simple to make these skunk face masks....just print our printable paper skunk mask and then follow the directions on the page.
More Skunk Crafts Below

Clay Skunks - Make these adorable skunks from clay, chenille stems, paint, and googly eyes.

Paper Plate Skunk - A simple skunk craft for preschoolers and Kindergarteners to try out.

Skunk TP Roll Craft for Preschoolers and Toddlers - - This is a simple three dimensional skunk craft that is fun for kids to make and play with.