Home > Arts and Crafts Projects for Kids > Crafts with Socks
SOCK CRAFTS FOR KIDS : Ideas for Cool Arts and Crafts Projects with Socks with with the following crafts ideas, instructions, patterns for Preschoolers & Children
If you lost one of your socks, you can always use the other pair to make cool crafts. You can make simple sock puppets, costumes, flowers, and sock dolls. If you have a lot of old socks that you never wear, especially the colored ones, you can weave yourself or your child a jump rope! You can also stuff a long knee high sock to make a caterpillar too.
Sock Puppets is the single most common craft made from socks. With a little imagination, you can make any animal or character from them. Some examples includes a frog or crocodile from a green sock, a giraffe, a dinosaur or even a monkey!
Making Toy Sock Mouse or Rat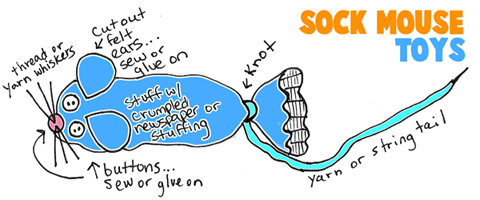 Get a sock out and stuff with newspapers that you have crumpled up. If you have stuffing, you can use stuffing instead. Tie the end of the mouse closed with string or yarn. Cut felt ears and make eyes with googley eyes or buttons. Glue on button ears and use string, thread, or yarn for whiskers.
Make Sock Puppets with Easy Instructions for Kids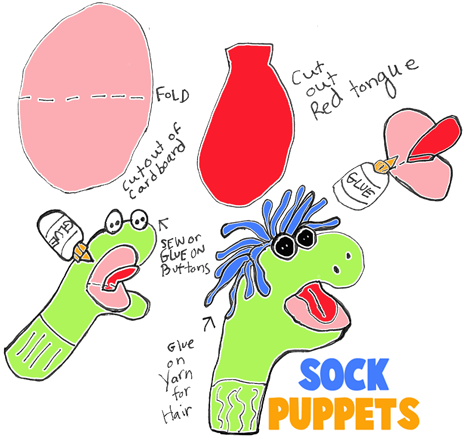 Sock puppets are great crafts for camps, schools, and group activities as they are easy-to-make and supplies are cheap. Just find an old sock without any holes in them. You make the puppet by simple cutting a cardboard oval about the size of your palm. Then fold it in half. You can paint it or cover it with felt, otherwise, leave it plain. Cut out a felt red tongue. Basically just draw an oval on some felt...but when cutting out the oval, leave a little rectangle tab on the end of it to attach it to the sock doll's mouth. Glue the tongue's tab to the middle of the oval mouth. Place your sock on your hand with your hand in a 'c' shape (four fingers at top and thumb down). See where your hand comfortably sits then glue the mouth there. You can sew or glue on eyes with buttons or other object such as googly eyes. Sew on hair with yarn or string. You can add your own custom details to your sock puppet to make it your very own creation.
Even More Sock Crafts

How to Make Easy No-Sew Sock Dolls Crafts Idea for Kids - This craft will probably take less than 10 minutes for you…it is that easy. These are no-sew dolls…that is right…no sewing necessary at all. If you like sock monkeys, but you were too lazy to make them, then this arts and crafts project is for you. Have fun.

How to Make No-Sew Stuffed Puppy Dog Animal Toy with Socks & Rubber Bands - Today we will show you how to make stuffed puppy dogs out of socks and rubber bands. This craft will probably take less than 10 minutes for you…it is that easy. These are no-sew stuffed animals…that is right…no sewing necessary at all. If you like sock monkeys, but you were too lazy to make them, then this arts and crafts project is for you. Have fun.

Make a Hobby Horse Toy - Here is a craft to make a hobby horse from a broomstick and a sock.

Easy to Make Sock Baby Dolls - This is a great first-time-sewing baby doll project. You will of course need a sock, stuffing, needle & thread, scissors, and a black marker.

No-Sew Sock Bunnies - Use a sock to make this adorable sock bunny...the best part is that no sewing is necessary.

Hobby Horses - Learn how to make this cool hobby horse with a sock and a broomstick.
How to Make a Sock Kitten Puppet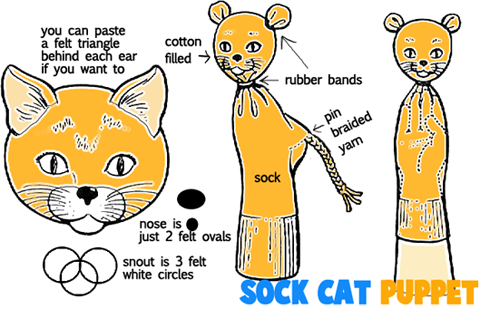 This is a different type of sock puppet. The mouth doesn't move on this sock puppet...it is more of a motion of your hand to show different emotions and meanings...such as nodding the head for yes, shaking when scared, etc. It is pretty easy to make. Just find one of your parents' socks and ask them if you may use it to make puppets. The stretchier the material, the better. Rubber band 2 ears by placing a rubber band on 2 corners of the toe of the sock. You could also first put some cotton in the ears before putting the rubber bands on. Smaller rubber bands work better for the ears. Then make a face with felt pieces or buttons, string, fabric paint or markers. The above illustrates how to draw the cats' features. Next fill the head with cotton or other type of filler (in the toe of the sock) and then rubber band the bottom of the head with a bigger rubber band. For the tail, you can braid 3 pieces of yarn together and then use a safety pin to put at the heal of the sock (but the kitten's tushie). To play with your puppet, just put your hand in the bottom of the sock. You can manipulate the head by just moving your hand in different directions.
Easy to Make Boy and Girl Sock Puppets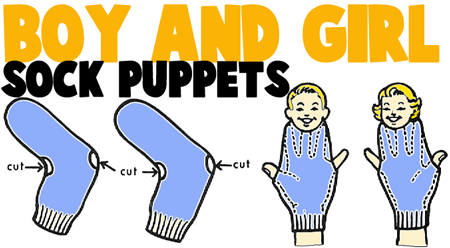 This is a great craft for little kids to make. Preschoolers and toddlers will love playing with these sock puppets. First of print the boy faces and the girl faces printables. Pick the boy and girl that looks closest to your child's face. Then get 2 old children's socks, scissors, and some glue. Now cut a tiny hole in the sock's heel for the thumb and in the hole on the side opposite the heel for the smallest finger. Now cut out the paper faces that you and your child have chosen. Next glue the faces onto the part of the sock that you see in the illustrations above. To make the puppet last longer, consider wrapping the picture with some clear scotch tape. The child can now wear the sock puppets and play along with them.
How to Make Native American Boy Sock Doll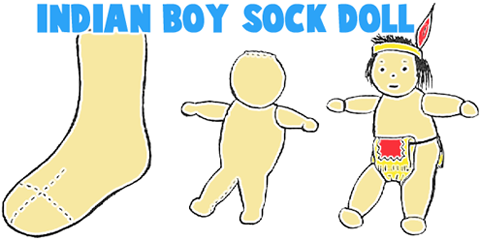 This sock doll craft requires sewing. You will need a tan sock, needle, thread, scissors, filling such as cotton, 7 1/2" x 1 1/2" strop of fabric, ribbon, rubber band, craft feather, crayons, and a ruler. Now start off this craft by cutting the toe off of the sock (about 2 1/2" from the edge). Then cut that toe section in half to create the doll's arms. Now press the sock down flat and then cut to about 2 inches from the heel of the sock...these will be for the legs of teh doll. Now turn the wrong side of the sock outwards and sew around the legs. Turn arm pieces inside out too and then sew, leaving wide ends open as this will be attached to the body soon. Turn body and arms and stuff with cotton. Gather top of sock and sew. Tie several strands of black thread around legs and arms 1/2" from ends (for feet and hands), and 21/2" from top of sock for head. Sew on arms. Draw face with black crayon. Loop embroidery thread, cut and tie, then sew to top of head. Tack ribbon around head and insert feather. Fringe and color a strip of colored cloth and. slip under rubber band at waist for loin cloth.

Trapped Witch Halloween Decoration - This is a really easy decoration prop to make for Halloween. With no effort at all, you can make it look like there is a witch trapped under your house.

Make No-Sew Water Bottle Holder with Socks- Learn how to make this cool water bottle holder with a pair of socks, string, and some beads. No sewing involved and you are upcycling.

Making Sock Snowman - Learn how to make this adorable Winter Snowman stuff animal with a sock.

African Sock Dolls - Make a sock doll that is wearing clothing and jewelry native to some African countries.
More Sock Crafts Elsewhere

A Stocking Countdown Calendar : - We gave the traditional Advent calendar a creative kick, turning it into a festive garland that reuses your kids' colorful socks. Tucked inside are notes, games, and goodies for kids to receive - one sock for each day leading up to the Jolly Old Elf's visit.

Adorable Snow Folks : - Create a group of carolers or a sleighful of happy winter friends with your mismatched children's mittens, wooden balls, and lots of imagination. The sky is the limit!

Baby Nursery Name Plate : - This Name title was used as a wreath, and t it was so cute on it's own that it would be perfect for a Nursery Door. This is a great craft project for young ones who want to give something to their baby sibling.

Baby Shower - Announcement Wreath : - These baby shower wreaths are a wonderful baby shower craft project and are great for baby's bedroom door or for the party entrance door or pop them on the door for baby announcements for the whole neighborhood to see.

Baby Shower - Room Wreath : - These wreaths are wonderful for baby's bedroom door, for baby showers or pop those on the door for baby announcements for the whole neighborhood to see.

Baby Sock Car Hangup : - This is a really simple project, a good idea for a new dad. I made this for my husband for his 1st father's day, using our first born son's first socks. Lot's of firsts! Older kids with newborn siblings can also help in making this craft project so they can give something to their new sister or brother.

Baby Sock Puppets : - Turn mismatched baby socks into cute little friends for your kids in just five minutes! They are the perfect size for little hands and kids will surely love them!

Baby Sock Roses : - Baby sock roses can be used with many different craft projects for baby, such as corsages, baby sock bouquets, hospital wreaths, or nursery wreaths. They go along great with different baby gifts and can match any nursery or shower theme. Read on to learn how to make roses from baby socks, great for any baby craft project.

Baby-Sock Snowmen : - This is a terrific recycled ornament. The snowmen are made from those baby socks that never really get dirty or wear out. A kindergartner can do this with help, but in a group this craft is really better for older kids.

Beanbag Buddy : - Transform a sock into your very own beanbag buddy. Add some yarn and buttons and your kids can make a new recycled friend for Earth Day.

Big Bad Wolf Costume : - This furry critter, perfect for a parent accompanying his little piglets while trick-or-treating, is a fairy tale favorite.

Bird's Nest Costume : - This costume - complete with two paper birds - is the perfect disguise for trick or tweeting.

Black Magic Cat : - This spooky kitty can actually slink through a closed window - making him the perfect Halloween window decoration.

Bobbing Bird : - These pint-sized penguins, made with a bit of foam and little more, are sure to waddle right into your child's heart.

Bunny Buddy : - Dress up your front porch or welcome Easter guests with this child-sized bunny decoration.

Cat Costume : - Here's a purr-fectly adorable cat costume that's fun and easy for your child to make! Using things you most likely have around the house, and a bit of creativity, you send your child out this fall to pounce for Halloween candy in style!

Catnip Mouse : - Give your cats a gift from the garden with this homemade pet toy.

CD Daisy Puppet : - Make a flower using an old CD, a paper plate, a sock, and a few other supplies.

Charming Chicks Sock Puppets : - These chirping chicks are a great gift for the little ones in your life. Made from baby socks turned inside out, this chirping set of baby chicks right is perfectly sized for little fingers.

Christmas Choir : - Arranged on a windowsill or mantel, this caroling trio is just the prop to spread holiday cheer. These songsters also make a fun addition to the Paper Gingerbread Village.

Colorful Sock Toss : - Transform singleton socks into a fun, colorful bean bag toss game. It only takes 20 minutes to make this fun craft project.

Crazy Caterpillar : - Do you like bugs and creepy crawlies? Even if the answer is no, you are sure to love this particular caterpillar! Caterpillars are very cute, especially if they are made with tube socks or tights!

Dinosaur Puppet : - You could do lots of different things with this project - let your child's imagination guide you!

Dinosaur Sock Puppet : - Roooaaarrr! Here comes Sock-A-Saurus-Rex! This dinosaur sock puppet is a great kiddie craft to make and a fantastic toy to play with when done. This dinosaur sock puppet, in addition to being silly and fun, is a great way to teach simple lessons about dinosaurs to young kids. This sock puppet is a simple preschool craft that your children are sure to love!

Easy Monster Sock Puppet - Here is an adorable sock puppet monster...really cute.

Easy Sock Hop - You really can't get more simple than these sock bunnies for Easter.

Famished Frog Sock Puppet : - This fantastic frog sock puppet is a great way to entertain the family during play time. With a toy fly on its outstretched tongue, this is one happy frog!

Friendly Sock Snowmen : - Frosty has a big button smile and a tummy stuffed with plastic pellets in this sock-form creation.
Funky Craft Stamped Socks : - This would make a fun party craft or a group craft using inexpensive children's socks found at discount stores. We have used heart shaped craft stamps and red paint, but you can use your own imagination and pick some craft stamps that you think are fun.

Furry Panda Sock Puppet : - – Go on a safari to the crafts store to pick up some faux black fur for this exotic panda puppet. This will be a hit with the panda lover in your life.

Giraffe Sock Puppet : - - There are many reasons to love summer! It's a season in which we can wear sandals and don't need to track down missing socks every day. So, for all the missing mismatched socks we have at home, here's a pretty cute animal sock puppet idea that you can make.

Goofy Gator Sock Puppet : - - This alligator has a bark worse than its bite. Its seemingly sharp teeth are nothing more than soft white felt. Make this adorable gator puppet for everyday entertainment.

Herbivores Sock Puppet Squirrel : - You may need adult supervision to do the project. Always use care when using tools or a heat source. Be careful and safe!

Hop-to-it Sock Bunny : - This is another sock bunny project that is more in an upright position. It was really fast to make as well. This is an especially good project if you have some socks that have lost its partner.

Jingle-Bell Socks : - For some no-hands-required musical accompaniment, fashion your child his own pair of jingle-bell socks.

Jolly Giraffe : - This giraffe sticks its neck out in style! A knee sock creates the long neck, and felt forms the trademark spots and mane.

Kids' Sock Puppets : - If you keep on losing the other pair of your socks, don't throw the other one away! You can still find a useful idea for what can be considered a useless piece of wardrobe. Find out how...

Lost Pair Bunny Sock : - Sock lost its pair? Well, don't despair... make a bunny! With some very basic sewing skills and only a few supplies you can create this adorable little guy to play with, use as an Easter decoration, or give as a gift. If your child has never sewn before, this is a great opportunity to teach him/her a basic stitch. It's a little skill that comes in handy for all kinds of craft projects.

Lunch Money Holder : - With this clever change purse, your child will be able to keep all his cafeteria cash up his sleeve until he needs it.

Make-a-Sock-Doll : - You'll never know what happened to that missing sock, but now you know what to do with its other half. A few "orphan" socks from your laundry room can be made into a soft, huggable new doll.

Make-a-Sock-Monkey : - This classic, yet goofy, sock toy has been a favorite of children for years. Why not make your own sock monkey using two socks, plus scissors, stuffing, yarn and a little bit of time?

Make-a-Sock-Puppet : - - Making a sock puppet is really quite fun. If you make several of them, you can hold a puppet show. Just be sure to make them unique and individual so that they each have special characters. They don't have to be human - animals and aliens are great possibilities too!

Making Sock Puppets : - Make these simple sock puppets out of old socks and a few other supplies.

Octopus Puppet : - With no mouth to move, this purple octopus doesn't have much to say. But it's still ready for action, thanks to its eight shapely legs that can be twirled about.

Penguin Puppet - What child doesn't love to play with puppets? Add do your collection with these simple instructions on how to make a penguin puppet. All you need is an old black sock and a few crafting supplies. Before you know it, your child will be able to explore the world of penguins with this cute puppet.

Quick Heat Pack - This quick heat pack is perfect for holiday emergencies or ideal for kids to make as mothers/fathers day gifts for their parents. If you are making these for gifts try using seasonal decorative socks for a fun look. You can get some great socks for fathers day and make Dad a great fathers day gift.

Repurposed Sock Owls - OMG, these are so cute! All you need are a stick, socks, rice, buttons, and a few other items.

Rice Sock - This guide will help you create a "rice sock," a compress which can be heated in a microwave or chilled in a freezer and applied to the body to help relieve pain and discomfort. It can also be used as a physical therapy device for hands. Flaxseed can also be used and stays hot longer.

Rockford Red Heel Sock Elephant - This site is dedicated to those cute little stuffed animals so many of us enjoyed as children. Having owned one as a child, I thought I'd make it easier for others to enjoy them.

Ruby The Sock Reindeer - Not only will kids love creating their own sock reindeers using a variety of craft supplies, but this is also a great way to use up any orphaned socks you might have lying around the house.

Santa's Mobile Phone Cozy - his modified sock makes a perfect pouch for your Ipod or Mobile Phone which will add a festive touch to your phone. The sock works great as its stretchy, quick to make and prevents scratches whilst being utterly unique!

Santa's Smelly Socks - This is a quick and fun craft to make with many uses. You can place these smelly socks into shoes or just hanging up in a room.

Scrap Snowman - If you have access to some small wood scraps, or perhaps a board you can cut up, you can make these cute little additions to your holiday shelves. But wait, don't stop there! The creative possibilities of this craft are endless; try Santa's, Christmas trees, reindeer, Nativity scenes, elves, and more!

Shark Attack Sock Puppet - There's no need to worry if this shark attacks its ocean buddies. Its soft fins and felt teeth won't do any damage. This shark isn't scary at all. It is a great way to entertain kids on the weekends.

Smelly Cinnamon Socks Decoration - This smelly sock craft is a cute little project ideal for kids to give to family members. Use it as a centerpiece or make small ones using baby socks to decorate your tree with. You can even give these to those in the family who have smelly feet to place into their shoes.

Sock Caterpillars - Make this adorable and colorful sock caterpillar with the followign craft idea.

Sock Snowmen - Find out how to maket these adorable snowmen with socks, rice, filling, paint, buttons, and a few other items.

Snowman Ornament - Crafts for kids are always fun. Can you believe that crafts for kids can be made from something as simple as a sock? Really, snowman ornament crafts for kids are that easy. This adorable snowman Christmas ornament is a super idea for crafts for kids.

Sock-A-Saurus Puppet - This is a fun puppet craft project that any dinosaur fan will love to make and play with.

Sock Monkey - This craft project may take a little more time than the rest but be assured that once you are done; you will have a swell time playing with your creation. Ask Mom to help you out in handling the needles! Always remember that SAFETY is the first rule in craft making.

Sock Plant Hanger - It's fun and easy to make a plant hanger from a sock. Here's how...

Sock Octopus Tutorial - Find out how to make this easy octopus with the following isntructions. All you need are socks, string, stuffing, felt, glue, scissors, and pipe cleaners.

Sock Puppet Craft - For this craft, simply provide a sock and a variety of what ever craft supplies you might have on hand. Give your child some glue and let them go to town creating whatever kind of puppet character they like! This project can be modified to suit other ages and may take more or less time depending on your circumstances.
Sock Puppet Dragon - A gorgeous craft for St George's Day, St David's Day, a fairy tale theme, or just for fun!

Sock Puppet Kids' Craft - Like many, we have a massive pile of socks with mates that have mysteriously gone missing. Around my house, the Sock Monster takes the blame for this, and anything else that might happen to go missing from the dryer. These socks sit around in the lone sock bag for a while, and then once all hope is lost that its mate will show up in a later load of laundry, they become dust rags or craft projects.

Sock Puppets - Looking for something to do with those mysterious single socks? Turn them into animal puppets (they're easier to make than they look).

Sock Reindeer - You know how you always seem to have those extra socks lying around? They sit in a drawer and never find their pair... it's time to make good use of those socks and have some fun making a sock reindeer for the holidays!

Sock Sack - This is a great project for colorful, lonely socks - ones where the partner got lost or got a hole in it, and it's particularly good for giving old baby socks a new life. You can also do this project with gloves or mittens. It's a unique way to store your money, make-up, or mobile phone.

Sock Snow Folk - Give winter boredom the boot with this easy snowman craft.

Sock Snowman Ornament - Have fun crafting this Sock snowman ornament. With little more than a clean white sock, kids can make a fun and funny Christmas craft.

Sock Worm Craft - Got old socks lying around or ones that don't have pairs? Try our fun sock worm craft. This sock worm craft is really one of the easiest crafts as well as being wonderful tactile toys for babies under 1 years of age.

Socktopus - The project requires either sewing or hot glue skills. A child of age 9 or so could do the project with adult supervision. Younger children can help stuff the project and would love to receive it as a gift from an older sibling, parent or grandparent.

Spider Man Ipod Pouch - This modified sock makes a perfect pouch for your Ipod or Mobile Phone. The sock works great as it's stretchy, quick to make and prevents scratches whilst being utterly unique!

Stuffed Thanksgiving Turkey Craft - Get the kids involved with your Thanksgiving decorating by having them craft this stuffed turkey table decoration. It's an unusual way to make use of odd socks and mittens.

Tea Box Snowman - The best part about this windowsill snowman is that he won't melt no matter how warm it gets.

The Red-Heel Sock Monkey - Follow these step by step directions and make your own adorable sock toy monkey using red-heeled socks.

Tie-dyed Socks - This project is more than a fun way to spruce up a pair of plain socks or a solid-colored T-shirt. It's also a hit at many summer birthday celebrations, slumber parties and Scout gatherings.

Tube Sock Snowman - For a fun and simple Yuletide season craft, make sock snowmen with your kids using this easy to follow guide. The instructions here will surprise even seasoned crafters for even third graders can easily follow them.

Tusky the Elephant Sock Puppet - Kids will love playing the part of the swaggering elephant. Create this fun elephant for your child's next party.

Two Knock-Out Socks - Warm your toes with striped tube socks knit in fun and fancy colors. They stay put with comfy banded cuffs.

Weave a Jump Rope - With this classic finger-weaving project, kids can get a jump on outdoor playtime by recycling their old socks and outgrown tights into a colorful homemade toy.

Woolly Wonder Sock Puppet - This soft and cuddly sheep will become a bedtime favorite for kids to curl up with. These puppets are simply a blast!